Shedding time is stressful and uncomfortable for snakes.
And it can be the same for snake owners, if they don't know what to expect and what to do to help.
We'll cover everything you need to know about snakes, beginning with the question that originally brought you here: how often to snakes shed?
It is impossible to answer this with an exact time frame, since it depends on several factors, like the species, the environmental conditions and, above all, the snake's age.
But we can give you an average.
How Often Do Snakes Shed?
Snakes continue to grow throughout their lives and whenever they get too big for their skin, they shed it.
This happens 3 to 6 times per year on average, or every 6 to 8 weeks. The older the snake gets, the less it will shed, because the rate of growth slows down.
This does vary from species to species. Our article "how often do corn snakes shed?" has a lot more info specifically about the shedding process for the corn snake species.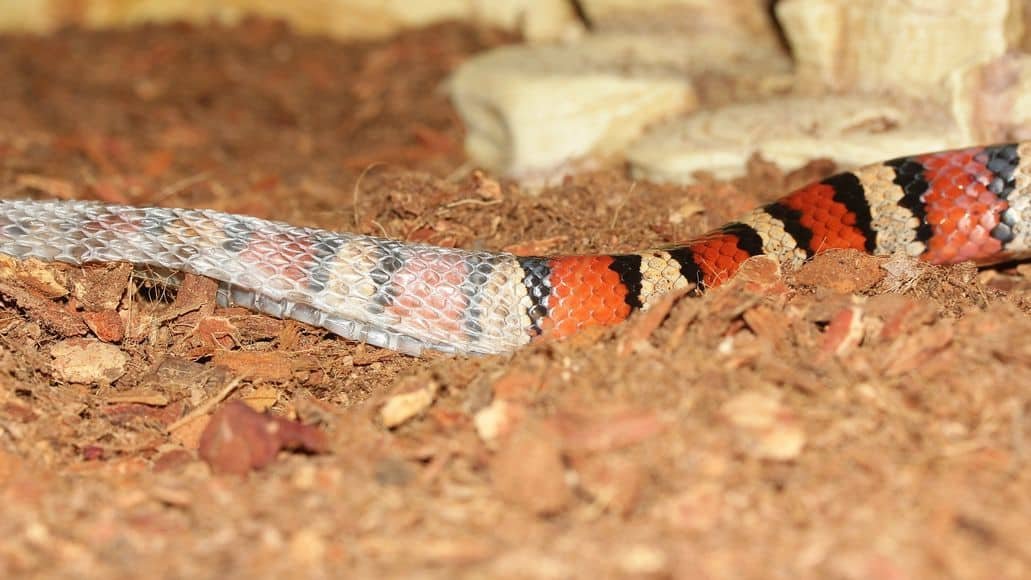 Unlike our skin, which grows with us as we grow, snake skin does not grow at all. Instead, a new layer of skin grows underneath the top layer and when the snake has outgrown the old skin it will shed it off to reveal the larger new skin beneath.
Skin shedding also helps the snake get rid of parasites or any other skin issues it might have.
Shortly before this process begins, the snake's skin releases some fluid between the old and new skin. This helps separate the old and new skins gets the snake ready for the big shed. It also results in the skin taking on a grayish hue and the eyes turning bluish.
How Do You Know When It Is Time To Shed?
As mentioned, when the time to shed nears, the old skin begins to turn gray. You will also notice that the snake has blue or grey looking eyes. This is a result of the aforementioned fluid the snake releases between the two layers of skin.
When you notice the gray skin and discolored eyes, you know it is about time for the snake to start shedding. The behavior also starts changing.
Due to the fluid and a loosening of the old skin, the snake is practically blind during this phase (try to imagine fluid and a layer of skin over your eyeball). It will begin to act a bit sluggish and will hide away more than usual. It is best not to disturb your snake during this time.
About 4 days before a snake finally begins shedding, its eyes and skin clear up. The whole shedding process takes about a week, from when the skin turns gray and the eyes blue, until the snake finally slips out of its old skin.
Snakes Need Water To Shed
Snakes need moisture for a successful shed. Make sure you provide plenty of humidity and fresh water. Your snake should have a water dish that is large enough for it to get inside, or a humidity box, which is basically a hide filled with damp moss.
As it prepare to shed, the snake likes to keep its skin moist. When it is time to begin the actual shed, the snake will have a quick soak in some water to help loosen the skin.
Then it begins the shed by rubbing its head against something hard to start tearing the old skin off. It is important to have some rocks, logs or branches in the enclosure for this purpose.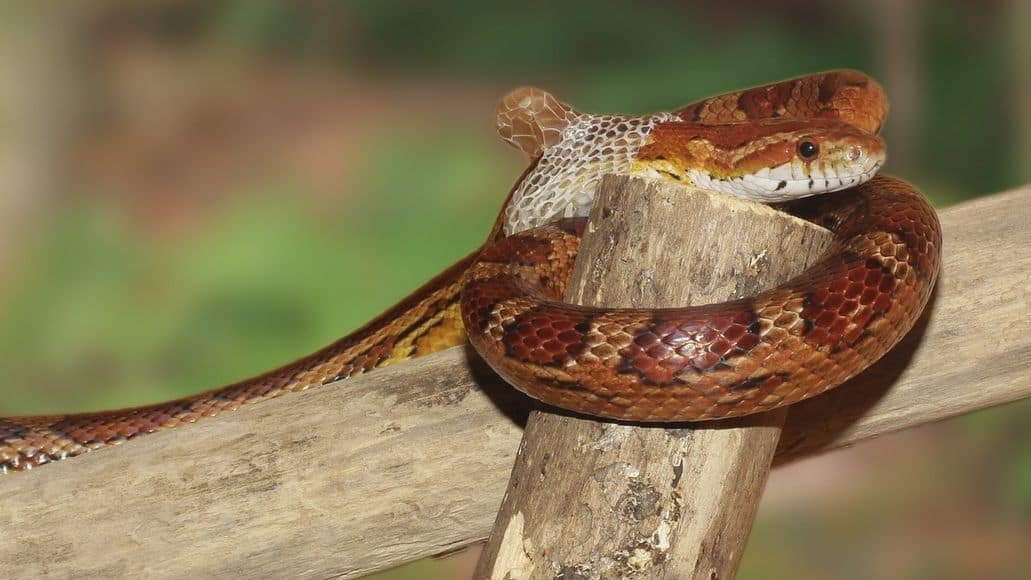 Once it has created a tear in the old skin, the snake can begin to slither out of it. The skin comes off inside out and, ideally, comes off in one complete piece. The first time you see this you may be surprised to see that even the eyes are covered by skin.
How Long Does It Take For A Snake To Shed Its Skin?
A typical snake shed will take about 30 minutes. I have seen some take up to 6 hours. It all depends on how big or how old the snake is.
Where Do Snakes Shed?
Most of the time snakes shed close to where they live. Snakes do not wander too far away when it is time to shed, because they generally feel pretty uncomfortable around shedding time and prefer to stay somewhere familiar.
Snake Shedding Problems
Incomplete Or Abnormal Shedding
Dysecdysis is the official name for incomplete shedding. It is usually a result of a problem with the habitat or with the snake's health.
First, make sure your snake has surfaces to rub against to begin the shedding process.
If it has those, check the humidity levels and the temperature, to make sure they are in the correct ranges. Most shedding problems are due to the humidity being too low. You also need to make sure your snake has fresh water to soak in before the shed.
If you see nothing wrong with the habitat, it is likely to be a health issue.
Dysecdysis can be caused by various health problems, like parasites, a nutrient deficiency, or an infectious disease. You should take your snake to see a vet, to find out what it might be suffering from.
Stress can also cause shedding issues. As mentioned, snakes feel uncomfortable when they are getting ready to shed. If you bother them during this time, by handling them, etc., they will get stressed out. Not having places to hide also causes stress, so make sure you provide some good snake hides.
Retained Eye Caps
Retained eye caps are a particular form of an incomplete shed. This is where the skin over the eyes does not shed. You should always check the shed skin to make sure the eye caps are there. If you see holes where the eyes were, your snake has not shed the eye caps.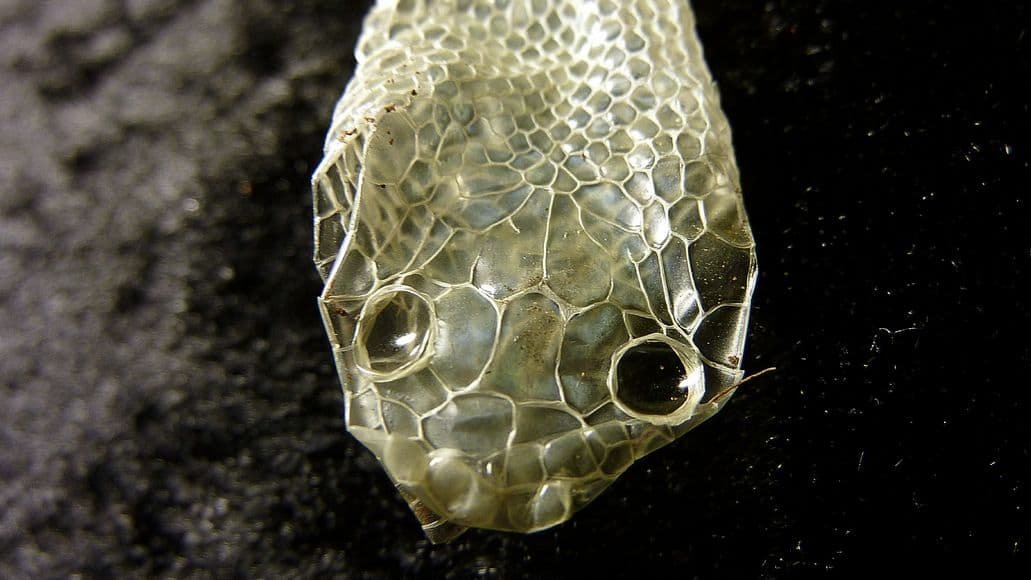 This is more common in older snakes and can eventually lead to loss of an eye, or blindness as more and more layers of unshed skin build up. If you notice that your snake has not shed its eye caps, take it to a vet to get the unshed eye caps removed.
If you know what you are doing, you can also remove them yourself, but this poses a high risk to snakes. For example, using tweezers to pull off the eye cap can actually result in the entire eye being pulled out of the socket!
The best way to remove an unshed eye cap is to use a q-tip that has been soaked in a natural mineral oil. Use the q-tip to apply the oil to the entire eye cap. Then get more oil on the q-tip and apply a second layer of oil to the eye cap.
This is generally all it takes. The eye cap will pop off on its own within 24 hours or so. If it does not, repeat the mineral oil treatment and wait another day. This issue is prevalent in bullsnakes.
Retained Tail Skin
Another common shedding issue is when all of the skin comes off except for the tip of the tail. You need to remove this, because a subsequent shed could end up cutting off the circulation to the tail, which results in the loss of the tail.
Luckily, removing the unshed skin is easy. Simply have the snake soak in some water for 15 minutes or so to loosen the unshed skin and then pull it off the tail. This is a common problem in rat snakes.
What If I Find A Snake Skin Near My House?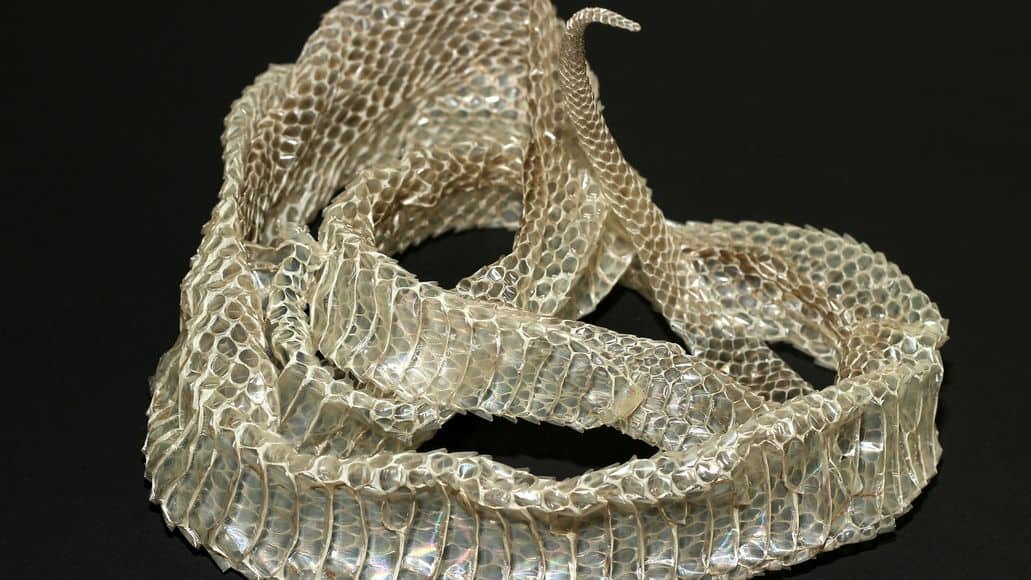 No need to be alarmed. This does mean that a snake likely lives near your house, but you will probably never see it. If you want to get rid of it, there is an easy way to do that, without harming the snake or putting yourself in danger, should it be venomous.
If a snake is hanging out near your home, it is doing so because there is food nearby. Remove the food source and the snake will leave on its own. This means you need to eliminate all the mice or rats in and around your home.
If the snake enters your home, this is still no reason to panic. Seeing a snake in your home does not mean it is living there. It probably just came inside looking for food, or perhaps water.
Do not attack the snake with a broom or something similar. It is actually far more frightened of you than you are of it. It is highly unlikely to be venomous, but even if it is, venomous snakes have no desire to bite you either. Just stay out of its way and call a professional to come and remove the snake.
Snake Shedding: Final Thoughts
Snakes shed throughout their lives, though the frequency of shedding decreases as they get older and their rate of growth decreases. If you keep pet snakes, you need to know how to aid your snake in getting a perfect shed and how to help it in the case of an incomplete or abnormal shed.