Why don't you just count them?
That's a joke. Please don't try to count a snake's teeth.
Especially not a venomous snake.
Many of the teeth are small and hidden inside the mouth. You would have to get very close and need a lot of time to count them all.
Much better to just keep reading and learn all there is to know about serpent teeth, beginning with how many teeth a snake has.
How Many Teeth Do Snakes Have?
Most snakes have roughly one hundred small teeth in their mouth. Some species have up to three hundred teeth.
Regardless of how many teeth a snake has, their teeth are uniform in almost every case. That means their teeth are all the same, unlike ours, which are sharper at the front of the mouth and blunter at the back.
Answering exactly how many teeth snakes have is not quite as simple as you might think. It's different than asking this question of humans or dogs, for example.
Differences between humans or between different dog species are mostly superficial. There is much greater variance among the different species of snakes.
No matter the breed of dog, they all hunt and eat basically the same way. This is not the case with snakes.
And based on the way they hunt and eat in the wild, they have evolved to have different kinds of teeth and/or a different number of teeth.
This is not an easy thing to see either. Most snake teeth are partially or entirely covered by their gums, making it hard to see what their teeth look like, without getting up close and personal.
We've already mentioned that most snakes have roughly a hundred teeth. Some have far more and some have none. But most have a lot and that probably has you wondering how they all fit into a snake's mouth.
Multiple Rows of Teeth
They can fit a hundred or more teeth in their mouth, because they have multiple rows of teeth. Similar to sharks, as teeth are broken or fall out, new ones fill in the gaps.
This also maximizes the number of teeth gripping onto prey when the snake grabs hold of it. Snakes with retractable fangs, however, do not have the luxury of multiple rows.
Snakes use their teeth to grip onto struggling prey and to move the prey when swallowing it.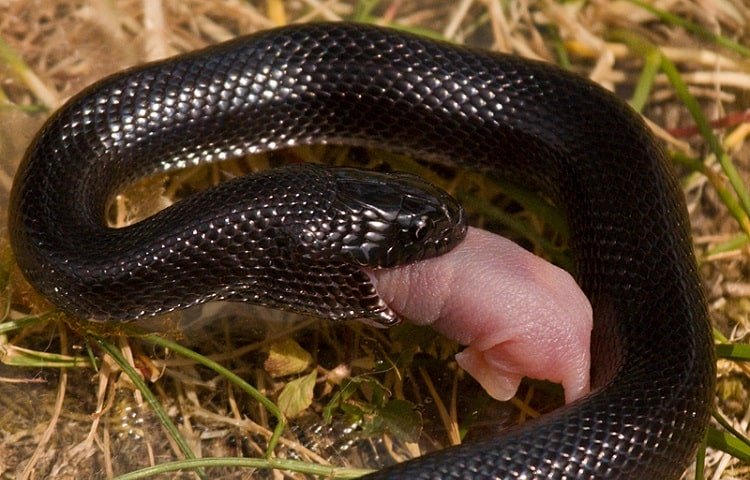 Snakes do not chew their food. They are notorious for the way they swallow their prey whole.
Thus, they do not use their teeth for chewing at all. Instead, they use them in conjunction with the powerful muscles around their jaws and throat to work their prey down their throat.
Once down, their stomach acid works to digest the entire prey. They spend may days, up to two weeks, digesting, which is what allows snakes to digest bones and everything else.
Some Species Have No Teeth
Some snake species, like the egg-eating snake, do not have any teeth at all. That's because they don't need them.
Snakes are all carnivores. There are no examples of herbivore snakes out there. But not all snakes need to hunt their prey.
As the name suggests, the egg eating snake eats eggs. Since it does not need to hunt, it does not need teeth. Instead, it has a row of bone spurs attached to its spine inside its throat. It uses these to help break the eggs' hard shells, so it can slurp out the insides.
Teeth Differences In Snakes
Most species do have teeth, but those teeth can be very different. Let's take a look at how snakes' teeth can differ. The primary differences are between snakes that kill using venom and those that kill using constriction.
Venomous Snakes
Venomous snakes have very unusual teeth. I'm sure you're familiar with the popularly circulated pictures of rattlesnakes or vipers with their retractable fangs on display.
But they're not all like that. There is a lot of variation even among venomous snakes. Not all have flexible fangs in the first place, and not all venomous fangs are hollow.
The cobra family is a key example of both of these. King cobras, so named for their penchant for eating other cobras, have fixed fangs with grooves to deposit the venom into the things they bite.
Other cobras, like the aptly-named spitting cobra, project their venom from holes behind their fangs in order to stun their prey or to drive off a predator.
There are four categories of snake teeth in total, two of which are used with venom. The difference between the two is that one is a fixed fang with a groove on the outside, while the other is a retractable hollow fang.
Snakes with each type evolved to use their fangs and their venom differently over time.
Proteroglyphous Snakes
Proteroglyphous snakes have fixed fangs on the top of their mouth. Their teeth have grooves at the front, which inject venom. Cobras and sea snakes and good examples.
The main drawback of these types of fangs is that they have to grab and hold onto their prey to inject venom into it. For that reason, many of the snakes in this category are quite large and powerful.
Solenoglyphous Snakes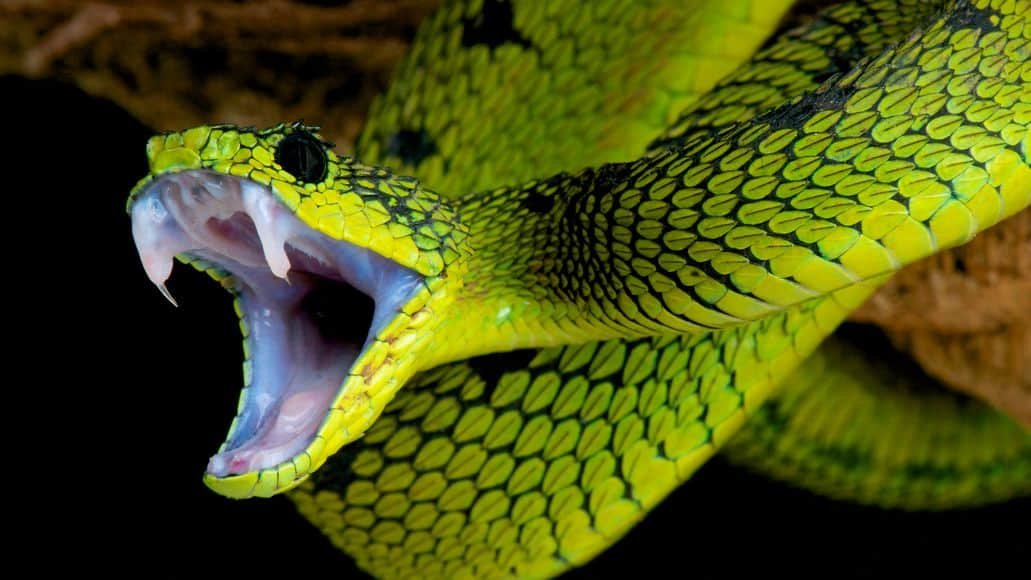 Solenoglyphous snakes include rattlesnakes and vipers. These snakes have large retractable hollow fangs.
They almost always lunge quickly to inject venom, then back off and wait for their prey to die. They d not have to hold onto their prey to inject venom like the proteroglyphous snakes.
Solenoglyphous snakes tend to have distinct triangle-shaped heads, which is commonly known as an indicator of a venomous snake (although several non-venomous species mimic this head shape as a defense mechanism.
These snakes have very few teeth aside from their fangs and primarily use the other teeth to direct food down their throat.
Some venomous snake owners defang their snakes to make them less dangerous. There is a lot of controversy surrounding this procedure, as you can probably imagine.
Both types of venomous snakes are capable of delivering a "dry bite." A snake's venom is precious to them and it takes them a long time to replace it, so they don't like to use it unless they feel like it is essential.
Dry bites contain no venom and are harmless (apart from the pain of the puncture wound) to the animal or person that was bitten.
Of course, if you were bitten by a snake, there is no way to know whether venom was injected. You should always treat the wound should with antivenom, to be safe.
Constrictor Snakes
Constricting snakes do not have the same complex teeth that their venomous cousins do. That's because they do not use their teeth to kill. They use their bodies.
They use their teeth to grab hold of their prey and keep hold while they kill it by squeezing the life out of it with their bodies. Then they use their teeth to track it down their throats.
This is why snakes like boas and pythons have rows of especially hooked teeth lining their mouths. Most of these snakes fall into the category of Aglyphous. Their teeth are very narrow and shaped almost like fish hooks.
Once they bite into something, it cannot pull itself away due to the shape of the teeth themselves. The prey also has almost no time to so anyway, because it is being wrapped in coils of pure muscle and crushed.
As frightening as rattlesnakes and other vipers are, they can't kill an alligator. But a constrictor can.
Number Of Teeth: Final Thoughts
Snake teeth are a fascinating subject. The number of teeth a snake has can vary greatly, from zero to several hundred. But it doesn't stop there.
The type of teeth and the alignment of the teeth varies as well. Some teeth are positively high-tech, with the ability to retract and with hollow insides that deliver venom in a split second.