Snakes are the envy of every struggling dieter.
They have an incredibly slow metabolism.
That means they do not need to eat much and they can take their time swallowing and digesting their food.
And take their time they do.
How long they take depends on a number of factors. We'll get into those below.
First, let's look at how long the average snake takes to digest, keeping in mind that some species do it much faster and some take much longer than the average.
How Long Does It Take A Snake To Digest?
On average, it takes a snake between 4 and 5 days to fully digest a meal, from the moment it eats to the moment it defecates.
From there, a snake might go 1 to 2 weeks before eating again.
The lengthy amount of time it takes a snake to digest its food can be surprising to us humans, since we're used to eating and digesting our meals much more frequently.
If you don't do your research before getting a pet snake, you might experience some alarm at how long your slithery friend has gone without eating.
But it's nothing to worry about. It is simply a case of snakes' digestive systems and feeding habits being unique and far different from those of humans or any other mammal.
Why Snakes Digest So Slowly
There are a few reasons snakes take such a long time to digest their food.
Snakes don't have teeth, so they don't chew their food—they swallow it whole
It takes a long time for snakes to swallow because they have such long, horizontal necks
Snakes have very slow metabolisms
The food that snakes eat takes a long time to digest
Let's take a more detailed look at each of these explanations. We'll also discuss some factors that can affect how long a snake takes to digest its food.
Look, Ma, No Teeth!
One major reason that it takes snakes so long to digest their food is that they don't chew their food—they swallow it whole. Although snakes do have teeth, their teeth are very different from ours.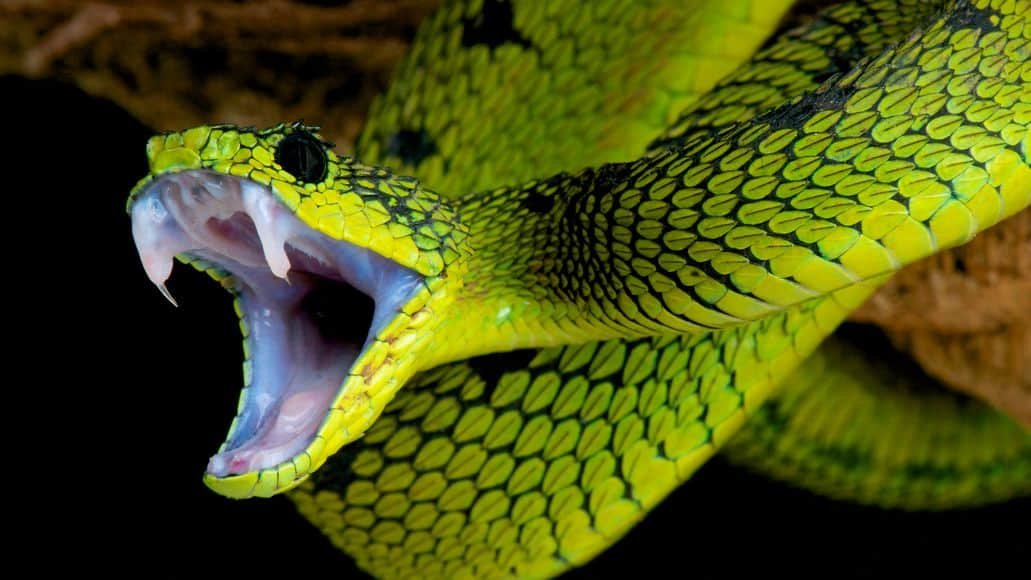 While we use our teeth to tear and chew our food, snakes use their teeth to strike their prey (and, in some species, inject venom). But they don't use them to break down their food at all.
Snakes can open their jaws incredibly wide—wider than their own bodies—and swallow their prey in one giant gulp. No teeth necessary.
But obviously, it takes a lot longer to digest food that's swallowed whole than it does to digest food that's been chewed.
This is because stomach acid needs to dissolve the food completely from the outside, rather than to simply dissolve smaller pieces.
Because snakes are carnivores, the prey they eat tends to have bones. Bones take an especially long time to dissolve in the stomach.
For these reasons, snakes have much more acidic stomachs than other animals. They also have specialized enzymes to help break down their food.
However, it takes a lot of energy for the snake to produce this stomach acid and special enzymes, making the digestion process take even longer.
My, What A Long Neck You Have!
In addition to the time and energy it takes for snakes to digest the food that they swallow whole, the swallowing process itself takes up quite a bit of time and energy on its own.
This is due to the snake anatomy. Not only is their neck completely horizontal, but it's also incredibly long. A snake's neck makes up roughly a third of its entire body length.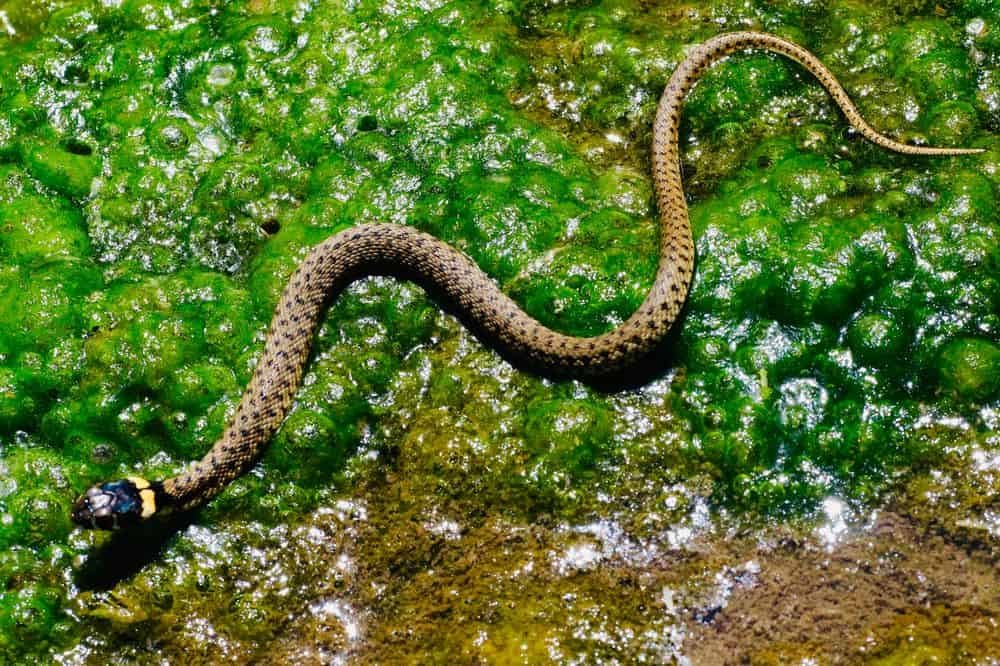 Think about it: when you swallow a piece of food, you use your throat muscles to help move it down to your stomach.
But you have a much shorter neck than a snake. Plus you have gravity on your side.
A snake has to work its muscles to move its food down a third of its body while it's flat on the ground. Naturally, this can take some time.
It takes so long that snakes tend to seek shelter while swallowing and digesting their food, so as not to leave themselves vulnerable.
Slowing Things Down
Another reason that snakes take so long to digest, and wait so long between meals, is that they have a very slow metabolism.
We, like other mammals, are warm-blooded. A lot of the energy we get from food goes toward producing body heat.
But snakes, like other reptiles, are cold-blooded. They don't produce body heat, so they don't need nearly as much energy.
They conserve energy in other ways, too.
Even though snakes can move amazingly fast when they want to, they're pretty inactive most of the time. In fact, most of the energy that snakes use goes towards… digestion.
Thanks to their much lower energy requirements, snakes don't need to eat as much or as often as we do.
You Are What You Eat
Have you ever eaten a ton of junk food, only to find yourself hungry again soon afterward? Snakes don't have that problem. They stick to a diet that gives them all the nutrients they need in one swallow.
Most snakes eat some type of rodent—if you have a pet snake, you probably feed it mice or rats. You can get frozen ones at a pet store or Amazon, so there is no need to breed rats for your snake.
Snakes get tons of protein from the rodent's meat, plenty of calcium from the bones, and other necessary vitamins and minerals from its inner organs.
Since they get everything they need from one meal, snakes don't need to eat very often.
Other Factors
As we said above, most snakes take between 4 and 5 days to digest their food fully, and they may not eat again for another week or two afterward. But several factors can affect this. After all, just like no two humans are exactly alike, no two snakes are exactly alike either.
A snake's size, which is determined by breed, age, and other factors, largely affects how long it takes to digest food. Larger snakes eat larger prey, will takes longer to digest.
The bigger the snake, the longer it will probably take to digest its food.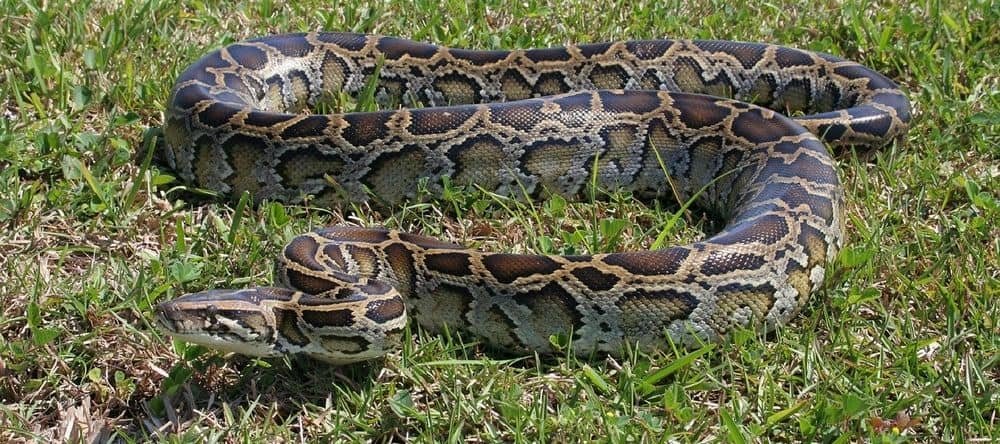 For instance, a young ball python, which measures about 1-2 feet in length, only needs a few days to digest its meal. Meanwhile, an adult boa constrictor, which can grow to 13 feet long, will need 7-10 days to complete the digestion process.
The type of prey also impacts how long it takes snakes to digest. For example, snakes that eat eggs digest their meals much faster than other snakes, since eggs break down in the stomach faster than other prey (and they don't swallow the shells).
Finally, the time of year and the temperature of a snake's habitat affect how long it will take for them to digest their food. Since snakes are cold-blooded, they get their body heat from their environment.
And proper digestion requires heat.
That's why snakes don't eat very frequently during colder months (many species hibernate for the winter). The warmer their habitat, the faster they digest their food.
Snake Digestion Speed: Final Thoughts
Snakes take far longer to digest their food than we do, for a number of reasons. Primarily: they have long necks, they eat their food whole and they have a slow metabolism.
This means that you won't need to feed your pet snake very often. But it does depend on the species and the age (plus a few other factors). Make sure you do your research about your particular species, before you buy your snake and bring it home.