We've all seen the video of that snake nibbling on the piece of lettuce.
Wait, you haven't seen it?
I'm not surprised, because it doesn't exist!
There is no video like this because snakes do not eat vegetables. We'll get into why below.
But isn't there any vegetarian species of snake?
Technically, yes, there is one. Maybe.
It depends on your definition of "vegetarian."
Are There Vegetarian Snakes?
For many, the image of a friendly vegan snake sinking its fangs into a juicy tomato or a sweet apple is preferable to the image of one consuming a helpless rodent.
But there is no such thing as a vegetarian snake. Snakes need to eat meat.
Apart from one species, which we'll get to in a minute.
How Snakes Are Defined
Snakes are defined as "obligate carnivores," meaning that they survive wholly on meat consumption. And they enjoy that meat as fresh as possible, meaning they want to kill their prey.
This is obviously off-putting to some pet owners and a reason many avoid snakes as pets. Especially snakes that eat cute animals. Do snakes eat rabbits? Some snakes love them, but not all.
While all snakes eat meat, they vary in the type of meat they prefer. Some prey on warm-blooded animals such as rodents or rabbits, while some snakes consume other reptiles.
Sometimes snakes will vary their diets to a greater extent, consuming insects, fish, and even birds. But it's always meat. That's what they need to survive.
A vegetarian diet just doesn't provide the necessary protein snakes need to survive.
Why Snakes Cannot Be Vegetarians
Eating a plant-based diet requires a complex digestive system. The digestive tract, stomach, and the internal chemicals must be able to break down and separate the material, then extract the nutrients.
Snake digestive systems are unlike most animals. Mammals often have a long digestive tract separated into large and small intestines and a stomach.
Snakes just have a simple tube that stretches along the length of their body. Since snakes do not chew their food to rid it of hard material, their digestive tube is lined with an acid strong enough to break down shells and bone.
But it does not possess any enzymes that can break down plant material.
The One Possible Vegetarian Snake
There are over 3000 species of snakes worldwide. They inhabit every type of environment, from tropical rain forests to sandy deserts and even water.
Among them, there is not a single snake species that does not subsist on animal products.
Notice we said "animal products" and not "meat."
That's because the African egg-eating snake eats nothing but eggs. It has no choice. It lacks fangs and the ability to constrict strongly enough to kill prey.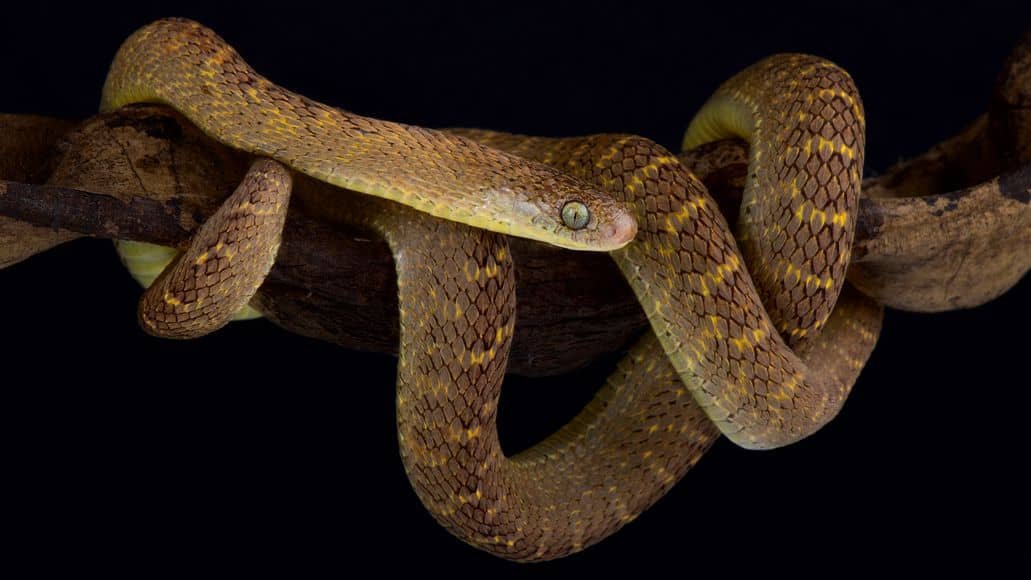 Does this make the egg-eating snake a vegetarian?
That depends on how you feel about eggs.
Do you view an egg-only diet as vegetarian? If so, then we can say that there is one species of snake that is vegetarian.
History Of The Snake's Image
Part of the desire to change snake behavior stems from our complicated relationship with the creature. Since the beginning of recorded history, snakes have held a certain fear and fascination.
some cultures worshipped and revered snakes, while others reviled them. The ancient Egyptians both honored the asp and were horrified by it at the same time. The story of Adam and Eve tells of a snake that appears as the great deceiver.
The animal's combination of stealth and venomous lethality reaches into man's darkest nightmares. It is why we often portray the animal as villainous.
Our complex relationship with snakes drives the desire to soften the creature's image. Creating a snake that feasts on fruits and vegetables rather than the more realistic picture of it devouring scared bunnies, or much larger prey, helps accomplish this.
Reasons People Want A Vegetarian Snake
Over the past several decades, snakes have become increasingly popular as pets. However, as we do with many of our pets, there is a desire to get these animals to mirror our behavior.
How many of us talk to our dogs like people, dress them up in clothes, and order them puppuccinos every morning at our local Starbucks? The same goes for snakes and their eating habits.
Discomfort
Maybe the most significant reason we want our snakes to be vegetarians is that, while we are aware of what snakes do to eat their meals, seeing them actually do it can be challenging for the squeamish.
I enjoy a good steak, and obviously, I know where they come from. But we generally distance ourselves from the living creature we are consuming. That's easy, because we do not have to see it.
When feeding a snake, we cannot separate ourselves from the harsh reality that meat comes from living beings. That's true even if you feed it dead, frozen mice, instead of live ones.
Cost
Feeding your snake is not cheap. Frozen mice or rats are more expensive than dog or cat food. Live prey cost much more still. Breeding your own rats is a bit cheaper, but much more of a hassle.
The good news is that snakes don't eat nearly as much as cats or dogs.
Snakes eat at varying rates. Some need to eat often, while others can go so long between feeding that it hardly seems possible they could survive without nourishment for so long.
In general, you probably need to feed your snake about once every week. But since their food is more expensive, the costs still add up to a considerable amount.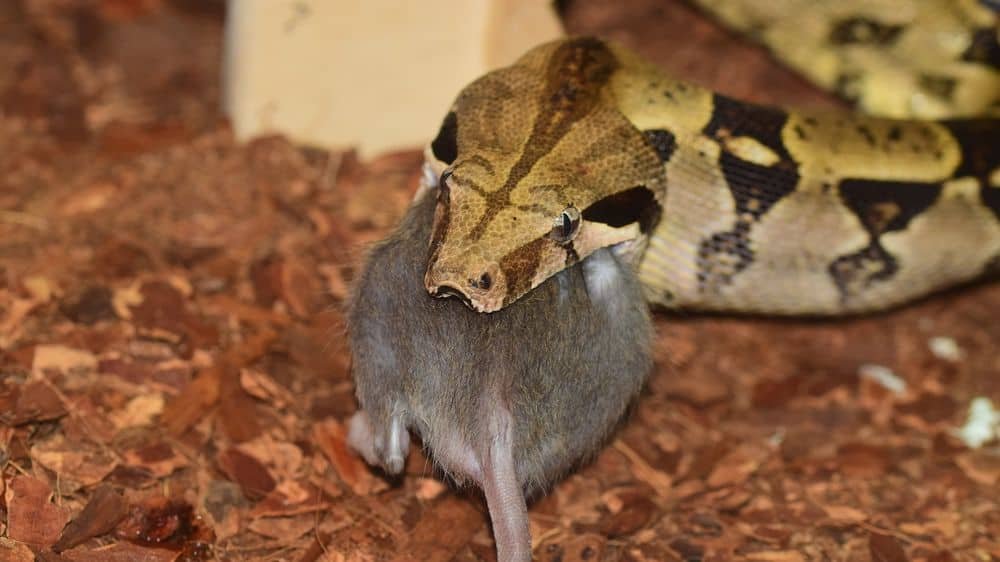 If you feed live prey, there is the potential for higher costs still. Obviously, the food costs more, but there is also the danger that the prey can injure the snake, while struggling for its life. This could mean a hefty bill at the veterinarian's office.
Don't Use Live Prey Unless Absolutely Necessary
As the popularity of snakes as pets has increased, plenty of companies have started offering pre-killed mice or rats. You can buy these at pet stores or even on Amazon.
These pre-killed, frozen meals for snakes have some huge advantages. They cost less, they eliminate the chance your pet could get injured by its prey and they mean you won't have to watch a little mouse get killed and eaten in front of you (if that bothers you).
Vegetarian Snakes: Final Thoughts
There is a great deal of controversy about having snakes as pets. Some people find they make excellent, while many others find their nature antithetical to the pet world.
Snakes are not dogs and they will never be fully domesticated like canines. And don't expect your snake to adopt a gluten free, vegan diet just because you have.
Suppose you are considering getting a snake as a pet. Do your homework. Different breeds of snakes have varying personalities and instincts and each requires specific care.
Some snakes can be aggressive, meaning that you must be extra cautious when handling them. Other snakes are very docile, and their behavior, feel, and exotic appearance can make them a fascinating pet option.
But no matter the snake, it will never be vegetarian!