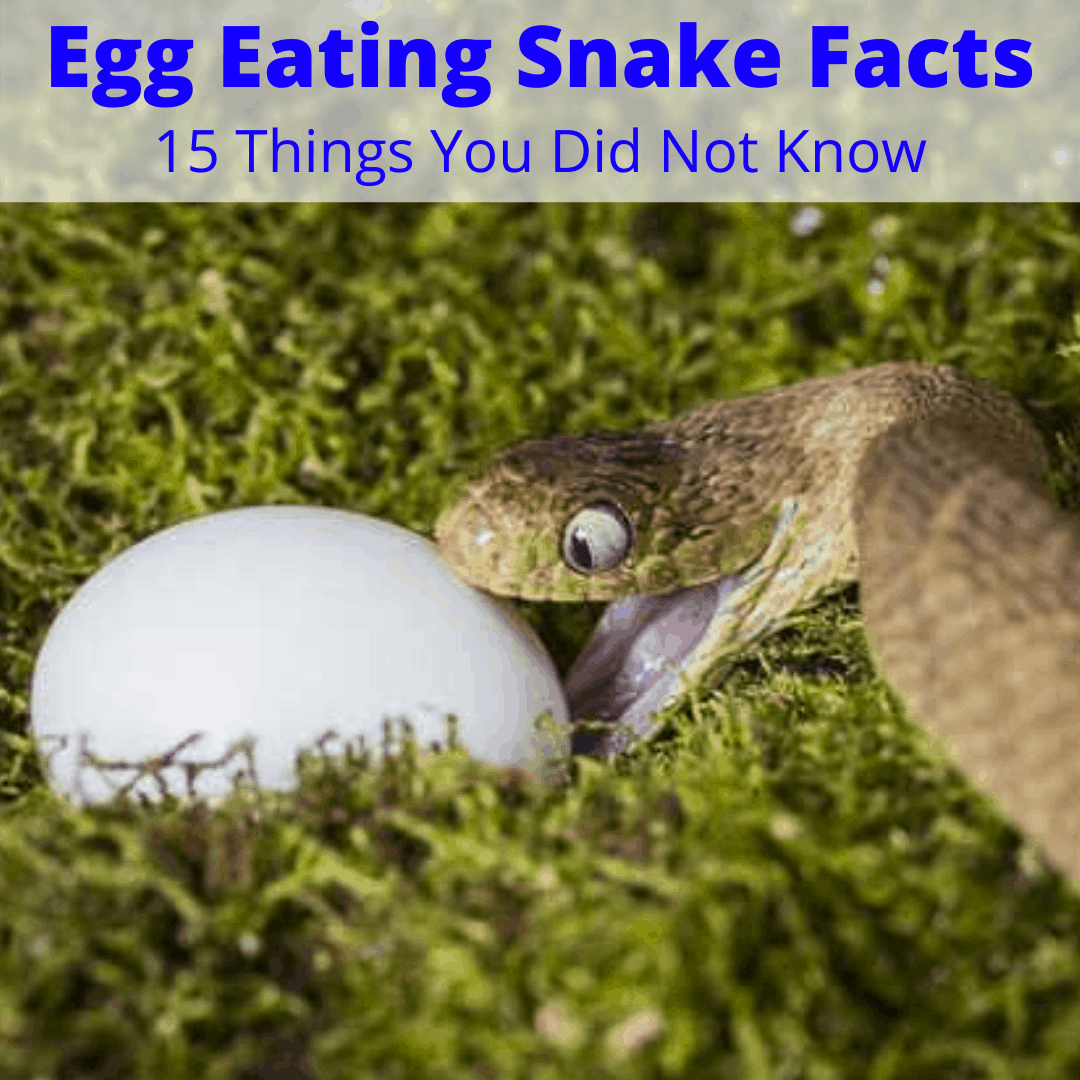 Are you thinking about getting an egg eater snake?
They make great pets, because they are relatively easy to care for.
They never get very large and they do not need an unusual temperature of humidity.
What especially appeals to many people is that you do not need to feed them live or thawed animals.
Just give them their eggs and they are happy.
If you're thinking of getting one of these snakes, you want to learn as much as possible about them first, so that you can provide them the best possible care.
To that end, here are 15 fascinating egg eating snake facts.
Egg Eating Snake Facts
The egg eater snake is a non-venomous snake that finds its home throughout the African continent. Its scientific name is Dasypeltis fasciata and it is a very popular pet snake.
Most people find them easy to look after as long as you have a supplier of smaller eggs. Once these snakes grow bigger, you can feed them quail eggs. They rarely grow large enough to eat chicken eggs in captivity.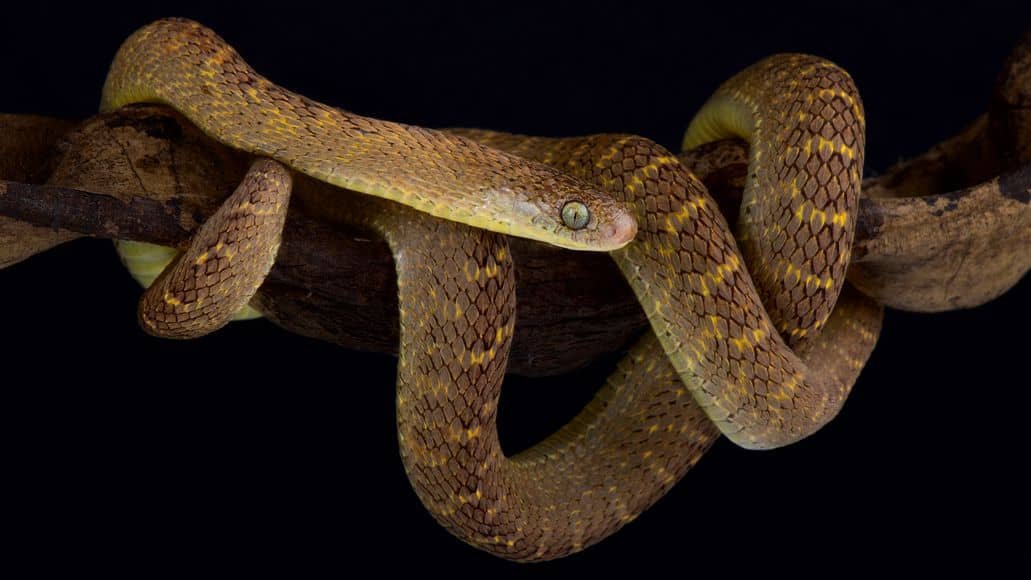 1. Female Snakes Are Bigger
With most snake species, the female snake is bigger than its male counterpart. The same is true for egg eater snakes.
2. It Can Be Hard To Get Them To Eat
By far the hardest thing about caring for egg eater snakes is getting them to eat. This is especially true for a snake that has newly arrived in your home. These snakes are highly sensitive to their surroundings and a sudden change in them causes stress.
Smaller snakes only want finch eggs, so you may have to syringe feed them on occasion. Female snakes eat a lot easier in captivity than male snakes.
3. The Sexes Actually Get Along
With many snake species, the sexes can not be housed together. That is not the case with this species. Male and female egg eaters can live in the same enclosure without doing any harm to each other.
4. Finding Food Can Be Difficult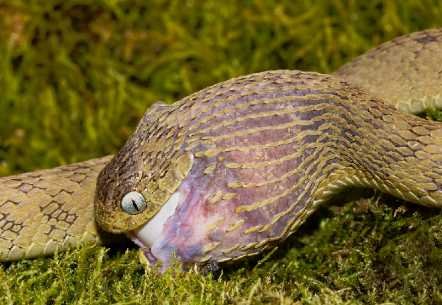 Finding food for egg eater snakes is not always easy. You can purchase fresh quail eggs on Amazon, but only large adults (usually females only) can eat these. Smaller snakes finch eggs and then button quail eggs, as they grow. Button quail eggs are much harder to find and finch eggs are harder still.
Make sure you have a supplier lined up before you get your snake. Some people actually resort to raising their own finches to ensure a steady supply of eggs. The eggs need to be unfertilized, because these snakes will not eat them if there is an embryo inside.
5. They Eat At Night
Like most snakes, egg eaters prefer to feed at night. This is mainly because it is easier to sneak around a bird's nest at night than during the day time. In captivity, this obviously does not matter, but they instinctively prefer eating at night, since this is what they do in the wild.
6. They Eat Eggs Whole
Egg eater snakes eat eggs whole. They open their jaw and wrap it around the egg and begin to swallow it. It goes about 2 inches down its throat where 3 big boney spikes crack the egg shell so they can get to the goodies inside.
The snake squeezes every last drop out of the egg, until it is empty. Then it crunches up the shell and spits it out.
7. You Can Leave Eggs In The Enclosure
These snakes eat every 4 to 7 days. Unlike with other species, where you only give them food when it is time to eat, it is actually best to leave eggs lying around in the enclosure. The snake will eat them when it is ready, but does not gorge itself if it does not need food.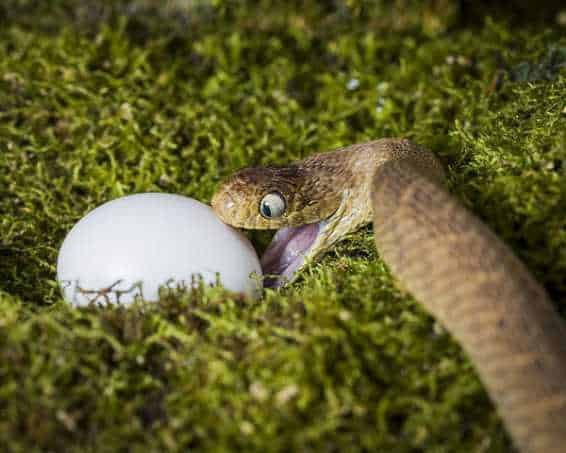 If the snake does not eat an egg, don't just leave it in the cage forever. Remove it after two weeks or so, so that it does not rot.
8. Their Tongue Senses The Eggs
With a flick of their tongue, they can sense the egg and can smell exactly how old the embryo is within that egg. They do not like eating an egg that has a small bird inside and will ignore those eggs and only eat the fresh ones. That is why it is best to just feed them unfertilized eggs.
9. They Rub Their Scales Together To Scare Predators
The egg eater will rub its scales together to make a hissing sound when threatened. This is meant to scare off any predators.
10. They Have A Reputation For Not Liking To Be Handled
There are loads of people who say that these snakes do not like being handled at all. But I have found the more you handle them the less stressed and the more relaxed they become.
11. These Snakes Stay Small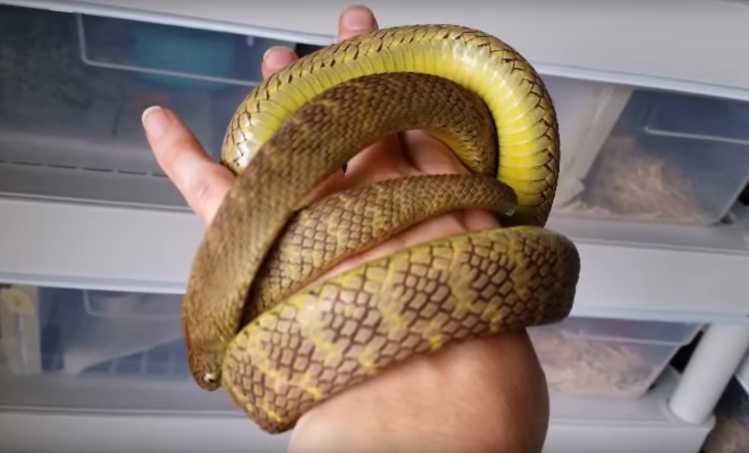 Egg eating snakes range in size from about 18 to 24 inches for adult males and about 3 to 4 feet for adult females. The females need to be bigger as they need room to inside them to develop all their eggs.
12. They Can Live Up To 12 Years
The egg eater snake lives more than 4 years in captivity. There are some records of these snakes living up to 12 years in the wild and possibly longer.
13. They Have No Teeth
These snakes do not have any teeth and at the worst can only gum you. They do not have any venom either, since they have no need for it. They eat eggs, not animals that need to be killed.
14. They Can Struggle In Captivity
Snakes do not like being kept in captivity and most will lose their appetites in the beginning. The reason is that they are stressed out and they long to go back to their home in the wild.
You can compare this to any human being having to go to jail or prison. You will never be happy in prison and the same goes for these reptiles. That is why it is important to respect them and treat them with the utmost care.
15. They Must Be Treated Like Any Member Of The Family
Do not poke at your snake and try to get an angry response to impress your friends. Remember to always have loads of food and water available and try your best to provide the utmost care.
Every now and then, take your snake out into the fresh air so it can climb up a real tree. If you cannot do all of the above, please do not get a snake. They deserve better.
If you're willing to treat it well and care for it as best as you can, let's briefly cover some tips on caring for an egg eater snake.
Caring For An Egg Eater Snake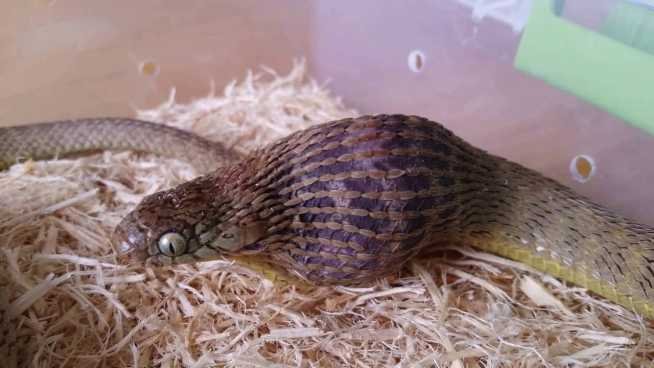 There is not a lot of information available on how to look after these snakes. We have carefully put together a brief overview here, but go into much more detail in our article on egg eater snake care.
Natural Environment
The egg eater comes from dryer areas that have loads of plant life like trees and shrubs. They live there, because this is where birds have their nests. You want to mimic this environment in their enclosure.
Setting Up An Egg Eater Enclosure
For help on picking an appropriate enclosure, read this article. Once you have that, you need bedding.
These snakes do not burrow, so you do not need a thick layer. They live in drier areas, so you also do not need bedding that holds humidity. This makes buying substrate easy. Just get aspen shavings. They are perfect for these snakes.

Put about a 5 cm layer of bedding int he bottom of the enclosure. Then add some terrain features. At a minimum, you want to get some kind of climbing branch, since these snakes do climb in the wild to get to eggs.
You also want to add a hiding spot, but ideally two, with one on each end of the cage. Finally, your snake needs a water dish.
These snakes do not soak in water, so you do not need to get a larger dish. Just a small one they can drink from will suffice. This is a good one:

Proper Temperature
These snakes are not as picky as some, so getting the temperature right is not overly difficult. You want a gradient, so that the snake can regulate its body temperature as needed.
Keep the coll side of the enclosure at room temperature and heat the hot side to 80° to 90° F. You can use a mat for heating to create the hot spot. Put one of the hiding spots on the hot spot and the other on the cooler side of the terrarium.
Food
The last thing to add to the enclosure is some food. As mentioned above, with these snakes, you want to always keep food in the enclosure. Simply scatter a few eggs around the terrarium so the snake can eat when it feels like it.
Use finch eggs and button quail eggs for smaller snakes and quail eggs for larger ones.
Facts About Egg Eater Snakes: Final Thoughts
We hope these 15 facts have taught you something new about these wonderful snakes. If they have made you want to get one, make sure you arm yourself with more info first. You need to know everything about them, so that you can provide the best possible care.