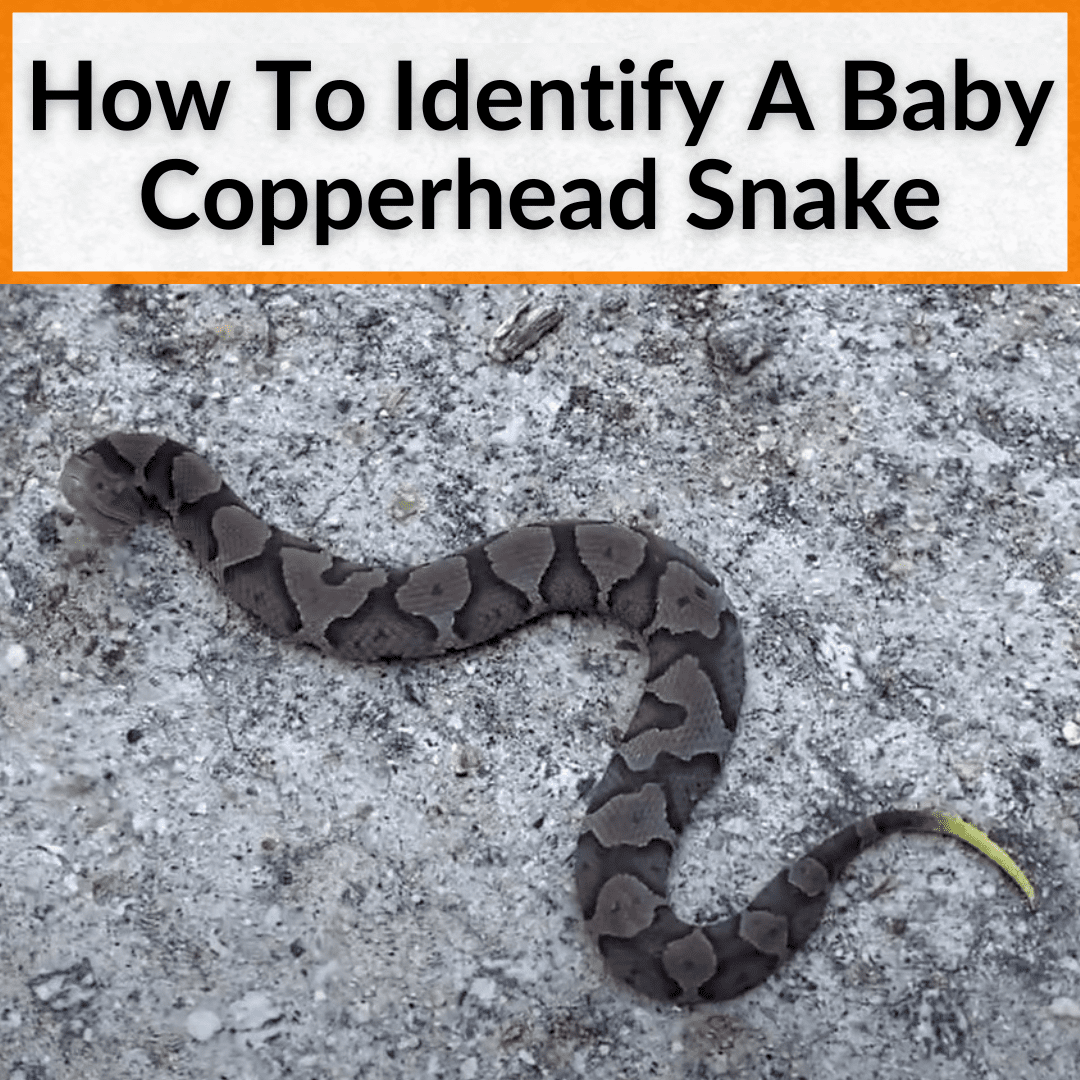 Baby copperheads can look a lot like worms.
But there is one big difference.
Worms won't bit you if threatened,
And worms won't inject a powerful venom into your bloodstream.
So obviously, it pays to know how to identify a baby copperhead snake.
Luckily, there are a few distinguishing characteristics.
If you know what to look for, you will easily be able to tell the difference between the snake and a worm.
Keep reading to learn exactly how to identify baby copperheads and tell them apart from harmless worms.
How To Identify A Baby Copperhead Snake
Baby copperhead snakes have a bright yellow or lime-green colored caudal lure at the end of their tails. They use this to lure prey like lizards and insects.
They also have characteristic Hershey's Kisses, triangles, or hourglass patterns over light brown, red, or dark grey coloring.
That said, it is not uncommon for people to misidentify baby copperheads as worms. Let's go into a bit more detail on the identifying characteristics that distinguish them from worms.
Is It A Worm Or A Baby Copperhead?
Baby copperheads are mini replicas of adult copperheads, but much smaller in size, measuring only about 6 to 8 inches.
Due to their small size, they are often mistaken for worms. However, sometimes their tiny triangular head may be visible, and they also move in a more serpentine fashion.
Upon closer inspection, you might also notice hourglass, triangular, or Hershey-kiss-like patterns over red, brown, or dark grey coloring.
In addition, baby copperheads up to the age of 1 year have that distinct bright yellow or green coloring on their tail tips that resembles grub or worms. This is known as the caudal lure.
Baby copperheads use these bright lures to attract lizards, insects, and other prey toward them. But copperhead snakes do not have rattles on their tails.
They use their unique tails by remaining coiled and camouflaged so that only the caudal lures are visible. Curious prey walks right up to them to investigate and the baby copperhead strikes quickly.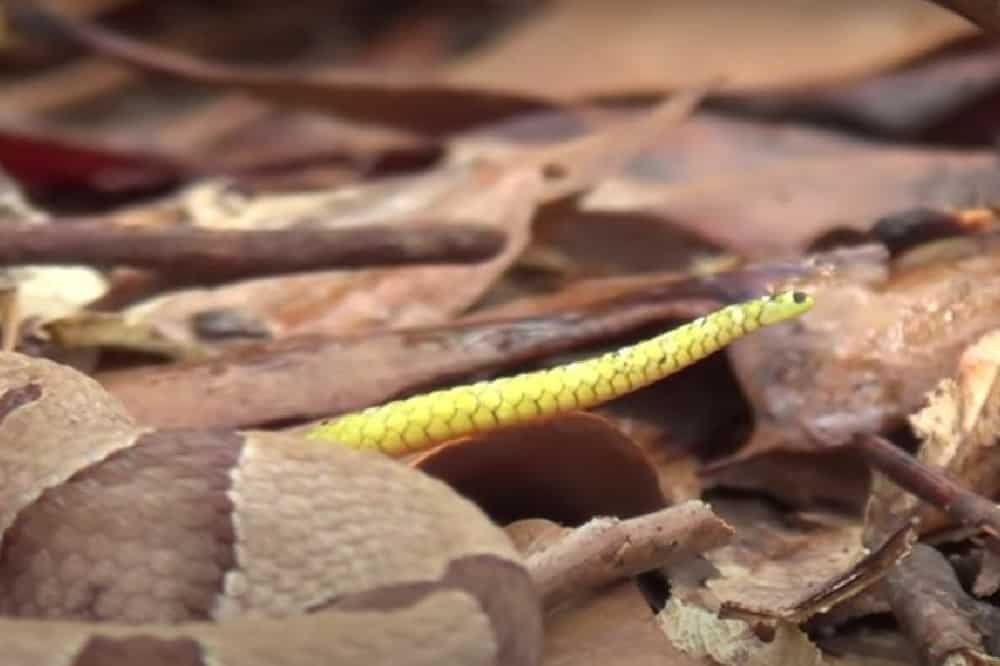 Do Baby Copperheads Have Spots?
Northern baby copperheads have rounded dark-colored spots over the light-colored parts of their sides. There also may be a dark spot present in the center of each dorsolateral band. Even adult copperheads have these spots, but they are better defined in the younger snakes.
What Time Of Year Are Baby Copperhead Snakes Born?
You will likely encounter baby copperhead snakes around late summer or early fall in August or September. This is the time of the year they are born. A female copperhead can give birth to 2 to 14 babies at a time.
Several females hide inside rocks and crevices to give birth. After birth, baby copperheads move to piles of leaves, trash, and wood to lurk unseen.
What Time Of The Day Are Copperheads Most Active?
Baby copperheads may be active throughout the year under suitable environmental conditions.
In spring and fall, they may remain active throughout the day. In summer, they switch to nocturnal activity, when the daytime temperatures become too warm.
They also cease being surface-active in winter, if they cannot maintain a body temperature over 50° F. In summer, they cannot tolerate temperatures much over 77° F.
Where Are Copperheads Found In The USA?
There are several types of copperheads to watch out for in the United States. The Northern copperhead species is abundant from the Florida panhandle up to Massachusetts, and all the way west to Nebraska.
Southern copperheads can be found throughout the eastern USA whereas the broad-banded copperheads are mainly located in central Texas, Oklahoma, Kansas, Georgia, and Alabama.
Are Baby Copperheads More Aggressive?
Baby Copperheads are usually shy and inoffensive. However, we humans perceive them to be aggressive. They are just being defensive.
They also tend to feel easily threatened due to their small size, which makes them feel vulnerable. As a result, they tend to show aggression if stepped on, prodded, or disturbed.
Can You Survive Baby Copperhead Bite?
Baby copperhead bites can be quite painful, and their venom is also more powerful than the adult copperhead's venom. This trait of natural selection helps ensure the baby copperhead's survival, since they are left on their own after birth.
The young copperheads latch onto their victim's legs or hands and strike with everything they have. This causes almost all their venom to enter the victim's bloodstream.
Can a copperhead kill you if it bites you?
Worry not, copperhead bites are usually not fatal. If there are no other complications. However, if you suspect you have been bitten by a baby copperhead, do seek prompt medical attention.
Their venom is known to impact and destroy red blood cells, so you will need prompt administration of a reversal agent.
Baby copperhead snake bites usually appear as two small red dots on the skin.
What Do You Do If You Find A Baby Copperhead in Your Yard?
Copperheads inhabit areas with rodents and other vermin. Therefore, finding baby copperheads is quite common, especially in sheds, yards, garages, and basements.
In summer, baby copperheads may even enter homes to seek shade. They hide until dusk and then go out to find prey once the sun sets.
If you have a baby copperhead inside your home or yard, here are the steps to follow:
Do not attempt to catch or kill a baby copperhead; it will not hesitate to bite. Walk away from it slowly and keep an eye on it from a distance.
Keep kids and pets away from it.
In most cases, the baby copperhead will soon move away. If it does not, you can call animal control to aid you in its removal.
If the copperhead has entered a room/shed/basement, you can close the door and seal all exit ways. Then wait for the animal control experts to come and remove it.
Remember: killing a snake is illegal in many states.
5 Simple Tips For Keeping Baby Copperhead Snakes Out Of Your Yard
Use the following tips to make your yard unappealing to baby copperheads.
Keep The Grass Short
Mow the grass to a height of one inch or less. This will reduce hiding places for the baby copperhead.
Reduce Clutter
Eliminate clutter such as rusted toys and bikes, compost bins, rocks, wood piles, accumulated leaves, etc. from the yard or garden. This will reduce the hiding places that baby copperheads seek.
Minimize Snake Food Sources In The Yard
Baby copperheads feed on tiny frogs, insects, caterpillars, and mice. Reduce these pests in your yard to keep baby copperheads away. A neat and tidy yard with a well-kept lawn can eliminate these critters.
Use Snake Fences
Snake preventive fences have small mesh sizes (0.25 inches or smaller) and can help keep baby copperheads out.
Plant Aromatic Herbs
Many herbs and fragrant plants repel snakes. Lemongrass, onion or garlic plants, kaffir lime, marigold, Yucca, etc. are some varieties you can plant to keep baby copperheads and other snakes out.
Identifying Baby Copperhead Snakes: Final Thoughts
Baby copperheads are not aggressive, but they will strike when they feel threatened. That is why it is important to be able to tell the difference between them and a harmless worm.
Especially if you tend to touch worms (not sure why you would, but anything is possible, I suppose).
Thankfully, the snakes do have some features that makes it easy to tell the difference. And after reading this article, you should know what those are and know exactly how to identify a baby copperhead snake.