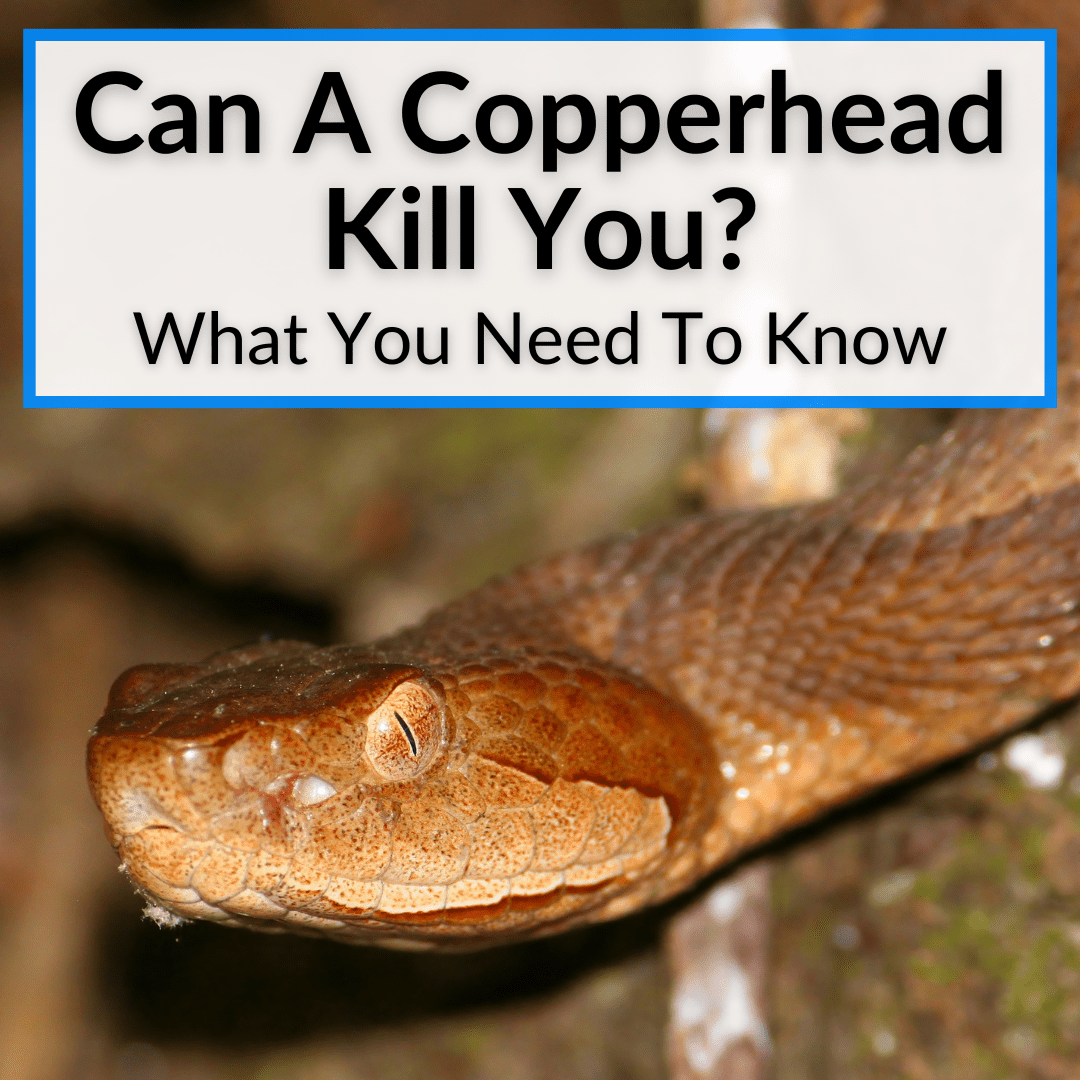 Copperheads have a bad reputation.
Especially the babies.
Do you live in an area that is home to this species?
Then you're probably familiar with baby copperhead season and the panic some local news networks like to spread.
But is there anything behind this panic? Can copperheads kill you or is the media just sensationalizing again?
Keep reading to learn everything you need to know about copperhead bites and copperhead venom, including why baby copperheads are so feared.
Can A Copperhead Kill You?
A copperhead bite can kill you, but it is unlikely. The venom from these snakes is not enough to kill a human. It will only do so in very rare cases.
Of course, being bit by a snake is never fun, even when it is not fatal. So let's take a look at what to do if you do get bit by a copperhead. We'll also give you some tips on preventing bites and identifying this snake so you can give it a wide berth.
What To Do If A Copperhead Bites You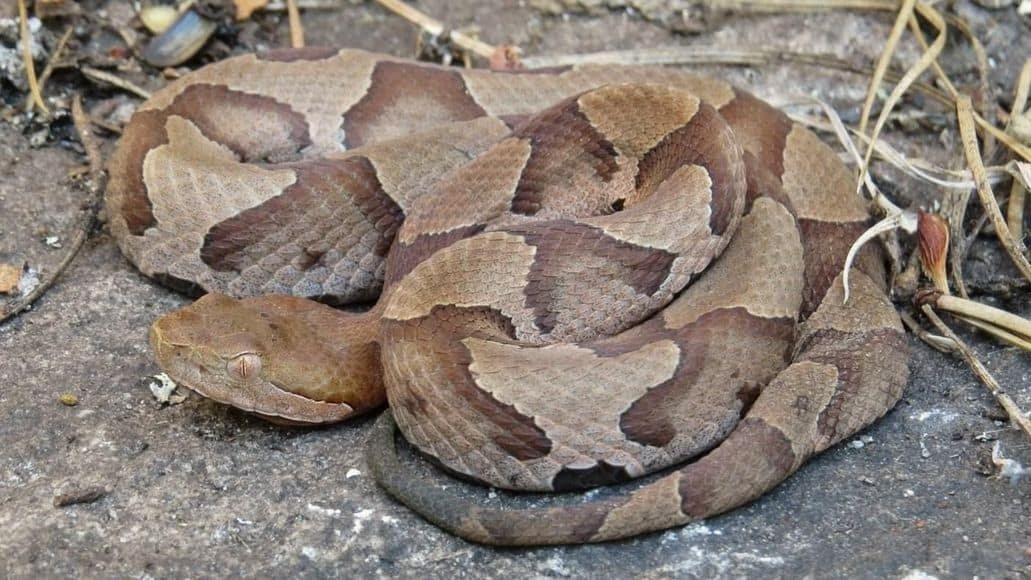 Just because a copperhead bite isn't deadly, that doesn't mean it isn't painful. If you are unlucky enough to be bitten, you may find that the area of the bite quickly begins to swell. This will probably be accompanied by some nasty pain.
You should always make sure you have the bite checked by a doctor who knows how to treat snake bites, just to be on the safe side. It could be the case that you need some antivenom, in order to avoid serious effects. It is always better to err on the safe side.
Identifying A Copperhead
If a snake does bite, you're going to want to make sure you can definitively identify it as a copperhead, in case you need to give any relevant information to your doctor. If you do encounter a copperhead, knowing their habits and habitats is also a great way to avoid being bitten.
Copperheads enjoy living in dry areas. They like any type of pine straw, dried leaves, bushes, or even wood piles or a dry stack of bricks.
If you come across any of these types of areas in a location that is home to copperheads (or other snaked), it is a good idea to avoid sticking your hands blindly into them. Or into any places you can't see. You may be struck by a nasty surprise.
You may also want to be a bit more cautious at night, if you come across any potential copperhead dens. These snakes are nocturnal and are more likely to strike you at night, when they are fully awake and aware of their surroundings.
Copperheads shake their tails to warn you, just like rattlesnakes. But copperheads have no rattles, so the snaking makes no noise. They are simply trying to take advantage of the rattlesnake's ferocious reputation to keep potential threats at bay.
Baby Copperhead Bites
You may have heard that a baby copperhead bite is worse than an adult snake bite. This is not entirely true, but there is some truth to it. There are certain factors to consider when it comes to a baby copperhead bite.
It is not exactly true that a baby copperhead is more deadly. The venom is the same. The difference is that a baby is not able to control the amount of venom it injects when it bites.
As a result, baby copperheads may inject more venom into their victims. But they also have less venom, so most of the time, they will not inject more than an adult. But a baby copperhead bite may be a little messier.
An adult snake is able to strike with accuracy and more force. The fangs may go deeper into your skin, but the wound is likely to be cleaner, which means it won't bleed as much and perhaps be less painful.
How To Prevent Copperhead Bites
Prevention is always better than cure and this is most certainly true for copperhead bites. Or any snake bites. Luckily, the snakes want to prevent a bit even more than you do.
These snakes are quite shy. Unless a copperhead feels physically threatened, it will want to stay as far away from you as possible. If you don't go near it, it will not come after you.
As such, the first (and hopefully the most obvious) prevention method is to not touch the copperhead. Touching is a sure way to make the snake feel physically threatened. A bite could happen so quickly that you might not even see it coming.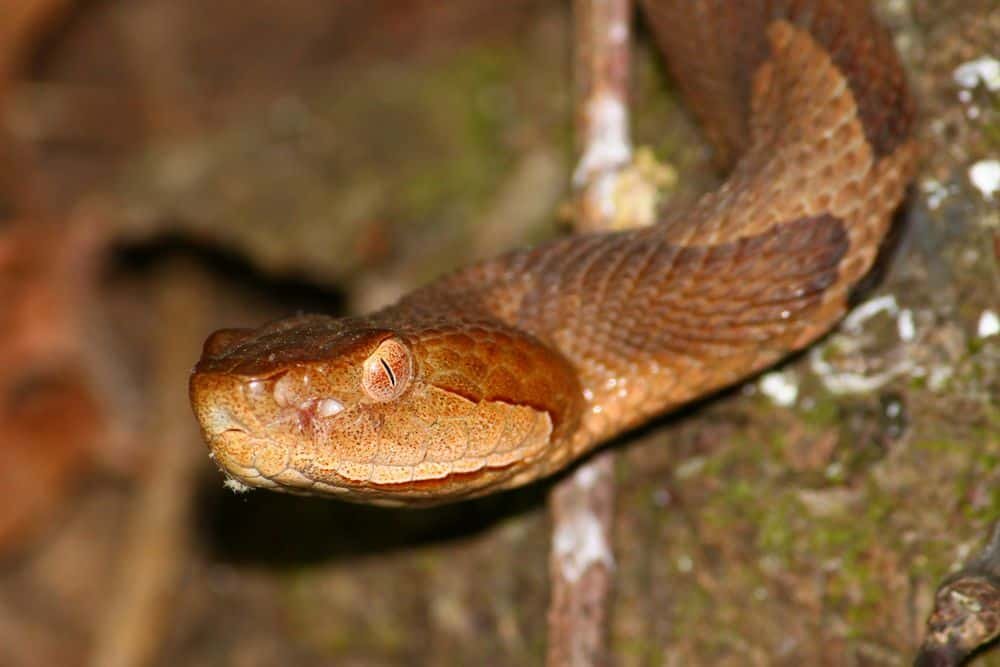 Other common prevention methods include being vigilant when out walking. Make sure you look where you are going, so that you do not accidentally step on a snake. The color of a copperhead allows it to easily camouflage into plains and dry grass. They are easy to miss, if you are not paying attention.
It is also a good idea to wear thick boots and long trousers, whenever you are out in the wilderness in an area that is home to venomous snakes. Keep any bare skin to a minimum. A wound is bound to be worse if a fang penetrates directly through the skin, without a barrier in the way.
Can A Copperhead Bite Kill You: Final Thoughts
Copperhead bites are rarely fatal. Many adult bites are actually dry bites, i.e. bites without any venom. Baby copperheads can't regulate the amount of venom they inject, but they have less of it. Even if you get a full dose of venom from an adult snake, it is still unlikely to kill you.
Copperhead venom simply is not very powerful. On top of that, these snakes are not aggressive. They do their best to avoid us altogether. So let's help them out and avoid them on our end too!