Do you want to identify them?
Or hatch them?
Or simply eat them?
Whichever it is, we'll cover all the important differences between snake eggs and lizard eggs.
Both are reptile eggs, so they have more similarities than differences.
But there are a few key things that set them apart. Keep reading for the full comparison.
Lizard Eggs Vs Snake Eggs
We'll begin this comparison by looking at snake eggs and lizard eggs on their own, before we move on to examine the similarities and differences between the two.
All About Snake Eggs
Snake eggs are soft and leathery. If you press them, they feel a bit gooey to the touch. They are long and less circular than other eggs.
Since snakes usually lay their eggs in humid areas, the eggs absorb water and swell a bit, which is what gives them their softer consistency.
Snakes can lay their eggs in a variety of places, like soil or dried mulch. The eggs usually have a length of four to ten centimeters.
Snake eggs usually take between 45 and 70 days to hatch. They need an incubation temperature that's around 80 degrees Fahrenheit.
If you've ever stumbled across snake eggs that have been laid on the ground, you might have noticed that they were clumped together.
This doesn't happen by accident. It ensures that the eggs maintain their moisture and the right temperature for the snakes to hatch successfully.
All About Lizard Eggs
Lizard eggs share quite a few characteristics with snake eggs. For starters, they both have a leathery texture so that they can absorb water and stay hydrated.
It can be difficult to tell lizard eggs from snake eggs, but a hint is in their size. A lizard's eggs are smaller than a snake's.
Generally, a snake egg is about one inch in size, but large snakes like pythons can lay eggs that are up to five inches. Lizard eggs are usually between one to three centimeters in length.
Lizards tend to lay their eggs in moist areas, because the eggs require moisture. This is similar to the requirements that snakes have when they want to hatch their eggs.
Lizard eggs are oblong in shape. It takes lizard eggs between 40 to 60 days to hatch, which is a bit shorter than the length of time it takes for snake eggs to hatch. Their incubation temperature requirements are pretty much the same.
Can You Eat Them?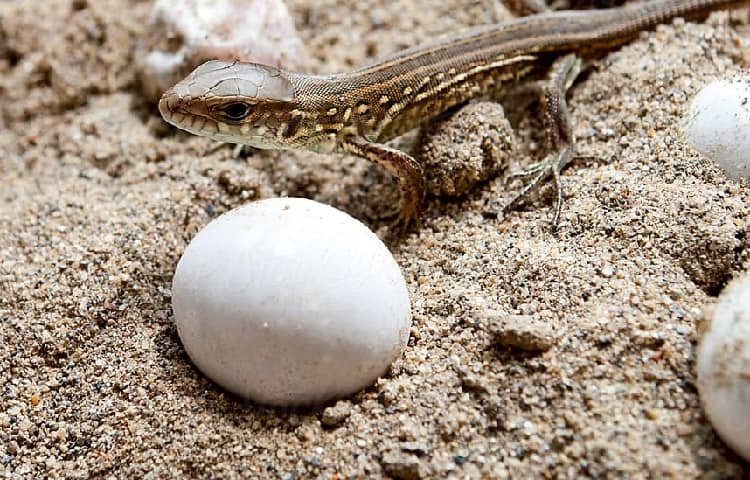 If you like adding interesting and different foods to your diet once in a while, you might wonder if you can eat snake or lizard eggs.
After all, we eat chicken and sometimes bird eggs, so what's the difference, right? Here's the lowdown.
Eating Snake Eggs
You can eat snake eggs. You just have to ensure that you cook them correctly. Snake eggs actually have some health benefits because they are packed with protein.
Snake eggs aren't poisonous so you don't have to worry about that. Even if you consume an egg from a snake that is venomous, its toxins will be absorbed and broken down by the stomach.
Of course, not all snakes lay eggs. Some, like rattlesnakes, hatch their eggs while they are still inside the female snake's body. This is why you will never see what rattlesnake eggs look like, unless you surgically remove them from a snake.
Eating Lizard Eggs
While you might not think eating lizard eggs is worth it because they are so small in size, some people say that they're tasty.
You can cook lizard eggs in a variety of ways, but a good method that accentuates their taste is to fry them.
Just warm up a pan on the stove, put some vegetable oil in it, then crack the lizard egg the way you would crack a chicken's egg and put it in the pan. These eggs can be a little tricky to break, because they're leathery. You might not find them that practical to eat.
When it comes to the nutritional value of reptile eggs, their yolks are made up of lipid and protein. These are the energy sources that build the embryonic tissues of the eggs.
The yolk and embryo of the egg have many other nutrients, like vitamins and carotenoids. Water, oxygen, and other inorganic ions can be absorbed by the eggs. Everything else is in the egg when it's laid.
How To Take Care Of Reptile Eggs
If you happen to find some reptile eggs in the wild, you might get the urge to take them home and look after them. Perhaps even hatch them!
To do this, you're going to have to purchase an incubator for reptiles.
You want the incubator to cover the temperature range of 82° to 88° Fahrenheit. Make sure you put the incubator in a room of the house that doesn't experience a lot of temperature changes and use a thermostat to keep temps steady.
Research the species you think laid the eggs so that you get the right temperature. For example, most tropical and temperate lizard species will need 80° to 85° Fahrenheit of heat.
Make sure the incubator has enough ventilation. You can find ones that come with pre-drilled holes and vents so that heat can be released and oxygen can enter the incubator.
Don't turn reptile eggs! This is recommended for chicken eggs, but it can harm reptile eggs. If you are using a chicken incubator for your reptile eggs, you can disable its turning function.
You'll find built-in water baths in some incubators. This is important because they ensure that the heat is evenly distributed among the eggs and it increases the humidity, which these eggs need.
You should have a hygrometer to measure the humidity at all times. It should never go outside the ideal range. For snake eggs, the ideal humidity range is 75 to 85%.
Note
When it comes to lizard eggs, you'll need to make a nest for them that you will then place inside the incubator. This is important to mimic the lizard's natural environment.
Get a plastic container and put about an inch or so of hatching medium in it, like vermiculite. Mix quite a bit of medium with a bit of water so that it's damp but not dripping when you squeeze it. Place your eggs on the medium, being careful not to let them touch each other.
Related Questions
What does it mean to candle reptile eggs?
This is the process of shining a light through the egg to see its contents. Fertile eggs will have veins running through them. This shows you that the reptile eggs are alive.
What is pipping?
Pipping is the term for when reptiles are big enough to make a slit in the egg and poke their heads out. Some remain in there and breathe air for a few hours, while others will take days to venture out of the egg.
Snake Eggs Vs Lizard Eggs: Conclusion
Snake eggs can look quite similar to lizard eggs, but they tend to be larger. Apart from that, there are a lot of similarities, since both snakes and lizards are reptile.
You should now have a clearer understanding of the differences between lizard and snake eggs and also know how to incubate them until they hatch. For more on the differences between these two reptiles, read our article Pet Snake Vs Pet Lizard.