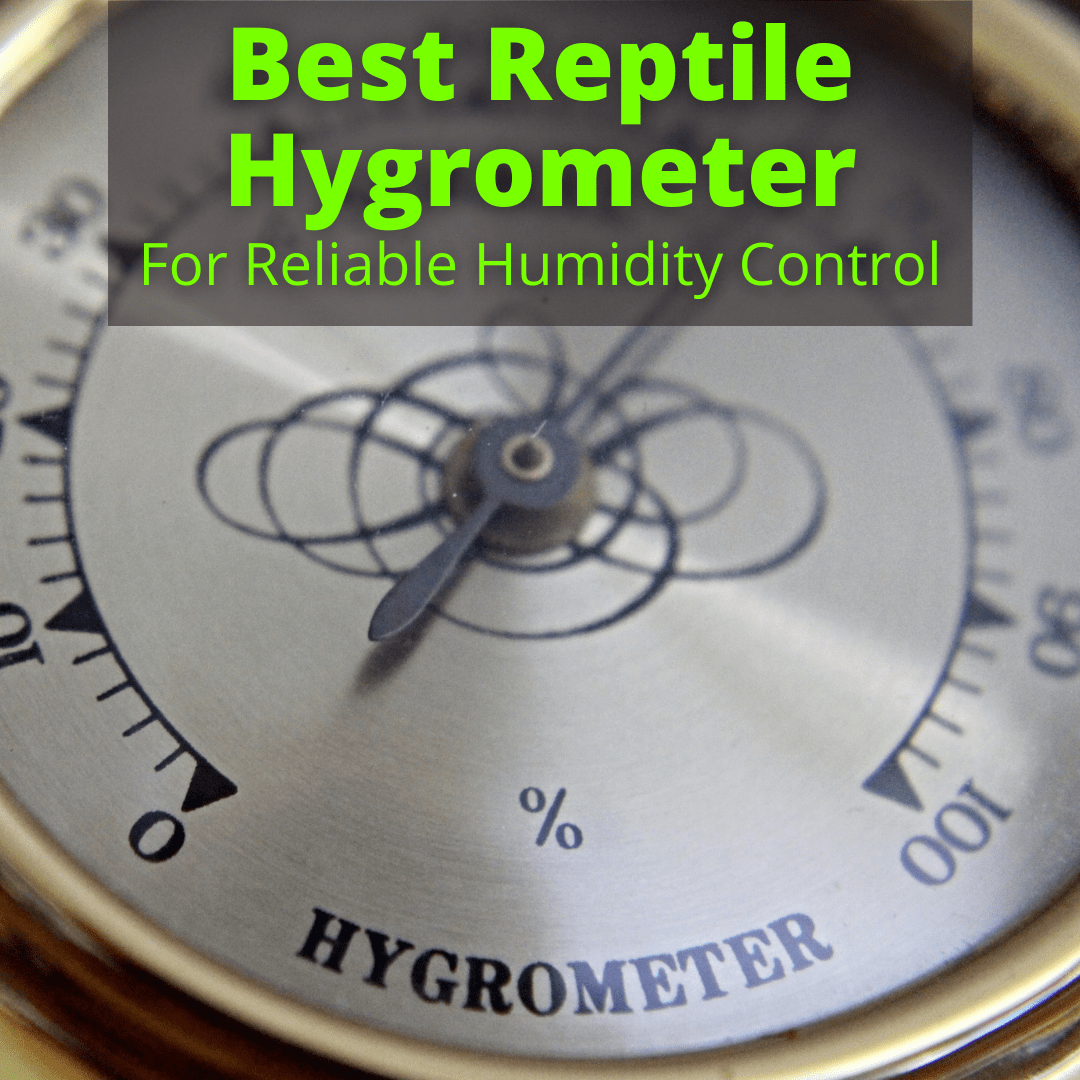 Snakes need the right humidity to be comfortable.
Some species are more sensitive to changes in humidity than others, but all can suffer health issues if their enclosure is too humid, or not humid enough.
You need a hygrometer that will give you accurate humidity readings.
You also want it to be easy to use, reliable and ideally, not expensive.
The best reptile hygrometers do all of that. We sifted through all the options on the market and found them
We included a simple model, and ones with more features. All are great options. Keep reading to figure out which one is best for you and your pet.
Best Reptile Hygrometers Compared
03/22/2023 01:44 pm GMT
A hygrometer is a device that measures the amount of water that is present in the air.
It makes it so much easier to ensure your snake gets the humidity it needs to keep its respiratory tract and skin moist, while mimicking the snake's natural environment as much as possible.
The bonus is that many high-quality hygrometers on the market come with extra features included, such as thermometers. With that in mind, let's view the best reptile hygrometer for easy humidity control, as well as four great alternative products.
Best Hygrometers For Snakes Reviewed
Let's take a closer look at each of our recommendations and see why these are the best hygrometers for reptiles available today.
Exo Terra Analog Hygrometer
If fiddling around with a hygrometer for your reptile's enclosure feels a bit overwhelming, this one by Exo Terrarium is incredibly beginner-friendly and makes it all as simple as possible. It's also inexpensive and doesn't need batteries.
Featured Specs
Color-coded display
Small and compact
Pros
This reptile digital hygrometer is easy to read, thanks to its analog display that's clear and color-coded.
This hygrometer comes with peel-and-stick tape so you can quickly and easily attach it to the glass of your pet's terrarium.
It provides you with constant humidity readings, so you can see what the levels are at a glance.
This analog hygrometer is small so you can place it in your snake's enclosure in such a way that it's not too visible.
You don't have to worry about purchasing batteries for this hygrometer because it doesn't need any. You simply place it in the terrarium and it will be able to read the humidity levels right away.
Cons
Some people have reported that the stick tape that's included doesn't last very long and loses its stickiness.
Analog hygrometers are not as accurate as digital, but this one is plenty accurate for our purposes
Buying Advice
The reason we love this hygrometer is that it is analog. That means no electronic components that can fail and no need to get batteries. But if you prefer a digital one, it is not for you. Check out the next option below.
Zoo Med Labs Digital Thermometer And Humidity Gauge
If you prefer a digital hygrometer, this one by Zoo Med Labs is our favorite. Here's what we like about it.
Featured Specs
Waterproof probe
Suction cups
Pros
This Zoo Med digital humidity gauge has a digital display and a waterproof probe.
This device has independent remote probes to measure heat and humidity in your reptile enclosure in different locations.
To make it easy to set up in your snake enclosure, this device comes with suction cups to affix to glass terrarium walls.
It can be used to measure the temperature in both Celsius and Fahrenheit modes.
This device comes with batteries included.
Cons
Some have reported difficulty reading the display in the dark.
Buying Advice
This digital hygrometer is a thermometer and humidity gauge in one. Its low cost makes it an especially great value.
Jlenoveg Reptile Humidity And Temperature Sensor
This Jlenoveg thermometer and hygrometer in one scores high points for ease of use. Let's check it out!
Featured Specs
Hook attachment
Large display
Pros
This thermometer has a hook that makes it easy to install and use right away.
It's got an easy-to-read digital screen that displays measurements in both Fahrenheit and Celsius.
Its larger display means you can get temp and humidity readings without having to open the cage or tank, which is especially a bonus if your snake doesn't like anyone getting too close.
The small size of this thermometer means you can put it anywhere in your reptile's enclosure without it being an eyesore.
This is a battery-powered thermostat and humidity gauge that comes with batteries included so you can use it straight out of the box.
Cons
While this device is accurate, people have said that the stick pad which is used to attach it doesn't remain secure.
Buying Advice
This is another great model that is pretty close to the previous one in our estimation. We slightly prefer that one, but honestly, we would be equally happy with either. Just go with whichever one currently has the better sales price.
ThermoPro Wireless Indoor Outdoor Hygrometer/Thermometer
If you want a hygrometer that comes with even more features, this one by ThermoPro is your best bet. But it costs quite a bit more. If you don't need those additional features, it's not worth it. That's why we ranked it lower.
Featured Specs
Weather station included
Waterproof
Pros
This thermometer and hygrometer gives you accurate readings whether you use it inside or outside.
The device comes with an additional sensor. This means you can keep an eye on two locations simultaneously.
It comes with a weather station. This reports the weather with visual icons on the display.
The display is a large LCD screen and it comes with a backlight for easier views.
The device is waterproof.
It's really easy to set up, so it's a good choice for beginners.
Cons
Some people have reported that the outdoor temperature is sometimes incorrect.
It's difficult to read the display unless you're directly in front of it, which can be a bit inconvenient at times.
Buying Advice
This small and compact hygrometer is a great way to keep your snake cage at the right humidity level, plus it has extra features such as an alarm and weather forecast. But it costs more, so it's only worth it if you want those extra features. We don't feel they're necessary for a snake terrarium.
Zilla Digital Thermometer-Hygrometer
This Zilla thermometer is all about greater convenience and practicality. Is it the right thermometer and hygrometer for you? Let's see!
Featured specs
Lead wires included
Memory storage function
Pros
You can easily use this to monitor your terrarium's temp and humidity, thanks to how accurate it is. It also has a large LCD digital screen.
What's great about it is that it comes with two probes that each have 57-inch lead wires. This means you can use them separately.
It comes with memory storage functions for both high and low temperatures, to make using it a smooth experience.
This Zilla thermometer-hygrometer device is battery-operated and comes with batteries included for extra convenience.
Cons
Some people who have purchased this thermometer-hygrometer have reported that the reading sometimes fluctuates from Fahrenheit to Celsius, or vice versa.
Others have said that moving this hygrometer around causes it to lose its settings. It's best to set it up in your snake or lizard enclosure and not move it. The same goes if using it in an incubator for lizard or snake eggs.
Buying Advice
This Zilla hygrometer makes it easier than ever to get accurate readings of the temperature and humidity in your snake's cage.
Reptile Hygrometer FAQ
Now that you have a better idea of the type of hygrometer you should purchase for your snake terrarium, you might want a bit more information about hygrometers and how they work.
Where should the hygrometer be placed?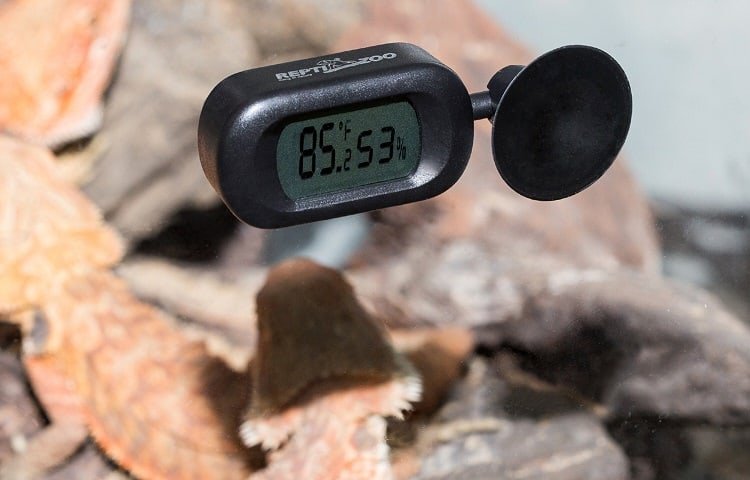 When placing a hygrometer in your snake's cage, a good tip is to keep it in the center of the cage about an inch above the substrate that you've placed at the bottom.
This gives you the accurate reading of the temperature and humidity that your snake is experiencing. If you place it too high in the enclosure or cage, you will get a reading of the air's temperature and humidity levels.
If you have a temperature gradient in the enclosure (which most snakes want), you should be monitoring the temperatures separately on the cool side and the warm side.
How long does a hygrometer take to work?
When you first purchase a hygrometer for your reptile's enclosure, you need to give it enough time to work. It takes a hygrometer takes a bit of time to register accurate changes in humidity. You should give it about two hours to let it stabilize, before you take an accurate reading with it.
How accurate is a digital hygrometer?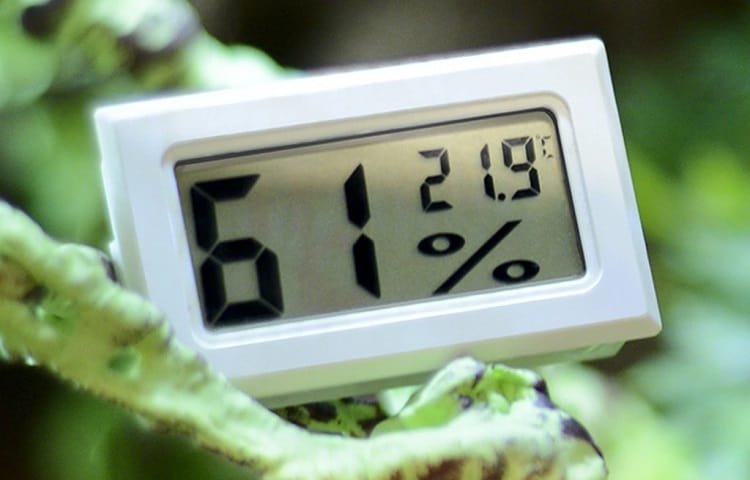 A digital hygrometer is more accurate than an analog one, usually + or – five points. But you can affect the accuracy of your hygrometer. For instance, if you place it incorrectly or don't calibrate it, you can get inaccurate readings.
Accuracy aside, digital hygrometers usually have extra features included a well, most notable a thermometer. This makes them a great choice for when you want to measure the temperature and humidity in your snake's terrarium with just one device.
That said, you almost certainly will want a thermostat to monitor and control the temperature, so you probably have no need for an additional thermometer.
Although digital hygrometers are generally have a higher level of accuracy, an analog hygrometer is still plenty accurate for our purposes.
And analog models have the advantage of not needing batteries and not relying on electronic parts that can fail more easily.
How do I choose a hygrometer?
There are certain features to look for in a hygrometer. Let's take a look at them in greater detail so that you can choose the best hygrometer for your reptile tank.
Hygrometer Display
You want to be able to glance at your reptile's cage and immediately see what the humidity reading is. Choose a hygrometer with a large display and a well-lit screen. Some models have a backlit display, so you can see the readings even in the dark.
User-Friendliness
This obviously means different things to different people, so think about what kind of device you want. Do you want a hygrometer that can be set up in your cage easily, for example with simple suction cups?
Then check out the Zoo Med Labs product we reviewed above.
Or do you want a hygrometer that has extra features, like a thermometer and a weather report? The model from Quntis has those features.
Price
You can find plenty of cheap hygrometers for reptile tanks, but many won't be any good. None of the models we've included in this buying guide are very expensive, so you really don't have to spend a lot of money.
Generally, the more expensive models (like the Quntis) have a lot more features. Before paying more for a model like that, ask yourself if you really need all of the features it has. In most cases, you can get by with a basic device that is a lot cheaper, as long as it is still highly accurate.
Best Reptile Hygrometer: Conclusion
You should be constantly monitoring the humidity of your snake cage. All of the hygrometers we featured on our list of reviews will help you get the job done. No need to worry that your pet snake pet might be suffering from too much, or too little, humidity.
We prefer the analog model for its simplicity and low cost, but we also made sure to include models with far more features. Hopefully you were able to find the right hygrometer for your snake terrarium.