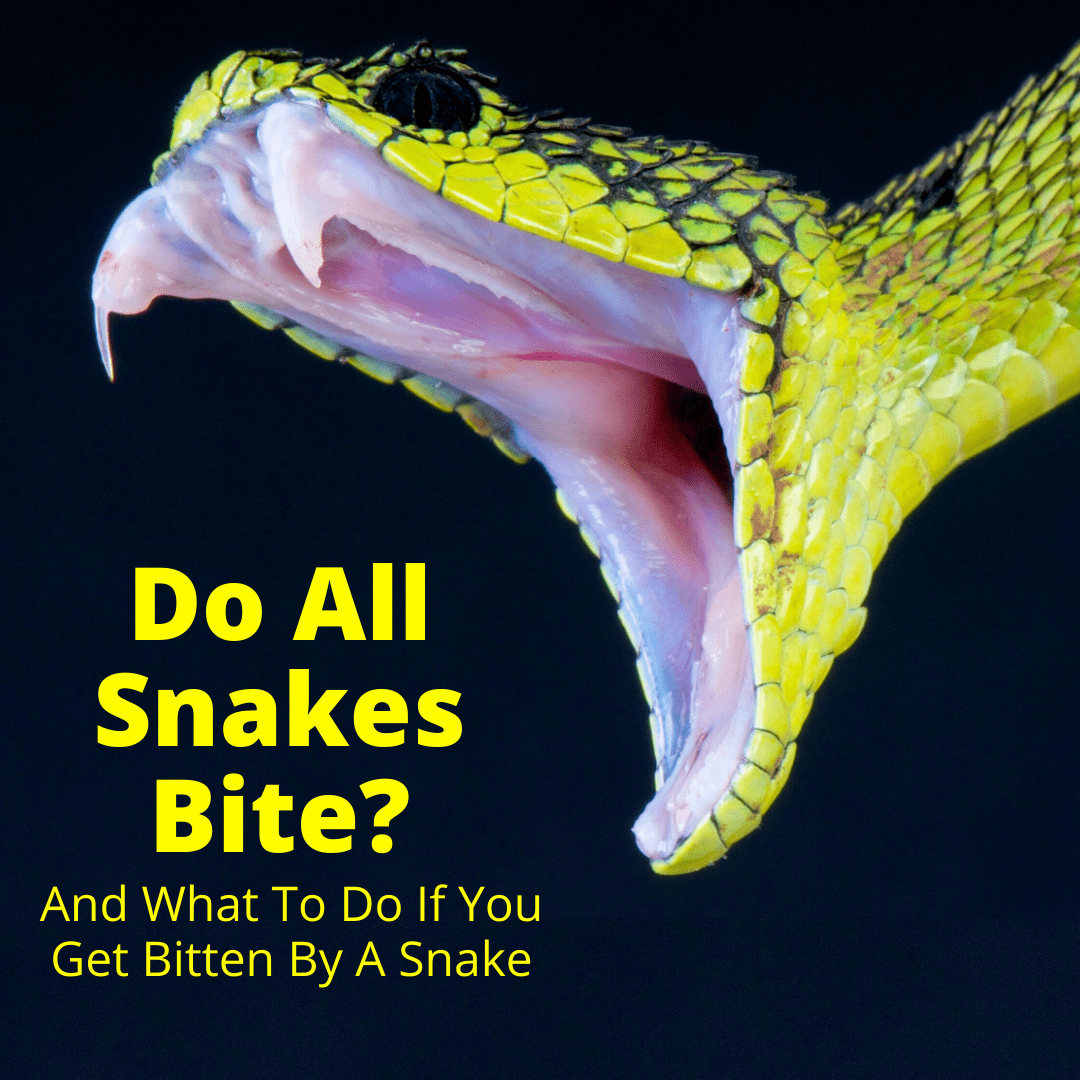 Snakes are often made out to be monsters. Creatures we should fear.
But the truth is: snakes do not want to harm us. They don't enjoy biting us and try to avoid it as much as possible.
But that does not mean they won't bite.
There are a number of things that will cause a snake to bite you. And obviously, some types of snakes are much quicker to strike out at you than others.
So do all snakes bite, or are there some that are completely harmless?
We answer that question and everything else related to snake bites below.
Do All Snakes Bite
Yes, all snakes do bite. But some are much more likely to bite than others. And some are able to do much more harm with their bite than other.
The more important question is then: what will happen if you get bitten by a snake?
The answer to that question can be vastly different, depending on what species of snake bites you. The good news is that most snakes are not venomous and their bit will cause you little, or no, harm.
Venomous snakes will cause harm, but how much again depends on the the species and how venomous its is.
We will cover the various possibilities of snake bites below, from non-venomous to venomous.
Non-Venomous Snake Bites
There are two types of non-venomous snakes: constrictors and the fanged snakes. Both will bite, but most bites do no harm. That said, there is always a risk for infection and it can actually be quite high in some species.
The Constrictor Snake Bite
Non-venomous snakes like the constrictor snakes do not need fangs or venom to kill their prey. They will their bodies around their prey and suffocate it until death.
Do not get us wrong though. These snakes do and will bite. If they feel threatened, they will strike.
But the most common occurrence of a bite is when you are feeding them. Sometimes they can confused your arm or finger for their food and latch on.
This is more likely, if you have handled their food. The snake will pick up the smell of the mouse or rat on your hand and will think your hand is its prey. That is why it is always best to feed these snakes using tongs.
Bites from larger constrictors can be quite painful, while those from smaller species barely leave a scratch. All have the potential to become infected, because these snakes' mouths are generally riddled with bacteria, including salmonella.
What To Do If You Are Bitten By A Constrictor
Most of the time a bit from a constrictor snake will not cause any harm. Watch the video below. You will see that the snake hardly breaks the skin.
That said, you still need to treat the affected area, no matter how small the mark the snake leaves behind. As mentioned, while the bite is not harmful per se, bacteria from the snake's mouth can lead to an infection.
Wash the bite area with warm water and soap disinfect the wound. If you notice signs of an infection following a bite, seek medical attention as soon as possible.
And sometimes, constrictors will not let go. After all, they use their bite to control their victim while they wrap around it. IF you have a pet constrictor, you'll want to know how to get a snake to release its bite.
Examples Of Constrictors
Non-Venomous Fanged Snake Bite
While non-venomous snakes obviously do not inject poison with their bit, some do produce a toxic saliva that help to paralyze their prey. This saliva is not deadly to us, but it can cause some discomfort. As before, most of these snakes also will not bite unless they feel strongly threatened.
Examples Of Fanged Non-Venomous Snakes
Here are three examples of these types of snakes
Venomous Snake Bites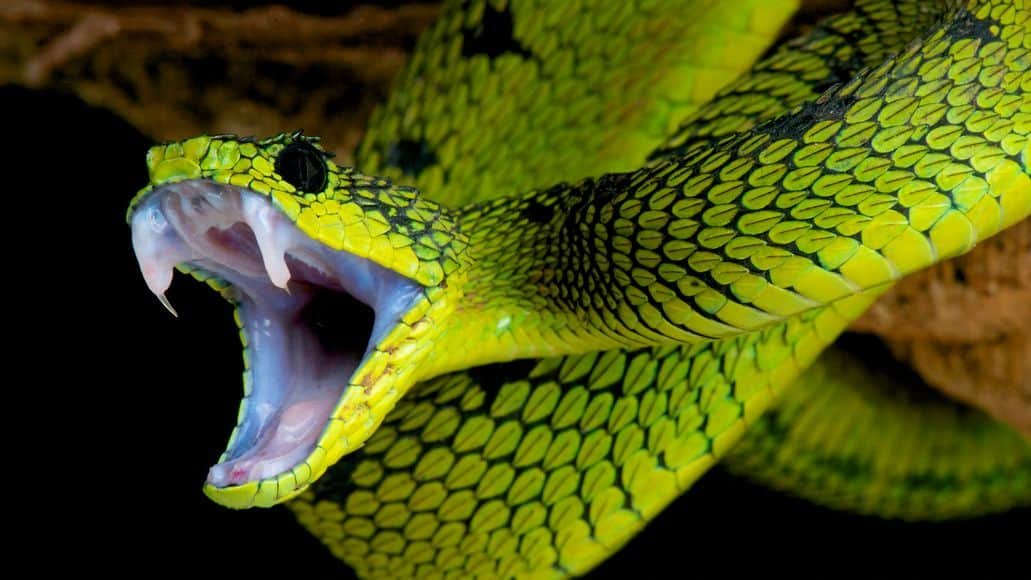 Your best bet is simply to stay away from venomous snakes. Do not handle them at all. And you certainly should not get one as a pet, unless you are a very experienced snake keeper. Venomous snakes should only be handled by trained individuals, and even they are still taking a massive risk.
A bite from the most venomous snakes needs to be treated at the closest hospital, ideally within a few minutes. If bitten, try to take a picture of the snake to show a GP. The picture will assist them is getting you the correct anti-venom.
Bites From Pet Snakes
As mentioned, snakes, even the venomous ones, have no desire to bite us. They will try their best to avoid a confrontation and will only bite if they feel they have no other option.
For that reason, the most common occurrence of snake bites is actually owners being bitten by their pets. Even the most docile snakes will, at times, strike. The most common reason for this is simply a case of mistaken identity. They thought your hand or arm was part of the prey they were smelling.
Avoiding these types of bites is easy enough: simply feed your snake using tongs. Let's take a look at common prey for snakes and how to properly feed them each type of prey.
Pet Snakes That Eat Rodents
All constrictor snakes eat rodents like rats and mice. The best way to feed them is to thaw frozen mice or rats that you can buy on Amazon, for example. Present the rodent using tongs, not your fingers.
Feeding your snake dead rodents is always better, because live ones can injure the snake. Only feed it live ones if it absolutely won't eat thawed ones, even if you wiggle them around in front of its face.
Pet Snakes That Eat Insects
If an insect runs near a snake, the snake will go for it and eat it. So yes, most snakes will eat insects like crickets and cockroaches. Some snakes eat them exclusively. To feed your snake an insect, it is best to just put a live one in the cage with the snake, like in this video.
Pet Snakes That Eat Fruit
There is no snake that eats fruit. All snakes are carnivores, meaning they want to hunt and eat live prey. If you try feeding a snake fruit, it will ignore it and eventually die of starvation.
People who wonder if a snake can eat fruit are usually those who do not enjoy feeding their snake live creatures. If you really want a pet that can eat fruit then get yourself a monkey 🙂
As mentioned, you can feed thawed dead rodents. It is actually preferable to live feeding. Or you can get a snake that only eats eggs.
Pet Snakes That Eat Eggs
Egg eater snakes eat only eggs, as the name might suggest. They are small snakes, so they need small eggs. Young ones eat finch eggs and larger adults eat quail eggs.
The eggs can not contain an embryo. The snakes will not eat the egg if there is an embryo inside. That is why it is best to just feed it unfertilized eggs. Just scatter a few around the cage and leave the snake to feed itself when it feels like it.
Common Snakes That Are Easy To Feed Without Being Bitten
These two species are good pet snakes to have if you prefer not to feed rodents and if you want tot make the feeding easy.
Rough Green Snake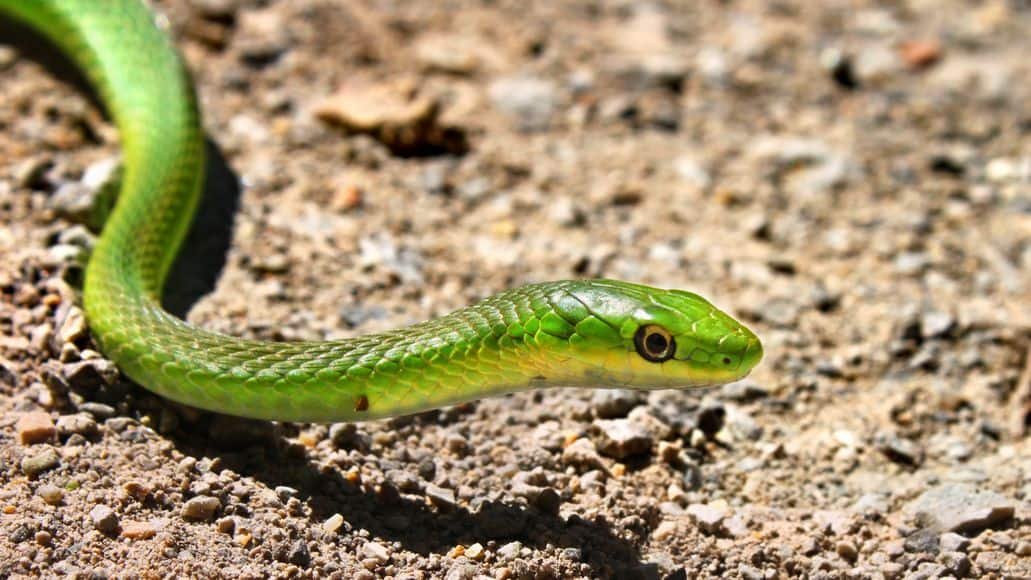 The green snake diet includes all types of insects like crickets, cockroaches, spiders, beetles and much more. If you decide to keep a green snake as a pet you must make sure you have abundant food available. This means insects, so this species is a good option for those who do not enjoy feeding a snake dead or live mice.
The green snake is super easy to look after and you can feed it entirely on crickets. As insect eater, they do love to climb and move around a lot. They have to be quick and nimble to catch insects, after all. This makes them difficult to handle, so don't get this snake if you want to spend a lot of time holding it.
Garter Snake
The garter snake has to be one of the best snakes you can own. It is the most widely-distributed snake in North America. It is also the only snake that inhabits Alaska. The garter snake is a great option if you do not enjoy feeding mice to snakes.
This snake enjoys eating earthworms in the wild or in captivity. They also eat fish. In captivity, you can feed these snake small thawed fish. It is super convenient just to freeze some fish, then thaw them at feeding time. They will even eat them directly out of your hand.
This snake is one of the only snakes that can survive eating fish and worms. You can avoid feeding them any rodents at all.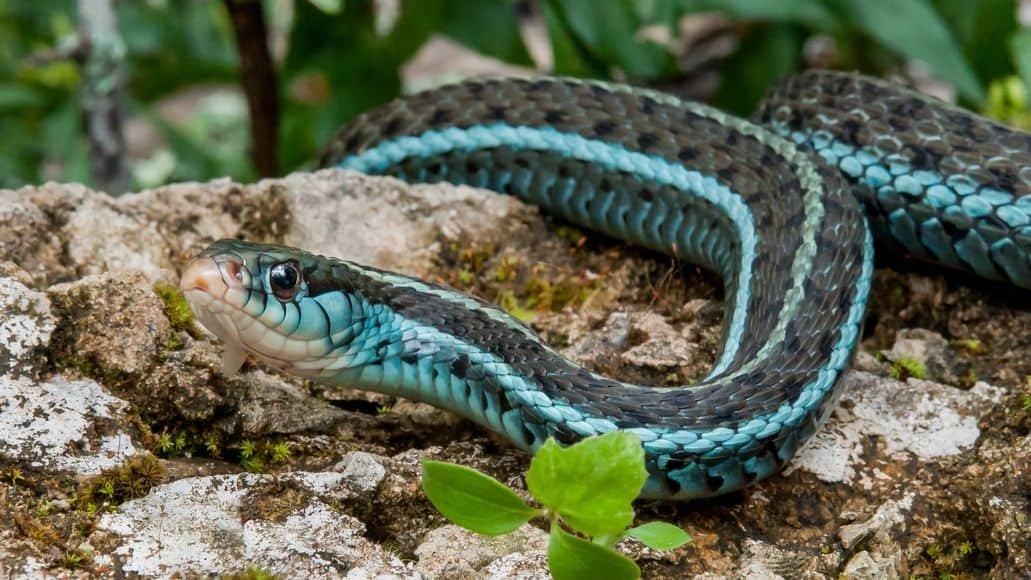 These snakes are very active and not very easy to handle. The obvious reason they need to be active is that they need to be quick enough to catch fish.
If you startle a garter snake, it might strike you. And you may be surprised to learn it is venomous. That said, their venom is not dangerous to humans at all, but it will cause some swelling and a little pain. It is almost like being stung by a bee.
One of their defense mechanisms is to let off a smelly musk. It is a discharge they emit from their cloaca and they will actively wipe it on you. It is meant as a repellent and it has been likened to skunk spray, though it is not nearly as bad.
Snake Bites: Final Thoughts
All snakes can bite, even underwater, but none rally want to. If you don't give them a reason to bite you, they generally won't. You can avoid snake bites by always taking the proper precautions, but even if you get bitten, it is usually not a big deal.
Unless you are bitten by a venomous snake, of course, but you should not be keeping one of those, unless you are highly experienced. Read our article on keeping venomous snakes for more.