Size does matter.
Are you thinking about getting a ball python as a pet?
Then you need to know how big it gets.
Why is size important?
Because you want to make sure you provide it with an enclosure that offers plenty of space to live a happy and healthy life.
Putting it in an enclosure that is too small is not only cruel, but can lead to serious health issues.
Keep reading to find out just how big a ball python can get, and how large of an enclosure you should get for your new pet.
How Big Do Ball Pythons Get?
The average length of an adult ball python is around three feet. Female ball pythons tend to be larger than males, measuring from three to five feet, while males are two to three feet. They are much smaller than other python species, like the Blood Python. See our comparison of the blood python vs ball python here.
Ball pythons can live a long time – up to 30 years. It's crucial you are fully committed to looking after them for the long haul, in the best way possible to keep them healthy and happy.
To provide the best possible care, it is important to know how large they will grow and how quickly you can expect them to reach their full size.
How Fast Do Ball Pythons Grow?
If you've got a small ball python, you might wonder how quickly it's going to grow. A ball python in captivity can grow up to three feet within the first three years of its life.
After three years, it will have reached sexual maturity. At that point, its growth will slow down, but snakes never stop growing completely. Assuming you feed them properly.
Ball Python Diet
In order to ensure that your ball python grows and is healthy, you need to feed it the correct diet. Here's what you should know about a ball python's diet.
Ball pythons eat prey of various sizes, depending on their own size. Smaller snakes will eat things like large crickets, pinkies, and fuzzies. When they reach adulthood, they will want to eat mice and rats. Ball pythons can eat fish, too, although they prefer rodents.
A snake can eat prey that's as wide as the widest part of its body. But you can't always completely rely on this rule of feeding, because some snakes will want smaller prey.
In that case, you may have to feed your ball python several mice that are a bit smaller. You'll have to experiment to see what your ball python likes.
If you choose prey that's too large for it to consume, it could end up causing an obstruction in the snake's mouth or esophagus or cause it to regurgitate its food.
You should feed your snake once every seven to 14 days if it's an adult. Young ball pythons need to eat once a week.
Pay attention to signs your ball python is hungry. These include flicking their tongues and prowling around their terrariums or enclosures.
Choosing The Right Ball Python Enclosure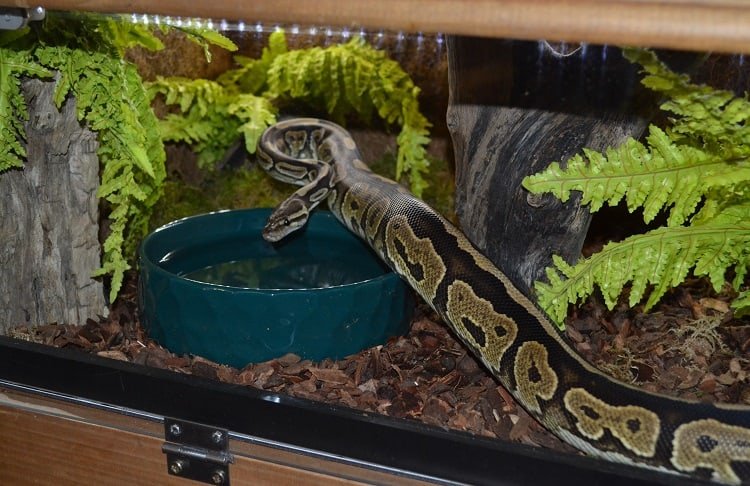 It's essential to have the correctly-sized enclosure for your ball python. If it's too small, it will be very stressful and uncomfortable for your pet.
On the other hand, some will tell you a snake will feel vulnerable, if the enclosure is too big. This is not completely true.
Snakes feel vulnerable when they are exposed. If the enclosure is empty, the snake will not feel comfortable, especially if it is a large cage.
But you can easily fix that by providing snake hides and vegetation. Snakes want to have hiding places in their cage so they can hide away and not feel so exposed.
So, what terrarium size is ideal for your ball python?
If you have a young ball python, your enclosure should be at least 20 gallons in capacity, while adult ball pythons should have tanks that are at least 30 to 40 gallons.
These minimum sizes ensure that your snake has enough room. But larger is always better.
When it comes to the dimensions, snakes that are more than three feet long should ideally have a tank that is 4 feet in length and 24 inches in height.
You should always make sure that the enclosure offers a minimum of eight square feet of floor space and a minimum of two feet of vertical space so that your ball python can climb.
Your snake's enclosure should be made of solid glass. Glass is a great material to use for an enclosure because it dissipates the heat.
This makes it easier to provide the temperature gradient that this snake needs. Basically, your ball python needs a cool side in its enclosure and a warm side.
Optimal temperatures range from 75° to 80° Fahrenheit for the cool side and 80° to 85° Fahrenheit for the warm side.
Make sure your ball python always has fresh, chlorine-free water in its enclosure so that it can soak in it. Do ball pythons like to swim? No. They can swim, but they don't particularly enjoy it, so you don't have to give them a ton of water. Just enough to soak in.
Ensure that the enclosure has 40 to 60% humidity. If your snake is shedding, it will require more humidity. Using the right substrate for ball pythons will help regulate humidity.
Make sure the enclosure has between eight and 12 hours of light every day. At night, use a nocturnal or infrared light to provide heat, without adding light.
At What Size Can You Start Breeding Ball Pythons?
If you want to breed ball pythons, you should to take the snakes' weights as an indicator of when they've reached sexual maturity, not their ages. This is what professional breeders do.
A female ball python should weigh a minimum of 1,500 grams before she can mate, while a male python can be around 800 grams. This difference in sizes makes this one species where figuring out how to tell the sex of a snake is easy.
How Big Ball Pythons Get: Related Questions
Can you put two ball pythons in the same enclosure?
Hatchling ball pythons are fine to house together, but once your snake becomes a juvenile it should be on its own. The same applies to adult ball pythons. Learn more in our article discussing whether you can house ball pythons together.
How much does an adult ball python weigh?
The average weight of an adult ball python is around four or five pounds.
How much do these snakes cost?
Ball pythons do not cost a lot. You can find some starting at $30 and will not pay more than $100 for a regular one. If you want a rare morph, you'll have to pay a lot more. They can cost several hundred dollars. Some even cost several thousand.
Ball Python Size: Conclusion
Owning a ball python is exciting. But before you get one, make sure you do your research. You want to learn everything there is to know about this snake, so you can be sure you'll provide it a good home.
A major part of that is providing a comfortable and roomy enclosure. In order to do that, you need to know how large ball pythons get.
And since you've finished this article, you now know about what you can expect. Read our article on ball python care for more, and if you still have additional questions, feel free to ask them in the comments on this article, the care article, or any other article on this site.