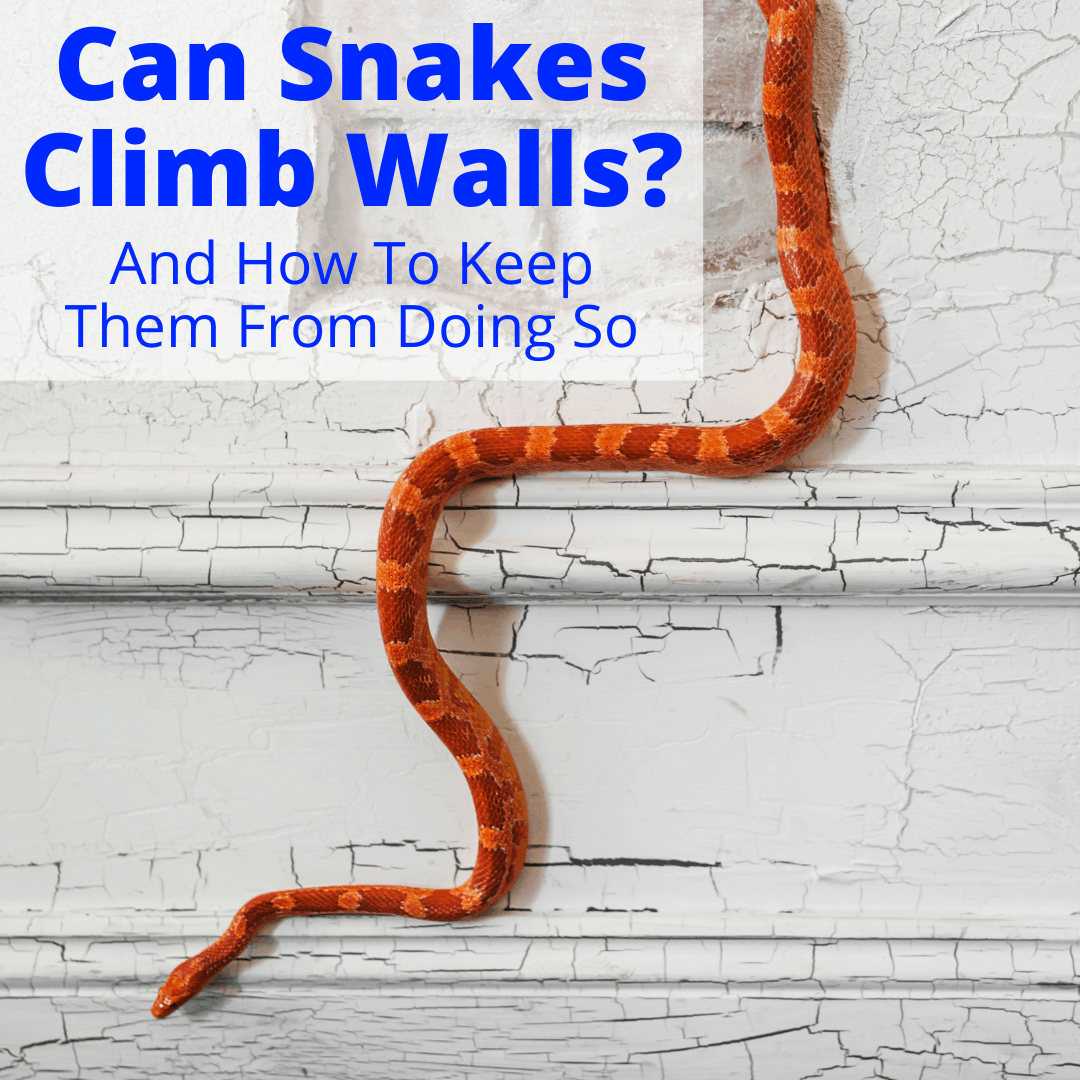 Are you worried a snake might climb the wall around your property and gain access to your yard?
Or climb the wall of your home and get inside through an open window?
I have some bad news for you: both are possible.
But only if you live in an area with a lot of snakes and you have a type of wall that they can climb.
Keep reading to find out if all snakes can climb walls, what type of walls they can climb, and how you can prevent them from gaining access, even if they can climb your wall.
Better yet, learn how you can discourage them from even trying.
Can Snakes Climb Walls?
Yes, they can. But not all walls. They don't have the ability to grip smooth surfaces, so they can't get up any walls made of metal, glass, plastic or any other surfaces that are smooth.
But they can climb walls made of bricks or stones. And they can climb trees. Basically, they can climb any structure that offers them a rougher surface to grip onto.
How do they grip onto those surfaces, if they don't have any legs or arms? We'll get to that in a minute. First we want to see if the ability to climb is limited to certain species, or if all snakes can do it.
Can All Snakes Climb Walls?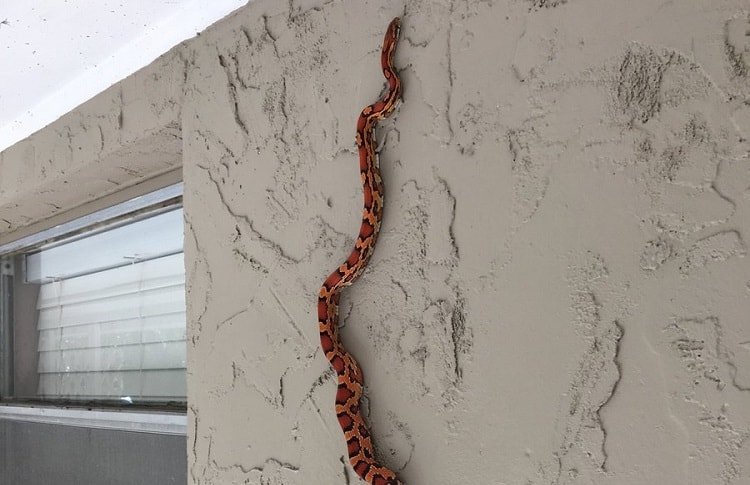 Some species are better climbers than others. In fact, some spend most of their time in trees, so they are much more comfortable climbing.
But if they need to, all snakes have the ability to climb walls with rough surfaces, because they all have the same basic anatomy and they move in the same basic ways.
How Snakes Climb
Snakes are not like lizards that can grip onto surfaces with their legs, in order to climb them with ease. Snakes have smooth bodies and no legs!
But their tubular bodies are very flexible and they are not nearly as smooth as they look at first glance.
Even though they have shiny bellies that look like they wouldn't be able to grip surfaces, those bellies are actually covered by overlapping scales.
Those scales push against even the slightest roughness in surfaces, propelling the snake forward. If they find themselves on a completely smooth surface, like ice or glass, snakes have difficulty moving.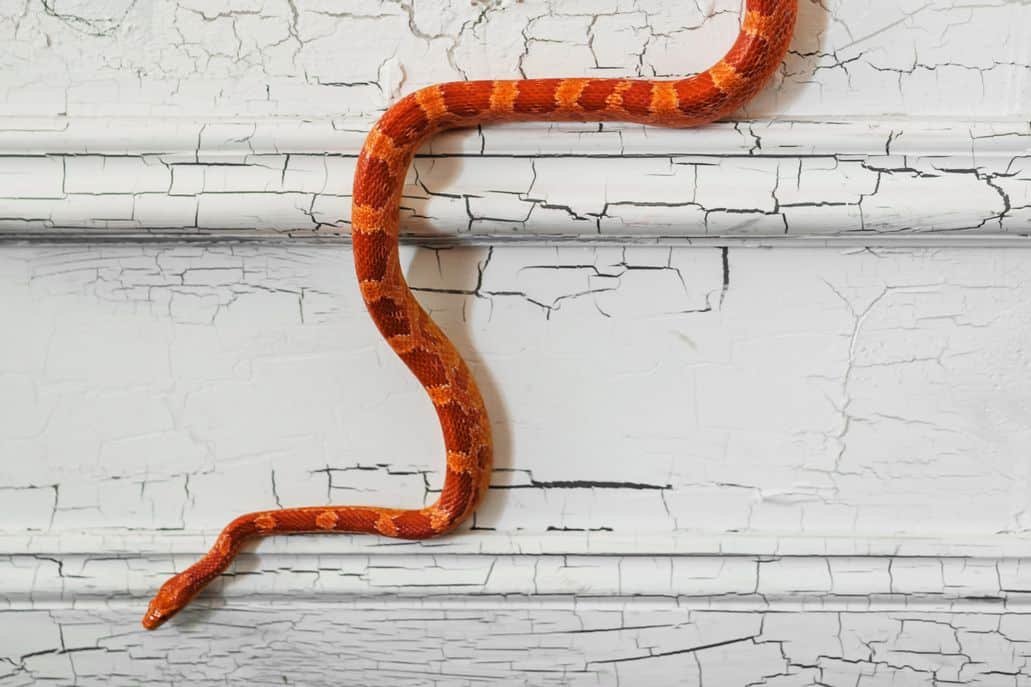 They do have other options for movement, but their standard way of moving is only effective if there is some roughness to the surface. But they only need minimal roughness to grip onto, and then propel themselves across, a horizontal surface.
When trying to scale a vertical surface, they need a bit more to grip onto and push off from. That is why they can't climb any walls that are too smooth, even if they are not perfectly smooth.
Some types of snakes have a notch on either side of their belly scales. These basically create a type of fold called a ventrolateral keel that enables these snakes to hold onto the smallest irregularity on walls.
This is the reason some snakes are much better climbers than the rest. Good climbers also have wider bottom scales and are shaped more like a loaf of bread, with a flat bottom and a rounded top.
Both of these features serve to give these snakes a wider area on the bottom, with which to grip a surface.
Snakes that are not as good at climbing are more round, so they have less wide of an area to use to create friction against surfaces.
How To Keep Snakes From Climbing Your Walls
In general, snakes can't climb up smooth walls. This includes plastered, glass or metal walls.
But even if you have easily climbable walls, there are measures you can take to keep snakes from getting up them. Here are some general tips for keeping snakes out of your garden and home.
Avoid Wooden Fencing
Wooden fencing provides good grip and makes it very easy for any snake to climb into your yard. Instead, go with a vinyl fence. Vinyl does not offer any type of foothold, so snakes won't be able to climb it.
Avoid Rock Landscaping
A decorative pile of rocks might look pretty, but it will also attract snakes and they are able to climb up it very easily.
Stick To Smooth Walls
Since they don't offer snakes a grip, smooth walls (i.e. plastered, wallpapered, or made of metal, glass or plastic) keep snakes out. Just make sure there are no ledges or imperfections in the wall that snakes can use to climb.
Keep Grass Short
Snakes do not like being exposed out in the open. Short grass offers nowhere to hide. If they don't have anywhere to hide, they will avoid the area altogether. Even if your walls are easy to climb, if you make your yard unattractive, snakes won't bother.
Use Snake Eating Birds
You can plant trees that attract birds that prey on snakes, like the kookaburra. This is a good way to deter snakes naturally.
Leave No Gaps
Fill out any gaps in walls made from brick, concrete, etc. These gaps provide footholds. Without them, snakes won't be able to climb concrete or brick walls.
Make Walls And Fences Higher
Consider making your walls and fences higher. The higher you've built your walls, the less likely a snake will be able to reach the top and climb over it. They're also less likely to even bother trying.
Cut Conveniently-Placed Branches.
If there are tree branches hanging over your wall, these could be a convenient way for snakes to climb into your yard. Cut any type of growth away from your wall.
Install Snake Fencing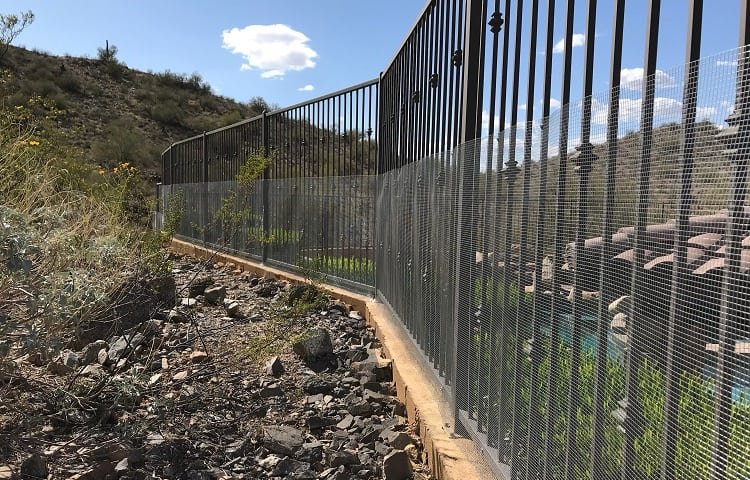 If you're worried about snakes being able to climb over walls and fences in your property, but you don't want to (or can't) get an entirely new fence or wall that makes it impossible to climb, you can add a snake fence.
A snake fence is usually wire mesh (but it can be made from a variety of materials) that is installed in addition to any fencing or walls you may have. It prevents snakes from passing.
Snake fences are especially useful is areas where venomous snakes are common. But the fence needs to be the correct height in order to keep snakes out.
So, what is the right height?
Aim for a snake fence that's at least 36 inches tall. Even though a commonly quoted height is 24 inches, that is not actually high enough to keep out some species, like most rattlesnakes.
Why A Snake Might Want To Climb A Wall
Snakes climb trees to stalk prey or to escape a predator. They can climb a wall for the same reasons, but there are other possible reasons as well.
Understanding why a snake might want to climb your wall can help keep it out. If you remove whatever is motivating it to climb in the first place, there is no longer a reason to do so.
Here are some reasons why snakes might try to climb walls.
Cold
If the snake is cold, it needs to find of a heat source. If it can sense that there's warmth on the other side of the wall, it will want to climb the wall to get there.
Food
Snakes can sense if there's prey beyond the wall. If they know that there are mice and rats behind the wall, they will not hesitate to tackle to wall to get at the reward beyond,
Snakes that actively hunt their prey include corn snakes, garter snakes, and hognose snakes. These types of snakes are also thin-bodied and particularly good at climbing walls.
Predators
Even in urban areas, there are animals that prey on snakes, like foxes. If a snake senses danger, it will be highly motivated to conquer that wall and get to safety,
Sex
Snakes release pheromones that can be sensed by snakes of the opposite sex. The promise of a mating opportunity beyond the wall is certainly a big motivator to get over it.

Related Questions
Can Rattlesnakes Climb Walls?
Yes, they can. Just like any other snake, they can climb walls. And they will, if there is something they want on the other side.
Rattlesnakes can also climb trees. They are not the best climbers and they don't climb often, but there are a few rattler species that like to spend a lot of their time in trees.
Can Snakes Climb Stairs?
While it might seem like it would be difficult for snakes to climb stairs, it's actually something they can do quite easily.
This is because they can lift the front third of their bodies to move from one step to the next, while the lower part of their bodies acts as a base.
It is their unique bone structure that allows this. Due to their extreme flexibility, some might as "Do snakes have bones?"
They do. And lots of them.
With 200 to 400 vertebrae, snakes have no trouble with stairs. While their bones and muscles protect their organs, they also give them the flexibility they need to climb stairs.
The longer the snake, the easier it is to climb stairs, and even to climb more than one step at a time.
A shorter snake could have some trouble, depending on the size of the step. For example, if the step is eight inches in length and the snake is only 10 inches long, it can't extend its body far enough to make it up the stairs.
The general rule is: in order for a snake to climb stairs, it needs a body length that's at least double the height of each step.
Can snakes climb pipes?
If your pipes are smooth, this would make it difficult for snakes to climb them. But they can still do so, by wrapping their bodies around the pip and using friction to create a grip. They could also potentially climb inside them, so make sure you always block your pipe openings.
Snakes Climbing Walls: Conclusion
Whether you love snakes or are afraid of them, you probably them getting into your property – especially if there are venomous snakes in the area.
That's why it's important to know that snakes can climb many types of walls and other structures. It's more important to know how to discourage or prevent them from doing so.
You should now have a better idea about the type of walls snakes can and can't climb, and how you can keep them at bay in a safe way.