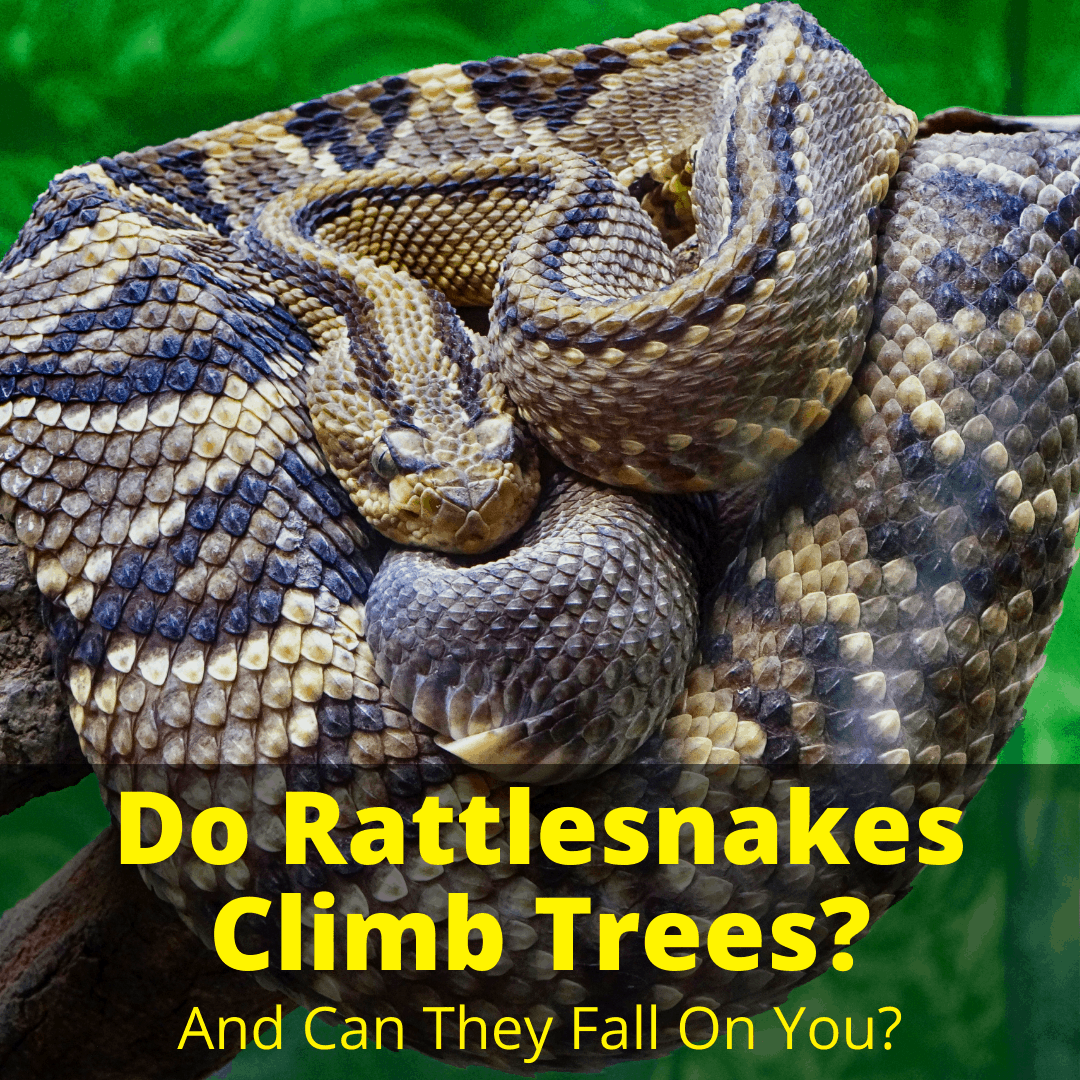 Do you remember this story?
In 2018, a man was kayaking on the Edisto river in South Carolina, when a rattlesnake fell out of a tree.
It landed on his boat and bit him twice, before his friends captured it.
Anyone who lives in an area with rattlesnakes had a new fear after reading that news story.
But how likely is it that something similar can happen to you?
Is it common for rattlesnakes to climb trees?
Let's find out.
Do Rattlesnakes Climb Trees?
Rattlesnakes do climb trees. But it doesn't happen often. So rest assured.
You don't need to worry about rattlesnakes getting into trees (and falling out of them). The chances are slim.
It helps to understand why a rattlesnake would want to climb a tree. Usually, it's for greater access to prey, like birds, or to escape a predator on the ground.
Some species are more prone to climbing trees than others.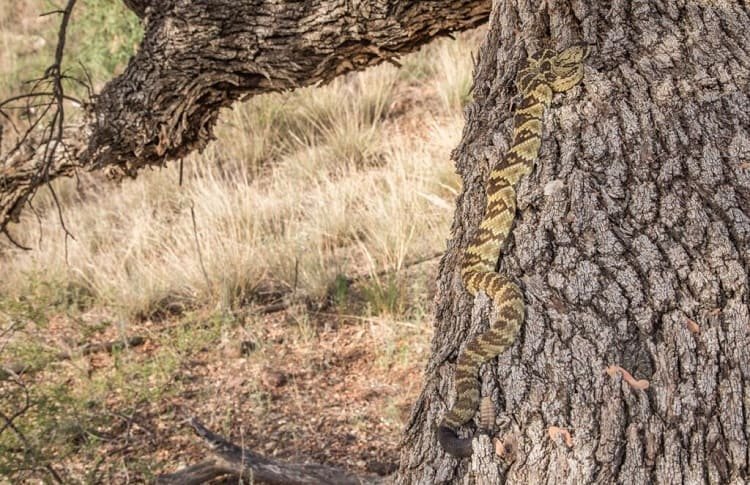 An example is the Santa Catalina Island rattlesnake. It does not have a rattle, so it can stay silent to hunt its prey. It is known for climbing trees to take unsuspecting birds by surprise.
Another type of rattlesnake known for climbing trees is the Blacktail rattlesnake. It climbs into a tree's lower branches, or shrubs that are a few feet off the ground, when it wants to prey on birds or enjoy the sun.
Can Rattlesnakes Climb Any Tree?
Rattlesnakes can climb a variety of structures. These include bushes, piles of rocks, and even trees. However, snakes need to have a surface with a bit of texture on it so that they can climb.
This is why you're not going to see a snake climbing a glass or metal wall. But when it comes to trees, there are usually places that offer a foothold for the snake to help it make its way up the tree's trunk. Snakes can also climb walls that have a rougher surface.
How Does A Rattlesnake Climb A Tree?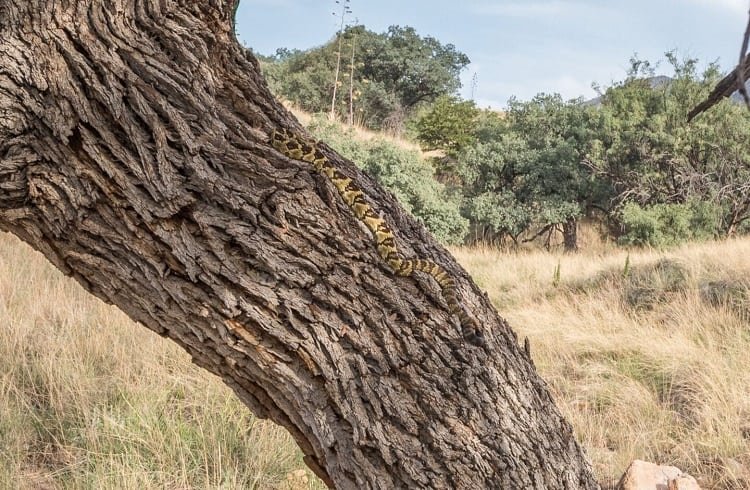 If you've seen a snake move across the ground, you will have noticed its languorous S-shaped movements.
But snakes don't use these movements to climb trees. Instead, they make use of an accordion-like movement, in which they contract and expand their bodies during the climb.
A rattlesnake climbs a tree by pressing the back part of its body against the bark and then pushing its head forward. It also has to extend and twist its torso to help it move.
The snake will also press its upper body onto the tree before straightening its body so that it can pull its back end behind it. It's belly scales create friction against the surface of the tree to help it stay in place and push off.
It tries to keep its rattle elevated, so as not to rub off any segments. Rattlesnake rattles do not come off when shedding, but they often come off from wear and tear. Luckily, they gain a new segment every time they shed.
How To Protect Yourself From Rattlesnakes
You'll be happy to know that rattlesnakes are not aggressive by nature. They only bite when they feel provoked. When they encounter us, they prefer to retreat.
But if you come upon a snake by accident, you may startle it. That could result in it striking out. That's why it is important to avoid startling a snake.
There are many things you can do to protect yourself from having a rattlesnake encounter. These include the following.
Install a rattlesnake fence around your property. It should be solid or a mesh fence that isn't larger than a quarter of an inch. It needs to be buried into the ground a few inches deep so that snakes can't get underneath it. It should also be at an angle so that snakes can't climb up and over it.
Keep your eyes open when exploring the outdoors. Stay on hiking paths and avoid walking in tall grass or heavy underbrush as there could be snakes, rattlesnakes or otherwise, located there.
If you're climbing a tree, make sure you are careful about where you put your hands.
Don't rely on wives tales, like the myth that snakes won't cross a braided rope.
Use snake repellent to keep snakes away. This article reviews the best snake repellents. We also have an article on natural snake repellents.
Learn how to spot rattlesnake dens, if you see them on your property frequently. There may be one nearby.
Can A Rattlesnake Fall Out Of A Tree?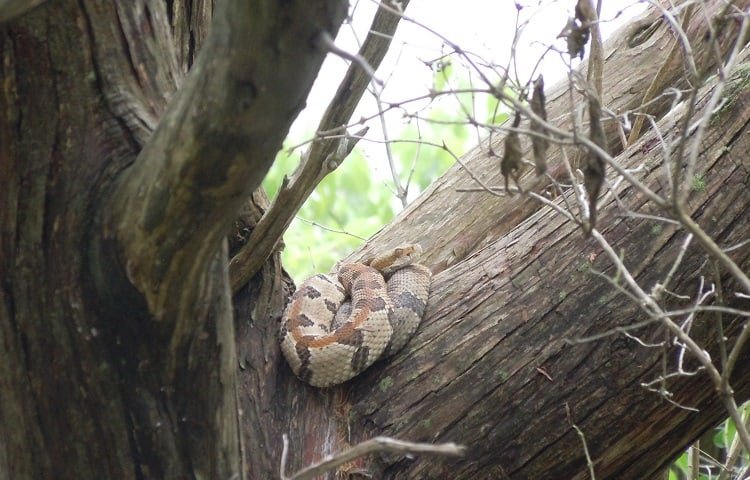 If you love being in the beautiful outdoors and walking underneath the trees, you might worry about snakes falling out of trees and onto you. But this is extremely rare.
A study found that snakes can use up to three times as much force than what's necessary to prevent them from falling off tree trunks. There is little chance they will accidentally fall.
And they don't want to fall out of trees. Would you?
Not only could they get injured, but it could also expose them to predators. It also means that they will have to expend more energy into getting back up into the tree and they don't want to do that. Snakes conserve energy as much as possible.
Related Questions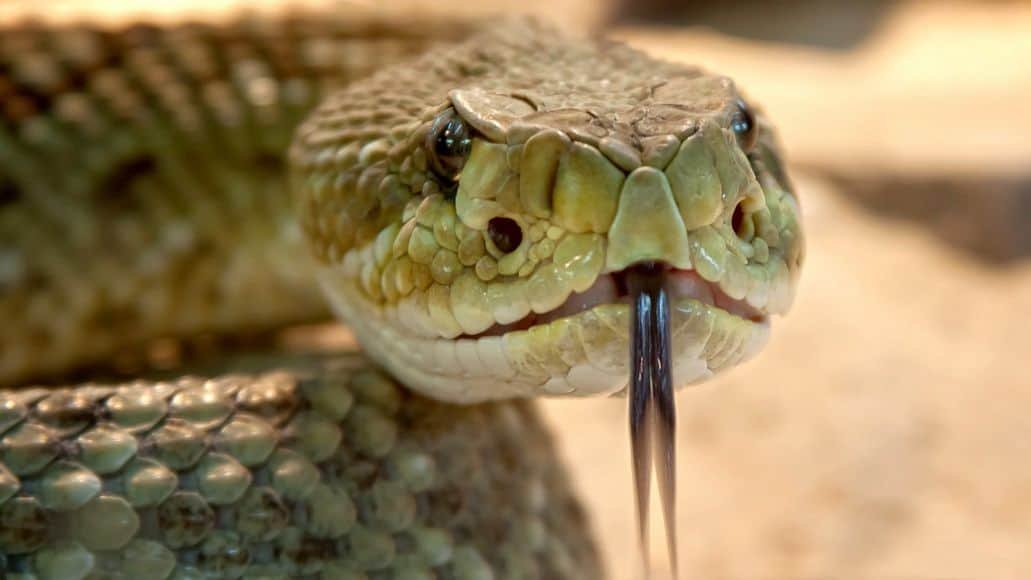 How common are rattlesnake bites?
Every year in the U.S., roughly 8,000 people are treated for poisonous snake bites, but rattlesnakes account for only 800 of these. Nevertheless, if you live in an area where rattlesnakes are found, it pays to take the standard precautions.
How poisonous are rattlesnakes?
While rattlesnakes are venomous, their bites are rarely fatal. This is because most of the venom in rattlesnakes is made up of hemotoxic elements. Baby rattlesnakes are dangerous, too, but they inject much less venom than adult snakes.
Rattlesnakes Climbing Trees: Final Thoughts
The idea of a venomous snake, lingering in a tree, just waiting for you to come by so it can ambush you is a frightening one. But it's also preposterous.
Snakes don't ambush humans. They avoid us.
You might still worry about a snakes climbing a tree only to fall out of it accidentally and landing on your head.
But the chances of that happening are very slim. Less than the chance of getting hit by lightning.
While some snakes do love climbing and some of them even spend most of their time in trees, it is almost impossible for them to simply fall out on top of you.
As long as you are aware of your surroundings and you keep your eyes open, you are unlikely to have a dangerous encounter with a snake. They do their best to avoid us and if we do the same, we can all coexist peacefully.