Corn snakes are extremely popular as pets.
And why not?
They do not get very large, they are commonly available, they are docile, they are not too picky about their environment or their food and there are a lot of cool corn snake morphs, like the snow corn snake.
Whenever someone shows interest in becoming a snake owner and asks us which species we recommend, we tell them the corn snake.
But there are also some drawbacks.
The most common problem people have actually has to do with their popularity. Having a corn snake simply is not as exotic as many other snakes. To some people, this is a turn-off.
Let's take a closer look at these wonderful snakes and find out if it is the right breed for you.
Corn Snakes
The corn snake (Pantherophis guttatus) is a constrictor. That means it kills its food by wrapping its bodies around it and suffocating it. Then it eats it whole them.
The reason it is known as the corn snake is that it normally hunts for rats or mice around grain stores. Some people also say it is named the corn snake because its skin resembles corn.
Corn Snake Size
These snakes range from 3 to 7 feet in length. The males are normally larger than the females, with a length between 4 and 7 feet. Females are normally 3 to 6 feet in length. There have been records of a few corn snakes reaching 9 feet but this is not the norm.
Corn Snake Lifespan
The average corn snake lives for about 6 to 9 years in the wild and can live up to 20 years in captivity. You definitely want to be sure that owning a pet snake is something you want to do for the long run, before getting one of these snakes.
Corn Snake Diet
Corn snakes eat a wide variety of food in the wild, from rats, to mice, to small rabbits. They have even been found to enjoy the odd bird and will eat any other smaller creatures they can get their jaws around.
Do corn snakes eat crickets or other insects? They can, but they rarely do. They hunt by detecting heat and insects do not give off much of a heat signature.
Obviously in captivity, many of the animals they eat in the wild will not be available, so best go with a single animal, like rats or mice.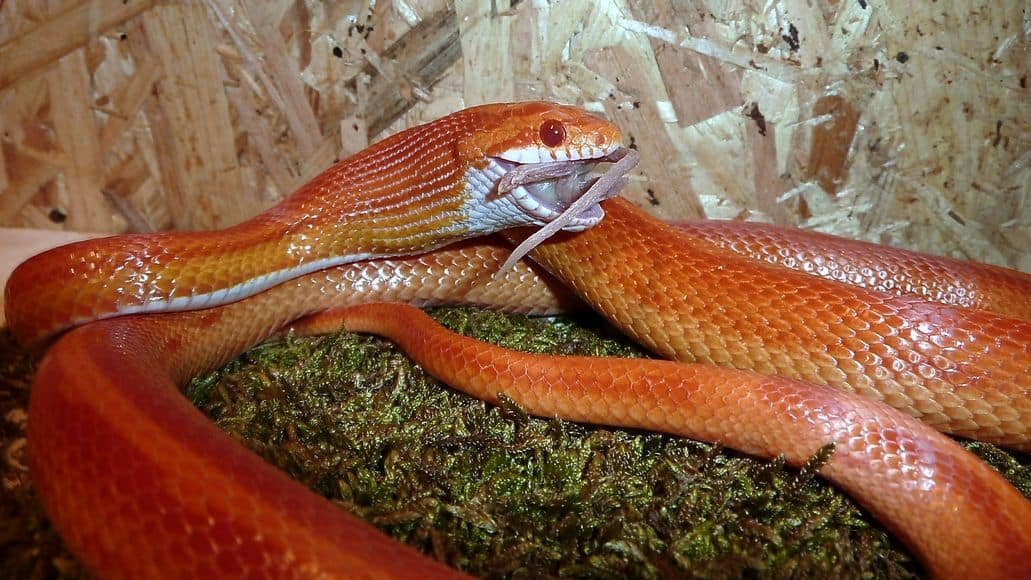 Corn Snake Habitat
Corn snakes live in the eastern and southeastern United States, ranging from New Jersey in the north down to the Florida Keys. They live at elevations up to 6000 feet above sea level.
They like to make their homes in fields and forests, and also often inhabit farms or abandoned buildings. They are good climbers and can climb trees, cliffs or other things.
Can corn snakes swim? They can swim, but generally only enter the water if they are chasing prey, or being chased by a predator.
Corn snakes that live in colder climates hibernate during the winter, while those in the warmer southern zones simply find a warm place to hide out.
Corn Snakes As Pets
Corn Snakes are very easy snakes to care for, making them great for beginners. They are easy to handle and will not bite unless they feel threatened.
They are also hardy snakes and will do well in most enclosures. They do not require a specific humidity or temperature to survive.
Some feel they are too easy and prefer something more exotic. King snakes a good alternative. They are also easy to care for, but a bit more exciting and not as common as pets. Read our kingsnake versus corn snake comparison for more.
Choosing Your Snake
Before you purchase your snake from the pet store, ask to handle it first. Check that the snake is not too aggressive and that its scales are smooth. You also want it to be alert and you should see it flicker its tongue. These are all signs of a healthy snake.
You will probably want to know the sex of your corn snake, too. Some breeders won't actually know, so if you want to be 100% sure, you'll probably need to have a vet sex your snake.
How much can you expect to pay for a corn snake? This article discusses how much corn snakes cost.
Handling Your Snake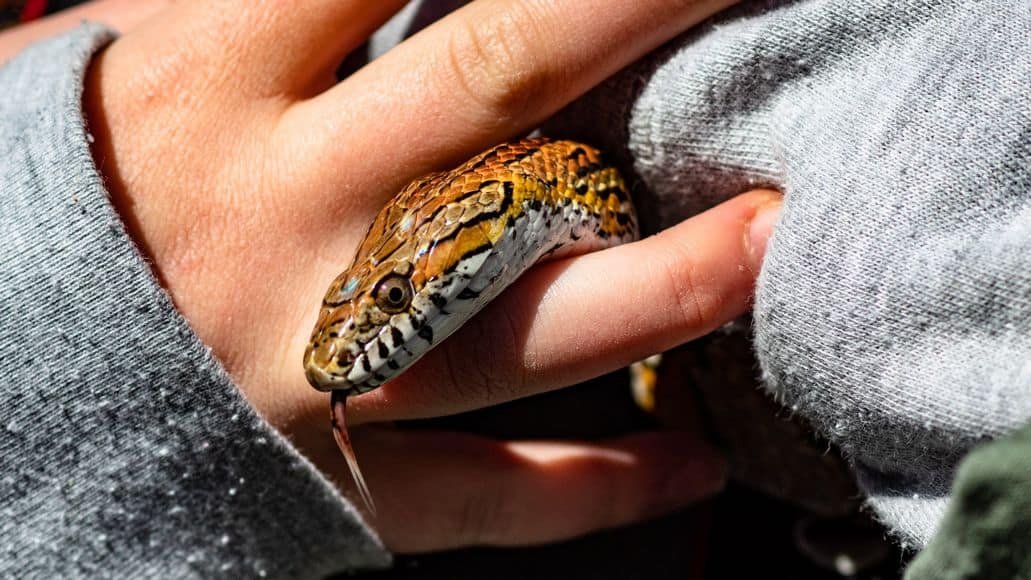 A corn snake will not enjoy being handled for too long. The snake must not be handled for more than 10 minutes at a time.
They are very easy to handle as they do not move very quickly. You must also be careful not to drop the snake while handling it. Because they move slowly they can easily be dropped and that will hurt your snake.
Different Types Of Enclosures
There is no perfect way to outfit a corn snake enclosure, so you have a lot of leeway. But there are certain things you should definitely have to make your snake more comfortable and to ensure it stays healthy.
There are three main types of enclosures.
Glass enclosures
Plastic enclosures
Wooden enclosures
We will go into a bit more detail on each type below. First, you need to know the proper corn snake tank size. A young snake can live in a 10 gallon tank, but an adult corn snake needs at least 20 gallons. 30 or more is even better.
I recommend just getting the full-sized enclosure from the start, instead of buying a small one in the beginning and then another, larger, one when your snake grows larger. Why waste money?
Glass Enclosures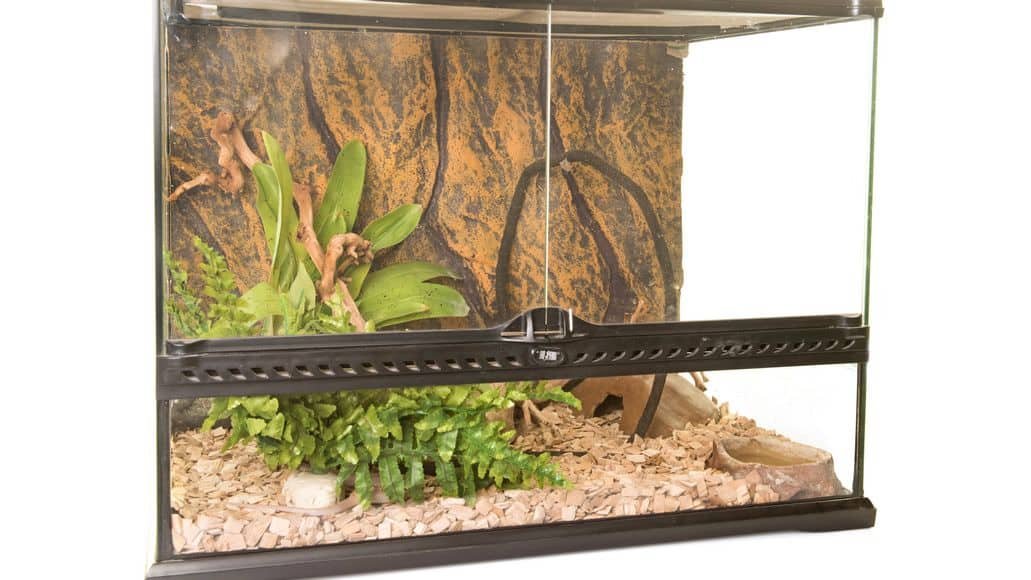 Many people do not like glass enclosures, but it's what I use and I love them. Glass enclosures look much better than plastic ones, plus they allow you to watch your snake.
Glass enclosures are best if you are going to make a tank into a vivarium. The primary downside of glass enclosures is that they hold less humidity and heat.
Plastic Enclosures
Plastic enclosures are a lot cheaper. The average plastic tub will not have air holes, so you will need to drill some holes into the tub so that air can circulate.
Plastic enclosures do not look that good though. It is also more difficult to build a vivarium inside a plastic enclosure as you cannot see through them. They hold more heat and humidity, which can be good or bad, depending on where you live.
Wooden Enclosures
Wooden enclosures are probably the best overall, but they are also the most expensive and you generally have to build them yourself, or hire someone to build them for you. You won't generally find wooden enclosures in a store.
Temperature
Having the correct temperature in the enclosure is very important for snakes. When it comes to corn snakes, it is easy to get right, because they are not picky. They live in a variety of climates in the wild, so they can handle a larger range of temperatures.
As such, you want to keep the temperature in the tank between 70° and 90° F.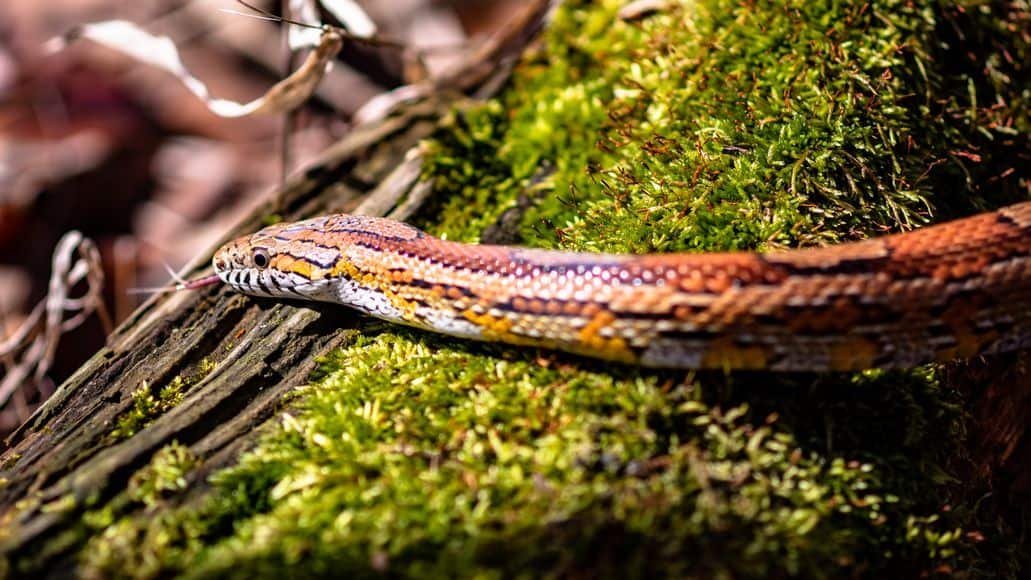 Corn snakes do not use the heat from the sun but rather from the sand or ground. For that reason, it is best to use a heat mat to create a hot spot where the snake can warm itself and raise its body temperature.
The hot spot temperature should be around 85° F, while the other side of the enclosure can be at room temperature. You will need to add a thermostat to the heat mat (some come with thermostats) so you do not make the tank too hot.
Humidity
One of the things that makes the corn snake such a good beginner snake is that you do not need a specific humidity level to keep it happy. A humidity between 25% and 50% should be good – this is the average humidity in most places, so you won't have to do much adjusting.
If you live in a desert or other very dry place, you could place a bowl with water in the enclosure or you could spray some water on the substrate. When spraying water on the substrate make sure not to overdo it, because the snake will not enjoy it if it is too wet.
Substrate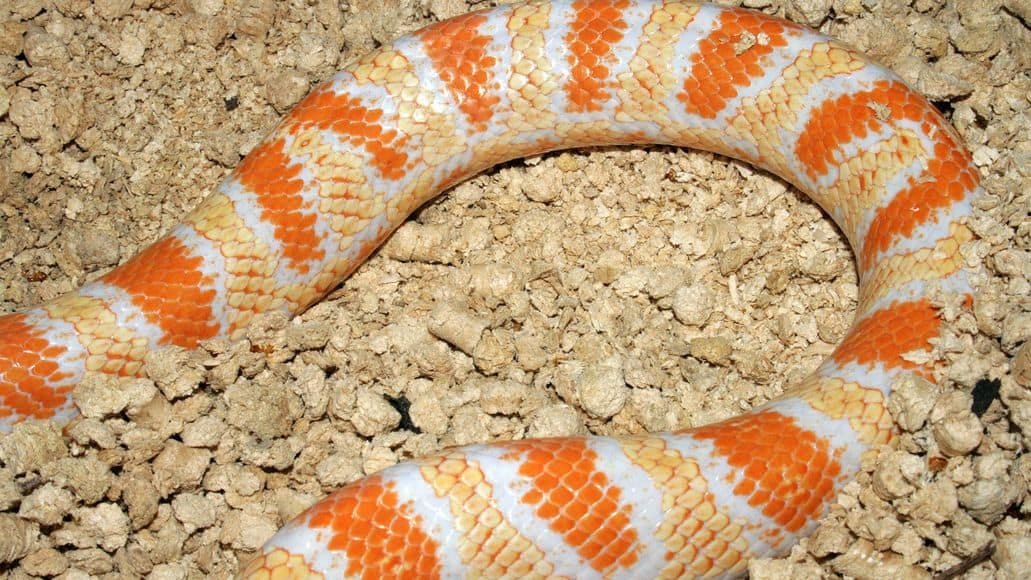 Avoid any substrate containing pine or cedar. These woods let off strong fumes when kept in an enclosure and these fumes can harm your snakes. Coconut fiber is a good choice for these snakes. You can read more about that and other good substrates here.
Lighting
Your snake needs to have clear day and night lighting. This is very important so that it knows when it is day and night. That said, you do not need to provide any special lighting. You can simply use the light from a window. Just don't put it in a room without any lighting.
Corn snakes are not nocturnal snakes and are active all day. Do not use any lights at night because they will find this confusing.
Feeding Your Corn Snake
A regular sized corn snake can eat mice for every meal. If you have a baby snake, start it off with pinky mice and increase the size as it grows, moving up to fuzzy, hopper, adult and jumbo mice.
Frozen mice are easiest. You'll want to defrost them before feeding. You can just let them sit out until they're thawed, or defrost them in warm water. Do not cook or microwave the mouse. Snakes want their food raw.
If your snake does not seem to want the dead mouse, it probably prefers live prey. Take a pair of tongs to grab the mouse and wiggle it in front of the snake to make it seem live. Do not tease the snake by pulling away the mouse while feeding it.
What Size Mouse And How Often?
Feed your snake a mouse that is as large as the snake is thick, or perhaps a bit smaller. Feeding it once a week is ideal, but an adult snake can go up to ten days without eating. Always feed your snake in the enclosure and not outside.
Handling Your Snake After Feeding
Give your snake up to 48 hours after feeding, before handling it. Handling it after feeding could cause it to regurgitate.
Fresh Water Supply
Most tap water contains chlorine or other chemicals that might be harmful to the snake. You will need to add Reptisafe to will treat the water before the snake can drink it.
Corn Snakes: Final Thoughts
Corn snakes are one of the most popular pet snakes for a number of reasons. They are easy to care for hardy, not too picky about their environment, docile, and they do not get very large. If you are a new snake owner, this is one of the best snakes for beginners.