Corn snakes are one of the most popular snake species to keep as pets.
There are a number of reasons for this.
For one, they are docile and easy to care for. They are also beautiful.
And they are inexpensive. Both to buy and to keep.
Unless you want a rare morph, of course.
How much does a corn snake cost? And how much can you expect to spend of its terrarium and for food?
Keep reading to learn what corn snakes cost on average. We will also cover all of the other costs you can expect if you keep a corn snake as a pet.
How Much Does A Corn Snake Cost?
On average, you can expect to pay around $50 or less for a corn snake. At last for a regular one. Rare morphs can cost several hundred dollars. Some even go for well over $1000.
But the standard corn snake is cheap. The low cost is a big reason the species has become an increasingly popular pet, along with their docile nature and their bright colors.
Of course, the cost of the snake itself is only a part of your total cost. You will also need to buy the enclosure, which generally costs more than the snake. Then you will need various accessories, plus the ongoing costs, which include food, substrate and veterinarian bills.
Purchase Price
Buying the actual corn snake won't set you back as much as you might think. Certainly less than the enclosure. Of course, that assumes you are getting a regular corn snake and not a much more expensive morph.
A regular corn snake from your local pet store could cost you anything from $25 to $200, but usually on the lower end. The cost of your corn snake depends above all on the morph you want to buy.
The rarer the morph, the more you pay more for a snake, with some costs several hundred dollars.
Examples of rare morph breeds include the Tessera Corn Snake, which could cost you $250. The stunning white snow corn snake (see this article) generally costs around $150 to $200. The Baby Blood Red Scaleless Corn Snake, one of the rarest breeds, could cost you $500.
If you're planning to buy a corn snake from a breeder rather than a pet store, make sure you fully research the breeder. You want to make sure the breeder is reputable and that they breed healthy snakes.
You should be able to find information on any good breeder on social media platforms and other sources. Their history in breeding should be easy to find. If not, they are probably not someone you want to buy from.
As mentioned above, the snake will generally costs you less than the tank, unless you are buying an extremely rare corn snake morph. Let's see what you can expect to pay for an enclosure.
Corn Snake Enclosure Cost
You should buy an enclosure for your corn snake, before you buy the snake itself. Your snake will need a home when it gets to your place.
As mentioned, the tank will likely cost more than the snake itself. If you don't want to pay for a good tank, one that is good quality and large enough to make your snake comfortable, you probably should not get a snake as a pet.
Corn snakes need a tank that is at least 20 gallons in size. 30 is better. Larger than 30 is better still. Any less than 20 gallons, and your snake will not have enough space to feel comfortable and easily slither around.
The cost of a quality enclosure of this size will most likely be at least $100, but you should plan on spending up to $400. As mentioned, good tanks for snakes are not cheap. And larger tanks are better.
This article will help you find a good tank for your snake.
You may have heard or read that getting an enclosure that is too large is bad for your snake. That is not exactly true. Snakes do feel uncomfortable if they have too much open space, because it makes them feel vulnerable and exposed.
But the key word is "open" space. If you provide your snake plenty of places to hide in the enclosure, it can be as large as you like. That is, after all, the situation they face in the wild. Minus predators.
Other Costs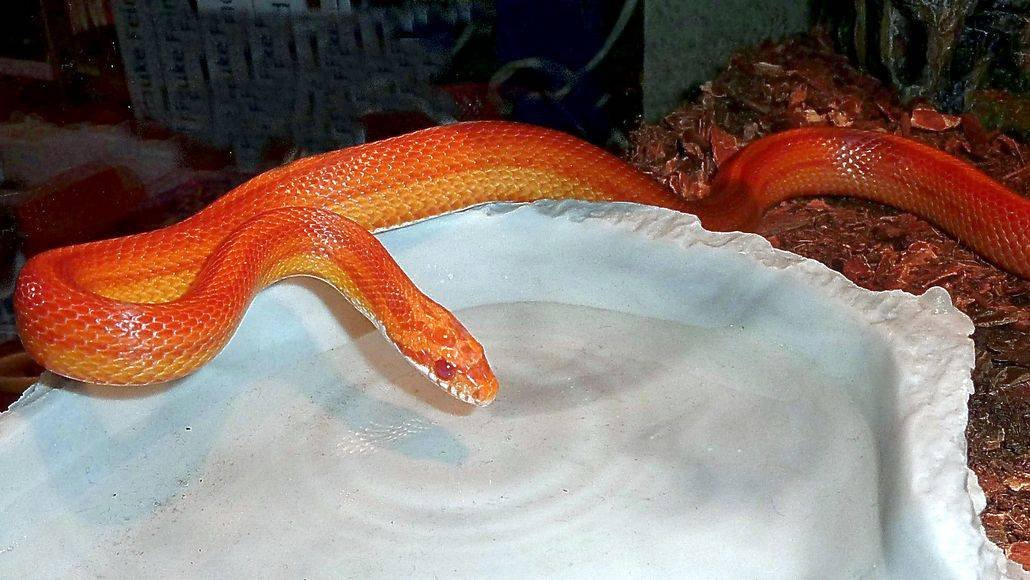 Along with the tank and the snake, you also need to consider other upfront costs to set up your snake terrarium, as well as the ongoing costs of keeping a snake as a pet.
The first thing you need in the tank is some type of substrate for your snake. This will be an ongoing cost, because you will have to replace it regularly. This article covers the best bedding types for snakes.
Obviously, the other major ongoing cost, apart from vet visits, is food. Most corn snake owners feed their snakes frozen mice (thaw them first, of course). You can buy these at pet stores or on Amazon. They are not overly expensive, but the costs do add up, just like the substrate.
Snakes are cold-blooded creatures which means they'll need a heating lamp or a heating mat to keep warm. Not only do you need to buy the lamp or mat, but you will also need to take pay for the electricity consumed to constantly have the lamp or mat on. It's not a huge amount, but it does add up over time.
You may also need a light to stimulate day and night lighting, especially if you keep your snake in a dark room or a dark corner of a room. If your snake is in a well-lit room with plenty of natural daylight, you forget about this cost.
Snakes have a sleep cycle that revolves around natural daylight, like most animals, so you will need to make sure your snake has a natural daylight cycle. If it does not get enough natural light, you need a daylight lamp to simulate daylight.
Another cost to take into consideration is decorating your corn snake's enclosure to make it a comfortable environment to live in. You may want to add climbing toys, like rocks and branches and other vegetation.
Some accessories your corn snake needs are a water dish and a hiding spot (or two or three). This article covers accessories for corn snakes. Again, none of these things are expensive, but they add up. You can expect to spend at least $100 on all of these little accessories.
How Much Is A Corn Snake: Final Thoughts
Standard corn snakes are relatively inexpensive. You will end up spending far more on the enclosure and accessories than you will on the snake. Of course this changes if you want to get a rare morph.
In addition to the start up costs, you will also need to pay for food and for new substrate on an ongoing basis. Vet costs further add to the overall expense. It is important to know what this could all cost you in advance, so that you can be sure you will be able to provide your pet snake a good home throughout its lifetime, which can extend over ten years.