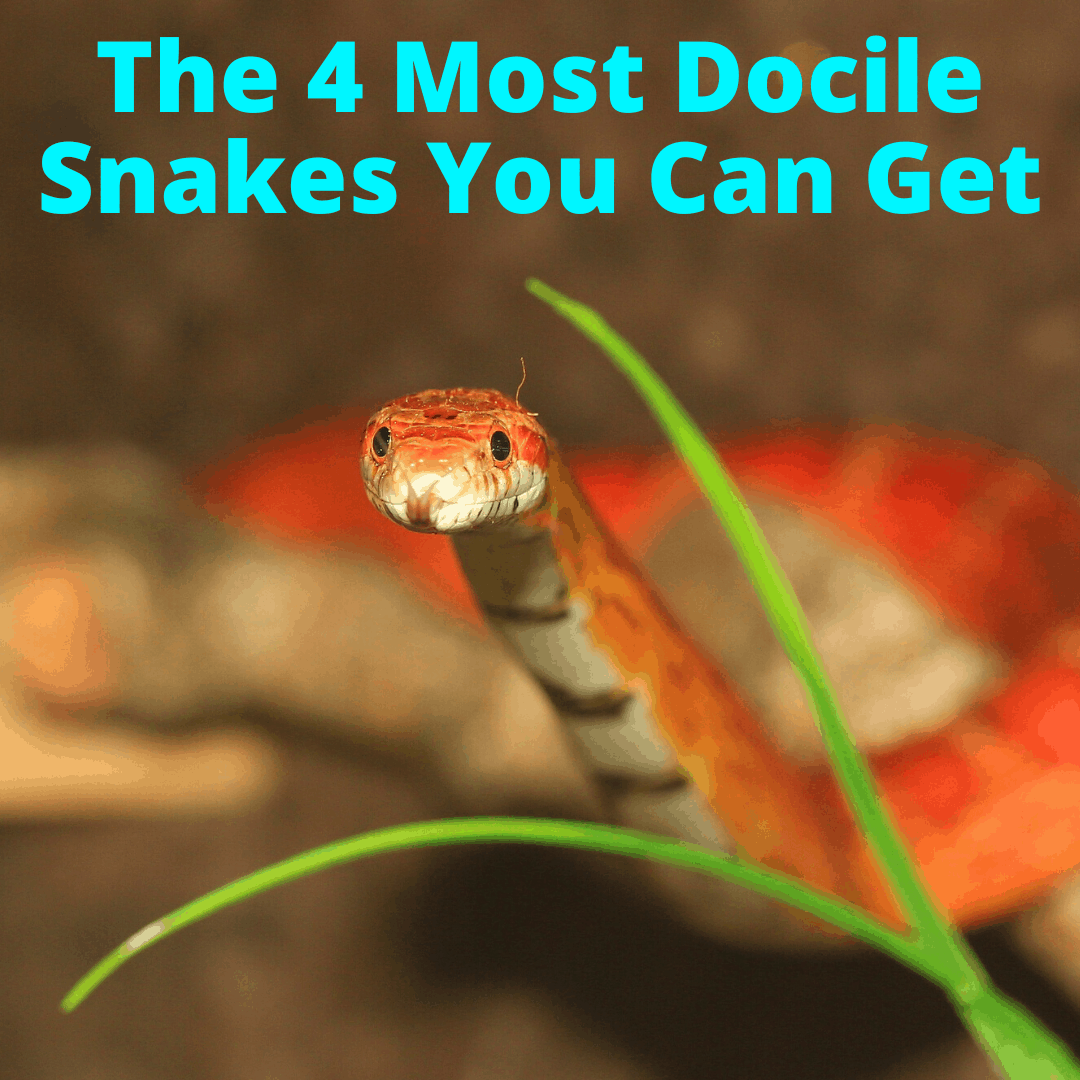 Pet snakes are great.
Having a snake is tons of fun and is so cool.
But resist the urge to go out and get a super dangerous viper or a humongous boa constrictor.
Not only are they more work to care for, but dangerous snakes are also usually super aggressive.
It might seem cool to have a dangerous snake, but it's actually not really much fun.
Docile snakes are much easier to care for and you don't lose any of the cool factor. Besides, you can always tell people your friendly pet is super dangerous. They'll believe you and keep their distance!
So now the question is: which snakes are the most docile? Let's find out.
Most Docile Snake
The following four snakes can lay claim to the title of most docile snake.
Corn Snake
Hognose Snake
Ball Python
Kenyan Sand Boa
Let's take a closer look at each of the most docile snakes in turn.
Corn Snake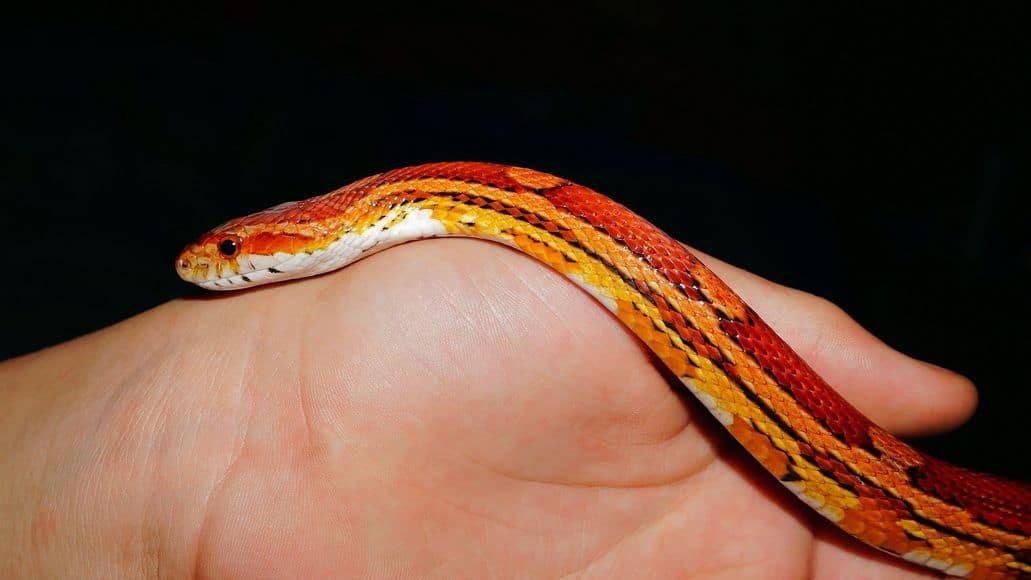 The Corn Snake is a constrictor snake. Their main prey are rats and mice. This snake is beneficial to the human race, as they kill off rodents like rats and mice. They also make for a great pet and they are not aggressive at all.
This snake is great for beginners because they are super hardy and can survive in almost any condition. Even in bad living conditions this snake could easily stay unaffected.
They Are Not Unique
These snakes are very popular. Many snake enthusiasts own them. That means they are not as exotic as most other snakes, but they are easy to get your hands on and are available at most pet stores that sell snakes. Accessories for corn snakes are also easy to come by.
There Is Loads Of Information On The Corn Snake
Because they are very popular, you will find it easy to get advice on keeping a corn snake.
They Can Be Difficult To Handle
These snakes are slippery and quick. They are extremely active and move around a lot. This makes them more difficult to handle than many other types.
That said, you will get used to it and it becomes easier with time. Do not allow your corn snake to get into any shelving. It will wrap itself around everything and it will be a mission to get it out.
They Mainly Eat Mice
The Corn Snake loves to eat mice and prefers not to switch to rats. That's good for you, because mice are cheaper and more readily available. Any snake that grows larger will need to switch over to rats at some point.
Learn more about corn snakes here.
---
Hognose Snake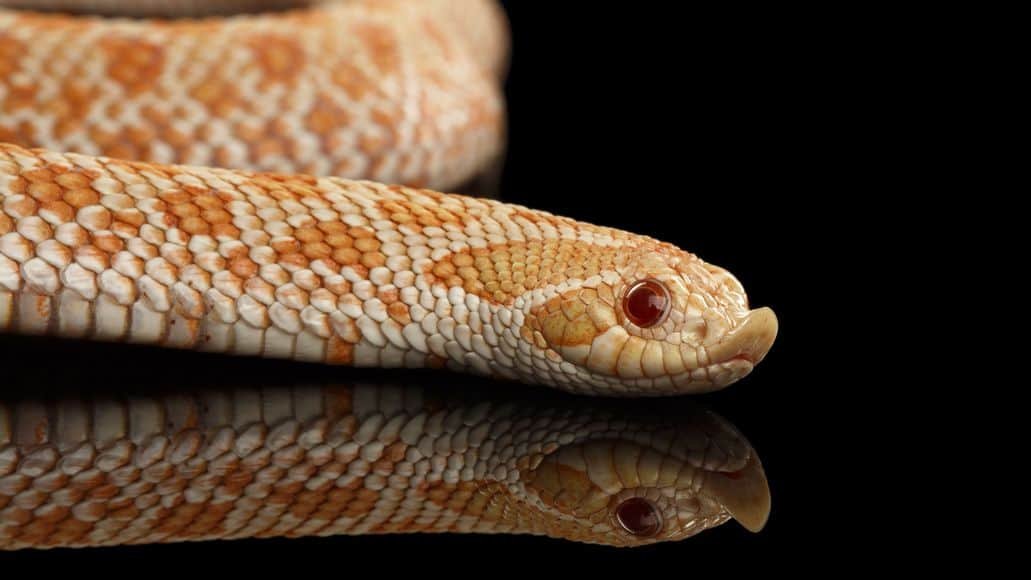 The Hognose Snake is mainly found in Mexico and other parts of North America. It has a distinctly shaped nose.
These snakes are popular pets, as they hardly ever bite. They mainly eat lizards and mice and can also eat insects and toads.
The Hognose Snakes do require a wider range of food types and could have a shorter life span if they are only fed rats or mice. These snakes are venomous and will cause your finger to swell if it bites you, but that i the extent of the damage. It is definitely not fatal.
Behavior When Threatened
When threatened they flatten their necks and raise their heads. If that does not work they will hiss at you and strike you with their sharp nose, which is mostly harmless. They rarely bite – so do not stress 🙂
If all else fails they will turn around on their backs and act dead. In the wild the Hognose Snake will mostly eat toads. Most toads are poisonous and that is why the hognose snake turns onto its back. It wants to show birds and other predators that it is carrying the toad's poison in its system and therefore should not be eaten.
Easy To Handle
The Hognose Snake is super easy to handle, as it does not move around a lot. It is definitely not as active as its cousin the Corn Snake. It is very slow and the only thing you will notice is that it will push into you with its pointy nose now and again. There is no doubt it deserves to be called a most docile snake!
Adolescent Aggression
For some reason, hognose snakes become a little more aggressive during their adolescent stage. They will often hiss and mock strike at you. This only lasts for a short period and they go back to their docile selves afterwards.
Easy To Care For
If you buy this snake from a breeder, it will be very easy to feed. If you get your snake from the wild, it will be more difficult to feed, because they normally will feed on amphibians like toads.
It is not easy to secure a constant flow of toads to feed your snake, unless you have a local supplier. Snakes raised in captivity will eat a bigger variety of food. You can feed them rodents and they won't reject them.
They also do not need as large an enclosure as other snakes, because they do not grow very big. That saves on space and money. But you do want to make sure the enclosure has everything they need to be comfortable. They can do without, but why not give your snake a nice life?
Extremely Hardy
Hognose snakes are very hardy and therefore very easy to keep, even for a beginner. They are not as sensitive as other types of snakes if they do not get the right food, water or enclosure.
Humidity is also not as big of an issue. They really only need a bowl of water in their enclosure to ensure the correct humidity.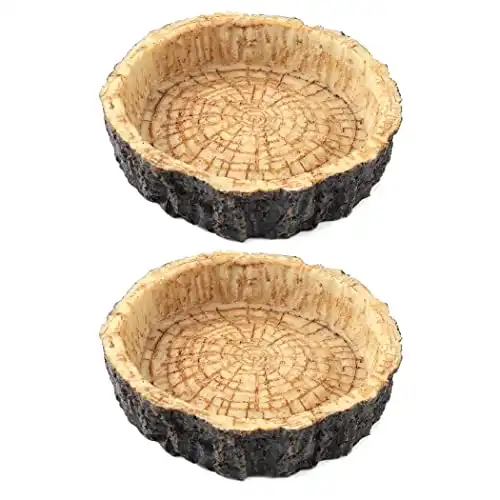 This article has much more in-depth info on the Hognose Snake.
---
Ball Python
This nonvenomous constrictor is from sub-Saharan Africa. They are the smallest of all the pythons. They are called the Ball Python because they squeeze into a tight ball when under stress.
The Ball Python is very common and easy to purchase almost anywhere. It is great for the beginning snake enthusiast, but also for a more experienced owner.
The Ball Python makes our most docile snake list, because it is very easy to keep happy and it does not grow too big. It is a pleasure to handle, because it is not aggressive, does not move around fast and is not too slippery.
Inexpensive
The ball python is very cheap, because it is so common. You can probably get one for about $20 at your local pet shop.
Simple Enclosure
Giving them a 20-gallon enclosure is the bare minimum, unless your snake is smaller. Better to go with 40 gallons or more to give your snake enough room to be happy.
You can find our top recommended ball python enclosures here. Make sure you set up the terrarium nicely, but this species does not have any special requirements that increase the cost or make setup more difficult.
Infrequent Feeding Time
You only need to feed them every five days, or nine days if they eat bigger food. They love eating mice and rats. They can be somewhat finicky eaters at times.
Because they only eat once a week they only poop once a week, too. Often they will poop even less frequently. And that means less work cleaning.
Poop
About three days after they eat, they poop. You will want to clean out the poop immediately, in order to avoid any smell from their enclosure.
Breeding Season
During their breeding season, they will not want to eat. All Ball Pythons eat less, or not at all, during this time.
Humidity
These snakes come from very humid areas and therefore enjoy humidity of about 65%. As a result, it is better to get an aquarium tank to put your snake in, as the humidity will be easier to manage. You will need a humidifier, too. Luckily, even the best snake humidifiers are inexpensive.
Read more about this beautiful snake here: How To Care For A Ball Python
---
Kenyan Sand Boa
As the name might suggest, the Kenyan Sand Boa hails mainly from Kenya and the surrounding countries. Their scientific name is Gongylophis colubrinus but I prefer Kenyan Sand Boa (for obvious reasons).
They come from far away and from very hot climates, but they are becoming very common and popular in the snake trade, in large part to their reputation as a most docile snake.
The males grow to about 2 and a half feet while the females grow to about 3 feet. You'll want a minimum 20 gallon tank for a Kenyan sand boa, perhaps even bigger. This one is a good choice.

These snakes love having lots of stuff in their tank to help feel secure. Check out some of these great accessories for snakes.
Lifespan
A healthy Sand Boa can live from 15 to 20 years. There have been some records of these snakes living up to 30 years old. Keeping a snake like this is a long-term decision.
Nocturnal
These snakes are nocturnal and love the night time. They prefer feeding and moving around in the dark, because they feel safer and hunting for their prey is easier.
Not Venomous
The Kenyan Sand Boa is a constrictor and does not use venom to kill its prey. It is not venomous and not dangerous to humans, which is what makes it one of the most docile snakes.
Diet
They love eating mice and feed every 5 to 6 days depending on the size of their last meal. The best way to see how big a mouse it needs is to measure it by the thickest part of the snake's body.
Keep in mind that the Kenyan Sand Boa is nocturnal. Most of them prefer to eat in the dark, but some might not mind feeding during daytime.
Do They Bite?
The only time I have been bitten was when my hand smelt like a mouse and it thought my finger was food. Remember that they are not venomous therefore they will not cause any harm even if you do get bitten.
Learn all about the Kenyan Sand Boa.
---
Most Docile Snake: Final Thoughts
It is always be better to own a docile snake, whether you are a beginner or someone with years of experience. The docile snakes listed above are all easy to handle and keep and just make for easy pets all-around, as long as you look after them properly.
Always keep in mind that these creatures are sensitive and keeping them in captivity is a bit cruel even though it is something you enjoy. Always make sure your pet snake is comfortable and look after them like they are your child.