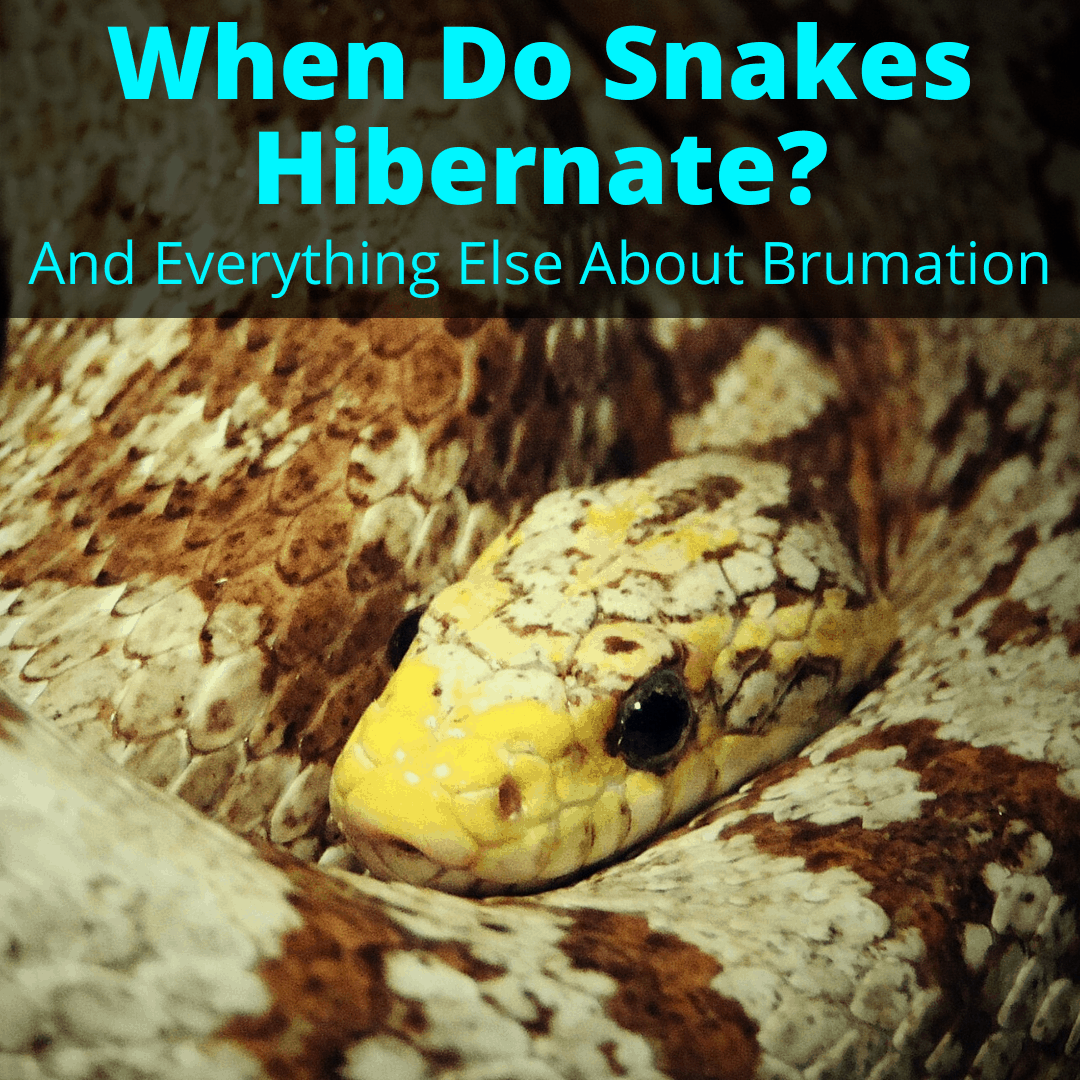 Snakes are reptiles.
As such, they are cold-blooded and can not regulate their body temperature internally.
They need to rely on external heat sources, like the sun, to raise their body temperature. And if it gets too high, they need to find a cool spot to lower it.
If the ambient temperature gets too cold and there is no heat source they can use to raise their body temperature to the ideal level, they can get sick and die.
In colder climates, snakes are not able to survive the cold winter temperatures and they are also unable to find food.
To make it through the cold winter months, they have to find a warm location to hibernate. This allows them to survive the low temperatures and to survive without eating for many months.
Let's find out exactly when snakes hibernate, why they do it, how they do it and how you can help them do it in captivity, which is helpful in breeding snakes.
When Do Snakes Hibernate?
Snakes don't technically go into hibernation. They brumate (more on that below). This is simply a different term used for cold-blooded animals.
Mammals hibernate, while reptiles brumate. But we'll use the two terms interchangeable throughout this article.
Snakes hibernate in the winter months. The length of hibernation depends on the climate.
Snakes in the coldest climates can brumate for 7 or 8 months of the year, while those further south may only hibernate for a few months. In the tropics, they do not hibernate at all.
There are a few common occurrences that cause snakes to hibernate:
Cold weather
Gestation period
Fasting
Let's take a look at each of these instances of hibernation.
Hibernation During Cold Weather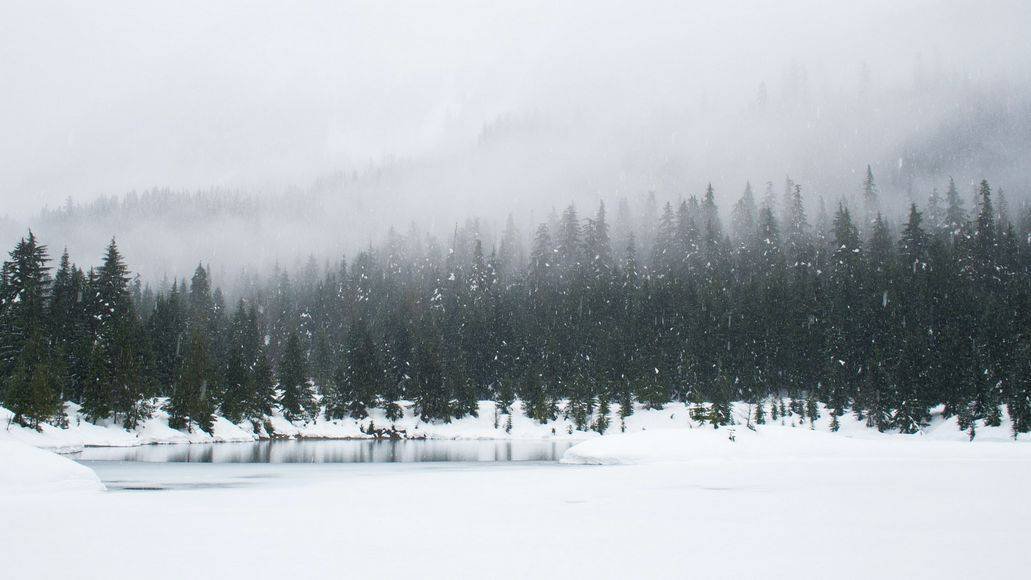 Snakes hibernate when the climate becomes unfavorable. In colder locations, this generally means the winter months. Temperatures drop and snakes are forced into hibernation to conserve energy and to escape the cold. They would not be able to hunt for food anyway, so hibernation allows them to last longer on the food they have already consumed.
Once the weather improves, the snakes emerge from hibernation. How long this takes depends on the species of snake and the general climatic conditions in their habitat.
Hibernation During Gestation
When female snakes become pregnant, they tend to limit movement, but they don't actually hibernate. They simply take it easy and spend a lot of time basking in the sun. This reduces body function and provides more energy for gestation.
After the babies have hatched, the females of some species do hibernate in a way, so that they can protect their young from predators. They basically hang around them as long as needed. That said, many other species leave their young to fend for themselves as soon as they hatch or are born. Some take off right after laying their eggs.
Hibernation During Fasting
Snakes also go into hibernation when they fast, which is related to the previous two points. Snakes fast during the winter and also when they are pregnant. Another time the fast is before they shed their skin. They do not enter full hibernation during this time, but they definitely slow down and conserve energy.
Snake Hibernation (Brumation)
Generally, hibernation is a deep sleep state some animals enter to conserve energy throughout the winter when they could not find enough food to survive otherwise. In snakes, this process is called brumation.
Snakes don't actually sleep the entire winter. They slow down and conserve energy, but they are still awake and move around. They even emerge from their chamber on warm days to bask in the sun for a bit.
While brumating, breathing and heartbeat slow down. The temperature also drops. All of this lowers energy consumption, which allows the snake to survive without food. They do not eat at all while they are brumating.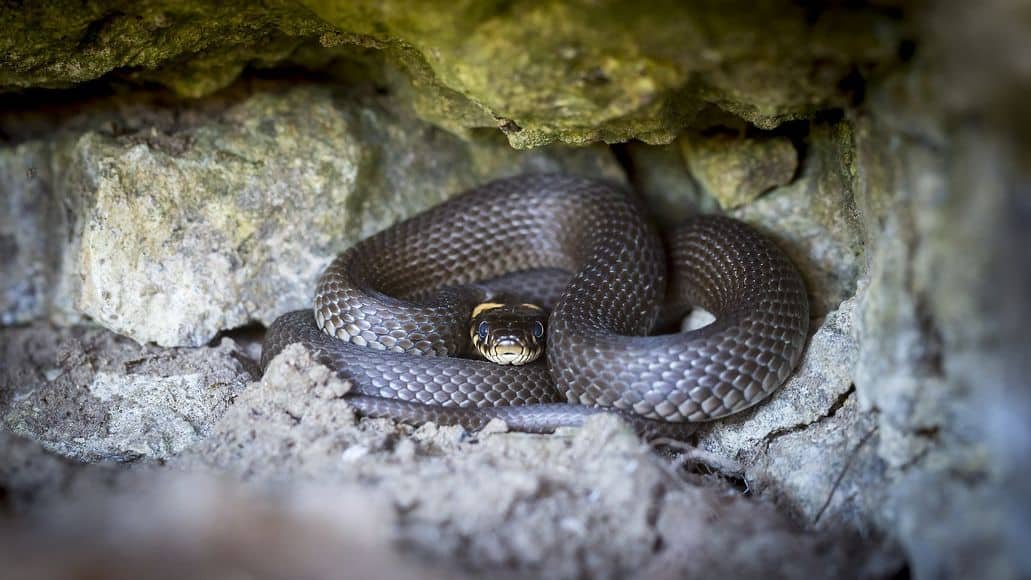 Marshall McCue at the University of Arkansas withheld food form over sixty different snake species to test their ability to lower their rate of metabolism. His study showed that they can slow down their metabolism by over 70%. That is how they are able to survive for many months without food, when they brumate.
Not All Snakes Hibernate
Only snakes that live in climates with cold winters hibernate. They find a warm place to wait out the cold weather that would otherwise kill them as cold-blooded animals. And even if they cold didn't kill them, lack of available food would.
The longer the cold period, then longer the period of hibernation. But snakes that live in the tropics, where there is no cold season, have no reason to brumate.
For that reason, tropical snakes do not hibernate. They simply have no reason to do so.
Where Do Snakes Brumate?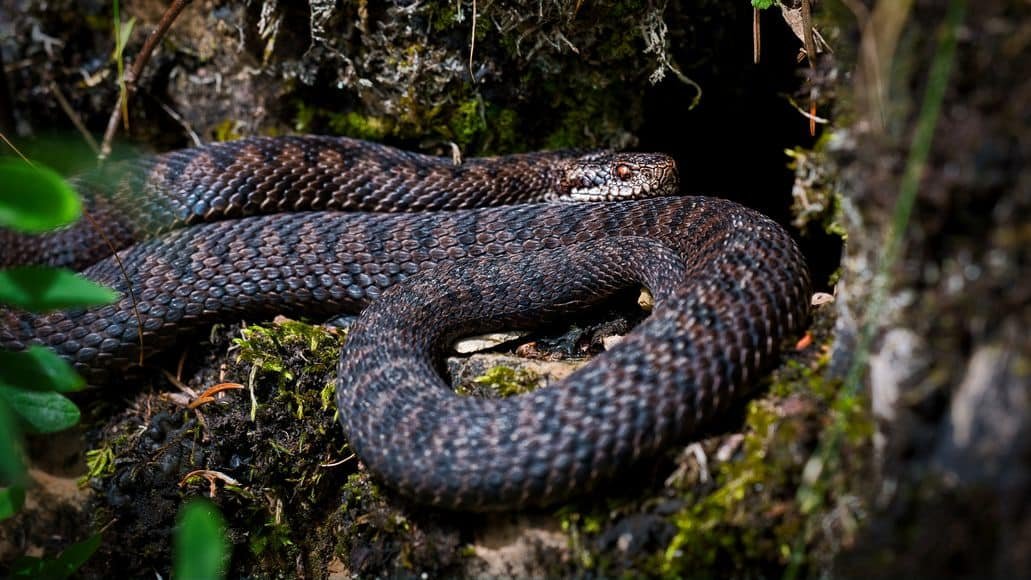 For hibernation, snakes need a warm, damp location with plenty of ventilation. A number of locations can fit the bill. Snakes can hibernate deep underground, under leaves, under rocks, under debris, or in empty animal burrows, among many other spots.
You might have realized that parts of your home provide the kind of environment a snake needs for brumation. This obviously brings up the question: Do snakes hibernate in houses?
It does happen, but it's not that common.
Some snakes hibernate alone, while others brumate with together with other snakes of the same species, and others still hibernate even with other species of snakes. After the brumation period, they split up again and go their separate ways.
Why Do Snakes Hibernate?
Snakes hibernate for one primary reason: energy conservation. We've listed two other reasons below, but obviously, both are related to the conservation of energy to get them through a period when they are unable to get the fuel they need to create new energy.
To Conserve Energy
Snakes are ectothermic. They are not able to regulate their own body temperature and have to rely on external source, like the sun, to keep their temperature in the optimal range. If they get too hot, they seek out shade to bring their temperature down.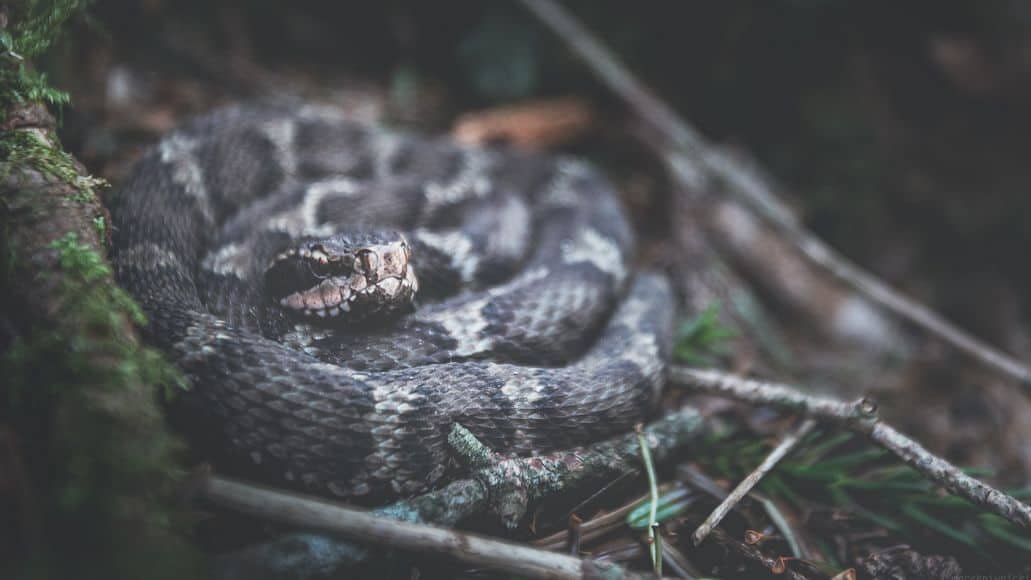 Because they need external sources of heat to keep their body temperature up, they can not survive in cold habitats. They have to find a warm place to hibernate or their body temperature sinks too low and they freeze to death.
They also can't get the food they need during the cold season. Hibernation allows them to minimize their energy use, so that they can survive throughout the winter on their stored reserves, without needing to eat again.
To Slow The Heart Rate
One of the reasons hibernation allows snakes to conserve energy is because it lowers their heart rates. A lowered heart rate means less energy is required by the heart. Because snakes minimize movement during brumation, they can survive with less oxygen in their blood, so a lower heart rate is sufficient.
To Lower Metabolism
In lowering their heart rate, snakes also lower their metabolism. Obviously, they do not consume as much energy, so their body does not need to produce as much. The lower metabolism is essentially what allows them to survive on their food reserves throughout the cold months, without needing to eat.
Tips For Successful Brumation And Mating In Captivity
If you are planning on breeding a snake that generally brumates in the wild, you may want to induce brumation in captivity as well. But not all breeders recommend doing this. It's up to you.
To do this, you need to mimic the conditions they encounter in the wild, before they enter brumation. That means lowering the temperature and withholding food. But you must continue to supply fresh water.
But before you withhold food, you should increase feeding in the months before hibernation (usually August, September and October), to make sure your snakes have plenty of reserves to get them through the "winter". But make sure you do not overfeed.
Stop Feeding
Stop feeding your snakes a few weeks prior to brumation, in late October or early November. They need time to completely digest their last meal. If they have any food in their body during hibernation, it will rot and kill them. If you need to induce a bowel movement in your snake, try soaking it in luke-warm water.
Ideal Temperature For Brumation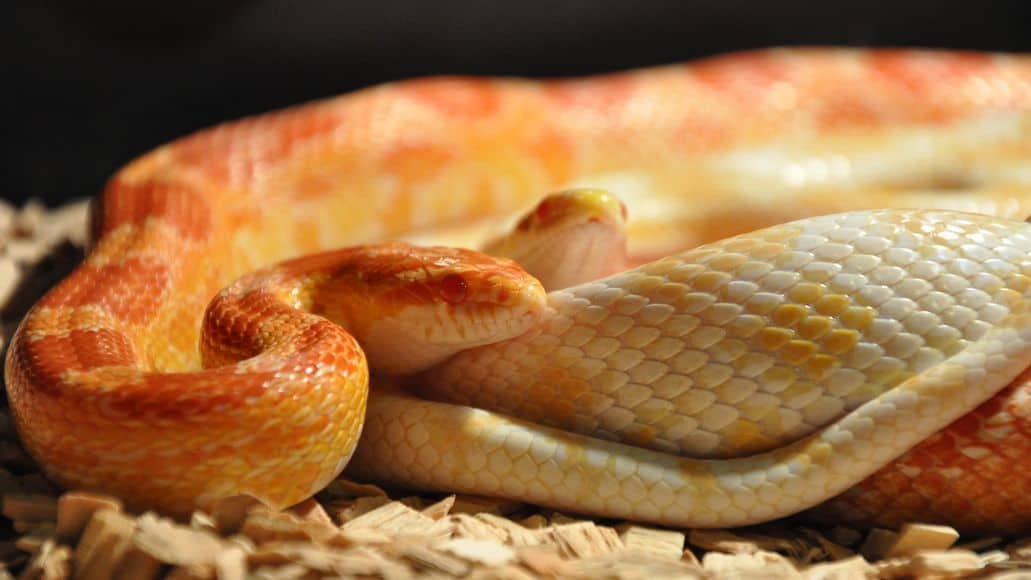 Once your snake has expunged all food from its system, you can go ahead and induce brumation. To do so, simply lower the temperature.
The correct temperature depends entirely on the species. You will need to do your research and find out the right temperature for your snakes. If you get it wrong, you could do them serious harm and could even kill them.
To give an example, let's take a look at the rosy boa. It lives in a temperate climate. To induce hibernation in the rosy boa, lower the ambient temperature to around 58° F. Maintain this temperature throughout the hibernation period, and then raise it in March, when you want your snakes to end hibernation and get ready to mate.
How To Control Temperature
The way you actually control the temperature depends on your set up. It may be as simple as turning off heat lamps or heat pads, or you may even need to use an air conditioner. It is easiest if you set up a separate brumation enclosure specifically for this purpose. You definitely want to have a thermometer in the enclosure to always be able to monitor the temperature and ensure it remains constant.
If you follow these guidelines for inducing hibernation and getting your snakes through it, you greatly increase your chances of successful mating. Here, are the key things you need to take care of when brumating snakes in preparation for breeding.
Before beginning brumation, separate male and female snakes and keep them separate throughout.
Feed your snakes twice as much as usual in the months leading up to the hibernation period.
Stop feeding your snakes a few weeks before the beginning of hibernation, to ensure they go into it with no food remains in their bodies.
Lower the temperature to induce brumation and maintain appropriate temperature throughout.
Make sure your snake has access to fresh water during brumation.
When Snakes Hibernate: Final Thoughts
Snakes hibernate at different times and for different lengths of time, depending on the climate where they live. And some don't hibernate at all. If you keep snakes, this in not something you need to worry about, unless you plan to breed snakes.
And even then, you can do so without brumation, though inducing hibernation before mating is generally more effective, since it more closely mimics the natural cycle of life.