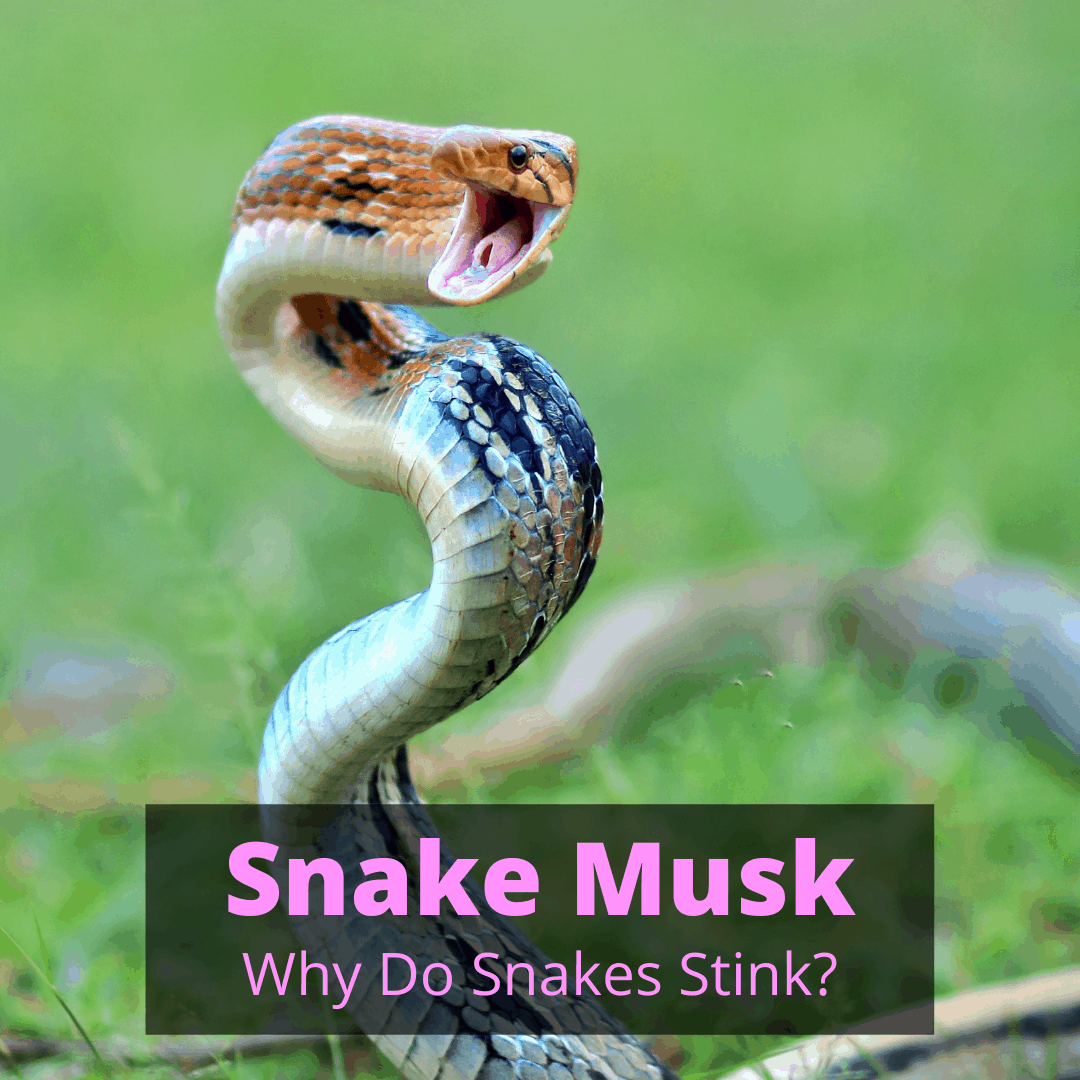 What is that horrendous smell?
If it's stronger and more pungent than anything you've smelled on your snake before, it's probably snake musk.
And hopefully you didn't get any on you.
It's impossible to get rid of and you'll be smelling bad for a while.
But what is snake musk and why did your snake emit it?
Keep reading to find out everything you need to know about snake musk, as well as some other reasons your snake might have a bad odor and what you can do about it.
Snake Musk
Snake musk is a white-ish substance that is milky and oily in consistency. Although it can be washed off with soap, it's really difficult to eliminate the disgusting smell.
Some people have said it has a rotten egg, dead fish, rotting, or skunk-like odor. Yup, it's really bad!
How Is Snake Musk Produced?
Musk is produced as a by-product of the snake's digestive system. It's released from their cloaca, which is the snake's posterior opening. Waste products are also released from a snake's cloaca.
Some call the release of snake musk farting. I suppose this is because it blows out of what is essentially the anus and it smells bad. But it's not really farting. Do snakes fart at all? They do, but it's rare. And not the same as musking.
Why Snakes Release Musk
Snake musk isn't something that happens by accident. It is a way for snakes to defend themselves from predators. They release musk when they feel threatened and want to escape their predators.
Interestingly, it's more common to find a smaller and younger snake releasing musk, but you'll sometimes see older snakes do it in the wild, too.
Some snakes musk more than others. Examples of snakes that regularly musk include the garter snake, king snake, and milk snake.
Some snakes, such as corn snakes, musk more regularly when they're younger.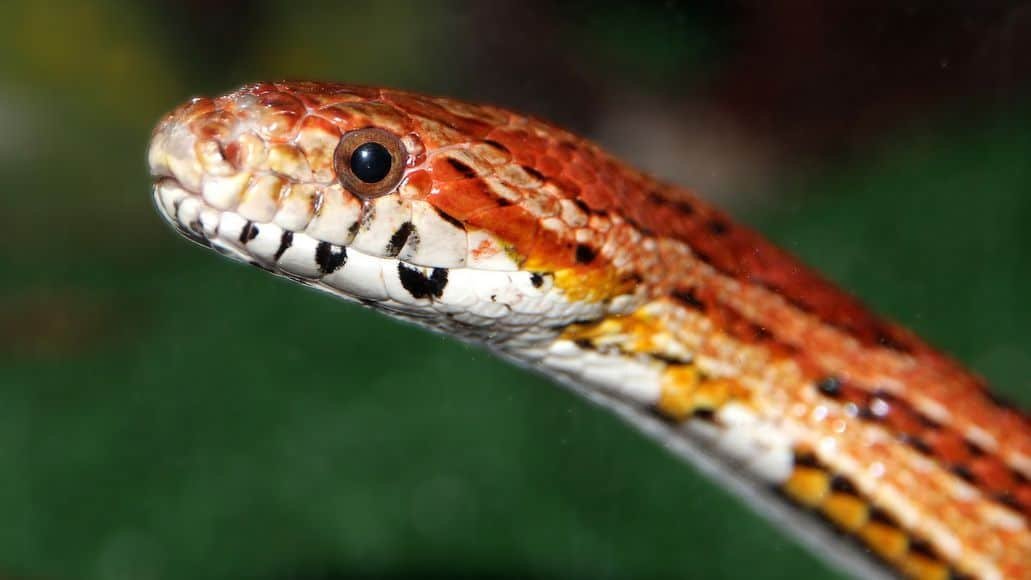 Different types of snakes give off different smells to ward off predators. For example, garter snakes give off smells that are cloying, while rattlesnakes release musky odors.
Interestingly, some snakes use their cloacal glands to release smells that lure potential mates, so that's another reason why snakes could musk!
It makes sense for snakes to musk because it overwhelms their predators with a horrible smell that makes them not want to attack and eat the snake.
A study that was published in the Journal of Chemical Ecology looked at how predators behaved in response to snakes musking them.
The researchers used musk secretions from a gray rat snake and put them on pieces of food that they then tried to feed to domestic cats.
The cats refused large amounts of the food, which showed the researchers that the strong and offensive smell of musk is a good deterrent for snake predators.
How To Get Rid Of The Snake Musk Smell
If you've been in the unfortunate situation of getting snake musk on your clothing or hands, you'll know that it is very difficult to eliminate.
Washing your clothing immediately is a must, and use hand sanitizer to help to get rid of the smell on your hands. That said, you won't get rid of it completely. You'll just have to wait this one out, because the smell is so potent!
What Do Snakes Usually Smell Like?
Some people say that snakes have a unique smell that you'll always associate with them once you've smelled them for the first time. But this isn't backed by science.
The truth is that you won't be able to smell a snake. If a snake is clean and not threatened in any way that would make it release odors, it doesn't usually smell bad.
A myth that needs to be busted is that snakes smell like cucumbers.
Have you ever heard people say that snakes and their dens have a cucumber-like smell? This "fact" has been going around for some time, but it's just not true.
In the book, Rattlesnakes: Their Habits, Life Histories And Influence Of Mankind, Volume 1, author and herpetologist Laurence Monroe Klauber states that various smells have been associated with the dens of rattlesnakes, with one of them being similar to cucumbers.
However, Klauber busted that myth by saying that humans can't really smell snake dens and if there is a bad or strange odor coming from a snake den it's probably the result of a snake having died or released musk.
Other Causes Of Bad Smells In Snakes
Now you know that snakes don't generally smell. But what if you snake has been smelly bad lately, and it's not due to musk?
It's not just snake musk that can give your reptile friend an unpleasant smell. If you find that your pet snake is smelling unpleasant, here are some other common reasons for snakes having bad odors.
Feces In The Enclosure
It's important to clean your snake's enclosure on a daily basis to get rid of any fecal matter. If not, your snake could slither through it. Not only does this cause your snake to smell bad, it can also make it sick.
Urates In The Enclosure
If your snake smells a bit funky, it could also be the result of urine. Snakes don't urinate liquid, but something known as urates.
These are urinary pellets that have a strong odor because they're concentrated. If you can smell something bad around your snake and you've cleaned out any feces, then the enclosure probably needs to be cleaned of all waste products, not just fecal matter.
Dirty Enclosure
Your snake's waste isn't the only filth that can build up in the enclosure. You should check all the items in the tank, to make sure that they're not molding.
Mold can transfer to the snake and cause it to smell bad. You should also make sure to keep the food and water bowls clean to prevent bacteria from forming and causing bad smells. Clean them daily.
Illness
Another reason your snake might have a strange or unpleasant smell is a health problem. An example of a health condition that could cause a foul odor is mouth rot.
With health conditions, your snake is likely to display other symptoms, so look for those to indicate an illness. For mouth rot, symptoms include a lack of appetite, blood around the teeth line, and drooling.
If you suspect that your snake has a bad odor as a result of an illness, you should take it to the vet immediately so that it can be treated.
Should You Wash Your Snake Regularly?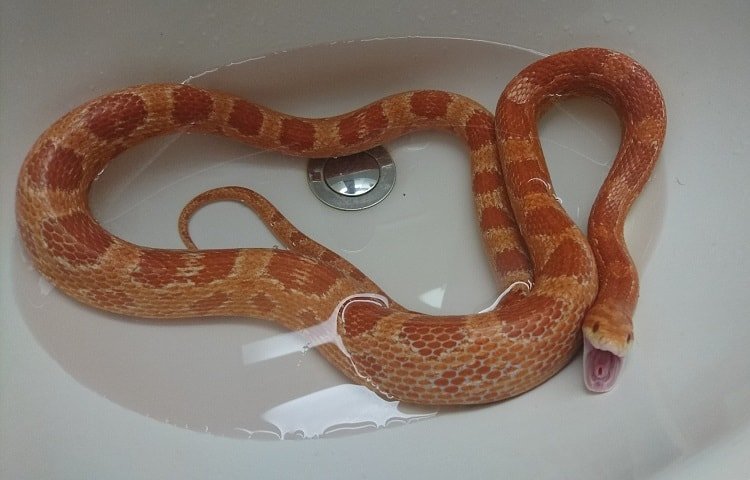 If your snake has musked or slithered through its own waste, you might wonder if you should give it a bath.
You can, but make sure you don't use any products in the water as these will harm the snake. If you don't feel confident bathing your pet, you might find it's just easier to use a damp towel to gently wipe it down to remove any filth.
Bathing your snake has many benefits, though. In addition to removing bad odors, it can encourage the shedding process if your snake's skin doesn't come off naturally.
Some snakes love being in water, so bathing them is never a bad idea. Here's how to do it.
Fill a container with a few inches of water.
Test the temperature of the water so that it's not hotter than 80° to °85 degrees Fahrenheit because snakes are sensitive to temperatures.
Once you've put your snake into the water, let it swim around for about 10 minutes. Always supervise your snake as it could hurt itself by trying to get out of the bathing container.
When you're ready, gently pick up your snake and dry it with a soft towel before putting it back into its enclosure.
Related Questions
Do snakes smell when they shed their skin?
Some people have reported that their snakes smell bad during the shedding process. This can be as a result of them releasing waste products when they shed their skin.
What could cause a snake in the wild to smell bad?
In the wild, snakes can smell as a result of slithering through dirt, mud, or decomposing materials, like leaves.
Snake Musk: Conclusion
Snakes are not usually smelly creatures. But if they feel threatened, they can release musk. Then they reek.
In this article, we've learned what musk is and why snakes release it. We also looked at other reasons why your snake might smell bad and what you can do about it.
A snake should not smell bad under normal circumstances, so make sure you nip those bad odors in the bud, to ensure that your snake stays hygienic and healthy.