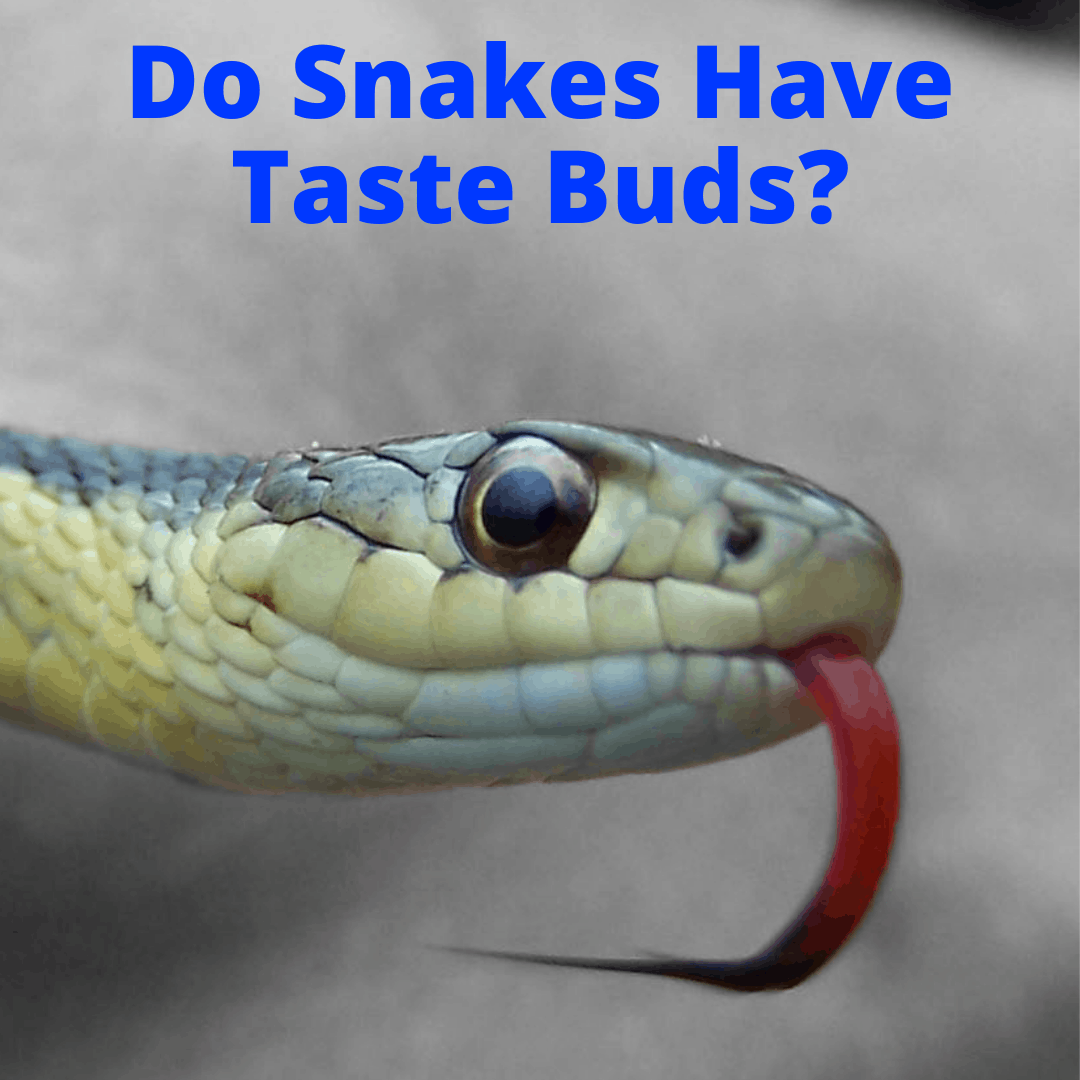 Snakes have tongues.
Everybody knows that.
A snake flicking its forked tongue as it hunts is a quintessential image from nature documentaries.
And horror movies.
But does that tongue function the same way ours does?
It does not. Not even close. And it starts with the taste buds.
Do Snakes Have Taste Buds?
Snakes do not have taste buds. Their sense of taste is quite unique and different.
While they don't taste using taste buds, they do have a sensory organ located on the roof of their mouth.
With that in mind, let's explore how snakes can smell and taste their food. Hint: it's got a lot to do with their flicking tongues.
Why Snakes Flick Their Tongues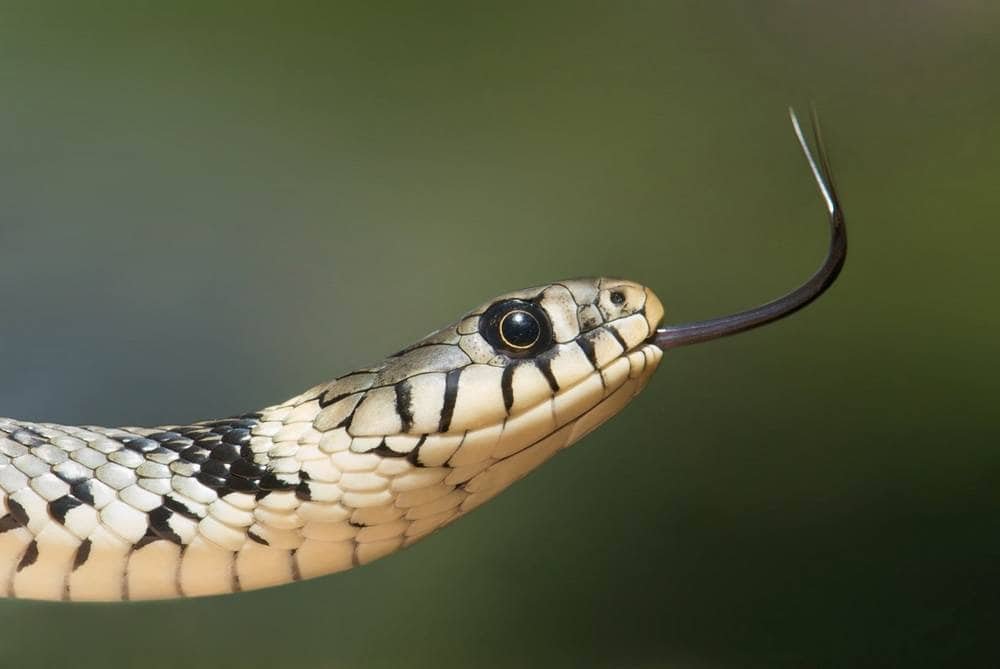 If you've ever seen a snake flick its tongue, you might have wondered if it was a defensive or predatory move.
But it's neither.
Snakes flick their tongues in order to collect chemicals that are either on the ground or in the air around them. It's quite fascinating.
This behavior compensates for the fact that snakes don't have receptors on their tongues with which to taste food.
They do have receptors, though – they are located in the Jacobson's organ.
The Jacobson's Organ
You'll might have heard about the Jacobson's organ before. If not, it is located on the roof of a snake's mouth. When chemicals reach this organ, they send signals to the brain.
The exact location is at the base of the nasal cavity. The organ has two ducts that travel down to the roof of the mouth.
When the snake flicks its tongue, some smell particles in the air or on the ground make contact with the tip of the forks.
When the tongue flicks back inside the mouth the tips of the forks come into contact with the Jacobson's organ's ducts. Those transfer the smell particles to the organ, enabling the snake to smell.
You might now guess that the fork in the tongue serves another purpose, apart from making snakes unique in appearance and helping them smell things around them.
It also gives them the ability to collect chemicals from two places simultaneously, as long as those locations are situated close to each other.
A snake's tongue-flicking behavior also helps it hunt. Snakes can detect their prey by receiving chemical information of their surroundings, just by flicking their tongues.
They can follow the scent trail of their prey, which helps them find and locate their next meal.
Do Snakes Enjoy Their Food?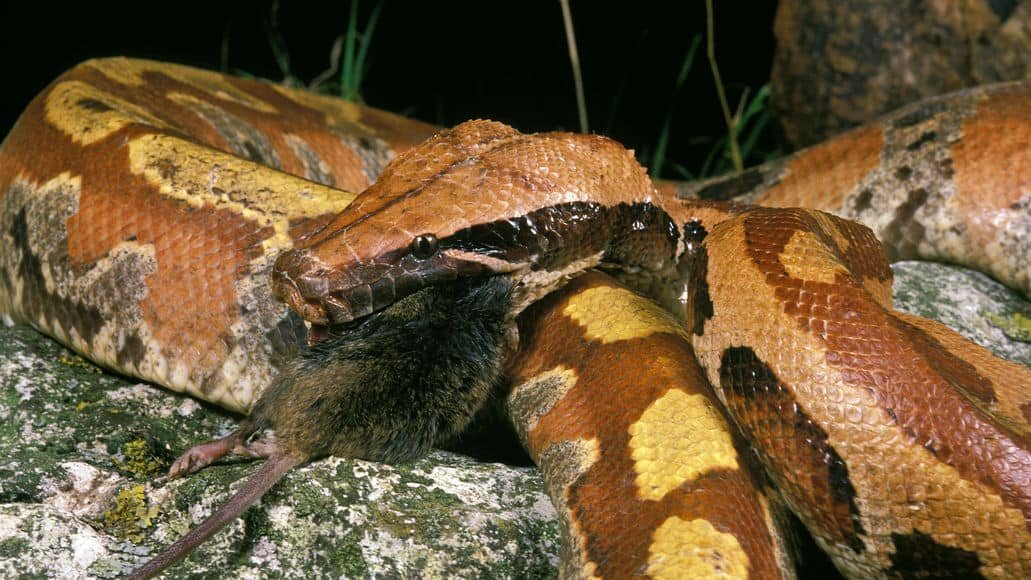 If you've found yourself wondering if your pet snake enjoys the frozen mice you give it to eat, you won't find a good answer. The truth is: we just don't know yet.
But different species of snake prefer to eat different prey, so they clearly enjoy some foods more than others, at least to some extent.
If your snake doesn't like something you give it to eat, you can encourage it to eat the food anyway by rubbing scents that it likes on it, like a dead frogs, for instance.
This shows that snakes prefer some smells and tastes over others. Your snake will flick its tongue to get the scent of the food you're presenting before eating it, which also shows that snakes are attracted to certain smells and tastes.
That said, snakes are complex animals. Just because your snake is not eating the food you're giving it, that doesn't mean there's a problem with the smell or taste of the food.
There could be other reasons why your snake doesn't want to eat.
For example, if the snake's enclosure is too cold, this could be causing it to feel stressed, which in turn results in the snake having less of an appetite.
Snakes are sensitive creatures. In addition to stress, an illness or the shedding process can also send your snake's appetite packing from time to time.
How To Tell If Your Snake Is Hungry
Although snakes can go for weeks (and even months) without any food, this doesn't mean that they can't become hungry.
How can you tell if your pet snake is feeling hungry and eager for its next meal?
Your snake might start flicking its tongue a lot more than usual when it wants food. In addition, it might prowl around in its enclosure.
Do Snakes Smell With Their Nostrils?
You might think that snakes only use their tongues to smell and reserve their nostrils for the purpose of breathing air. But this is not exactly true.
The plot thickens!
Experts are still learning about how snakes use the combination of nostrils, Jacobson's organ, and tongue to smell things around them.
Related Questions
Do snakes have a good sense of smell?
Yes, they do have a good sense of smell. And good thing, because it makes up for their poor eyesight. Most snakes can't see very well and can only pick out shapes, without any details. But they can smell well, and can smell other snakes, too.
How many senses do snakes have?
Snakes have six senses: sight, smell, touch, taste, hearing, and they can detect the heat of other creatures. Some of their senses are not well developed, though. They do not hear in the same way we do, and their vision is not good either. Snakes can see colors, but only two primary colors, instead of three like us.
Snakes And Taste Buds: Final Thoughts
Snakes are amazing creatures with bodies that are built in unique ways to help them function effectively in their environments and become master predators.
In this article, we've looked at the interesting ways in which snakes can smell and taste their food as well as the environment around them.