Shedding is stressful.
More so for your corn snake, but it can increase your stress levels too.
You want to make your snake comfortable during the shedding process, when it is especially vulnerable.
You also want to provide the right conditions for a successful shed.
So how often do you and your corn snake have to go through this?
I might have some bad news for you, depending on the age of your snake. Keep reading to find out how often corn snakes shed their skin.
How Often Do Corn Snakes Shed?
New hatchling corn snakes take about a week to shed their first skin and will continue to shed their skins every few weeks or so in the beginning.
As corn snakes get older and larger, their growth rate slows considerably and they shed less often. Adult corn snakes usually shed their skins once every few months.
Why Do Corn Snakes Shed?
A corn snake's skin isn't as stretchy as our skin, and it doesn't grow with them as they get older. As a result, they have to shed their old skin regularly, as they outgrow it. And this process never stops.
Snakes continue to grow throughout their entire lives and will have to shed their skin as they get bigger and longer. In addition to growth, another benefit to shedding is that it keeps snakes healthy by removing parasites that may have attached themselves to the snake's skin.
How Do You Know A Corn Snake Is About To Shed?
A corn snake's shedding process goes through a few stages that you can easily spot with a little practice. Before the process starts, your snake may start hiding a bit more.
The first phase begins before your snake sheds its skin, and it's called the blue phase.
During the blue phase, your corn snake's eyes may turn a cloudy bluish color, and its skin takes on a darker and more dull color. The blue phase lasts about three to five days.
The eyes turn blue, because the brille (the scale covering the eye) becomes detached a bit in preparation for shedding. Read "Do Snakes Have Eyelids?" for more.
This brille is part of the skin and always covers the eyes. It is why a snake can sleep with its eyes open. The brille gets replaced with the rest of the skin,
Once this phase is over, your snake's appearance will return to normal, but it isn't done yet. A few days later, your snake will begin the actual shedding process, leaving behind its old skin to reveal the new skin underneath.
Corn Snake Shedding Process
Corn snakes are most active at night, and this is when they're most likely to shed.
To begin the shedding process, your snake will become more active and rub its nose on the glass of its tank, or any rough objects in its area.
This instinct helps them to loosen up the old skin and shed it faster. The rubbing creates a tear so the snake can work its way out. It is a good idea to provide your corn snake some accessories it can rub up against.
As long as there is enough humidity in the tank, your corn snake should be able to shed its skin in one piece. The humidity in your snake's environment should be between 50 to 70%.
If the humidity is too low, your corn snake may struggle to shed its skin. Make you you get a fogger if you need to increase the humidity a lot, or just spray some water mist into the tank if you just need to increase it a little.
You can also help your snake by providing plenty of water in their water dish and creating a moist hide for them.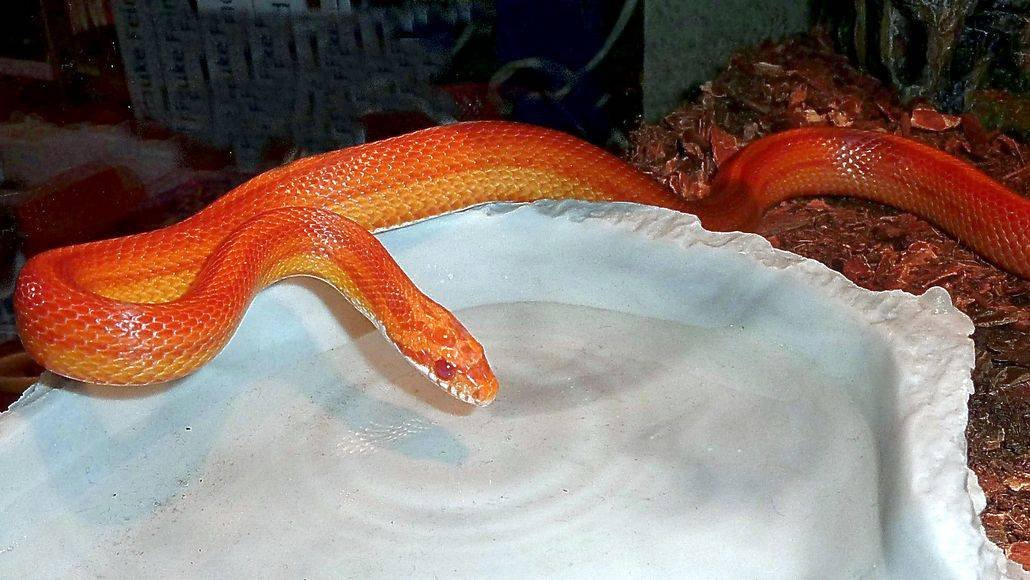 Place damp (not wet) green moss or sphagnum moss under one of its hides to create a higher humidity area for your snake to go in. For a perfect shed, the skin should come off in one piece from head to tail.
How Long Does It Take For A Corn Snake to Shed?
From the time your snake starts hiding to when it finally sheds its skin takes about six to nine days. For many snakes, the actual shedding phase of the process only takes about a day or two.
What Time Of Year Do Corn Snakes Shed?
Snakes are more active and grow faster in warm, humid weather, but they don't go by the seasons when deciding when to shed.
So, when do snakes shed their skin? Basically, they shed whenever they've outgrown their current skin.
The humidity and temperature in a snake's vivarium should stay at a pretty consistent level year-round, so you won't likely see any difference in how often your snake sheds from one season to the next.
Corn Snake Shedding Problems
Most snakes should go through the shedding process with no issues, if the conditions are right, but sometimes problems may happen. Incomplete or abnormal shedding is called dysecdysis.
Some cases of dysecdysis include not shedding the eye caps or tail tip, shedding in pieces, or incomplete shedding.
Shedding In Pieces
When your snake sheds, the skin should come off all in one piece. If it doesn't, your corn snake's environment is likely too dry.
You may also see your snake struggling more than usual to get the skin to peel off. Increase the humidity in your snake's tank by adding a small pond area, a moist hide, or use a humidifier.
Eye Caps Or Tail Tip Won't Come Off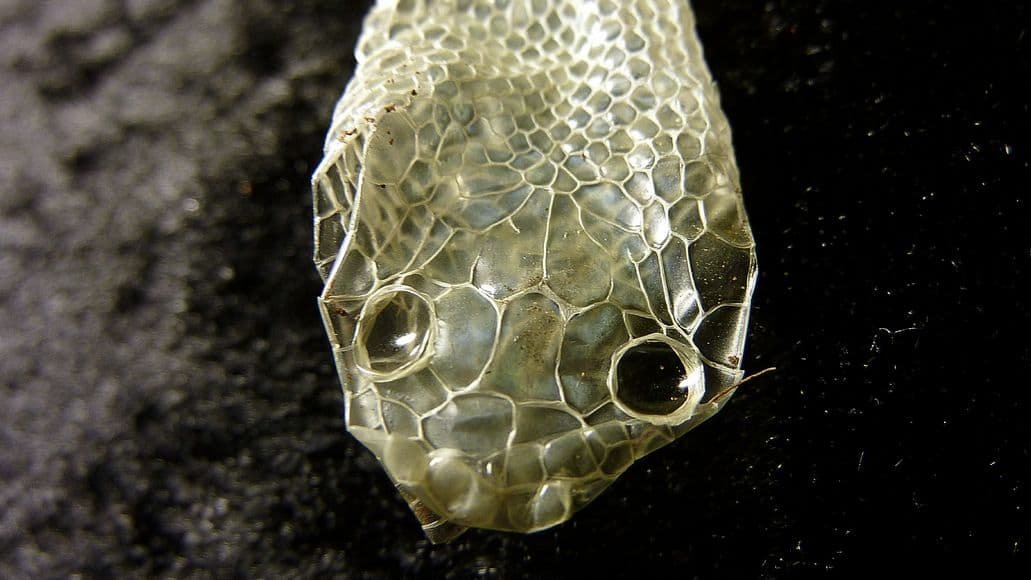 After your corn snake has shed its skin, make sure the discarded skin is complete, with eye caps and the tip of the tail. Sometimes snakes have trouble shedding these two parts, and if they're left behind, they may pose severe risks to your snake's health.
If your snake has failed to shed either of these parts, use extra moisture to help them out. You can follow the tips in the section for incomplete shedding to help them soften these areas.
If they still don't come off (especially the eye caps), don't try to remove them with tweezers. Instead, consult a vet for the best route to take.
Incomplete Shedding
Your corn snake should shed its skin all in one piece, but if it has an incomplete shed, there are some things you can do to help.
You can create a high humidity environment by placing your snake in a well-vented container with a layer of wet moss or paper towels for a few hours. Make sure to check on your corn snake frequently to see if there's progress.
Once the skin has softened, hold your snake with a damp towel and allow it to slither through it on its own to loosen and gently peel the remaining skin. Pay particular attention to the tip of the tail; if your snake doesn't properly shed this area, it can cut off circulation and increase the risk of infection.
Snake Behavior While Shedding
Corn snakes that are in the process of shedding tend to hide more and might be temperamental and could bite. They also won't be interested in eating, so skip meals at this time, especially while they're in the blue phase.
They won't be able to see as well and may not digest food as easily. You should always keep corn snakes separate unless you want them to breed, but during shedding it is especially important to keep your corn snake by itself.
How Often Corn Snakes Shed: Final Thoughts
Young corn snakes shed quite often, but older snakes only shed a few times a year. This is due to the slowed growth rate as they reach maturity, though they never stop growing completely.
Shedding is a stressful process for a corn snake, because it leaves it vulnerable in the wild. Make sure you do everything you can to make it comfortable and to ensure a successful shed.