Snakes live everywhere but the arctic.
That means they inhabit some pretty inhospitable locations.
One of their most hostile habitats is the desert.
How do snakes survive in the desert, where so many other species perish?
Desert snake species have developed a number of fascinating adaptations that help them survive life in the desert.
Keep reading to learn all about those adaptations. We will also examine what desert snakes eat and how they deal with the general lack of water.
How Do Snakes Survive In The Desert?
Desert snakes have special adaptations that help them survive the harsh heat during the day and the bitter cold at night. Smaller snakes dig burrows in the sand or seek shelter under rocky areas to escape the heat. Larger snakes move from one watering hole to the next.
Some snakes have developed the ability to condense or trap water on their scales from the occasional rainstorm. Most desert snakes have lighter coloring to reflect the sun's rays and stay cooler. Let's take a closer look at some adaptations that help desert snakes survive the harsh environment.
Nocturnal Lifestyle
Snakes living in deserts are mostly nocturnal. This means they are active after sunset and sleep or hide in burrows during the day. This helps them minimize their exposure to the harsh daytime heat.
They use the cooler parts of the day to hunt. This works to their advantage since most of their prey animals (rodents, lizards, etc.) also come out of their shelters at night.
Burrowing And Hiding
Small desert snakes burrow or dig deep holes into the sand to avoid the harsh rays of the sun. Some desert sand boas and rosy boas hide inside the burrows left behind by rodents or in crevices of rocky terrain. This keeps them cool during the daytime.
Some snake species hide at the base of the saguaro cacti. These massive cacti plants grow almost 50 feet tall and live for hundreds of years. Snakes not only get shelter and shade from the saguaros, but they also get to eat the owls, lizards, and rodents that live inside the cacti.
Light Coloring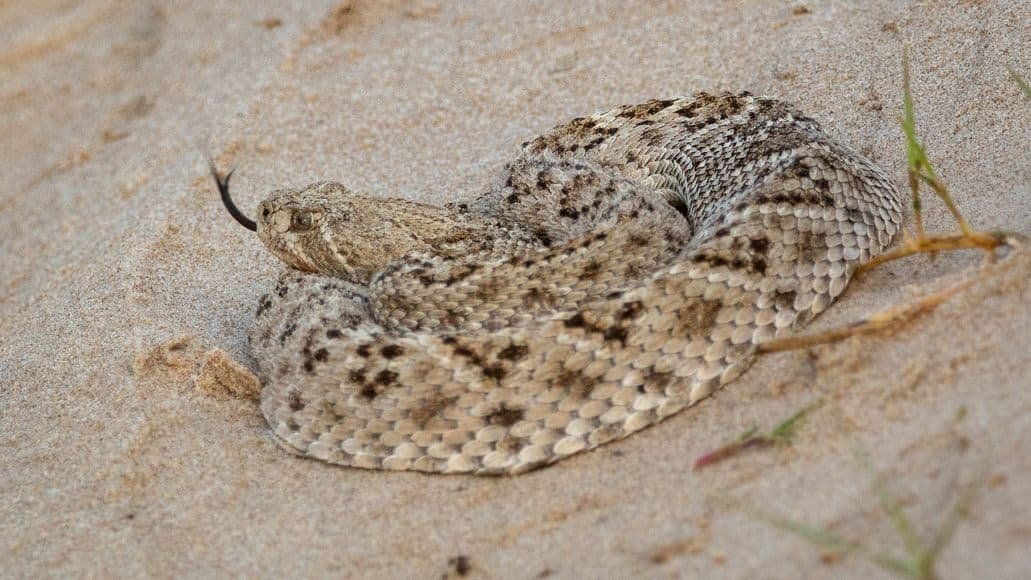 Most desert snakes have glossy, light-colored scales that help them reflect the sun's rays and reduce heat absorption. The Glossy snake or Arizona elegans, is aptly called the faded snake due to its dull, light scales that reflect sunlight.
Slower Metabolism
Desert snakes have a very slow metabolism. Like the camel, desert snakes can go for extended periods without eating. For example, the Horned Viper stays hidden in the sand or burrows during the day and comes out to feed about once a month.
Some snakes can even go without eating for up to a year! This slow metabolism helps them survive when food is scarce.
Reduced Dependence on Water
Most desert snakes do not need too much water, and their bodies have adapted to getting all the water they need from their prey. Thus, they can go without drinking for several weeks. Large snakes like the Western Diamondback eat once every 3 to 4 weeks and get all the fluids they need from their prey.
Special Structures Embedded In The Scales For Absorbing Water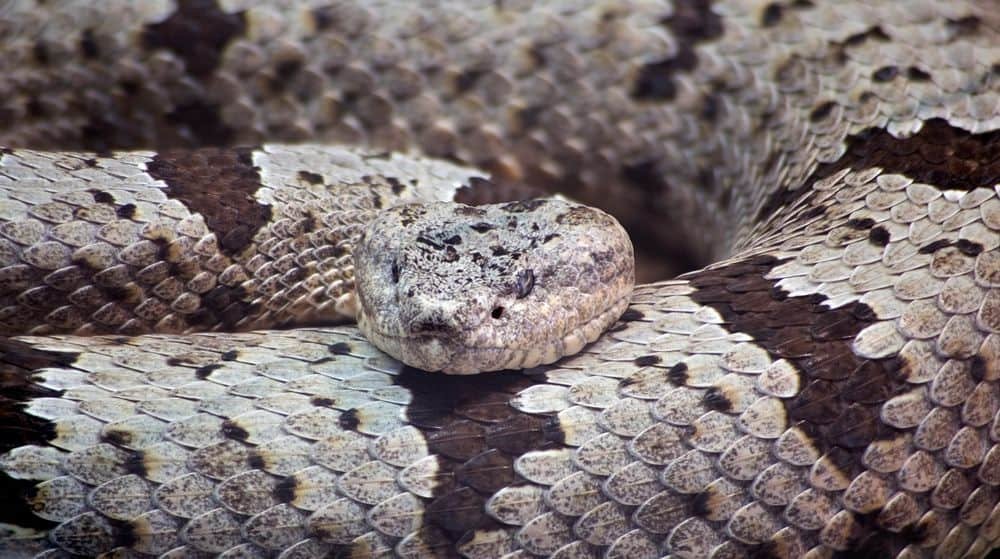 Desert rattlesnakes have special nanostructures embedded in their scales that help trap water from the morning fog or the occasional rainfall. Their scales also have small channels that prevent the rainwater from sliding off the snake's body. They can then easily sip the water they need from their scales.
Ability To Detect Water Far Away
Snakes use their Jacobson organ, flicking tongue, and nostrils to detect water located over large distances. Desert snakes may need to travel far to find water.
They Avoid Excreting Water
Normal animal urine contains a lot of water but desert snakes only expel semi-solid uric acid with very little water content. This helps prevent water loss and dehydration.
Special Thermoregulation
Many desert snakes bask in the sun during the early morning hours and retreat to the shade or burrow as the temperatures rise. This minimizes heat absorption, prevents moisture loss, and keeps the snake cool.
Special Sidewinding Movement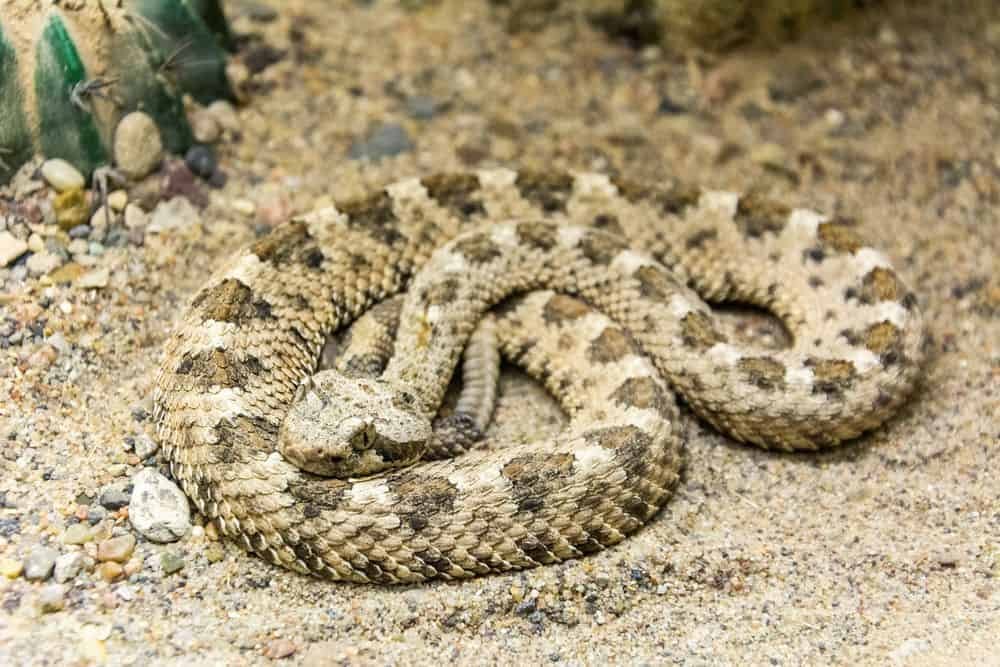 Many desert snakes use a sidewinding movement to move from one area to another. This special movement ensures that only two points on their bodies are in contact with the hot earth at any one time. This minimizes heat absorption and keeps the snake cool.
Ability to Detect Vibrations
Almost all snakes can detect vibrations. Desert snakes are even more sensitive to vibrations. This ability helps them stay safe from predators and find their prey, as well as water. This helps them survive in the arid and harsh climate.
Desert Snake Diet
Most snakes are carnivores and rely on meat for survival. What do snakes eat in the desert then, where meat is often scarce? They eat what they can get, which means mainly birds, reptiles, rabbits, mice, rats, and other desert rodents, as well as the eggs of animals and birds.
Some snake species, like the desert king snake, also eat other snakes, including rattlesnakes. Desert snakes also eat small animals like gerbils and hamsters, spiders, scorpions, toads, desert iguanas, sand cats, and kit foxes.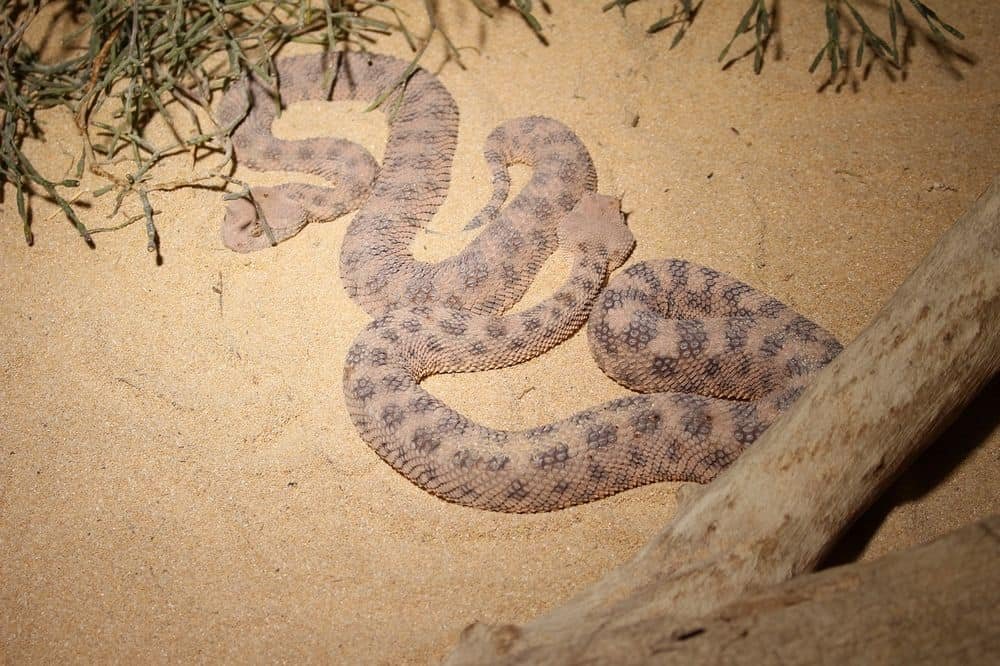 The desert night snake preys on frogs, salamanders, and other amphibians. Snakes like the moon snake or orange-naped snake found in Australian deserts eat lizards and skinks found in their habitats.
How Do Snakes Get Water In The Desert?
Snakes drink water in the desert, but most desert snake species need very little water in the first place. Like camels, they can go for days, even months, without drinking. Also, they get most of the fluids from their prey like rodents, birds, lizards, etc.
Some desert snake species have special adaptations, such as the presence of nanostructures on their scales. These nanostructures help them trap water from the early morning fog or the occasional desert rainstorm.
Their scales also have deeper channels that prevent the trapped rainwater from flowing off the snake's body. This special rainwater harvesting mechanism helps the snake survive prolonged dry periods. They can easily sip water droplets from their scales.
Some snakes found in the Sonoran desert slither out of their hiding holes or burrows when it rains occasionally. They flatten their bodies out into coil shapes and collect and sip the rainwater from their scales. Snakes also drink from puddles of water that form after the occasional rain.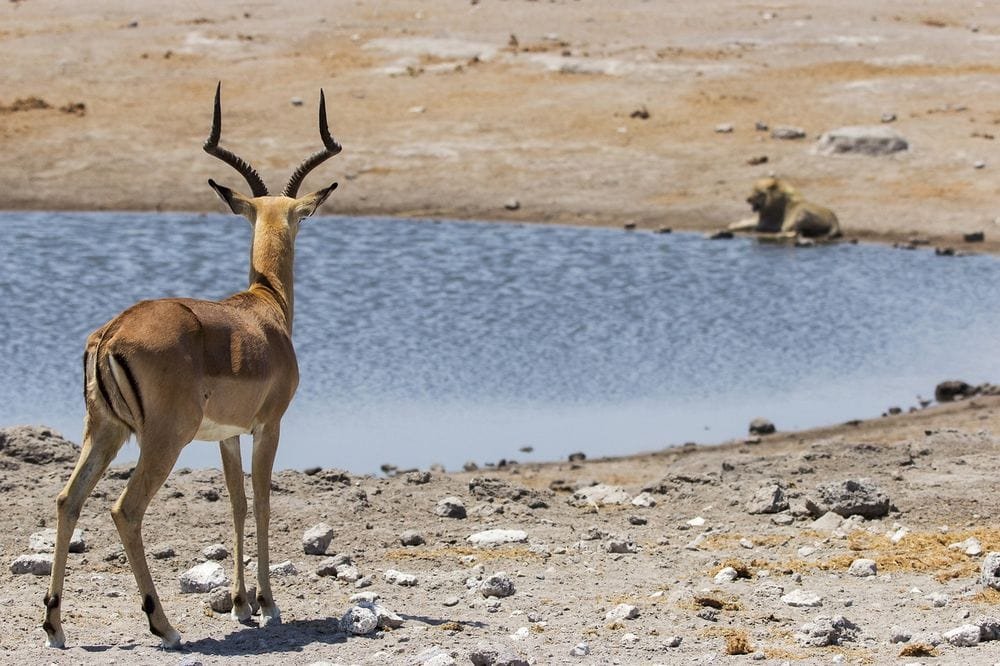 Some desert snake species prefer living near water holes. They also use sidewinding locomotion to travel to other waterholes once the previous one dries up.
Snakes are gifted with the ability to hear vibrations, which helps them locate water. They can also sniff out water holes using their tongues and Jacobson organs.
How Desert Snakes Survive: Final Thoughts
Desert snakes have evolved to be able to survive in arid climates with hot daytime, and cool nighttime, temperatures. The 11 adaptations detailed above are what help them survive in some of the earth's harshest habitats.
And it is not just one species. Many species of snake call the desert home. And they live in deserts around the world, from the Sahara to the Gobi to the Sonoran, and more.