Desert environments are famously harsh.
Water and food are scarce. Days are hot, and nights are cold.
Few animals can survive in deserts. Including us humans.
But a number of snake species are able to thrive in the desert.
How do they do it? What do snakes eat in the desert?
Keep reading to find out. We are going to look at many species desert snakes will hunt for food. You will get a good picture of just how opportunistic snakes are. They are true survivors.
What Do Snakes Eat In The Desert?
Snakes in the desert eat whatever they can catch. This includes rodents, other small mammals, reptiles, amphibians (really!), birds, eggs, and even other snakes.
Desert snakes will even eat carrion. They will truly do whatever it takes to survive! Let's take a closer look at the various sources of food desert snakes consume.
Rats And Mice
Many snakes living in the desert prey on small rodents like rats and mice. There are a large amount of these small animals living in the desert, so snakes have easy access to them. Eating rodents is a major way snakes survive life in the desert.
Pocket Gophers
Snakes, such as the Western Diamondback Rattlesnake, are known to feed on pocket gophers, which are burrowing rodents found in desert regions. These snakes can locate gophers by tracking their underground movements.
Rabbits
It's common for snakes to prey on rabbits in the desert. Snakes are more likely to prey on small rabbits, since they are easier to consume.
They will hunt a rabbit either by striking it with venom, or if the snake is a constrictor, then squeezing the rabbit until it dies. A rabbit may try to hide from a snake either through camouflage or through hiding in a burrow.
Voles
Even though voles are more commonly found in grassier environments, there are still species that have adapted to the desert. Species such as the Sagebrush vole are adapted to arid or semi-arid environments and can be found in desert regions.
Various snake species, including gopher snakes, rattlesnakes, and kingsnakes, may prey on voles when these rodents are available in their habitat.
When voles are available in the desert, they can provide a nutritious and substantial meal for snakes. They will help to sustain a snake's appetite for a large while, buying them a good amount of time until they need to find their next prey.
Iguanas
Desert iguanas are a common prey item for various snake species in desert environments. They are often found basking in the sun and make for an easily accessible meal.
Certain venomous snakes, like rattlesnakes, may use their venom to immobilize iguanas, making them easier to consume. The venom breaks down the tissues of the prey, giving the snake a head start on digestion.
Collared Lizards
Collared lizards are another source of food for desert snakes. Several snake species found in desert environments may target collared lizards as part of their diet. These snakes include coachwhip snakes, bullsnakes, and some species of rattlesnakes.
The specific snake species preying on collared lizards varies by region and the availability of prey. These fast-moving lizards can be challenging to catch, but most desert snake species have evolved to be highly effective hunters.
Ground Birds
Snakes that inhabit desert regions often prey on ground-nesting birds, since they are easily accessible due to their nest locations. Birds like quail and roadrunners are among their potential targets.
Many ground nests are found in burrows or hidden away in plants in the desert. This makes it very easy for snakes to hunt these bird nests.
Snakes that are known for preying on birds include desert king snakes. They're typically found in Texas, Arizona and New Mexico.
Eggs
Snakes will prey on both bird eggs and reptile eggs. Snakes are opportunistic feeders and will happily consume any type of egg if they're given the chance.
Various snake species in desert environments, such as rattlesnakes, gopher snakes, king snakes, and coachwhip snakes, will commonly target eggs.
Many snakes are scavengers and come across bird eggs by chance while moving through their habitat. Other snakes may actively raid bird nests when they come across them. Snakes can use their keen sense of smell and heat-sensing pits to locate eggs.
When snakes find bird nests with eggs, they usually consume the eggs directly from the nest. Some snake species consume the eggs in their entirety, shell and all, while others break the eggs open and just eat the contents.
Frogs And Toads
Some desert snakes feed on desert toads, which have adapted to arid conditions. The toads are usually more active during the rainy season, when they step out. This makes them easy prey for snakes.
You many think it sounds strange for a toad to live in the desert, since we're so used to associating them with water. They are amphibians, after all.
But some species have adapted to life in an arid climate. In the desert, they usually burrow deep underground until rainfall appears and only then come out.
Toads and frogs that you can expect snakes to prey on in the desert include the desert tree frog, the desert rain frog, the Sonoran desert toad, and the black rain frog.
Other Snakes
Some snake species, including certain rattlesnakes and kingsnakes, may resort to cannibalism when other prey is scarce. Snakes eating snakes demonstrates the survival instinct of snakes and how they can easily adapt.
They usually prey on smaller snakes and the predator is often immune to the snake venom of its prey, if it happens to be a venomous snake.
Insects
While not a primary food source, snakes have been known to consume insects and other invertebrates if larger prey is sparse.
These small meals provide a small source of energy for a snake and will help to keep them going until they come across larger prey. Common insects that a snake may eat in the desert include beetles, grasshoppers, crickets and moths.
Small Fish
If a desert has water sources or temporary pools, then a snake may prey on fish. They usually eat smaller fish that come close to the water's edge, making it easy for to prey on them.
Carrion
If the opportunity arises, a snake will eat carrion. It is never a snake's first choice, but as opportunistic predators in a habitat where food can be scarce, they will eat carrion if they come across it. Carrion from the remains of animals gives snakes the nutrition they need until they find warmer prey.
Scorpions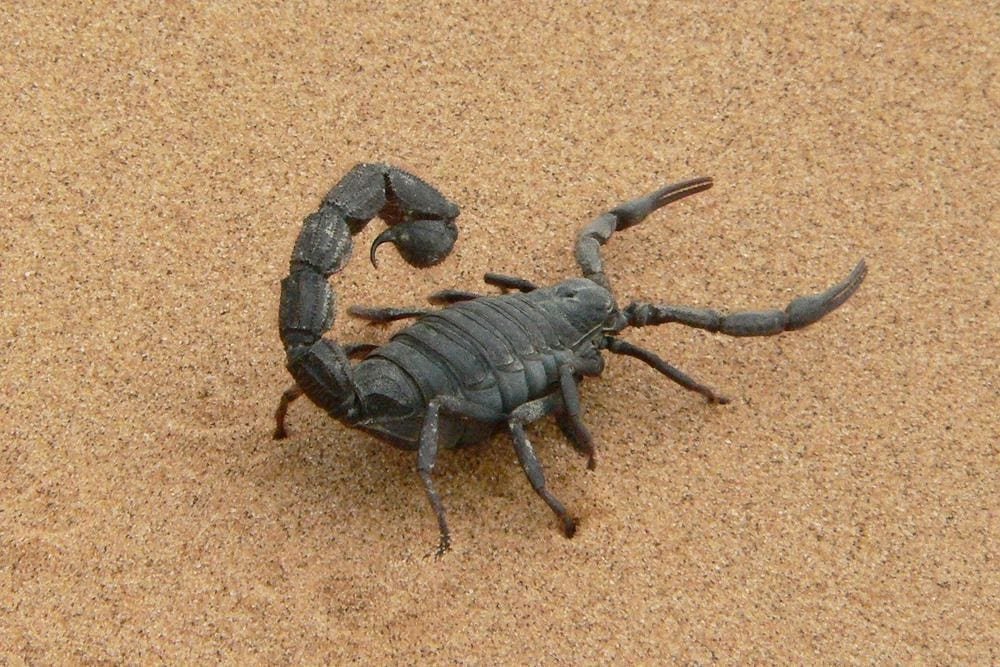 Scorpions are arachnids, not insects, which is why they were not included above. Certain snake species, like the Sonoran coral snake, will prey on scorpion, because they're immune to their venom.
The Sonoran coral snake can tolerate the venom to a certain extent, making it better equipped to prey on scorpions.
Snakes that eat scorpions typically locate their prey using their sense of smell and heat-sensing pits, since scorpions are nocturnal creatures and can be challenging to spot visually.
What Do Rattlesnakes Eat In The Desert?
Rattlesnakes that live in desert environments typically eat small mammals, birds, and lizards, just like other species. of snakes. Desert rattlesnakes have adapted to hunting prey that can survive in arid conditions with limited water, such as mice, rats, squirrels, and horned lizards.
In addition to mammals and reptiles, rattlesnakes will also consume any other animals they happen to encounter in the desert. This includes less common animals like amphibians. In addition, rattlesnakes in the desert have the ability to withstand long periods without food, which allows them to survive between infrequent meal opportunities.
What Snakes Eat In The Desert: Final Thoughts
Snakes in the desert are opportunistic. They eat whatever they can get. This means they mostly consume small mammals, especially rodents, and small lizards.
They also feast on birds, amphibians, eggs, dead carcasses, and even other snakes. In a location known for its scarcity, yu can't be choosey. And desert snakes are definitely not choosey.