Would you swim in a lake if you knew it was home to snakes?
Few would.
Especially once you learn that sea snakes are some of the most venomous species on earth.
And they can stay underwater for up to an hour.
That's the stuff of nightmares.
But can snakes even bite you while they are underwater? And if so, how common are underwater snake bites?
Keep reading to learn those answers, and everything else you need to know about snakes in the water.
Can Snakes Bite You Underwater?
Snakes can bite underwater, but they rarely do. They only attack if they feel threatened. This is why it is always best to avoid snakes in the wild, whether on land or in the water.
Of course, it's hard to avoid what you can't see. What if you bump into a snake that is just swimming along?
In a study published by the Tropical Journal of Medicine and Hygiene, researchers studied 100 sea snake bites. They discovered that more than 80 percent of the bite victims were fisherman who had been walking in the water.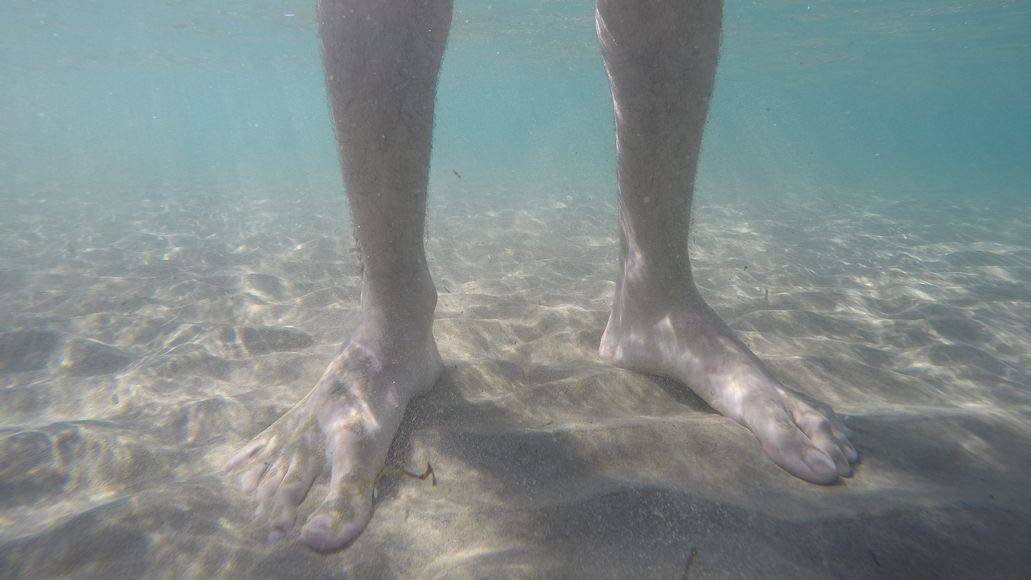 Their bites were on on their lower limbs, which suggests they were the result of the fishermen stepping on unsuspecting snakes.
This means the biggest danger comes from accidentally stepping on a snake, not from bumping into one. Take care where you step, or swim, instead of walking in the water.
But sea snakes are notoriously shy and they do their best to stay out of our way. What about the most famous water snake, which has a reputation for being more aggressive?
The Feared Water Moccasin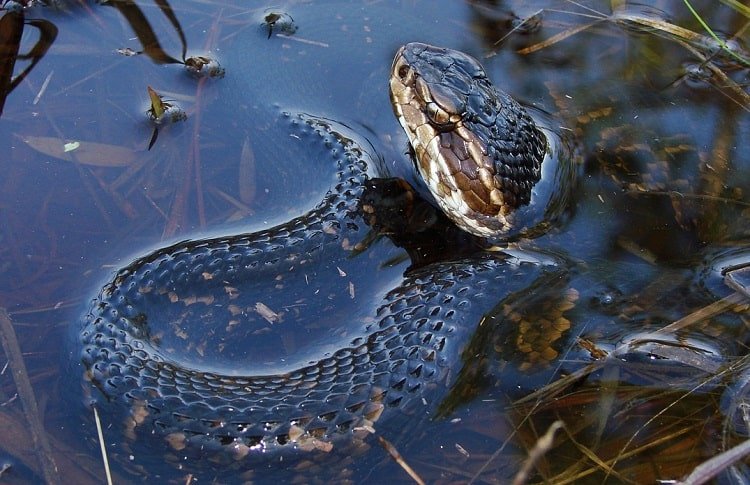 The water moccasin, which is also known as the cottonmouth, spends much of its time in the water and has a reputation for being aggressive. This snake can swim well and it is also venomous.
This makes it one of the most feared snakes in the US and the most dangerous in states like Louisiana. But is it really as aggressive as its reputation? And can a cottonmouth kill you, if it bites you?
A study by the University of Georgia tested just how aggressive cottonmouths could be.
Researchers first tried standing next to this snake while wearing a snake-proof boot, with which they touched the snake's body.
Then they stepped on the snake halfway down its body, without hurting it. finally, they picked up the snake with tongs.
The researchers found that out of the 45 snakes, only 23 tried to escape. 28 out of 36 snakes used defensive tactics and the threat of harm, but only 13 out of 36 tried to bite the fake hand that was used in the test.
It's clear that these types of snakes are not nearly as aggressive as their reputation suggests. They prefer to avoid danger and they give ample warning. They only attach as a last resort.
How To Deal With Snakes In The Water
In horror movies, we've seen snakes appear basically anywhere, even planes. Snakes lurking in water is one of the more common movie tropes.
But do you really need to worry about snakes being in the water when you go swimming?
Some snakes can definitely bite you underwater. But they have to feel provoked before they resort to such measures, as mentioned earlier.
That said, it's not just venomous snakes that can bite underwater. And even if the snake bites are non-venomous, they can still hurt.
Most snake bites will hurt, but pain isn't the biggest concern with a non-venomous snake bite. A piece of the snake's tooth could break off and remain in the bite wound. This could result in infection.
Even if no tooth fragments remain in the wound, snake saliva can contain dangerous bacteria that can also cause a serious infection.
That is why it is important to always get medical attention for a bite, even if you know that the snake that bit you was not poisonous. And often, the non-venomous snakes are the ones that won't let go, so learn what to do to get a snake to release its bite.
Floating Venomous Snakes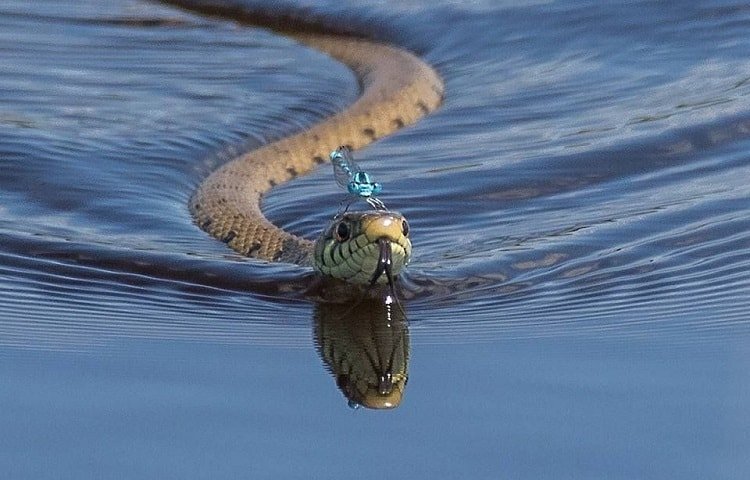 Some snakes can indeed float on the surface of the water.
All snakes swim on the surface, but when they stop to take a break or monitor their surroundings some will remain floating. Others go a bit deeper into the water, with only their heads remaining visible.
Interestingly, venomous snakes tend to float, while non-venomous snakes are more likely to sink their bodies into the water.
However, this isn't always a definitive guide to telling whether or not a snake is venomous. For instance, cottonmouth snakes can swim underwater.
Are Snakes Good Swimmers?
All snakes have the ability to swim. Sea snake live in the water and have the ability to stay underwater for up to an hour, because they can hold their breath for long periods of time.
But they still need to breath in oxygen and give off carbon dioxide. They just have some unique adaptations that enable them to stay underwater for longer than other snakes.
For example, they have a longer lung than other types of snakes. This lung runs through their entire body and helps them store oxygen.
Sea snakes are part of the Cobra family. There are between 30 to 50 different types and most tend to grow to approximately two meters long (around 6 feet, and 6 inches). They're all venomous.
How Do Snakes Swim?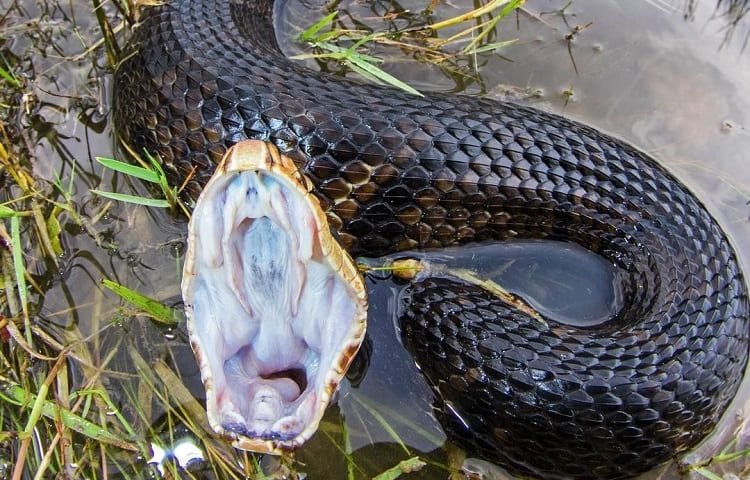 Snakes swim in the same way that they move along the ground. They make use of S-shaped movements that begin with their heads and move down their bodies.
This movement helps them in the water, because it enables them to push backwards against the water's current to propel themselves forwards. All snakes can swim in this way.
Water snakes have flatter sides than other snakes. This unique adaptation helps them swim better than round snakes.
Should You Be Worried About Snakes In The Water?
You should always be careful about snakes, and make sure you don't step on them or threaten them in any way, either on land or in the water.
That said, you'll be happy to know that it's quite rare for a sea snake to bite and kill a human. Bites alone are rare, but even if one occurs, only three percent of bites from sea snakes are fatal.
Related Questions
How can you identify a water moccasin?
This snake has a wedge-shaped head, heat-sensing pits beneath and between its eyes and nose, and a dark brown or tan body that resembles that of a python. If it opens its mouth, identification is easy. The inside is completely white, which is where this snake's other name comes from: cottonmouth.
What should you do if you encounter a snake in the water?
The most important thing is to stay calm and move away from the snake. Most snakes just want to be left alone. You should never try to engage with or hurt the snake, even if you think it's non-venomous. Those snakes can bite you too.
Do you have to worry about sea snakes in the Gulf of Mexico?
No, you do not. In what is still a major scientific mystery, there are no native sea snakes in the Atlantic Ocean, and with it, no sea snakes in Gulf of Mexico.
Underwater Snake Bites: Conclusion
When you jump into a lake or other body of water, it's only natural to worry about snakes lurking in the depths beneath you. You can't see anything and out of nowhere, you feel a pain on your leg. You've been bitten by a venomous sea snake and soon you will die.
Luckily, that is exceedingly rare.
Snakes generally don't bite or attack unless they feel threatened. Water snakes are even more averse to engaging with us than other species.
Even if you encounter one underwater, it will almost certainly get away from you as quickly as possible, not stick around to attack. Leave them alone and they will leave you alone.