Some people call it a water moccasin.
Others call it a cottonmouth snake.
Neither name sounds especially fearsome.
But the snake that carries the names has a fearsome reputation that belies the harmless-sounding names.
Is that reputation justified? Can a water moccasin kill you if it bites you?
Keep reading to find out. We will cover everything you need to know about cottonmouth bites, their venom, what to do if you get bitten and how to minimize the risk of ever suffering a bite in the first place.
Can A Water Moccasin Kill You?
A water moccasin can kill you if it bites. But if you get prompt medical attention, a cottonmouth snake bite is unlikely to be fatal.
It is always best to keep your distance from the cottonmouth snake (aka the water moccasin). If it feels threatened, it could bite. A bite can be fatal, but it is always painful. If you are bitten by a water moccasin, attend to the bite immediately and have a doctor take a look at it as soon as possible.
Prompt Treatment Is Essential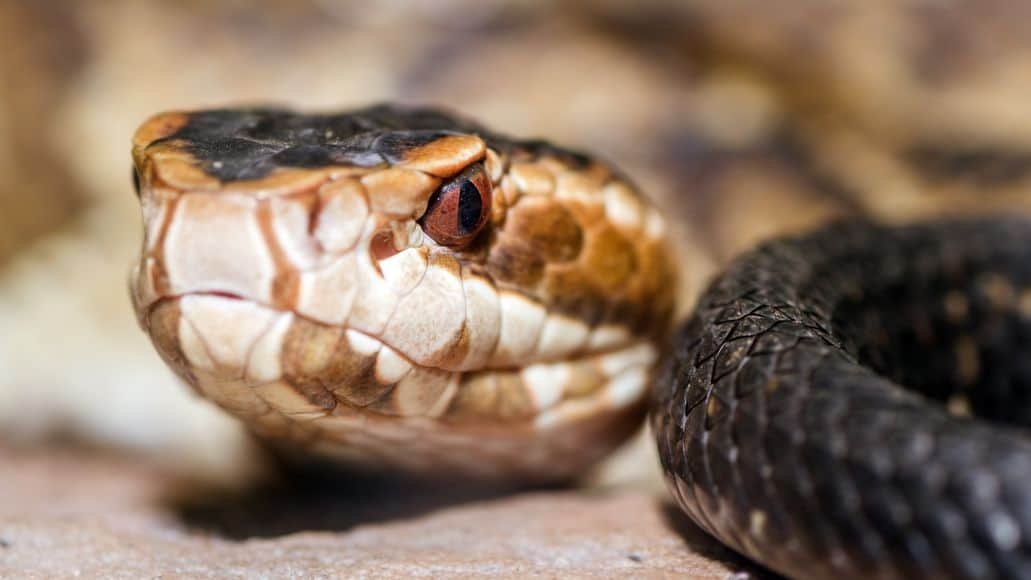 If you attend to a water moccasin bite instantly, the chances of its venom killing you are pretty low. You'll also want to seek medical attention immediately, which may involve being treated at your nearest hospital.
Medical attention includes being treated with antivenom drugs. You'll want to take these drugs on the same day of the incident. Leaving it any longer could result in limb amputation, and in rare cases, even death. Don't be fooled by the name cottonmouth. Their bite is serious.
Avoiding Water Moccasins
After reading the last section, you're no doubt wondering how you can avoid water moccasins. I don't blame you!
The best and easiest way to avoid a water moccasin is by paying attention to where you are going and staying out of the way of any snake you see. The most common way people suffer a water moccasin bite is by accidentally stepping on the end of its tail.
Like most other snakes, the water moccasin will only strike you if it feels threatened. They simply do not see humans as prey. Make sure to pay attention to your surroundings when you're out walking and your chances of getting bit are miniscule.
Symptoms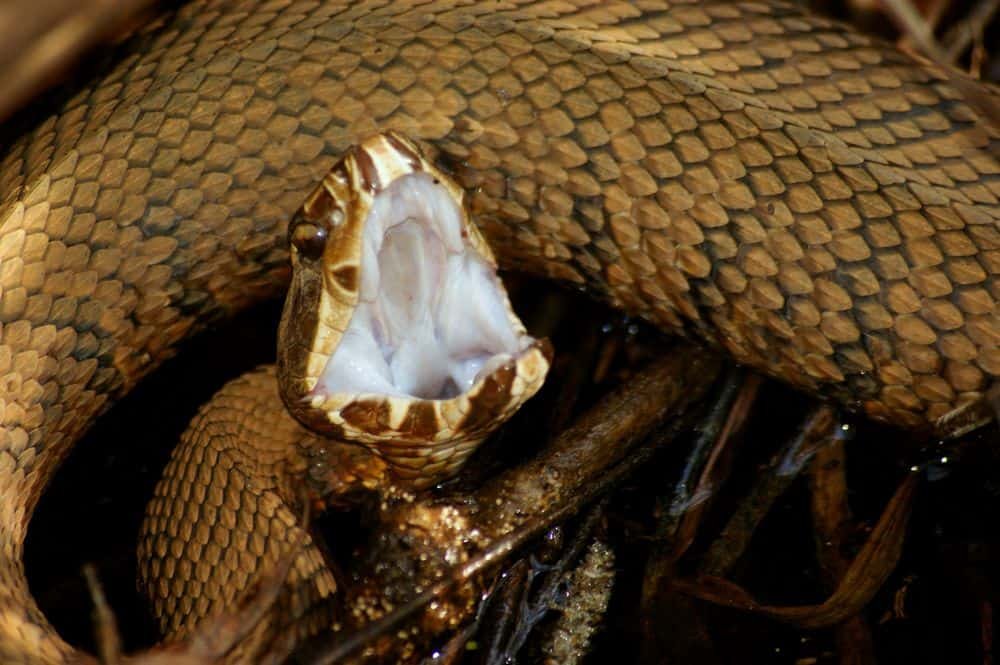 Although it is very likely that you will be aware you have been bitten by a water moccasin, it is still helpful to know what symptoms you can expect to have until you receive your treatment.
These symptoms include going into shock, trouble breathing, skin discolouration, swelling of lymph nodes, pain, a metallic, rubbery, or minty taste in your mouth and numbness around your feet, mouth, the bitten area, scalp or tongue.
No doubt you'll want to experience as little of these symptoms as possible, so make sure you head to a hospital as soon as you possibly can.
Symptoms may appear within minutes, but they can also take a few hours to develop. It depends on you and on how much venom the snake injected and where it bit you. The key takeaway is that, just because you aren't experiencing symptoms right away, it doesn't mean you aren't in danger. Seek medical help, even if you are not exhibiting any symptoms.
Is The Cottonmouth An Aggressive Snake?
Even though they have a deadly bite, cottonmouths are not actually an aggressive snake. They prefer to avoid us humans altogether and will only strike if they feel threatened.
Most cottonmouth bites occur on the lower legs, because, as mentioned, the most common way we git bit is by stepping on the snake. If you accidentally step on a cottonmouth's tail, it will bite in self-defense.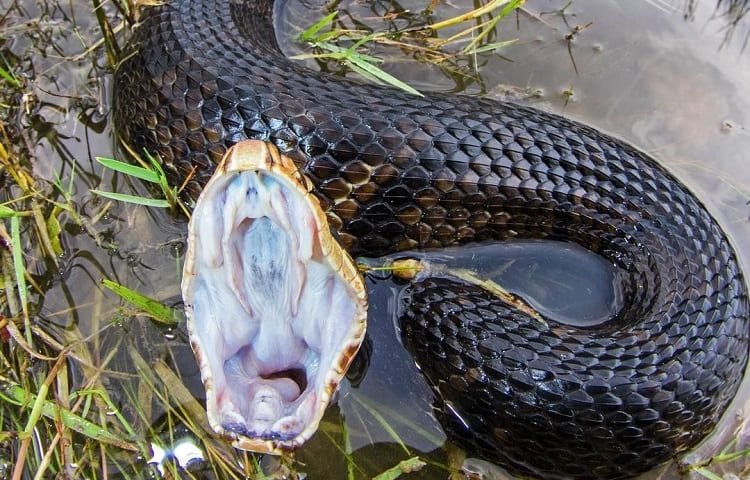 The same goes if you attempt to handle a cottonmouth. Like all wild snakes, they don't like being picked up or touched. They will view this as threatening behavior and strike. So if you do come across one and you want to keep your fingers, don't pick it up. This should go without saying, but….
Which Snakes Cause The Most Deaths In The US? Worldwide?
The rattlesnake causes the most deaths in the US and the saw-scaled viper causes the most deaths worldwide. A saw-scaled viper's venom isn't as strong as a rattlesnake's, but it causes more deaths because it is aggressive and lives near large human populations.
If you are unlucky enough to be bitten by either, you should make a full recovery, as long as you're treated quickly. That is another reason for the saw-scaled viper's high body count. It lives in Africa, the Middle East, India and other countries in those areas, where access to prompt medical attention is often not available.
Most attacks actually happen when you intentionally interact with a snake. If you want to save your leg or your life, simply stay away from venomous snakes and don't try to interact with them. That means no selfies!
Can A Cottonmouth Kill You: Final Thoughts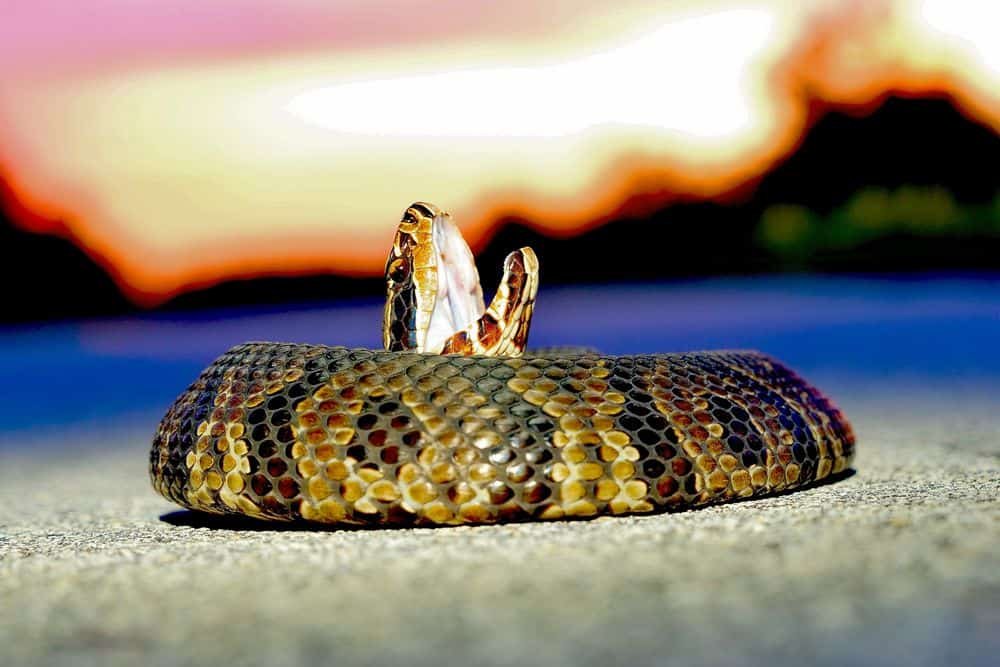 A water moccasin can kill you if it bites you, but deaths are rare. However, you should get prompt medical attention. Otherwise you could suffer ill effects, including even death.
Even if you do not exhibit any reaction to the bite, you should still get checked out. Symptoms can still appear after several hours and by then, it may be too late. Get any cottonmouth snake bite looked at as soon as possible after it happens.