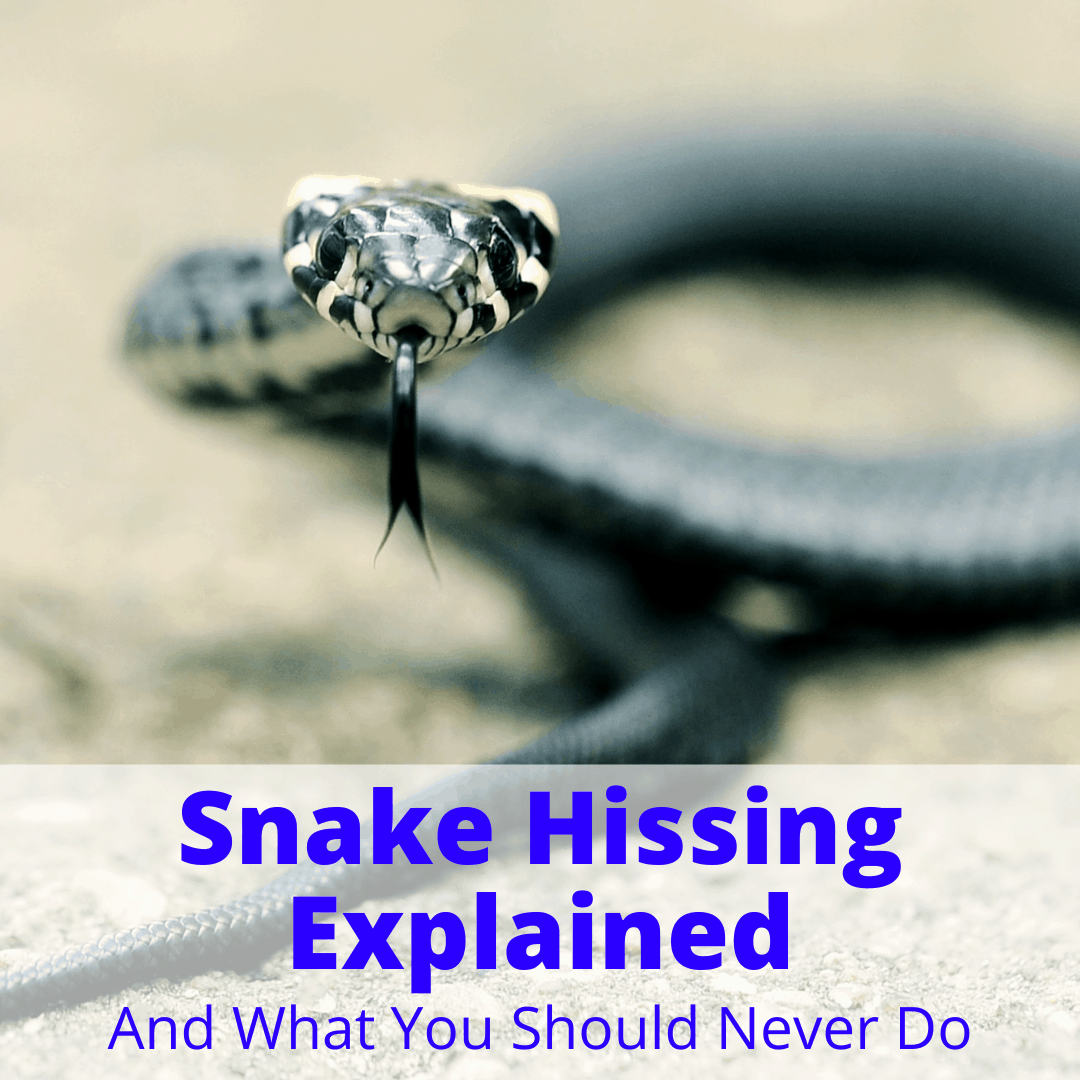 Have you ever heard a snake hiss?
Chances are your immediate thought was to run for cover!
In movies, snake hissing is usually portrayed as a warning sign that the snake is angry.
But is snake hissing really dangerous?
Yes, it is. When a snake hisses, it's usually to intimidate a predator to scare it off.
If a snake hisses at you, it wants you to back off. If you don't, it could strike.
Keep reading to learn how you should react when a snake hisses at you and everything else you need to know about snake hissing.
Snake Hissing
As mentioned, the snake hissing sound is primarily a way snakes protect themselves. It is meant to warn off predators. In other words, they hiss to hopefully prevent a confrontation.
But if it doesn't work, they move on to plan B. And that usually means a strike. Let's dive right into this topic, beginning with the first obvious question.
Do All Snakes Hiss?
You might be wondering if all snakes have the ability to hiss. They do, but not all types of snakes will use hissing as a defense mechanism when confronted by a predator.
While you might assume that smaller snakes will be more prone to hissing to make themselves appear more dangerous to predators, this is not the case.
Larger snakes actually hiss more regularly, because they use hissing to intimidate their predators. A large snake that hisses can make itself seem even more frightening!
Some common types of snakes that hiss are the pine snake and the hognose snake, but a variety of snakes will hiss.
These include the reticulated python, ball python, anaconda, boa constrictor, cobra, black mamba, and African rock python.
The pine snake has quite a fascinating way in which it produces the snake hissing sound.
It has a small piece of cartilage in front of its windpipe that enables it to make a loud hissing sound. Some scientists think that this hiss mimics the sound made by a rattlesnake's rattle.
Why Do Snakes Hiss At Humans?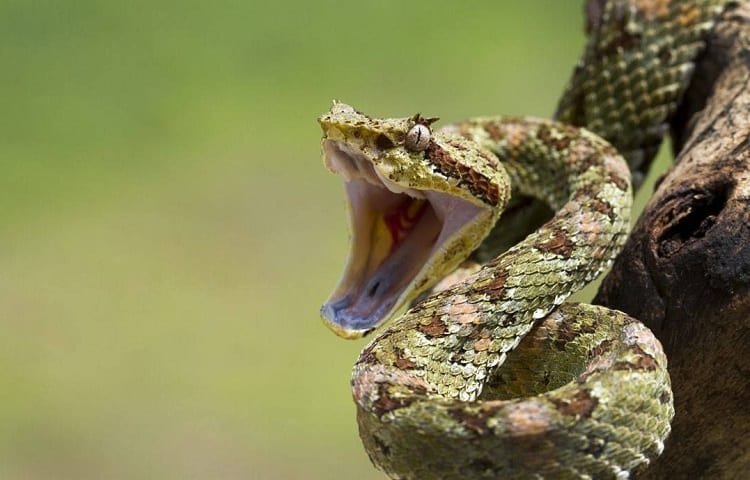 If you own a pet snake that has hissed at you, you're forgiven for feeling a bit unnerved by it. A snake won't hiss by accident – it's quite a deliberate action!
The best thing to do when this happens is leave the snake alone. If it's hissing, it's feeling scared and threatened, and this can cause it much stress.
Another reason why your snake could hiss at you is if it's going through the shedding process. During this time, snakes' eyes become cloudy.
This makes them effectively blind and thus more vulnerable, so they might hiss because they feel anxious or scared and are trying to protect themselves. Again, it's best to give them some space.
How Do Snakes Hiss?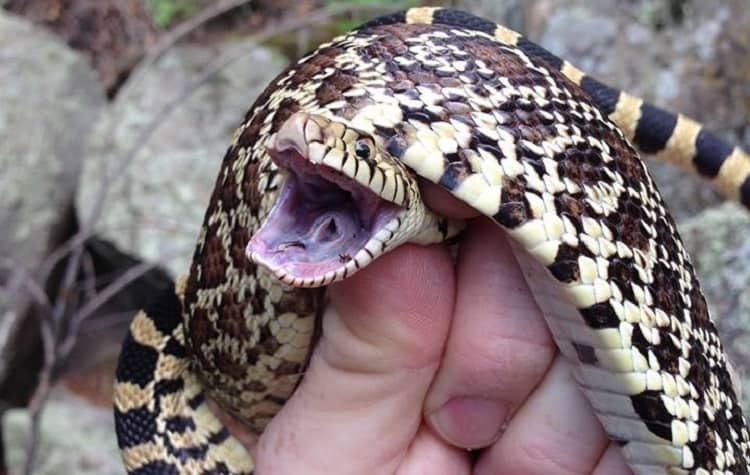 The way snakes hiss is pretty fascinating. They are equipped with an organ in their throat that's called the glottis. This is also the organ through which they breathe.
We also have a glottis, but we do not use it to make a hissing sound. We use it for swallowing. This helps us digest our food more efficiently.
When a snake is breathing normally, this glottis opens and closes so that air can flow through it.
When a snake wants to hiss, it pushes air from its glottis. This causes the glottis structures to vibrate, which produces the hissing sound.
How To Deal With A Pet Snake That Hisses
If your snake hisses regularly, there could be something wrong. It could be that it is still getting used to its home, and it requires time to adjust to its new environment. Give it a bit of time to settle down and feel calm.
Another reason for snakes hissing a lot is if they feel annoyed. You might be you're doing something to upset them.
An example is handling. Some people handle their snakes a lot even though they're not loving or affectionate pets. This can make the snake defensive or even aggressive.
Other things that can upset your snake is if you make sudden movements around its enclosure that can take it by surprise. It's always good to move slowly and calmly whenever you're around your snake.
Of course, sometimes you need to handle your snake and if it's constantly hissing at you that can be upsetting.
A good tip is to wear a thick handling glove when moving your snake, for example if you need to remove it from its cage to clean the enclosure. These gloves can protect you against possible bites.
This tip is also worth following if you have a very young snake as it might not be comfortable in its enclosure or around humans. It will likely be a bit defensive when handled, until it gets used to its home.
Hissing In Snakes: Related Questions
Next, we will answer some common questions related to snake hissing. If you have any additional questions, please feel free to ask them in the comments below.
You might wonder if a snake that hisses could be trying to communicate with other snakes. It is not. How do snakes communicate with each other then?
This is not something snakes do. They are not social creatures at all and have no real need to communicate, apart from a few simple things, like indicating they are ready to mate or warning other snakes, animals, or even us humans, to back off and leave them alone.
What's the best way to handle a snake?
Make sure you pick up a snake gently, giving it loose but secure support with your arms and hands. Never bring a snake close to your head as that can be seen as aggressive by the snake.
What's that musky scent younger snakes release and is it dangerous?
Some younger snakes release this scent, called musk, when handled. It not dangerous, but it doesn't smell great. It's a sign that your snake feels a bit threatened. It will stop doing this, once it becomes used to being handled or picked up.
What scares snakes?
Snakes are afraid of many things. Far more than most people realize. For example, snakes are afraid of cats. That might seem, strange, but if you think about it, it makes sense.
Cats are ferocious predators. In most cases, they are larger than snakes and they move quickly and suddenly. Those are both characteristics that unnerve snakes.
Snake Hissing Sound: Conclusion
If you've ever suspected that a snake's hissing sound is not a social or friendly one, you now have confirmation that you were right!
When snakes hiss, they feel intimidated and afraid. This hiss can be seen as a warning. They prefer to flee, but if that is not an option, they will attack whatever or whoever is threatening them.