Snakes do not have ears and they make few sounds.
They also have no limbs.
How do snakes communicate with each other then? Or with other animals or humans?
Or do they just not communicate at all?
It turns out, they actually have a number of different methods of communication.
Of course, none of their communication is overly deep.
Keep reading to learn the kinds of communication snakes are capable of and how they do it. We'll also cover some specific scenarios, like communication underwater.
How Do Snakes Communicate?
Snakes communicate in a variety of ways. They don't have external ears but can detect vibrations to locate predators or food and water sources
During the mating season, they give out pheromones and use their vomeronasal organ (Jacobson's organ) to find mates. Sometimes, snakes communicate with other snakes through physical contact or combat.
Snakes also use audio-visual and tactile means to communicate with each other. Let's take a closer look at the different ways snakes with each other.
How Snakes Communicate With Other Snakes And Other Animals
Snakes use a variety of methods to communicate with each other and with other animals.
By Detecting Vibrations
Snakes do not have external ears but they do have sensitive inner ears that pick up vibrations from the ground. These vibrations rattle the snake's jaw, which helps them hunt prey and sense approaching predators or nearby bodies of water.
By Releasing And Sensing Pheromones
During mating season, snakes communicate using special chemicals called pheromones. They release these pheromones to indicate to their potential mates that they are available for mating.
Similarly, they use their vomeronasal organ (Jacobson's organ) to gain insights about potential mates – particularly their age, reproductive status, etc.
Snakes flick their tongues out in the air to collect tiny scent droplets from the air. These droplets then pass through the snake's Jacobson's organ, giving vital information about the other snake's mating suitability.
Through Physical Touch And Combat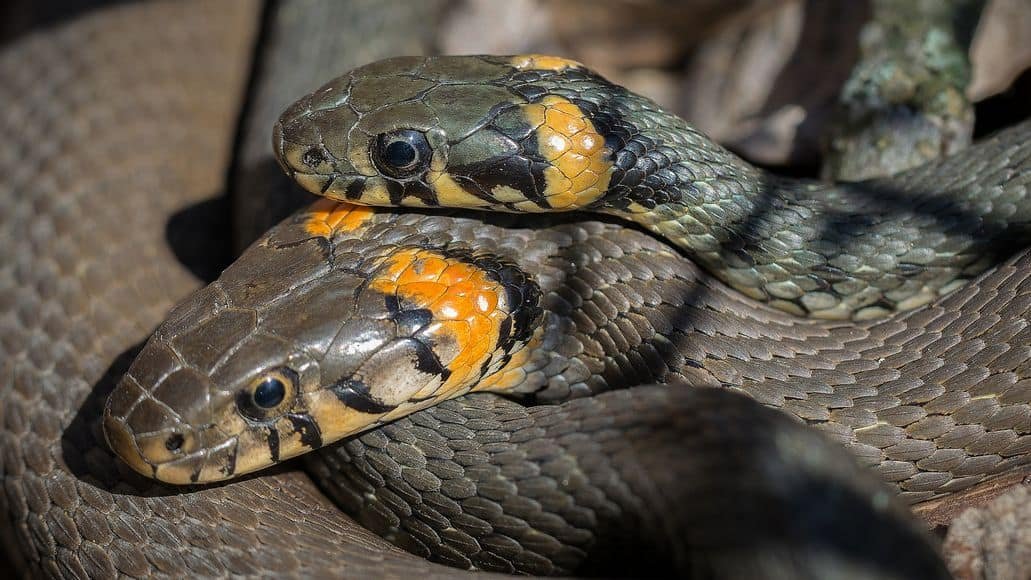 Although snakes are solitary creatures, they stay together in communal dens during brumation (similar to hibernation). In the winter months, they touch each other for warmth and also communicate with each other through physical contact.
Male snakes also fight with each other to establish dominance and to access mating partners. Once snakes are ready to mate, the male snake may bump its chin on the female's backside. The female will then lift her tail to indicate she is willing to mate.
Using Audio-Visual Cues
Snakes also use a variety of audio-visual methods to communicate with each other. For example, by hissing, they may warn their predators to stay away.
However, research shows that other snakes cannot hear a snake's hissing sounds due to their lack of ears. (More on this later in this guide.)
The exception here are cobras, which use low-pitched hisses. These low-pitched hisses sound like growls to other snakes, warning them to keep away.
Rattlesnakes communicate via their tail rattles to make a threatening sound. The rattling serves as a warning sign for humans and other predators to avoid the snake.
When threatened, most snakes assume a striking 'S' position. This is a visual warning to other animals or humans to stay away. Some snake species also use bright colorations on their scales to warn their predators to keep away.
Do Snakes Communicate With Each Other By Hissing?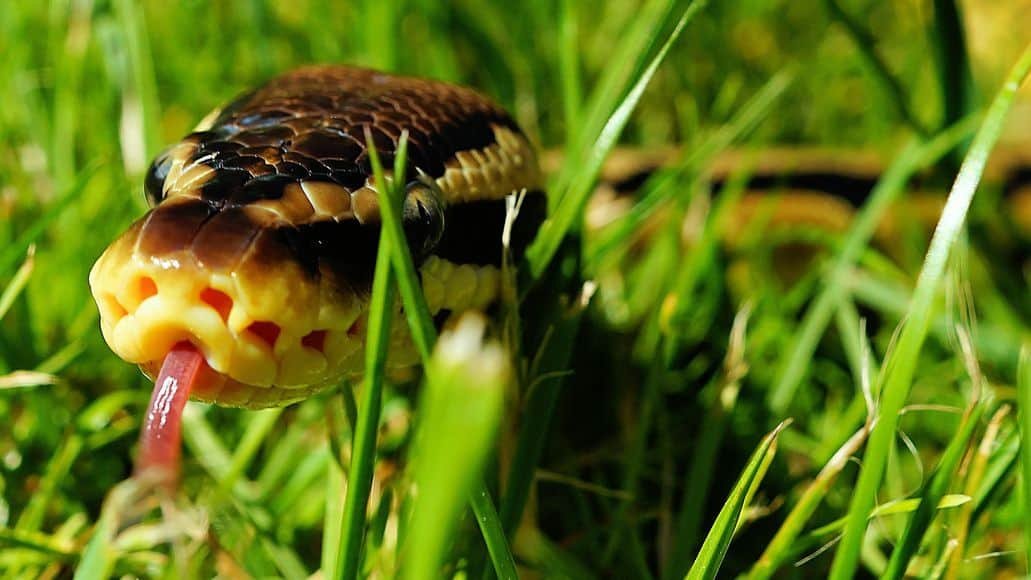 Snakes do not talk to other snakes through hissing. The hissing sound occurs when the snake forces air out of its glottis, making it vibrate.
This sound consists of frequencies below 2500 Hz, which are too high for the other snakes to hear. Snakes can only hear frequencies between 50 and 1000 Hz, while humans can hear frequencies between 20 and 20,000 Hz.
Thus, snakes only use the hissing sound to warn other non-snake predators away, since most animals can hear those frequencies.
As mentioned above, the only exception to this rule is the King Cobra. This snake species produces a hiss with frequencies averaging 600 Hz. Thus, other cobras, and other snake species, can easily hear these lower frequencies.
Researchers believe that a cobra's hiss sounds like a growl to other snakes. This growl serves as a warning for other snakes or animals to back off. It indicates that the cobra is angry, threatened, or stressed.
How Do Snakes Interact With Humans?
How a snake interacts with humans depends on the snake's breed and type (venomous or non-venomous) and the circumstances.
There is a common misconception that venomous snakes are more aggressive and likely to attack humans. That is not the case. Studies show that venomous snakes mostly use their venom as an offensive weapon to pre-digest their food or subdue their predator. They do not use it for defense.
Most snakes, venomous and nonvenomous, do not view humans as food or prey. Therefore, they do not feel the need to attack or strike at humans unnecessarily.
In the wild, snakes prefer fleeing or hiding when they sense a human nearby. Researchers also found that female snakes, snakes that have not coiled around themselves, and snakes that are about to shed, are most likely to flee from humans.
However, all species of snakes are likely to attack or strike at humans if they are startled or excessively hungry.
Some snake species, like corn snakes, are quite gentle and docile. They make wonderful pets and most of them like being handled by humans.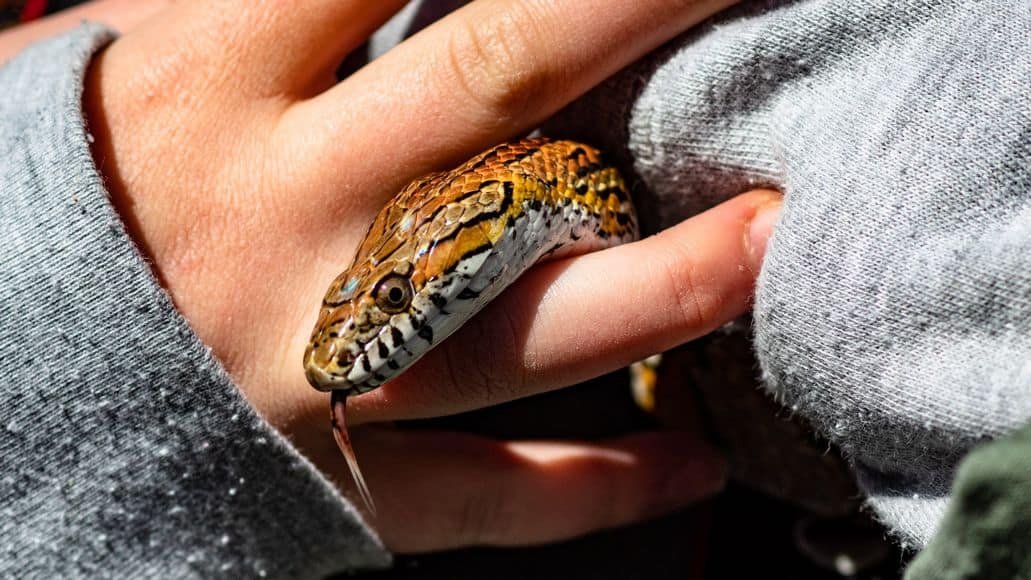 In general, though, pet snakes do not form bonds with humans, because their brains are not that evolved. They may recognize their owner's scent, but they only like to cuddle or snuggle with humans for our body heat, and not out of love, since they cannot regulate their body temperatures on their own.
How Do Snakes Communicate In Water?
Sea snakes use fascinating tactile adaptations for intraspecies communication underwater. Most species of sea snakes have very poor vision, so much so that they end up attacking divers and sea cucumbers, thinking them to be potential mates!
They also have relatively low sensitivity to sounds underwater compared to other aquatic vertebrates. Studies show that sea snake species like H. stokesii can hear low frequencies below 600 Hz, but with low sensitivity.
To make up for these shortcomings, sea snakes have been gifted with several touch receptors on their faces. They use receptors to detect vibrations produced by potential mates, prey, and predators.
Some sea snakes, like the Northern Sea Snake, use tactile and chemical methods for intraspecies communication. Mainly, they use their sight, sense of smell, touch, and detection of vibrations to communicate with each other.
Can Snakes Hear Talking?
Despite the fact that they do not have external ears, snakes can hear, and they aren't deaf. Snakes have inner ears that allow them to easily hear frequencies averaging around 600 Hz.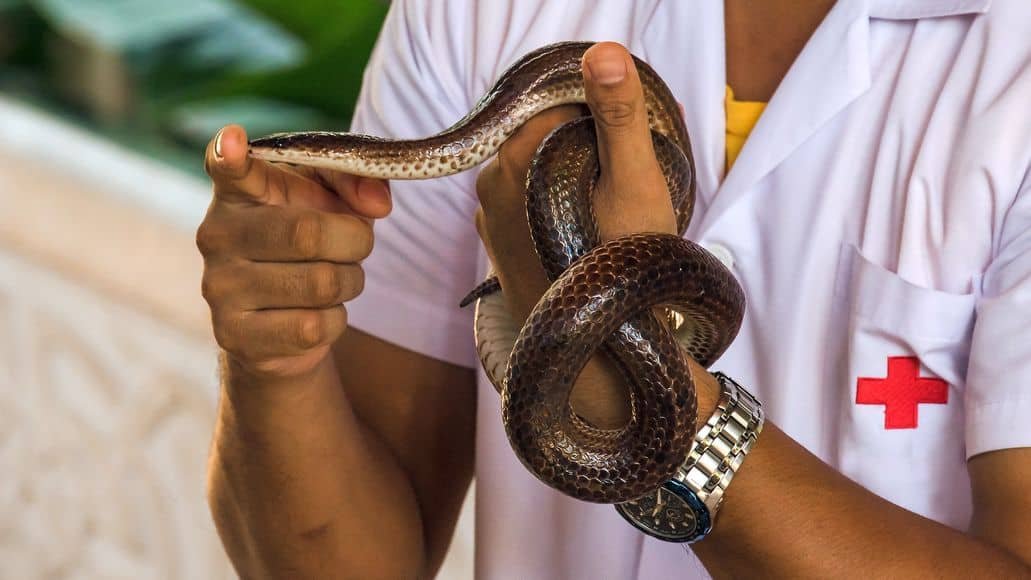 The human voice has a frequency range of 95 to 155 Hz for adult males and 165 to 255 Hz for adult females. This implies that snakes might hear adult humans easily if they screamed or talked loudly or are very close by.
Snakes may even hear portions of the normal adult frequency range of 60 decibels, depending on the distance between the snake and the speaker. Mostly, though, snakes rely on vibrations and their sense of smell to detect humans nearby.
How Snakes Communicate With Each Other: Final Thoughts
Snakes may not have the ability to talk, or even make many noises. They also can't hear very well. Nevertheless, they are able to communicate with each other.
How do snakes communicate? They can do so using sound, hormones, posturing, and more. Snakes are also able to communicate certain messages to other animals and to us humans.
Of course, none of their communication is very deep. They do not have overly developed brains and can not transmit much more info than "back off" or "I'm ready to mate."