Why is the carpet python such a popular pet?
There are a few reasons, actually.
For one, it is a python. But it's not as large as most pythons. And it's not tiny like the ball python.
Basically, it means you can own a python, without actually having to care for a gigantic snake.
In other words: it is big, but not so big that requires a gigantic amount of space and tons of food.
It is also a beautiful snake. And it is generally low maintenance. Some subspecies can be temperamental, while others are lovely.
We'll cover which is which below, along with all the other carpet python facts you need to know.
Carpet Python Facts
There are a number of subspecies, but how many is unclear. There is some contradicting data, but the IUCN estimates from 6 to 8 subspecies. Because these snakes are discrete and they tend to wander about, it is difficult to get an accurate count and accurate descriptions of the various types.
1. Found Mostly In Australia
The carpet python is found primarily in Australia, but also in Indonesia, Papua New Guinea, the Northern Solomon Islands, and the Bismarck Archipelago. The carpet python is the most widely distributed of the Australian pythons.
There are seven geological races or subspecies that differ greatly in appearance. Here are the most commonly used names of each subspecies and the regions they call home:
Southern Carpet Python (Morelia spilota imbricata): found from southwest Australia to the Eyre Peninsula.
Jungle Carpet Python (Morelia spilota cheynei): found in Australia in the northeastern part of Queensland region.
Inland Carpet Python (Morelia spilota metcalfei): found in the Queensland Murray-Darling Basin, Victoria, New South Wales, and South Australia.
Coastal Carpet Python (Morelia spilota mcdowelli): found in northeastern New South Wales and eastern Queensland.
Diamond python (Morelia spilota spilota): found only in the extreme east of Victoria and eastern New South Wales.
Darwin Carpet Python (Morelia spilota variegata): found in northwestern Western Australia and in the northern portion of the Northern Territory.
Papuan Carpet Python (Morelia spilota harrisoni): also known as Irian Jaya and found in western New Guinea and Papua New Guinea.
2. Large Non-Venomous Snakes
The carpet python (Morelia spilota) is a large non-venomous snake of the family Pythonidae. It is commonly known as either the diamond python or the carpet python and it has many subspecies.
The various subspecies have different colorations and a greater changing pattern, consisting of white or cream and gold shadings, in a rough diamond-shape, splotches, light and dark bands, stripes or colored rings.
The color can be brown, olive, light or dark green, and even black. Young snakes are similarly colored, but sometimes found in shades of brown instead of olive green. Pythons from different habitats tend to have their own unique coloration.
All subspecies have a row of deep pits along the lower jaw and many small scales on the top of the head. The pits lead to infrared sensors that the snakes use to detect heat.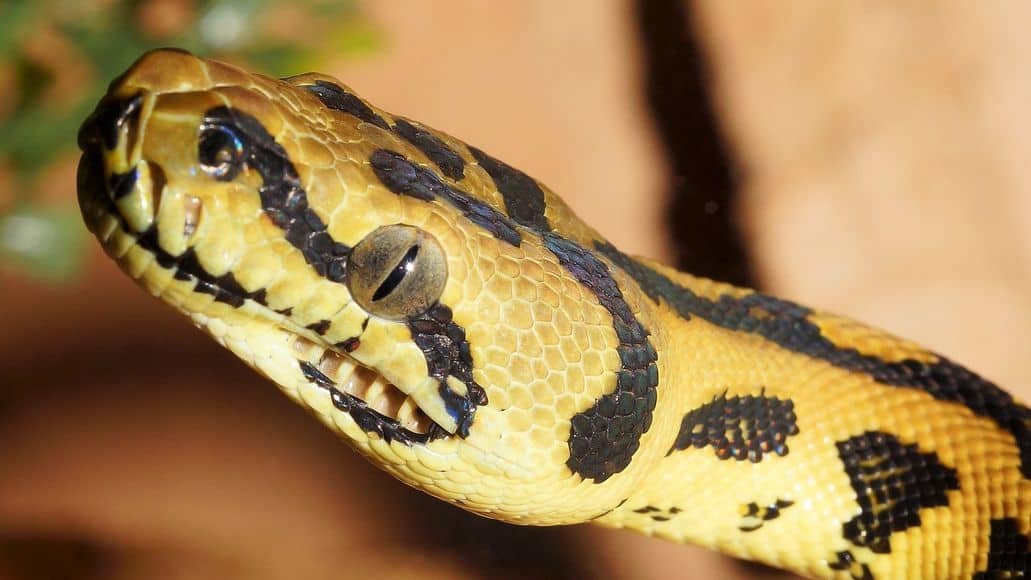 The various subspecies are found in a variety of habitats like calm prairies, rain forests, open backwoods, forests, waterfront heaths, country lands, park lands and rural greeneries. The diamond python can even be found in locations that get snow in the winter.
Carpet pythons are considered as semi-arboreal snakes, since they effectively climb trees and bushes, but are always moving around in open zones, like forest floors and rock faces and can even be seen crossing streets. They are mostly nocturnal, even though they are usually observed curled up lounging in the sun during the day.
3. Low-Maintenance Snakes
Despite their large size, carpet pythons are a relatively easy species to care for. And their size makes them an impressive pet, though it obviously does mean that they need a lot of space.
Different keepers will have different ideas about the best way to care for these animals, so we will give you general guidelines that work well here, but someone else may have differing ideas. These guidelines are just that: a guide only.
Care Guidelines
These guidelines are based on strategies used effectively by Live Science and work well for the various subspecies and even for other types of similarly-sized pythons. We will present them in a question and answer format.
How difficult is it to care for a carpet python?
They will need more space than most pet snakes and also larger food, but apart from that, they don't require much work.
How long does a carpet python live?
They can live more than 25 years.
How large do carpet pythons get?
They generally grow to be 5 to 11.5 feet (1.5 to 3.5 meters) in length. They can weight up to 33 pounds (15 kg).
What size tank do you recommend for my carpet python?
They require a walled in area of at least 4 x 2 x 2 feet (120 x 60 x 60 cm). But larger would be better.
What should I include in the enclosure?
Your terrarium should include all of the following: water bowl, substrate, basking log, background, artificial plants for climbing, heat lamp, UV lamp, thermostat, heat mat, hygrometer, timer (for experiments), reptile disinfectant, feeding tongs, feeding enclosure.
What does a carpet python eat?
Carpet pythons eat thawed mice, rodents, quails and rabbits.
What should I do if I get bitten by a carpet python?
This species is non-venomous, but make sure your tetanus shots are up to date. If not and you get bitten, you should get a tetanus shot.
4. They Can Live 25 Years
The carpet python can live up to 20 years in the wild and can live to be 25 or older in captivity. An average snake can grow to 6.6 feet (2 meters) in length, but some individuals can reach 13 feet (4 m) and can weight up to 33 pounds (15 kg).
The largest subspecies is the coastal carpet python which commonly grows to 10 feet (3 m) in length. The smallest is the Darwin carpet python, which averages 4 to 6 feet (120 to 180 cm).
Females are normally larger than the males, and are much heavier. All carpet pythons have a triangular head with a unique row of thermo-responsive labial pits.
As mentioned, these snakes are very popular among snake lovers and a big reason for that is their temperament. But not all subspecies are the same. Some, like the diamond python, are calmer, while others, like the coastal carpet python or the Darwin carpet python, are bad tempered.
5. They Are Night Eaters
Carpet pythons generally feed at night. Like most snake species, they are ambush hunters waiting for their prey to pass by. Since it feeds mostly at night, it uses heat-sensitive pits on its bottom jaw to sense and track its prey's body heat.
This snake eats frogs, lizards, birds and small mammals like rodents, possums, and wallabies. They also sometimes eat cane toads, with deadly consequences for the snake. Since it is a non-venomous snakes, it kills its prey by constricting it until it dies and then swallows it whole.
Because carpet pythons often live in close proximity to human residences, they are actual quite helpful in keeping the number rodents and other vermin in check. That said, they have also been known to occasionally kill and eat puppies.
6. Males Fight In The Spring
Carpet pythons are oviparous. This means the females lay eggs. But first they have to get pregnant and for that they need a male. In spring, male will fight each other for the right to mate with a female, if several are competing for the same one.
Once impregnated, the females lay their eggs in early summer. They generally have a clutch of 10 to 45 eggs. They lay them in a hidden location, like hollow stumps or holes in the ground. If they live by a human settlement, they may lay them among building materials on a construction site or in a barn or chicken coop.
After the eggs are laid, the female cares for them throughout the incubation period. She coils around the eggs to protect them and to keep them warm. She generates heat by shivering, raising the temperatures up to 30° C.
During this period, she does not eat at all and rarely leaves the nest. She will usually head out only in the mornings, to bask in the sun and raise her temperature, so that she is warm enough to keep her eggs warm.
7. The Species Is Not Threatened
The carpet python is not considered a threatened species, since they exist across a vast range of regions and they easily adapt to many different types of habitats.
You can find them in open forests, rain forests, coastal heaths, rural areas, park lands and suburban gardens. They also inhabit trees and buildings, showing a special fondness for particularly chicken coops, barns and attics.
Although the species as a whole is not threatened, some of the subspecies are in danger in certain areas. For example, the Southern carpet python (M. s. imbricata) is threatened in Western Australia and the diamond python (M. s. spilota) is almost extinct in Victoria.
As mentioned above, these animals are traded on markets for exotic pets, but this has not had a substantial impact on their population. The far greater threat is habitat loss, which is primarily due to agriculture and livestock.
8. They May Suffer From Improper Shedding
Abnormal shedding is a common affliction and is brought on by a number of causes. These include:
Mites: reptile mites can be a big problem for pythons; if your snake is affected, give it enough water to submerge itself to try and rid itself of the mites
Dysecdysis (abnormal shedding): pythons sometimes do not shed completely (skin remains stuck to them), which is usually a result of low humidity levels
Respiratory infection: usually due to a bacterial or viral infection that is caused by inadequate temperature or ventilation, or too much humidity
As mentioned preciously, you always want to keep an eye on your snake to try and catch any signs of disease early, in addition to getting them a regular checkup with a vet. The following signs can indicate sickness:
Loss of appetite
Consistently submerging itself in its water bowl
Wheezing sound when breathing
Fluid or discharge from the mouth or nostrils
Diarrhea
9. You May Have One On Your Rooftop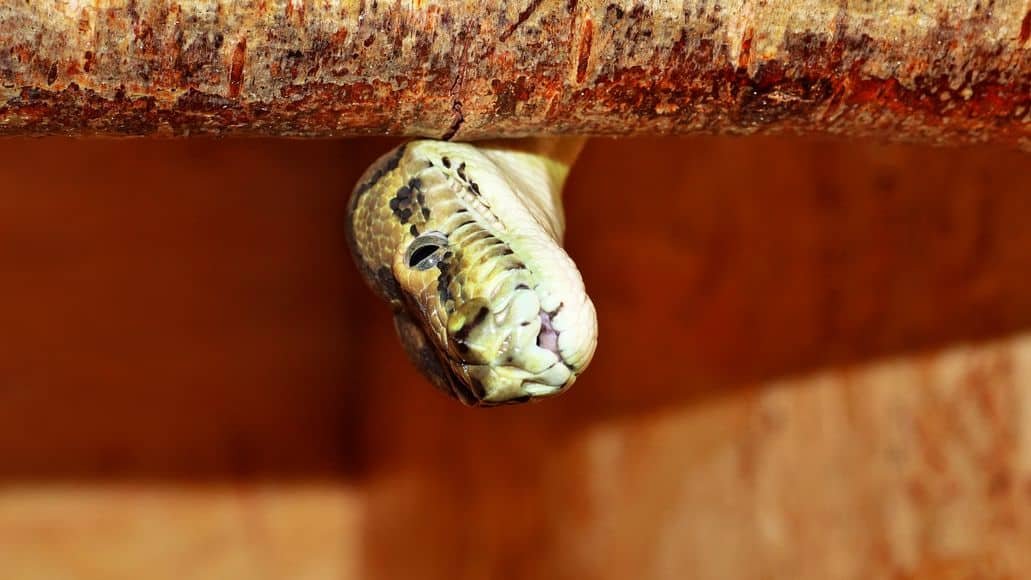 If you live in Australia or elsewhere these snakes live, you should not be surprised if a carpet python hangs out on the roof of your home. How do you know if that is the case?
Skin.
Unlike mammals, snakes never stop growing. The keep getting longer until the day they die. That's the reason some of them get so massive. The largest snakes on earth can grow over 10 meters (30 feet) in length.
And as they grow in size, they outgrow their skin. That is why they shed it regularly. And the rooftops of some older houses are practically brimming with shed snake skins.
If you find snake skins on your home, we recommend taking it to a nearby museum to see if they can tell you what species it is. That way you can be sure it is a harmless snake like the carpet python, and not something far more dangerous (and remember, there are a lot of those in Australia).
If you do have one of these snakes living on, or frequenting, your rooftop, it is likely there in search of rodents. To discourage them from visiting or making themselves at home, keep your house neat and tidy and free of mice and rats.
The same goes for barns and chicken coops, which are a favorite of carpet pythons. They don't visit them for the eggs or chickens though. They just want the rodents that hang out there.
If you have one on your property and you want to get rid of it, we recommend buying a snake trap.
Carpet Pythons: Final Thoughts
The carpet python is a hugely popular pet snake, because ti is beautiful, easy to care fore, calm and docile (though not all subspecies) and it does not get as large as many other pythons. But it is still a huge commitment.
If you are thinking of getting one, study up on your carpet python facts. You should never get a pet snake, no matter the species, until you know as much as possible about the snake's needs and what it takes to care for it.