Have you noticed reddish blotches on your snake's skin?
Or even blisters or open wounds?
This could be a common bacterial infection referred to as scale rot.
Keep reading to learn how to recognize this condition, and how to treat it before any serious harm comes to your snake.
You'll also learn what precautions to take to ensure it never comes back.
Or to keep scale rot from ever appearing in the first place, if you are lucky enough to have found yourself here before your snake ever suffered from this nasty condition.
Scale Rot: How To Identify The Problem
There are many signs that your snake could have scale rot. These include.
Discolored Scales
If some of your snake's scales look discolored, it might be suffering from scale rot. The effect is almost as though the scales had been burned.
The scales located underneath the snake are especially prone to scale rot. The same goes for the scales above the cloacal region.
You might find that the scales look brown, yellow, red, green, or black.
It's important to note that red scales can also be the result of skin shedding. If you think this could be the case, look for some of the other signs of scale rot listed below.
Blisters
You'll see blisters on your snake's skin, and sometimes they will release a yellow or clear pus. The blisters don't usually get infected right away.
As the condition progresses, the blisters can become infected. When this happens, they will look red and swollen and can release pus. Sometimes the scales will fall off where the blisters are located.
Elevated Scales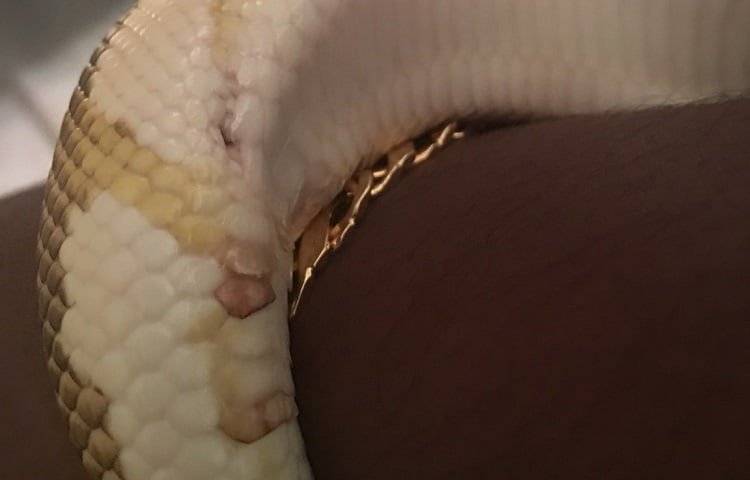 Another symptom of scale rot is elevated scales. This happens because the infection causes blood to accumulate underneath the scales, which raises them up.
You can tell if your snake has raised scales by gently running a hand over its body.
It's a good idea to run your hand down your snake's body once in a while to know what feels normal for your snake (unless it's particularly aggressive or really doesn't like being handled). This will make it easier to spot anything out of the ordinary, that might need closer inspection.
Causes Of Scale Rot
The easiest way to treat scale rot is to not have it in the first place. In order to prevent it, it helps to know what can cause it.
Too Much Humidity
Incorrect humidity levels in your snake's enclosure is a common culprit for this infection.
If your snake doesn't have enough humidity, it can struggle to shed its skin properly, among other potential issues. An improper shed can cause scale rot, since the leftover skin can become infected.
Too much humidity is a problem, too High humidity can keep the substrate in the enclosure from ever drying out. This can lead to scale rot because your snake will always be slithering through damp material.
This is especially a problem with snakes that like to take a dip in water. They splash it all over the bedding. Always keep an eye on the situation in the cage. If the bedding gets soaked, replace it.
The ideal humidity levels differ greatly from one species to the next. Always do your research, before getting a snake, so you know exactly what type of environment it need to be comfortable.
If you have a water snake, you might think that they're immune to getting scale rot from too much humidity, because they love being in the water. But that's not the case.
In fact, water and garter snakes have a greater risk of getting scale rot in captivity because they don't dry off properly in their environment. This can also cause them to spread the dampness to other parts of their enclosure, such as their substrate.
Humidity is a major culprit, but it is not the only one. An incorrect temperature inside the enclosure can also lead to scale rot.
Incorrect Cage Temperatures

If the temperature in your snake's enclosure isn't warm enough, the substrate covering the bottom never dries out. As mentioned above, perpetually moist substrate can lead to scale rot.
Even apart from this issue, you should always make sure that your snake is warm enough. A cold snake can suffer various health problems.
The temperature that a snake needs depends on the species. A general temperature range for snakes is between 70 and 85 degrees Fahrenheit.
You also need to provide your snake a warmer areas in the enclosure, so that it has somewhere to bask.
Dirty Cage
If your snake's enclosure is dirty, especially if there is fecal matter on the substrate, it can lead to infections. Your snake can pick up bacteria from the waste, which can make the rot even more severe and cause the wounds to become infected.
Vitamin Deficiencies
What if the temperature and humidity of your snake's enclosure are ideal but it still has snake rot? In this case, the culprit could be a vitamin deficiency.
Now you might be wondering how that can happen, given the limited diet of snakes. After all, snakes eat whole, live prey so any nutrients they need will come from those animals.
That is true, but if the prey your snake is being fed isn't healthy, then your snake won't get a complete, enriched diet from it.
Healthy prey has healthy organs, live the liver, kidney, heart, etc. that are full of nutrients. Unhealthy prey might not have as much nutrition in those organs. This is why it's so important to source healthy prey for your pet.
Skin Damage
An injury could cause the skin to become wounded. Check that there's nothing sharp in your snake's enclosure that could have scratched it and caused a wound which could then have led to scale rot.
It's also worth bearing in mind that feeding your snake live mice or rats can result in the prey scratching or biting your snake, which can result in wounds on their skin that can become infected with scale rot.
It's clear to see from what we've already outlined that you can do a lot to prevent scale rot from affecting your snake.
Ensuring that your snake has a healthy cage that's clean and hygienic, healthy prey to eat, and the right temperature and humidity it needs all go a long way to keeping your snake healthy.
But what if your snake already has scale rot? Here is how you can treat it at home.
How To Treat Scale Rot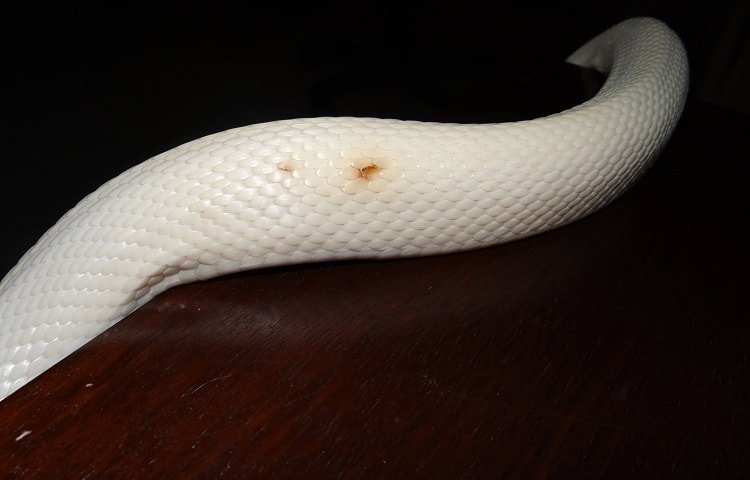 There are two products that can help to alleviate and eliminate scale rot. They are betadine and antimicrobial spray, and they should both be used to treat your snake's scale rot.
Betadine
A betadine bath can help treat blisters and severe scale rot in your snake. Fill a large container with enough lukewarm water for your snake to submerge in it without drowning.
Then add the betadine. You should aim for one part betadine for every 10 parts of water.
Let your snake soak in this bath for 30 minutes, then dry it with a towel. Never leave your snake in the bath unattended. It could try to escape, and this can cause it to move vertically and hurt itself. Learn how to bathe a snake correctly.
Betadine is a useful product for treating wounds, blisters, and burns, so it will help your snake heal. You can purchase betadine from pharmacies or on Amazon:

Antimicrobial Spray
This should be applied to your snake after you've given it a betadine bath. Apply the spray to the affected areas of the skin. This moisturizes the skin and helps it heal.
Vetericyn makes an effective antimicrobial spray to help a snake suffering from scale rot. It is non-toxic and safe for any pets.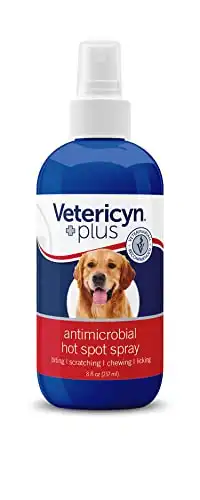 It safely cleans open wounds or blisters without causing irritation or harm. You can use it three or four times daily.
It's worth bearing in mind that these two home remedies for scale rot should only be given to your snake if the scale rot infection is mild. If it's severe, call your vet.
He or she will be able to give you the best advice and your snake the best treatment. You don't want the infection to become worse and risk your snake dying.
When Should You Call A Vet?
Scale rot usually heals within three to six weeks if it was only a mild infection. If you can see that the scale rot is getting worse, then it's important to take your snake to a vet so that you can stop the infection from leading to complications.
And, as mentioned, you should never wait around, if you can see that the scale rot is already serious.
The vet will usually prescribe antibiotics and/or topical creams to eliminate the condition.
How To Prevent Scale Rot
Once the scale rot infection has been healed, it's important to ensure that it doesn't come back. Here are some precautions to take to minimize the chances of your snake suffering from scale rot.
Spot-Clean The Enclosure Daily
You should clean up any fecal matter and spilled liquids every day. Shed skin, too. Keeping the enclosure clean helps prevent bacteria from forming.
Note: This should go without saying, but after you have started treating your snake for scale rot, clean its enclosure at the same time, otherwise you'll just be putting your snake back in a dirty cage that will infect it all over again!
Deep Clean The Enclosure Weekly Or Bi-Weekly
A more in-depth clean should be done every week or two. This should include cleaning rock formations and other accessories. These can become filled with bacteria, dust, and even mold, so it's good to keep them clean.
Secure The Water Bowl
If the water bowl in your snake's enclosure is wobbly, it can easily spill. Spilled water results in damp substrate. This make for a damp, wet, and unhealthy environment that breeds germs.
Regulate Humidity
Ensure that the humidity of your snake's cage is at the right level for the species of snake you have.
For example, ball pythons require humidity levels between 50 and 60 percent, while corn snakes need humidity between 50 and 70 percent
Garter snakes want much lower levels of humidity, between 35 to 60 percent. Research the type of snake you have to get the right humidity for it.
If you need to decrease how much humidity is in the cage, you can achieve this by increasing ventilation or decreasing how often you mist the snake cage.
Always ensure you have a hygrometer and thermometer so that you can keep track of the humidity and temperature of your snake's enclosure.
Related Questions
Is scale rot in snakes deadly?
If you don't have your snake's scale rot treated, this can result in bacteria growing. Harmful bacteria can cause deadly diseases such as septicaemia, which can kill your snake within days.
Is scale rot contagious?
Yrs, it is. If one of your snakes has scale rot, it's essential to keep it away from other snakes.
Snake Scale Rot: Conclusion
Scale rot is a terrible health condition in snakes. Not only does it look unsightly, but it can cause discomfort to your snake, and lead to serious wounds and blisters. If infected, these could kill your pet.
After reading this article, you should now know how to recognize snake scale rot and what you can do to treat it. More importantly, you know what to to do to prevent it from ever coming back again.