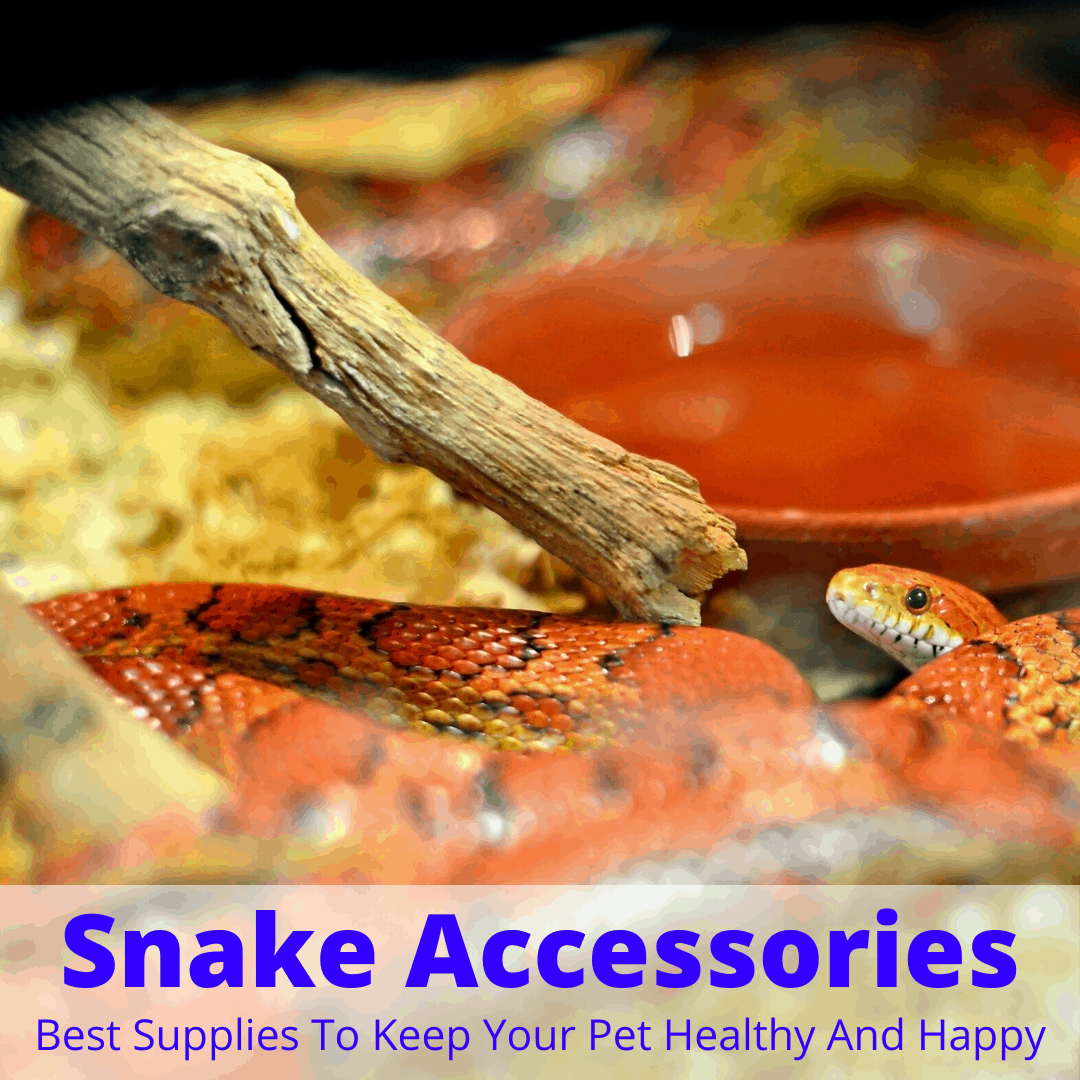 Owning a snake is simple, right?
You just put it in a box and occasionally feed it.
Well, they are relatively low-maintenance pets, but they do need more than a box and some food.
In fact, snakes, like all reptiles, are quite sensitive.
They like their environment a certain way and if it changes, they suffer. They could even fall ill and die.
That means that you, as a snake owner, need to provide your pet the environment it enjoys in the wild. And to do that, you'll need more than a box.
At a minimum, you'll need a good enclosure and a number of accessories to put in it. We will cover everything you need to keep your snake comfortable, happy and healthy below.
Snake Accessories Your Pet Needs
Terrarium
This one is obvious, so we're not going to go into much detail here. We have an entire buyer's guide for snake enclosures that covers everything you need to know.
The key points are that larger is always better. There is a minimum size, depending on the size of your snake (as an adult), but it is always better to go bigger, if you have the space for it. Your snake will be so much happier.
When it comes to material, glass is best. Plastic is also great, but it has one big disadvantage: it is not transparent. Who wants to own a snake and not be able to look at it?
Again, if you need help choosing a terrarium, check out our buyer's guide.
Thermometer/Hygrometer

Different snake species need different temperatures and humidity levels and some of them can be pretty sensitive.
Some snakes come from humid, tropical regions, and a snake like this needs moist, humid conditions. You will need to do research to find out what humidity levels suit your pet's requirements.
Whatever your snake's requirements, you need to be able to monitor the temperature and humidity levels. To measure humidity you need a hygrometer. We recommend getting a combination hygrometer/thermometer, since you need both anyway. No sense in buying, and then having to install, two separate gauges.
There are a lot of options on the market, but there is no need to get something fancy and expensive. A simple snake terrarium thermometer and hygrometer like the ones reviewed here are perfect.
It is inexpensive, but gives you everything you need. It has a suction cup so you can simply stick it to the inside of the terrarium. The large digital readout is easy to see, so you'll always know if you need to make any adjustments to your snake's environment.
Speaking of, if you have a snake that needs high humidity, you might need to get a humidifier/mister. We reviewed the best foggers/misters for snakes, so you can easily find the perfect one for your pet.
If, on the other hand, you need to lower the humidity, we also have an article on doing just that.
Pros
Zoo Med Labs specializes in accessories for reptiles, so they designed this specifically for people like us
Easy to install (simply stick suction cup to terrarium wall)
Inexpensive
Includes 1 battery (which will last over a year)
Cons
Not completely water proof
Bedding/Substrate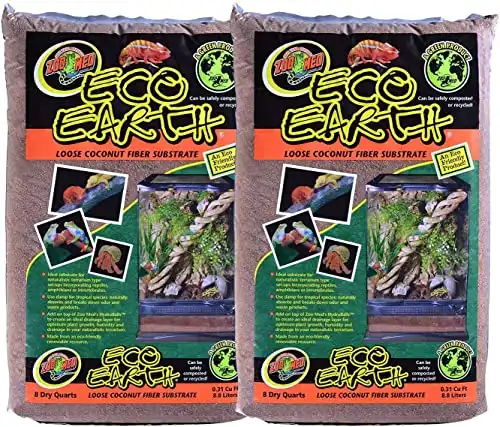 Terrarium substrates include the likes of coconut husk, paper mulch, reptile soil, and bark and moss as well as formulated sands. The best substrate to use depends on the species of snake, but there are some that work well for any snake.
We have an entire buyer's guide for snake bedding. It will help you choose the right substrate for your pet.
Our favorite substrate for beginning owners and most species is the Eco Earth substrate from Zoo Med pictured above.
Their coconut fiber substrate is excellent for amphibians, invertebrates and reptiles. It is ideal for snakes.
The best thing about this bedding for snakes it that it suits both tropical and desert dwelling snakes and works great in dry or damp conditions. A noteworthy aspect of this product is that it naturally absorbs unpleasant odors and waste products and it has excellent humidity retention capabilities. It's also an ideal substrate for plant growth in terrariums.
Pros
No dust bedding that holds humidity without molding.
100% organic product
A bio-active substrate that replicates snakes' natural environment
Cons
Costs a bit more than other substrates
Hiding Spot

In the wild, snakes spend a lot of time hiding in snug spaces. If they do not have similar hiding spots in captivity, they won't feel comfortable.
You could easily make your own snake hideouts from flower pots or many other household items. But they don't cost much, so it's probably not worth the trouble.
There are a ton of hides available in all kinds of shapes, sizes and looks. We have a whole article on the best hideouts for snakes.
You generally want at least two hiding spots in your snake's enclosure. One should go on the cool side of the terrarium and one on the warm side. That way your snake can be concealed, even while it regulates its body temperature.
If you just want a quick option, the Exo Terra Reptile Cave is a great choice. It resembles a natural rock cave, which helps snakes feel right at home. It is one of their favorite type of hiding place in the wild.
Nevertheless, we recommend checking out some of the other options. With hides, it really comes down to the look. How does it fit in with the rest of your habitat design?
Finally, a word of caution: resist the temptation to remove the hides from the cage. A lot of owners become frustrated when their snake spends most of its time concealed, because they want to to see it. As a result, they remove all hiding spots.
But this is a bad idea. It extremely stressful for your pet, because hiding is a natural instinct. Captive snakes that cannot conceal themselves inevitably suffer from poor health. Chronic stress suppresses the immune system, and then it isn't able to fight off bacterial infections.
Water Dish

Your snake relies on water for drinking, soaking and shedding. Water is also important for behavioral processes. Finally, reproduction in many species is closely related to the availability of water, from mating to egg incubation is reliant on water.
The pool you choose needs to be large enough to accommodate your snake without it tipping over. Snakes like to get in their water dishes for a soak. The temperature is also important and differs from species to species.
The Exo Terra water bowl is a great choice. It looks like a natural rock pool, which your snake will appreciate. It comes in multiple colors and sizes and is all-natural, so no toxins that could harm your pet. It is also sturdy and easy to clean and the non-porous surface leaves no place for bacteria to hide.
Pros
Realistic rock water bowl
Safe to use doesn't absorb bacteria
Sturdy and strong
Easy to clean
Multiple sizes
Cons
Each size only comes in one color
Climbing Branch

Vines or branches are a great accessory for any snake, but they are vital for arboreal species. These tree-climbing snakes will especially appreciate the ability to feel like themselves again. But even ground snake can play on the branches or, at the very least, use them to aid in shedding.
There are a bunch of different options and, as you might expect, we have an article that reviews the best climbing branches for snakes.
You might think you could just go outside and find any old branch to use in your terrarium, but that is risky. Not only will the branch eventually mold and need to be replaced, but it could also introduce bacteria or other parasites into your snake's enclosure.
It is best to get an artificial vine or branch, or a natural one that has been heat-treated (and not chemically treated). A great option is the Exo Terra Forest Branch pictured above
It is a natural, 3-dimensional branch that has been heat treated. It is ideal for desert and rainforest terrariums. It's sturdy and great for your snakes to climb on.
With this imported natural hardwood forest branch, you also add an interesting look to your snake enclosure. This climbing branch gives your snakes an additional place to climb and also a place to hide or to bask in the heat.
UV Lighting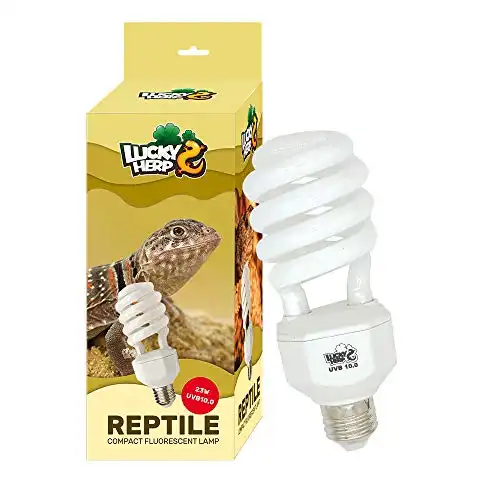 There isn't 100% clarity on the light requirements of snakes, and while UV-B light is necessary to provide vitamin D, snakes expert and veterinarians are split about the need for UV lighting for snakes. That said, UV light isn't harmful to snakes, so many owners have UV bulbs installed.
This 100 Watt UVA and UVB bulb for reptile use comes from the company Evergreen Pet Supplies, whose focus it is to supply customers with quality products that benefit their pets. This 'ray of light' comes from a mercury vapor bulb that provides snakes with warmth and vitamin production.
The bulb is compatible with a variety of enclosures. The bulb is completely self-ballasted and is tested for quality to ensure proper working conditions. Make sure to position the bulb correctly. Follow the guidelines in the included instruction manual.
If you are using the bulb primarily to provide heat, there are better solutions. Check out our review of the best heat lamps for snakes.
Pros
Convenient all-in-one bulb – light, heat, UVA and UVB
No harmful UVC light
Works in most types of enclosures
Cons
Mercury vapor bulbs are large bulbs requiring special fixtures
Complete Starter Kits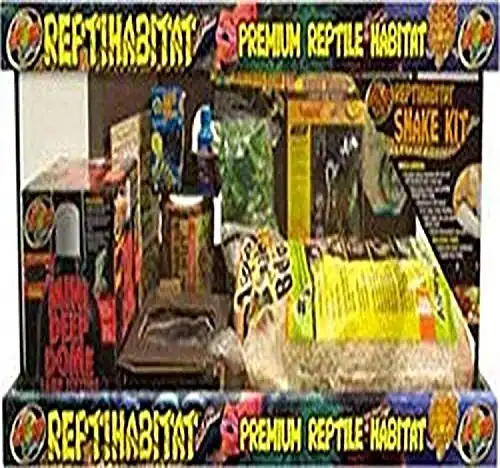 It could seem like there are a lot of snake accessories to buy for your pet. And that is true. That's why many new snake owners turn to a complete kit that includes the terrarium and all the basic accessories you need.
It is an easy way to get everything and ensure you don't overlook anything. But you have to be careful. Some kits give you low quality products, so you'll likely end up having to buy a bunch of the accessories again anyway.
The 20 gallon kit from Zoo Med is one of the few we recommend. Obviously, it is only suitable for small snakes, but most beginners should probably start with a smaller snake anyway.
This kit includes a 20 gallon tank than measures 30 by 12 by 12 inches, a heater, substrate, a log shelter, a plastic bush, a rock water dish, a thermometer, a snake heat lamp with fixture, water conditioner and a guide book on reptile care. All included components are well-made and actually usable.
Pros
Convenient (everything you need)
Great price
High quality components
Cons
The design of accessories like the hideout, bush or water dish may not be what you are looking for (no other options)
Only good for small snakes
Information On Keeping Snakes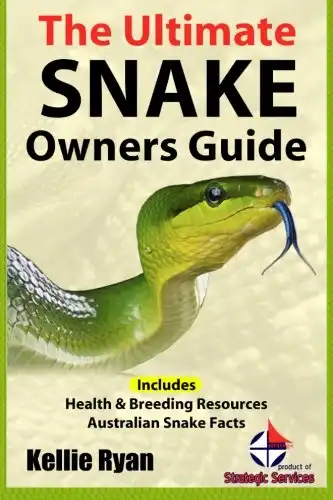 While websites like ours have a ton of information on keeping snakes, you have to find it. It is generally spread out among many articles and the front page usually only has the most important or most recent posts.
That is where a book can come in handy. You have all the information you need in one place, neatly organized into chapters. Plus, some people simply prefer old-fashioned books.
A great guide on snake care is this Ultimate Snake Owners Guide
. It is available in both traditional paperback version or a Kindle edition. It is a 240-page book that covers absolutely everything you need to know about snake care.
It was written by Kellie Ryan, a professional snake catcher and conservationist. This is the same person who also brought us the 2018 Illustrated Snake Diary, one of the best gifts available for snake lovers.
Of course, there are plenty of other books on the subject and many of them are excellent as well. You can find more specific volumes that focus on a specific species, or a specific aspect of snake care.
If you've new to keeping snakes, we highly recommend getting at least one book on the subject. And actually reading the book, too!
General FAQ On Keeping Snakes As Pets
How Do I Pick My Pet Snake Up?
There are some do's and don't when it comes to lifting a pet snake from its cage. There are special snake hooks to lift your pet. Your snake's temperament will determine if this is actually necessary. With some snakes, it is better to use a hook and with others you are fine without it. A snake that is moving away from you simply requires you gently taking the snake around mid-body and lifting it up with both hands.
What Should I Feed My Snake?
Most snakes are carnivorous. A popular choice of food for captive snakes is frozen rats or mice which have been defrosted. You can use a pair of tongs to feed then to your snake. Of course, different snakes need different amounts. They also need to be fed at different times, so as always, do plenty of research on the kind of snake you have. Your snake must always have access to fresh water.
Can I Keep Different Snake Species Together?
Yes it is possible, but not a good idea, as they are competitive and see another snake species as a threat. To ensure a peaceful, healthy environment for your serpent, it is better to house snakes individually.
How Do I Clean My Snake's Cage?
Regular cage maintenance is imperative for the health for your snake and to ensure the cage is odor-free. Reptiles are susceptible to skin diseases and bacterial infections and this is why their cages have to be scrupulously cleaned.
In addition, a snake's fecal matter can carry bacteria such as salmonella, which is harmful to humans. But be careful not to use general cleaning detergents, as these can be toxic for your snake.
How often you need to clean the cage depends on the size of the cage and the habits of your snake. Research and find out all you can regarding cleaning, like when to use an antibacterial disinfectant product and when to boil products in hot water instead.
Prepare a special cleaning kit for your snake's enclosure and never use your kitchen sink, so as to avoid cross-contamination. When you are finished cleaning your snake's cage, leave it wide open so it can air and dry out completely.
Harmless Snakes For Beginners
Harmless snakes can make a good pet for a child, as long as there is adult supervision. A child will need help with making sure that the snake is in the right environment for it to thrive. This means ensuring that the temperature and humidity within the enclosure are at proper levels and that the snake always has fresh water and clean bedding.
Snake experts would recommend the California Kingsnake, the Rat Snake, the Ball Python or the Corn Snake as a good choice for a beginning pet snake keeper. The North American Corn Snake has always been a popular choice as it's a docile snake, it breeds fairly easily and it is available in many morphs, i.e. attractive color combinations. Read about the best pet snakes for beginners.
Snakes Are Escape Artists
We touched on this above, but even harmless snakes like these are incredible at escaping from their enclosures. That is why a good terrarium is so important.
You can't just use any old box. After all, you don't want visitors to your home to come across a slithering serpent that managed to escape from its cage. To avoid scaring off all your friends and family, make sure you get an enclosure that has been specifically designed for reptiles, particularly those with escaping on their minds!
Apart from the cage and the accessories you will need to make a home for your pet snake, you will also need to know something about snake behavior. Not only that, but there are also some common ailments that affect snakes and you will need to learn how to recognize them as well.
It is also good to know how to prevent them in the first place. The proper environmental conditions and good hygiene are key.
Snake Accessories: Final Thoughts
Housing a snake isn't just a case of putting your pet in a glass enclosure. You need to bear in minds that reptiles are sensitive and generally struggle to adapt to a new environmental.
Before buying a snake, do thorough research so that you can give it an environment that is as natural as possible. You will need to start planning and putting together the habitat before you bring your pet snake home. This will spare you and your pet a lot of stress.
Keeping and caring for a pet snake can actually be looked upon as a type of conservation effort, because many snakes in the wild are unjustly killed. But that goes out the window, if you treat it badly, even if you do so unknowingly. Not doing proper research on keeping a captive snake can introduce problems such as stress and increased susceptibility to disease.
We can't read the faces of a snake and interpret what it needs so it is our responsibility as a snake owner to ensure the right sized cage, the proper temperature and humidity levels and the right food, so that they live a long, happy and healthy life.