A complete snake rack that includes everything you need in one package sounds great.
But these are hard to find and usually overpriced and not well made.
That's why we recommend buying separate components and setting up a rack yourself.
This has additional benefits as well. You can start small and easily expand.
If your snakes outgrow their compartments, you can simply get larger ones, without having to get a whole new system.
With this in mind, all of the best snake racks we feature below are actually just compartments.
Then you build or buy a separate shelving unit. These are easy to find and easy to make. We even have instructions for you toward the bottom of this article.
Let's dive right in.
Best Snake Racks Compared
03/22/2023 02:46 am GMT

Top Snake Racks Reviewed
A snake rack can be used to house and breed snakes. Some people think of them as cruel, but they don't have to be, provided they are made to be comfortable and safe for your snake.
What should you look for in a snake rack?
You should ensure that the snake rack is large enough to accommodate the type of snake that you have. As long as the snake has enough space, it will be comfortable.
There are also a few other important features to look for. With that in mind, let's look at the best snake racks on the market.
Popetpop Reptile Breeding Box

This snake rack is made out of PP material, which is short for polypropylene. This type of plastic is lightweight but it can handle heavy loads. Let's check it out in greater detail.
Featured Specs
Ventilated design
Feeding door
Pros
The strong yet portable plastic is ideal for feeding as well as transporting your reptiles.
It has a special feeding door for easy access.
It comes with a small hole design on the sides of the box so that it prevents escape while giving your pet enough ventilation.
It also comes with a feeding box for your reptile, so you can use this to feed or transport your reptile.
What's nice about this snake rack is that it's transparent so you'll be able to see and monitor your reptile with ease.
Cons
Some reports of receiving boxes that weren't in good condition.
Buying Advice
This is the overall best reptile rack. It is sturdy and well-designed, but still sells for a great price.
Alfie Pet Eamon Living Habitat For Snakes And Reptiles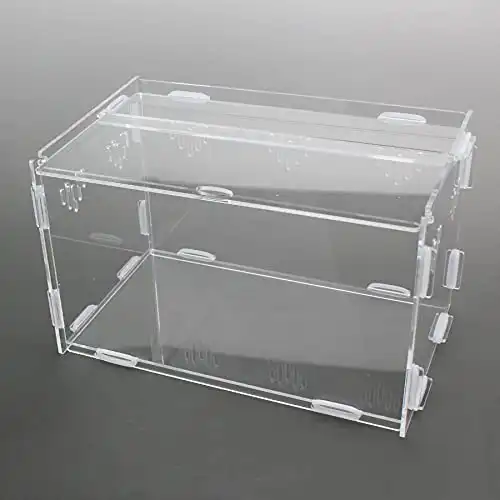 If you have a larger snake, you might want to give it a little extra space. While none of these racks are large enough to be a long-term habitat, this one gives you a little extra space over the previous one. It is approximately one inch wider and longer. Let's check it out.
Featured Specs
Easy to assemble
Odor-resistant
Pros
This snake rack has lots of good ventilation for your snakes.
It's a transparent snake rack so you can easily observe your animals.
It needs to be assembled, but it doesn't take long and there are instructions included to make it convenient.
It's easy to clean and resistant to odors.
Cons
This snake rack comes with protective paper that you have to peel off before you can assemble it, and some people have reported that it's difficult to peel.
It is not sealed at the bottom, so there is a small crack from which substrate can leak, so you might have to seal it up.
Buying Advice
This Alfie Pet snake rack is a cost-effective and simple snake rack that can accommodate slightly larger reptiles. What sets it apart is the use of transparent plastic.
Newcomdigi Incubator Tray With Thermometer

This box comes with a thermometer included, so it's one less thing you need to buy. You definitely need a thermometer to ensure you give your snake the correct environment. But you'll still need to buy a snake hygrometer and those usually come together with a thermometer anyway.
Featured Specs
16 grids
Perfect for hatching
Pros
This snake rack box is also made out of plastic that's almost transparent, which makes it easier to see your snake inside it.
It comes with a thermometer so you can monitor the snake rack's temperature to ensure it's perfect for your pet.
It comes with 16 grids so it gives you a lot of capacity.
This box can be used for effective hatching. This is because it comes with a tray that makes use of suspended incubation, which is when the eggs don't make contact with the substrate to ensure greater hatching success.
Cons
This snake rack has been designed to work as a hatching box more than a way to transport or house your snakes.
Buying Advice
This snake rack is specifically designed for snake eggs. It is ideal if you want to hatch snake eggs in a convenient way. But it is not a full snake incubator.
Petforu Breeding Box, 5 Pcs White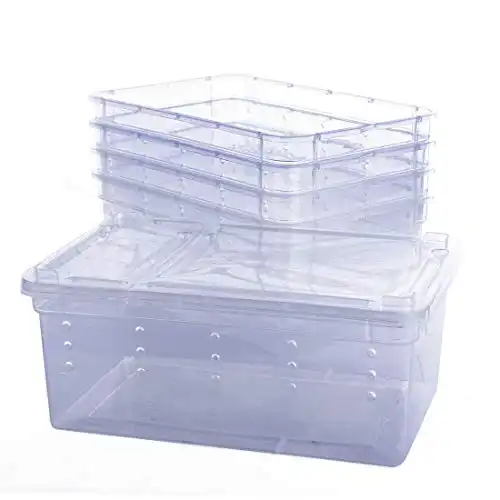 This breeding box is great for your reptiles because it's a two-in-one snake rack. But it's small. Here's what you should know about it.
Featured Specs
Food compartment
Five-piece breeding box
Pros
This box has two separate compartments. One is for your reptile and the other has a place for its food and water.
It has many ventilation holes to ensure your reptiles will have enough fresh air.
You get five pieces in this purchase, which means you can stack the boxes. This makes them practical and versatile for what you need, as well as what you might require in future.
These boxes are well-sealed to provide a safe and secure place for your pet.
Cons
Some people who have purchased this breeding box have reported that they battled to keep the door closed.
It is very small – with a length of around seven inches – so it's really ideal for very young, small snakes. If you have a larger snake, you're going to have to choose a different snake rack.
Buying Advice
This reptile box is versatile and you can stack more than one box if you need more space for your reptiles.
Petforu Reptile Dish Feeding Box Food Container, Black

This Petforu Breeding box is the same as the previous model above, but in black transparent plastic, instead of clear.
Featured Specs
Black and transparent
Greater capacity
Pros
These breeding boxes are another great find by Petforu, but they're bigger than the other Petforu product we featured. They offer about two inches more in the length of the box.
These snake racks offer space for reptile's food and water, so you get a two-in-one function that comes in handy whether you're housing or transporting your snake.
They have an easy-access door through which you can feed your snakes without the worry that they'll be able to break free.
These boxes are stackable.
Cons
It is a bit small for most snake breeds
Some purchasers have reported that they're quite brittle.
Buying Advice
These Petforu breeding boxes are a cheap and effective solution if you need a breeding box for your snakes.
Snake Racks FAQ
Snake racks are sometimes frowned upon. Part of the reason for this is that some people don't have a lot of information about them.
To help you find out if they're right for you and your pet, let's answer some common questions about snake racks.
Are snake racks cruel?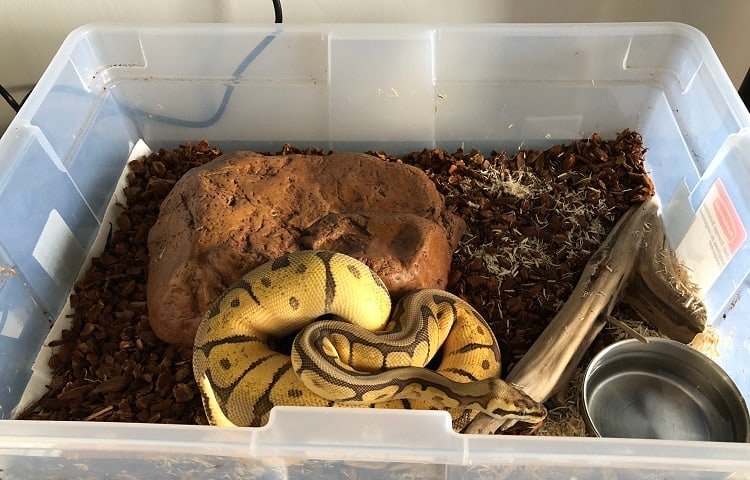 Many people think that snake racks are cruel. That's understandable and there is some truth to it.
There are many boxes on the market that are very small and some breeders use them to house large snakes, that don't have nearly enough space to be comfortable.
The key is using larger boxes, to ensure your snakes have enough space. That said, snake racks are never ideal.
If you have only one snake, or a few, don't use a snake rack. They are meant for those with many snakes, like breeders.
Snake racks are focused on saving space.
But you can still make them as livable as possible. Don't put multiple snakes in one container and make sure you keep the racks in sanitary and healthy condition.
While they may not be comfortable for snakes, they are not actually harmful either.
Snake racks are usually transparent, so light can get in and they come with ventilation holes so that your snake will always get enough fresh.
It is up to you to ensure you meet the snakes' requirements when it comes to temperature, humidity, and food.
The bottom line is: it is up to you how humane or inhumane a snake rack is.
Here are some important things to bear in mind to ensure your snake rack is as comfortable as possible.
Don't keep adult snakes in these tubs, because most need an enclosure with 40 gallon-capacity or more.
You might have to tweak the tubs to boost their ventilation, by drilling holes in them.
Make sure you install smart thermometers (with alarms included). This ensures that the setup doesn't overheat without you realizing it, which can cause the death of all your snakes.
Do any snakes like being handled?
You might be hoping that you can give your snake affection and love and it will return it. But snakes are not known for being affectionate. They don't generally like to be pet, but some are fine with being handled, as long as you limit these types of interactions.
Usually, if you get your snake used to being handled at a young age, it will be comfortable with it. But it might take some time for them to get used to being handled.
Snakes with mild temperaments, such as the corn snake, are usually more comfortable with being handled.
If you're keen on handling your snake regularly, just make sure that you don't handle it more than twice a week. Never take your snake by surprise and just grab it as that can make it feel threatened. You need to move calmly and slowly around your snake.
When you want to handle it, make sure you pick it up gently but firmly, using your hands and arms. Never bring your snake to your head or neck. They will see this as being aggressive.
How do I make a cheap snake rack?
You can make your own snake rack without needing a lot of tools or items. Here's an easy DIY method (via Oddly Cute Pets).
What you will need
18 – 28-quart bins: The amount you will need will vary depending on the size of your reptile. For example, larger snakes will need even more than 28-quart bin – perhaps ones with 40-quart capacity.
Wire rack shelving: You can find these shelving units from department stores, but you might have some lying around your home that you're not using for anything.
Heat cable: You need to ensure you purchase a cable that will be long enough so that you can provide the right amount of warmth to all the boxes/racks you have in your snake rack setup. Zoo Med has some great heat cables that are ideal for reptile racks and enclosures, so you might want to check them out.
Hammer
Electric drill
Pliers
Zip ties
Instructions

You will use all of the shelves that are in the shelving unit, but only one set of poles. Start by setting up the first shelf by reading the unit's instructions. This will be the foundation of the snake rack.
Put two empty bins on the shelf you've just set up.
Now you can put your connectors for the next shelf at the height you want. Make sure that the shelf will fit securely on the bins.
Put your next shelf in by sliding it onto the poles.
Make sure that you can slide the bins out easily. If they don't come out smoothly when you pull them, you'll need to adjust the height.
When you're happy with the height, you want to hammer the shelf securely into place so that it won't move.
Continue setting up your shelves. Once you have all your shelves attached, you want to attach the heat cable.
To do this, you need to run the cable through the shelves so that your snakes will all have the heat they need.
Make sure that the plug of the cable and some of its length will be hanging off the bottom shelf you've set up so that it will be able to reach the outlet. This will make your life a lot easier!
Thread the heat cord through the wire of the bottom shelf.
Thread the cord through the other side of the shelf, before moving it back to the side where you began. The cord needs to be taut but not too tight.
Use the zip ties to ensure that the cord stays securely in place.
Once you've done that, you can bring the cord to the next shelf and repeat the above steps to thread it properly through all the shelves.
Attach the heat cord to your rack.
Plug it in before you put the rack into place.
If your bins have lids, you will need to use the drill to make holes in them so that your snakes will get enough ventilation.
Put a layer of substrate on the bottom of the bins.
Put a water bowl in each bin.
Now you're ready to put your snakes in their new habitat!
What are snake racks made of?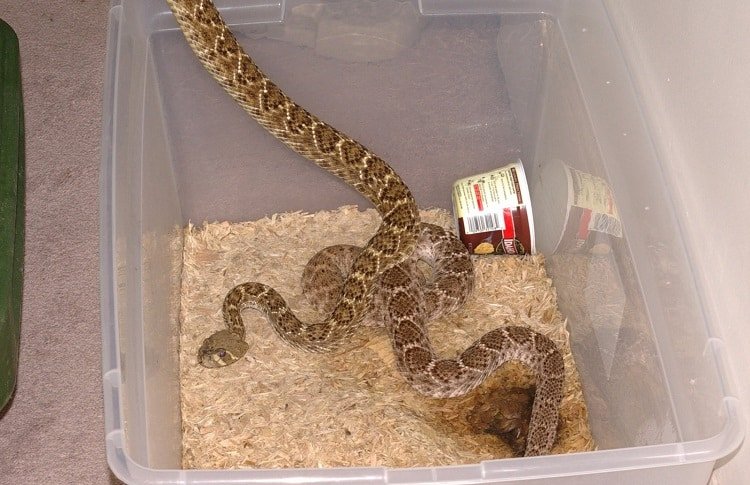 You can find snake racks that are made out of plastic or wood. These are popular materials, but it's probably best to choose plastic snake racks.
These are strong and durable, while also giving you the chance to see through them if the plastic is transparent. This enables you to monitor your pet much more easily than in the case of wood.
In addition to this, plastic racks are lighter than wooden racks, which makes it easier for you to transport them.
Best Snake Rack: Conclusion
If you want a cost-effective, space-saving way to house your snakes, you should consider getting a snake rack.
In this buying guide, we've looked at the best snake racks on the market, examining their features and the pros and cons each, so you can choose the one that suits your lifestyle and snake's requirements the best.
We've also looked at some important questions about snake racks in general, such as if they're safe and healthy for pets and how you can make your own DIY snake rack. If that doesn't really sound like something you'd want to do, you should go ahead and purchase a shelving unit to use with one of the boxes in our review.