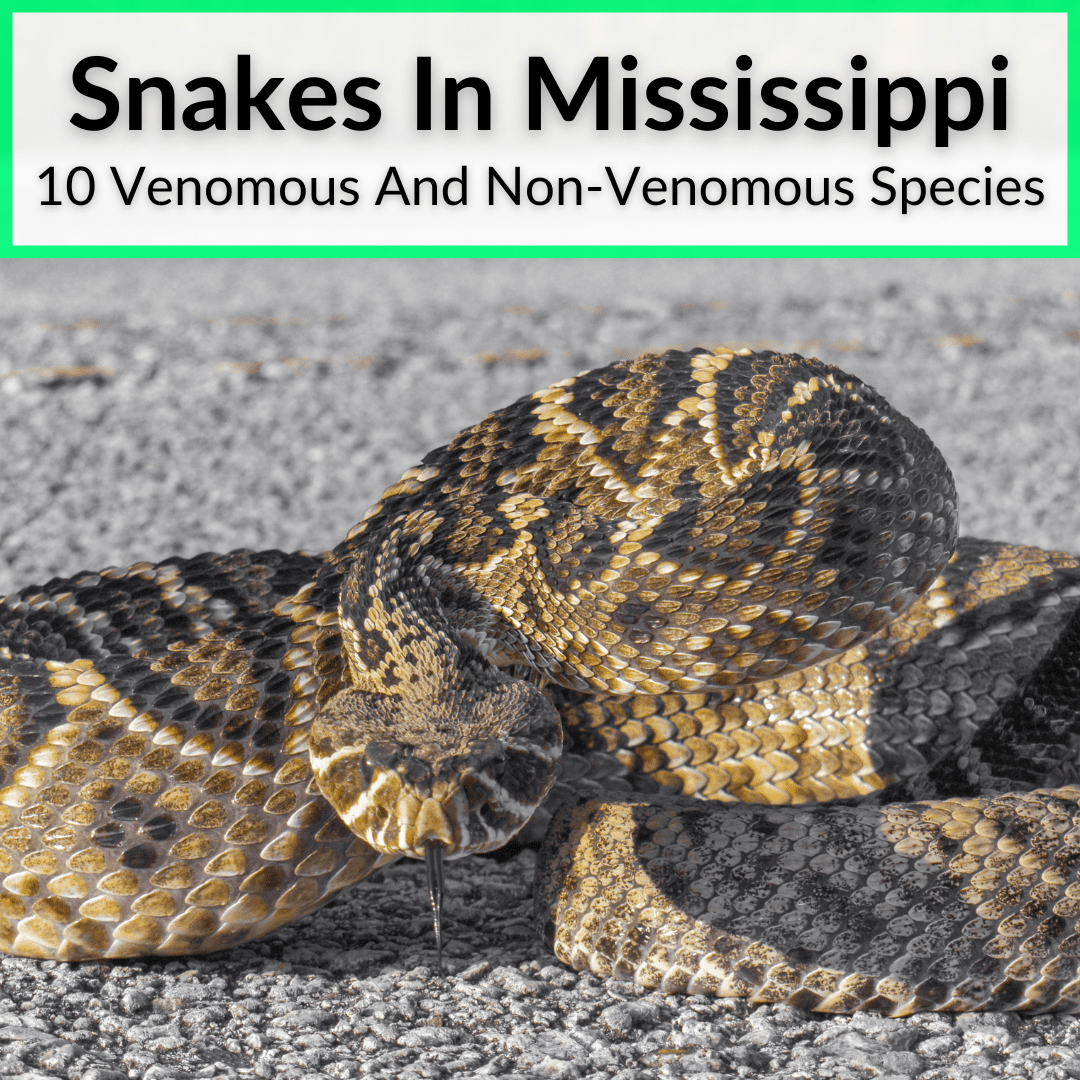 There are snakes in Mississippi, as in almost all US states.
There are even six species of venomous snakes, including the two deadliest in the US.
However, they are mainly the deadliest, because they are so widespread, calling many different states home.
In reality, all of the snakes found in Mississippi try their best to avoid us humans. They will only bite if they feel threatened and see no other way out.
Leave them alone and they will leave you alone.
The problem is that some of the species are well camouflaged and tend to spend much of their time lying still.
If you are not careful, you could stumble on one, or even step on one. And that could cause it to bite.
If you will be in the wilderness in an area that has venomous snakes, make sure you know how to identify them. In case of a bite, it is important to know what type of snake bit you.
With that in mind, let's dive right in and discuss the most common snakes you might encounter in the state of Mississippi.
Snakes In Mississippi
Mississippi is home to several snake species. We'll begin by taking a closer look at the top 5 venomous snakes and then look at the top 5 non-venomous snakes in the state.
Venomous Snakes In Mississippi
The following venomous snakes are the ones you are most likely to encounter in the state of Mississippi.
Copperhead Snake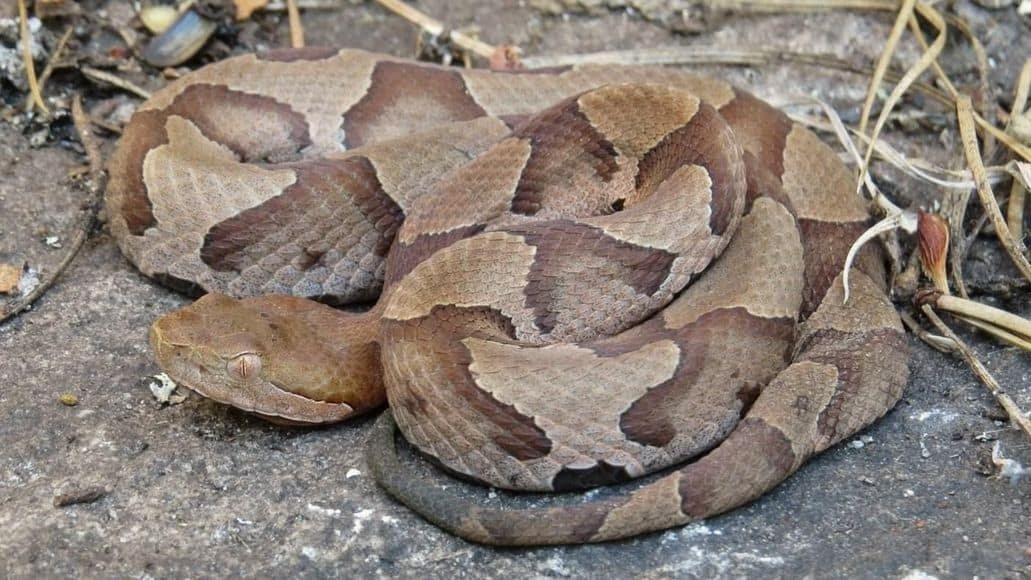 Copperheads belong to the largest group of venomous snakes, the pit vipers. All snakes belonging to the pit viper family have 'pits' on the sides of their faces, between their eyes and nostrils. They use these pits to detect their prey's body heat.
Appearance
Copperheads grow up to 35 inches (about 3 ft) in length. They have copper-colored heads and hourglass-shaped brown bands all over their bodies. Mississippi Copperheads have a pinkish or tan tinge along their face and body.
Diet
Copperheads eat rats, mice, and insects. They curb the population of rodents on farms, which can be a blessing to humans.
Behavior
Copperheads are solitary creatures that learn to survive on their own from birth. They use all their senses when they search for their prey. They have the ability to sit very still and also blend in with their surroundings.
Copperheads have excellent eyesight and their long slit-like pupils give them powerful night vision. By flicking out their forked tongues, they can gather the scent of their prey from the ground and air.
According to the US CDC, around 7000 to 8000 people are bitten by snakes annually in the country. Out of these, only about 5 people die. Most of the fatal bites are attributed to copperheads and rattlesnakes, which makes sense, because those species are found in many different states.
Copperheads do not bite humans willingly. They only do so when threatened. They bite to protect themselves. Since they often lie still, people fail to see them until it is too late.
Can a copperhead bite kill you? Yes, but it is highly unlikely. But the bite is extremely painful. And you should have a doctor look at it as soon as possible, just in case they need to administer antivenom.
There is always a big deal made round "baby copperhead season" in parts of the US with larger populations of this species. That's because they are thought (falsely) to be more aggressive and their venom is actually more potent.
The small babies are easy to miss, so it is not uncommon for someone to accidentally stumble upon one and get bitter.
If you see them, it is not hard to identify a baby copperhead, if you know what you ae looking for. We have an article explaining how to identify a baby copperhead snake.
Cottonmouth Snake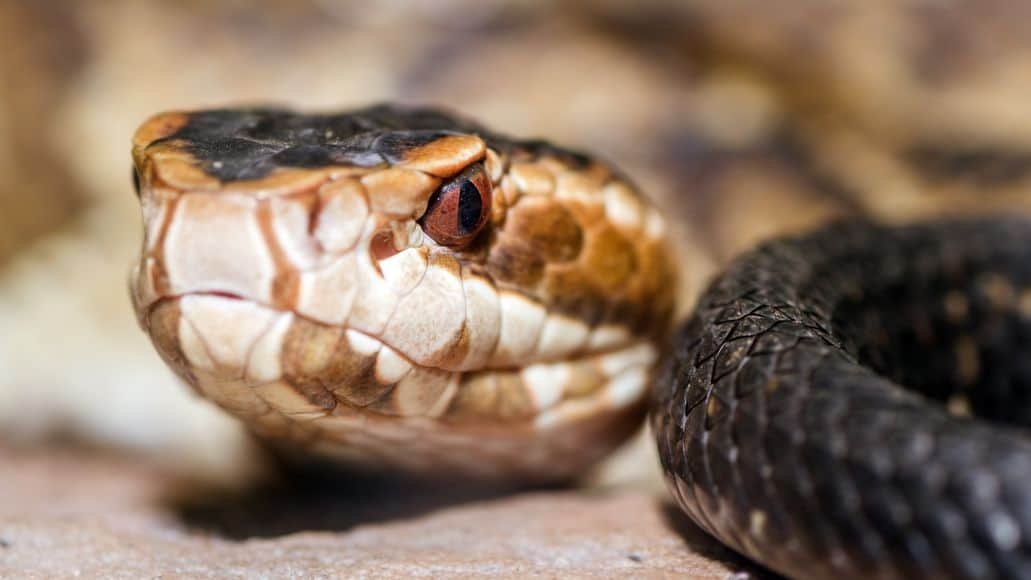 Cottonmouths are semi-aquatic snakes. They are also known as Water Moccasins. You might find them near rivers, swamps, creeks, and lakes. Like copperheads, cottonmouths also belong to the pit viper family.
Appearance
The name cottonmouth comes from the white-colored cottony appearance inside the snake's mouth. When threatened they open their mouths wide to show the white, cotton-like interior. This is a large snake that can grow up to 48 inches (4 feet) in length.
Diet
Cottonmouths have an unrestricted diet, eating basically any animal they can get. Young ones eat frogs, insects, and invertebrates. As they grow, they eat catfish, sunfish, turtles, and toads. Sometimes, cottonmouths resort to cannibalism and eat other cottonmouths. They also eat birds, moles, mice, rats, shrews, rabbits, and squirrels.
Behavior
Can snakes swim? Yes, but some do it better than others. Cottonmouth snakes are snazzy swimmers. They stay on, or near, the surface of the water with their heads above it. They swallow a lot of air to stay afloat.
Like copperheads, they use their heat-sensing pits to detect their prey. During the day, they bask in the sun and warm up. At night, the hunt. Good hiding places for Cottonmouths are piles of leaves and fallen trees.
When in danger, a cottonmouth coils up, hisses, and displays the cottony interior of its mouth.
Cottonmouths are responsible for less than 1% of snakebites in humans each year. They only bite when stepped on. Usually, cottonmouth bites aren't fatal and only need wound care.
Pygmy Rattlesnake

The Pygmy rattlesnake is known as the 'Ground Rattler' in Mississippi. It has a very small rattle that breaks off and regrows multiple times throughout the snake's lifespan.
Appearance
Pygmy rattlesnakes are the smallest species of rattlesnakes in the United States. They grow up to 20 inches in length. They have a greyish coloring with dark spots along the back, center, and sides.
Diet
Young pygmy rattlers eat frogs, other snakes, insects, centipedes, and lizards. As they grow, their diets mainly consist of mice and rats.
Behavior
According to Chad Miller, the author of Venomous Snakes of the Southeast, Pygmies exhibit a peculiar behavior. While they readily feed on cricket frogs, when they bite a Spring Peeper (Pseudacris Crucifer), they let go of it very quickly as if to say "yuck, this frog tastes disgusting!"
Pigmy rattlesnake bites can be extremely painful, resulting in swelling, pain, respiratory difficulty, and nausea. A few cases of renal failure have also been reported. Although no deaths have been documented, their highly toxic venom and evolving venom make the Pigmy one of the deadliest snakes for humans.
Eastern Diamondback Rattlesnake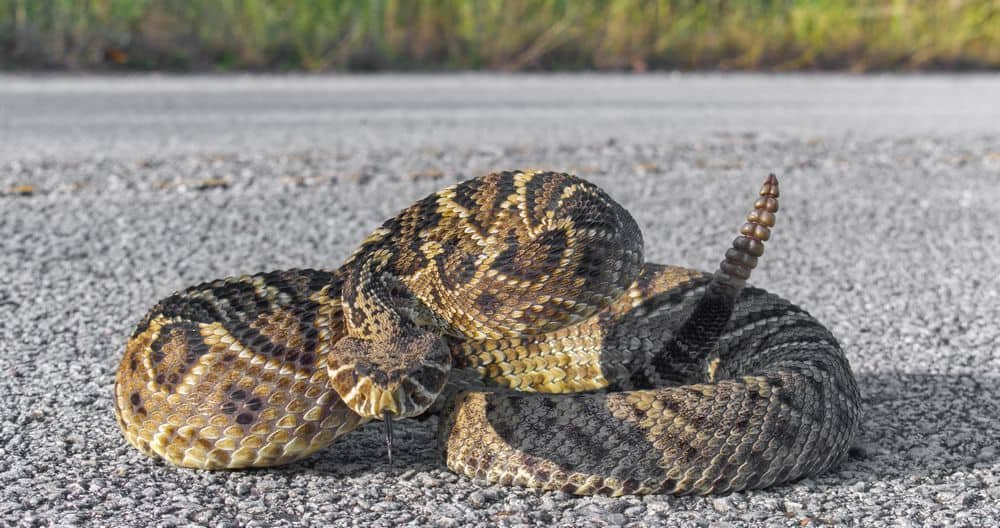 The Eastern Diamondback Rattlesnake is one of the most aggressive and dangerous snakes in the United States. It is known by various other names such as Florida Rattlesnake, Water Rattler, Water Rattlesnake, etc.
Appearance
The Eastern Diamondback is a massive snake that reaches up to 5 feet in length and weighs almost 5 lbs. It is the largest rattlesnake in the world.
Easterns have a bold diamond pattern covering their bodies and a distinct rattle. They are blackish-grey, olive green, or muddy gray in color.
Diet
Young Diamondbacks eat birds, rats, and mice, while the older ones prefer larger prey such as squirrels, rabbits, etc. To locate the prey, they use their sharp instincts and sense the infrared heat waves given off by warm-blooded animals.
Behavior
Diamondbacks hide during the day and sneak out to hunt at night. They shelter in tree stumps, rocks, and animal burrows.
The Eastern Diamondback Rattlesnake is one of the deadliest snakes in the country. Its toxic venom has a 30% fatality rate among those that have the misfortune of suffering a bite. If you have located a rattlesnake den on your property, call in a professional. Do not try to dea with it yourself.
Timber Rattlesnake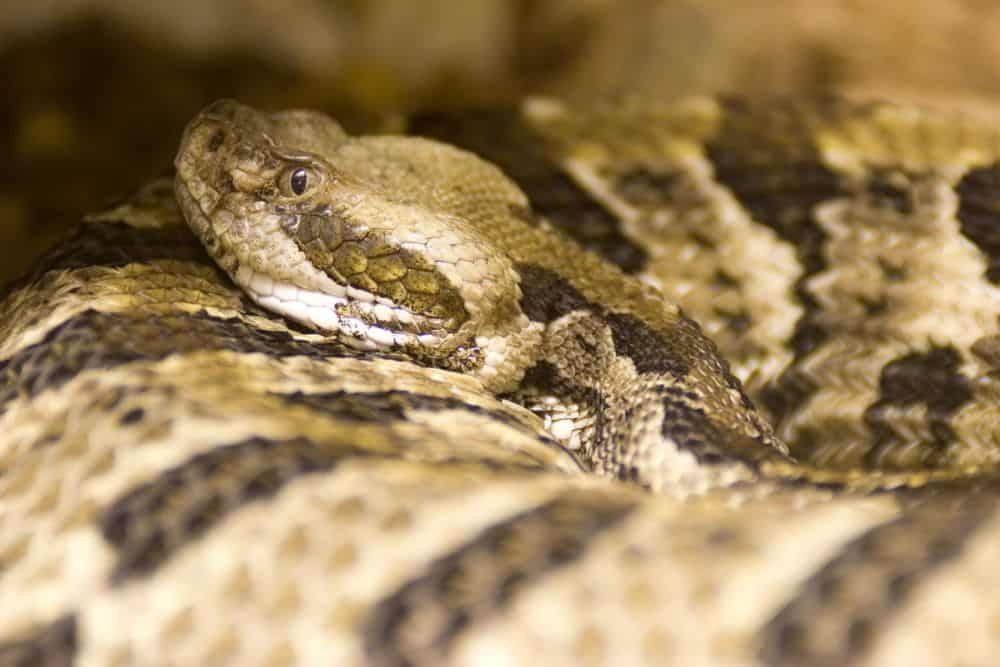 Timber Rattlesnakes are found in heavily wooded areas with rocky outcrops. They are known by different names such as American Viper, Timber Rattler, and even Canebreak.
Appearance
Timber Rattlesnakes are easily able to camouflage themselves thanks to their earthy colors like gray, tan, or yellow-brown. These colors allow them to blend in with leaves and rocks. Their average length is 3 to 5 feet.
Food
Dietary options for this deadly rattlesnake are rats, mice, birds, shrews, small rabbits, squirrels, and lizards.
Behavior
Timber Rattlesnakes are shy snakes, so they generally hide under rocks, logs, and piles of leaves.
They are considered even more dangerous than copperheads because of their larger size and long fangs. However, they also avoid confrontation as much as possible, and usually warn humans off with their rattles instead of resorting to biting.
Non-Venomous Snakes In Mississippi
Now let's take a closer look at the main non-venomous snakes you will find in the state of Mississippi.
Midwest Worm Snake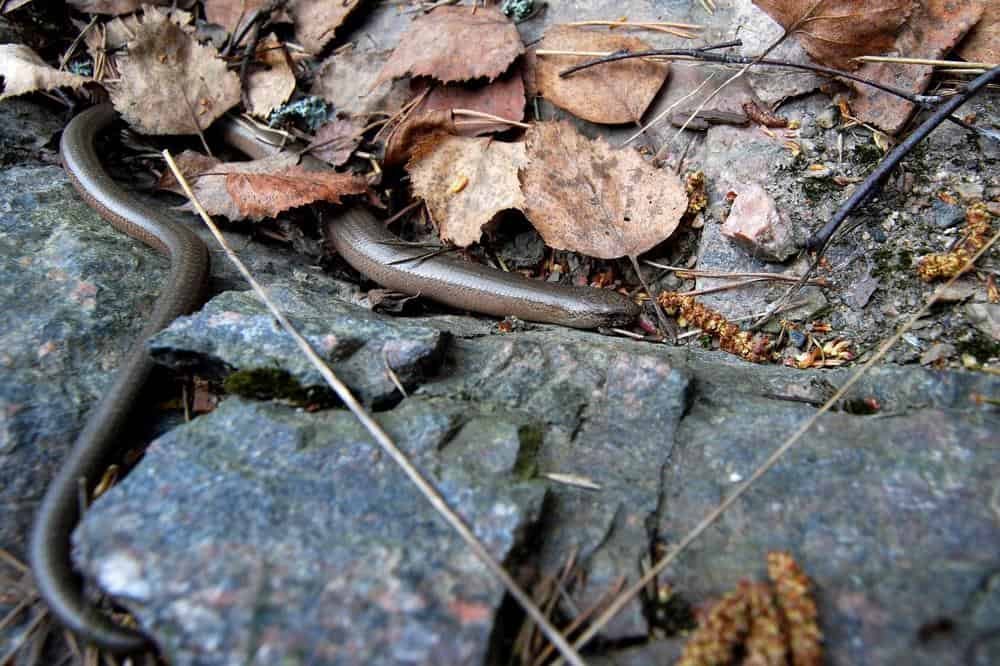 Midwest worm Snakes are found east of the Mississippi River. These small and nonvenomous snakes are popular as pets.
Appearance
The small, secretive Midwest worm snake has a smooth, glossy, and opalescent skin that reflects iridescent light. It has a pointed tail tip. It averages just 7½ to 11 inches in length.
Diet
Midwest worm snakes feed exclusively on earthworms. Occasionally, they may eat soft-bodied slugs and larvae.
Behavior
Midwest worm snakes inhabit open woodlands, rock-strewn hillsides and fields, and even frequent trash dumps. In spring, they are active in the decomposing leaves when earthworms are found.
They are shy beings and being non-venomous, they make good pets. However, they do not like being held too long and won't hesitate to emit their foul-smelling musk on their human captors.
Mississippi Ring-Necked Snake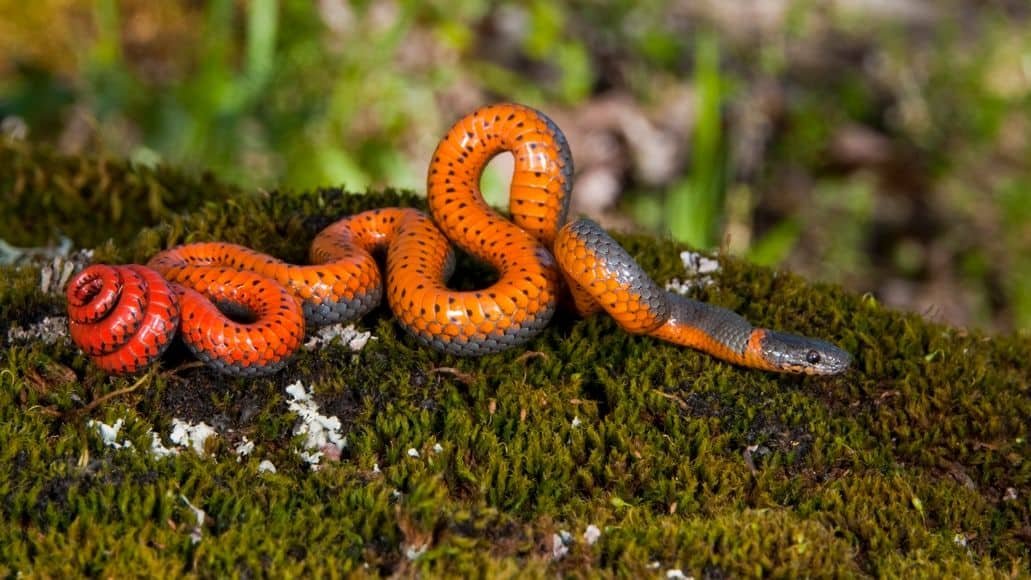 The non-venomous Mississippi ring-necked snake is found in all of Mississippi, Southeast Arkansas, Missouri, and in the western parts of Kentucky, Tennessee, and Alabama.
Appearance
Mississippi ringneck snakes measure 10 to 12 inches in length. They have a slate-grey dorsum, black head, and a striking yellow neck collar. It is cream beneath the snout but changes to yellow at mid-body and brightens to orange under the tail.
Diet
These scent hunters scale the forests in search of small frogs, salamanders, insects, skinks, earthworms, slugs, and larvae.
Behavior
Like most ring-necked snakes, they burrow in leaf litter. They are usually active throughout the year in warm areas. Despite their small size, they are known to travel long distances, sometimes more than a mile.
While they rarely bite humans and are non-venomous, their harmless bites are reported to cause a burning sensation.
Mississippi Green Water Snake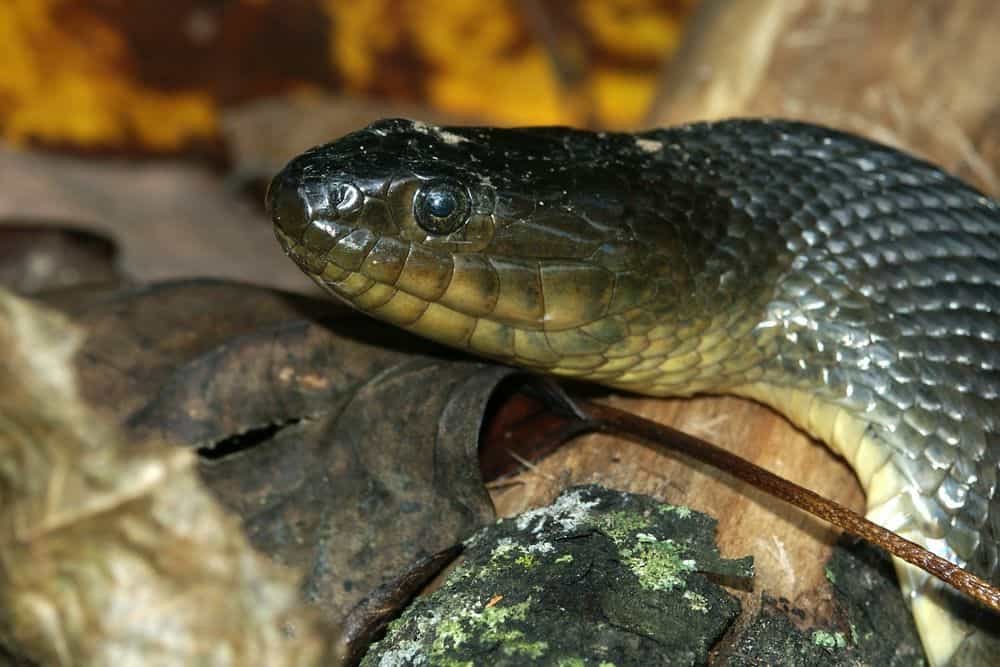 The harmless Mississippi Green water snake is often confused with the venomous cottonmouth, because they are both similar in appearance. The water snake's main range is eastward throughout Louisiana and north up the Mississippi River.
Appearance
The Mississippi green water snake measures between 30 and 50 inches in length. It is a thick-bodied snake with dark-brown, dark green, or dark greenish-brown coloring. It also has alternate dark markings along the back and sides.
Food
Fish and amphibians are the main dietary constituents of the Mississippi Green water snake.
Behavior
Mississippi Greens strike out and bite when provoked and expel musk and feces when restrained.
Though rarely found far from water, you might occasionally come across one crossing the road as it moves from one water body to another. Like most water snakes, they fight oppressive summer heat by becoming nocturnal and spending most of their time in the water.
They are not dangerous to humans and pets but will not hesitate to bite and defend themselves.
Rainbow Snake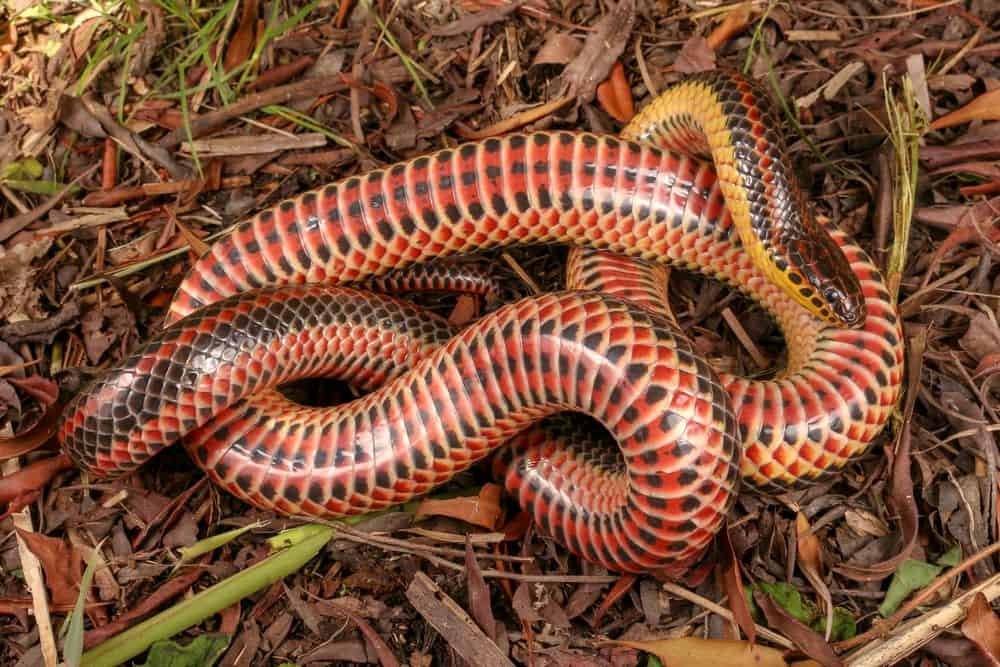 You will find these beautiful snakes along the coastal plains of Virginia and the southern half of Mississippi into Louisiana. They mainly live near swamps, streams, river systems, and aquatic habitats. They are also known as Eel Moccasins.
Appearance
Rainbow snakes have a robust shiny body, smooth scales, and round heads. They are mainly black with three thin red stripes on the back, a yellow chin, and a red belly with black dots.
Diet
Adult rainbow snakes mainly feed on eels while juveniles eat salamanders and tadpoles. Their tail spines help them hold on to slimy prey.
Behavior
Rainbow snakes are more active during mid-spring. In winters, they hibernate under root masses and rotten stumps and logs. While you might find them crawling around during daytime in the warmer months, they are primarily more active in water at night.
These harmless and defenseless snakes do not usually bite humans. They also make great pets but you need to strictly manage their environment to meet their humidity and temperature requirements.
Northern Scarlet Snake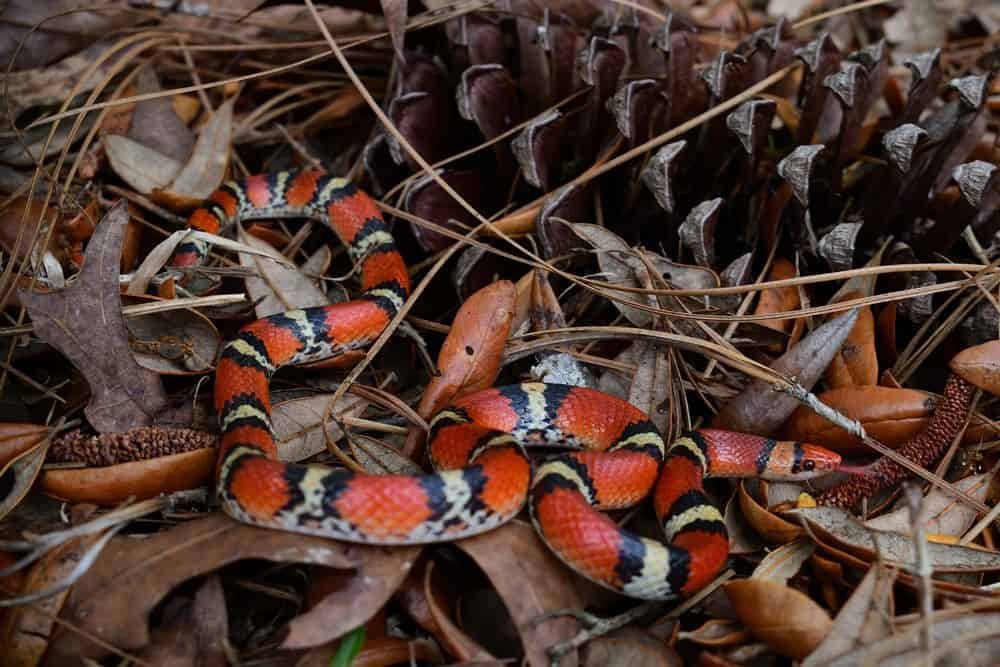 Scarlet snakes are found throughout most coastal plains and are associated with pine, hardwood, and mixed hardwood forests. They are often confused with Scarlet Kingsnakes. The major difference between the two is the lack of bands on the bellies of the Northern Scarlet snakes.
Appearance
Scarlet snakes have red heads, pointed noses, and a solid white belly. They have yellow, red, or white bands with black blotches that do not encircle the belly. The pointed nose is always red followed by a narrow black band.
Young scarlet snakes are so tiny that large toads can feed on them.
Diet
They primarily feed on the eggs of reptiles, like other snakes, turtles, and lizards. They may also use constriction to subdue and feed on small snakes, lizards, and frogs.
Behavior
Scarlets are active above ground primarily at night and in warmer months. You might find them under logs, pine straw, or crossing the roads at night. Scarlet snakes seldom bite when captured, but may release foul-smelling musk.
Snakes In Mississippi: Related Questions
The following questions are some we commonly get about snakes in Mississippi. If you have additional questions, feel free to ask them in the comments below.
What type of snakes does Mississippi have?
You will find many varieties of venomous and non-venomous snakes in Mississippi, because of its varied landscape. From venomous cottonmouths, to several species of rattlesnakes, to harmless water snakes, there are almost 55 different types of snakes found in the state.
How many poisonous snakes live in Mississippi?
Out of the 50+ different types of snakes found in Mississippi, only 6 are venomous.
Which is the largest snake found in Mississippi?
The Eastern Indigo snake, a non-venomous snake, is the longest snake in the USA and it is found in many parts of Mississippi. It weighs around 11 pounds and can grow up to 9 feet in length.
What is the Mississippi Milksnake?
The non-venomous Mississippi Milksnake is a member of the Kingsnake family. Their vibrant appearance and 'friendly behavior' make them excellent pets. But they are easy to confuse with the venomous coral snake. See our comparison of the coral snake vs king snake vs milk snake to learn how to tell them apart.
Mississippi Snakes: Final Thoughts
As mentioned, there are over 50 snakes found in Mississippi. That is far too many to cover them all here. But we made sure to cover the most common venomous and non-venomous snakes in Mississippi.
If there are other species you feel we should have included here, please let us know in the comments below. Also let us know why the snake should eb included. If it is a good reason, we will certainly add it to this list.