Rattlesnakes get a bad rap.
Many view them as killers. And there is some truth to that.
If you are a rodent.
But rattlesnakes have no interest in killing us humans.
Quite the opposite. They do their best to avoid us.
But if you startle a rattlesnake, it may feel it has no option but to strike. That is how people get bitten.
This danger is the reason most of us want to avoid these venomous snakes.
The first step to doing that is to know where rattlesnakes live.
Keep reading to learn everything you need to know. We will cover the type of terrain they like, where they like to hide, and which states are home to the most rattlers. We will also tell you which four states have no rattlesnakes.
Where Do Rattlesnakes Live?
Different species of rattlesnakes are found in different parts of the world. The 36 known species of rattlesnakes have over 50 subspecies, which can be found in forests, swamps, grasslands, bushes, and deserts.
Some rattlesnakes are even expert swimmers. The most common rattlesnake is the Timber Rattlesnake found in the eastern and southern United States.
Let's take a closer look at the type of terrain rattlesnakes call home, before looking at which US states have the most rattlesnakes.
Different Types Of Terrain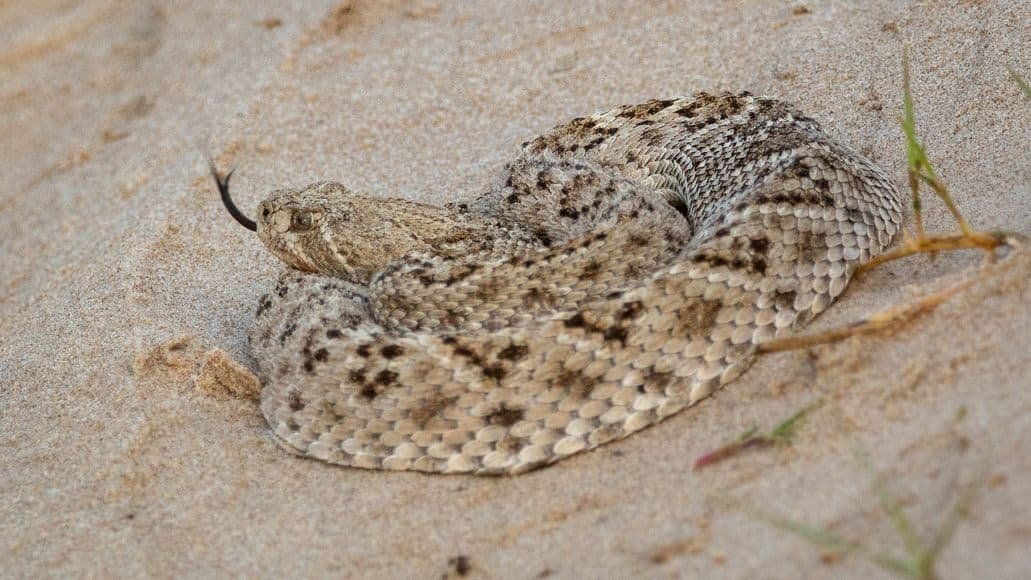 Rattlesnakes live in varied terrain, such as deserts, swamps, forests, and grasslands. Some species live along the coasts.
This means the feel at home in many of the United States. Here is a list of some of the most common species of rattlesnakes and the parts of the United States where they are found.
| Rattlesnake | States Where They Are Found |
| --- | --- |
| Timber Rattlesnake (Crotalus horridus) | Eastern Kansas, Iowa, Central Wisconsin, Georgia, Carolinas, Virginia, West Virginia, Pennsylvania, Northern Florida, New York, and New England |
| Eastern Diamondback Rattlesnake (Crotalus adamanteus) | Eastern Kansas, Iowa, Central Wisconsin, Georgia, Carolinas, Virginia, West Virginia, Pennsylvania, Northern Florida, New York, and New England |
| Western Diamondback Rattlesnake (Crotalus atrox) | Arkansas, California, New Mexico, Texas, and Oklahoma |
| Prairie Rattlesnake (Crotalus viridis) | Oregon, Idaho, Washington, Montana, North and South Dakotas, Colorado, Kansas, Arizona, Texas, and New Mexico |
Hiding Places
A small opening in a pile of rocks or a hole in a log makes a suitable den for rattlesnakes. In very warm areas, even a pile of leaves can keep rattlesnakes comfortable.
Rattlesnakes also hide in tall grass. Storage sheds and porches, piles of wood, tight crawl spaces, fallen branches and limbs, clothes piles, rusting toys, basements, under beds, in closets, etc. are some more of the favorite hiding places of rattlers.
Ideal Ambient Temperature
What matters most to a rattler is the ambient temperature. What temperature do these snakes come out at? The ideal temperature range for rattlers is between 70° and 90° F (21° and 32° C).
They require a dry and arid environment to keep them warm and comfortable. Rattlesnakes living in cooler areas are more active during the day. In peak summer, they become nocturnal, meaning the rattlesnakes come out at night primarily.
Where Are The Most Rattlesnakes In The US?
Now we will take a look at where the most rattlesnakes live in the United States. Most of these state also have a number of rattlesnake mimics, i.e. snakes that look like rattlesnakes. Is your state on this list?
Arizona
Arizona has the greatest number of snakes of different species in the US. Its amazing reptile diversity is comprised of over 50 snake species. There are 21 species of poisonous snakes in Arizona.
Arizona is home to 13 species of rattlers. If you compare the total number of rattlesnake species across the world–which is 36 known species–then this state is home to slightly more than one-third of them.
Here is a list of the 13 species of rattlesnakes found in Arizona:
Western diamondback rattlesnake
Mojave green rattlesnake
Black-tailed rattlesnake
Sidewinder rattlesnake
Tiger rattlesnake
Prairie rattlesnake
Northern Pacific rattlesnake
Speckled rattlesnake
Massasauga rattlesnake
Twin-spotted rattlesnake
Ridge-nosed rattlesnake
Arizona Black rattlesnake
Rock Rattlesnake
Texas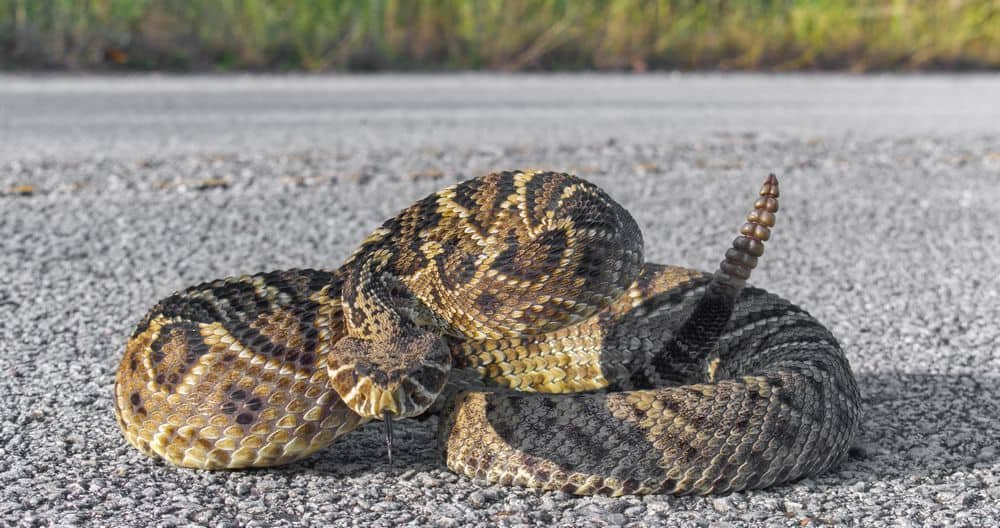 Texas wins in the category of 'the state with the most snake species' with nearly 68 species of snakes. Of these,10 are rattlesnakes and most are among Texas' most venomous snakes. They are:
Western Diamondback rattlesnake
Timber rattlesnake
Mottled Rock rattlesnake
Blacktail rattlesnake
Prairie rattlesnake
Mojave rattlesnake
Western Massasauga
Banded Rock rattlesnake
Desert Massasauga
Western Pygmy rattlesnake
California
California has 50 snake species of which 9 are rattlers. Rattlesnakes are the only poisonous snakes in California. The species found in the state are:
Mojave rattlesnake
Western Diamondback rattlesnake
Colorado Desert Sidewinder
Mojave Desert Sidewinder
Speckled rattlesnake
Great Basin rattlesnake
Southern Pacific rattlesnake
Panamint rattlesnake
Red Diamond rattlesnake
Alabama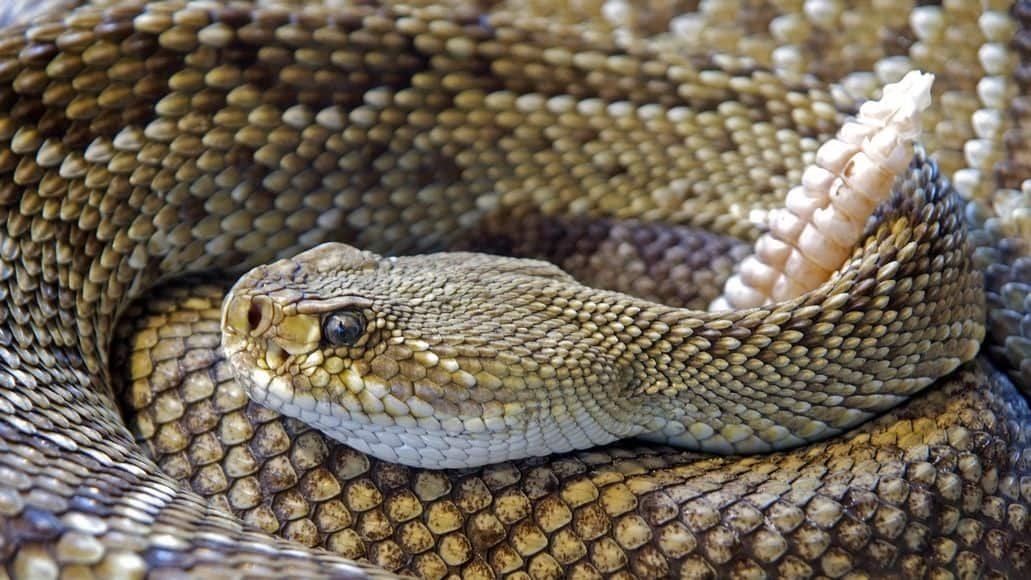 This state has a total of 43 species of snakes, including 6 venomous species. There are 3 distinct rattlesnake species in Alabama including the Eastern Diamondback rattlesnake, Timber rattlesnake, and Pigmy rattlesnake.
Florida
Florida is home to 44 snake species of which only 3 are rattlesnakes. In fact, there are only 6 poisonous snakes in Florida in total.
The Timber rattler is found throughout northern Florida and in limited parts of the panhandle. The other two species, Eastern Diamondback and Pigmy, are found throughout the state.
Where Do Rattlesnakes Bite People The Most?
An estimated 7000 to 8000 people are bitten annually by venomous snakes in the United States, with North Carolina having the highest bite rates. Thankfully, only 10 to 15 deaths per year are attributed to the country's snake bites.
Rattlesnake bites are most common in California. The CPCS (California Poison Control Society) reports registering nearly 300 bites a year from rattlesnakes, with additional bites being treated by physicians and hospitals.
Thankfully, most rattlesnake bites are not fatal. Only 1 out of 600 rattlesnake bites end in death. This is because almost 33% of all rattlesnake bites are dry bites, meaning that the snake does not inject any venom.
Also, nearly all people recover from rattlesnake bites after receiving prompt treatment.
Rattlesnakes usually bite their victims on the hands, feet, and ankles. Remember: rattlers are shy and do not go seeking trouble actively. They also prefer hiding over attacking.
Furthermore, most rattlesnake bites occur in people's own yards, when they unknowingly disturb a hiding snake under a pile of wood or some debris.
Note that most rattlesnakes measure around 3 to 4 feet and can only strike a distance of two-thirds of their total body length. This means that a 3-ft-long rattlesnake can only strike a distance of around 2 feet.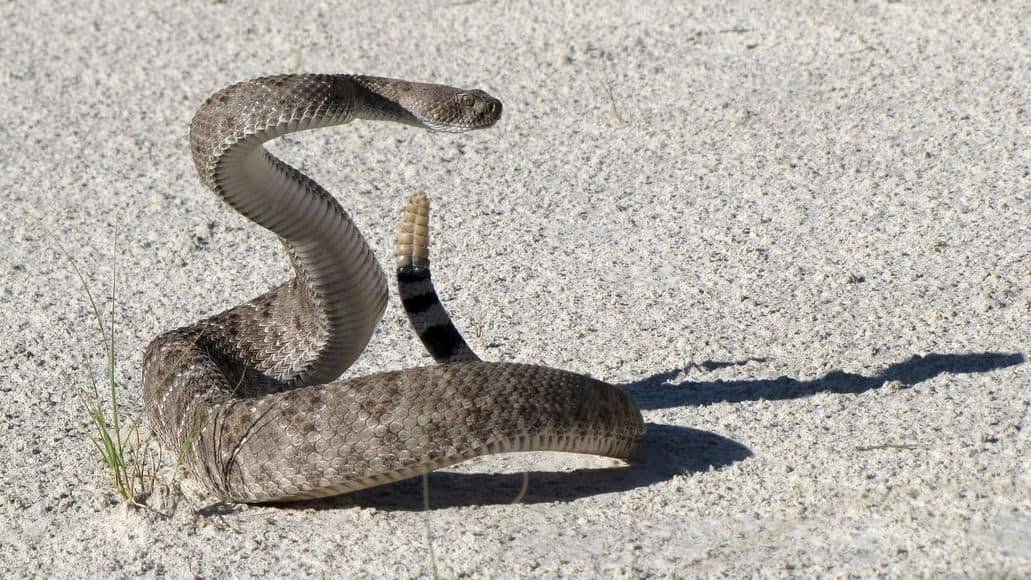 This means that you can prevent rattlesnake bites simply by moving back a few steps when you see one.
If you live in any of the states that have large rattlesnake populations, then it is best to protect your legs with long pants, knee-high boots, or snake gaiters when you go hiking in the bush.
And don't forget to keep your yard neatly mowed and the basement and shed clean and free from trash. If you still happen to spot a rattlesnake in your yard, do not attempt to catch it yourself. Please call the animal control helpline right away.
Where In The US Are There No Rattlesnakes?
There are four US states that do not have any rattlesnakes. These states are:
Alaska: Alaska is too cold for rattlers. It snows a lot there and the ground is frozen almost all year round.
Hawaii: Hawaii is remote from the mainland and one of the most isolated places in the US. The native people who settled there did not bring any snakes with them. Any land vertebrates that come to the island are either brought by humans or have come via sea. Importing snakes into Hawaii is illegal.
Rhode Island: This state does not have the proper environment to support venomous snakes like rattlesnakes and copperheads. The Timber rattlesnake was once found in this state but it disappeared nearly 50 years ago.
Maine: Due to habitat loss and large-scale human destruction, Maine has no venomous snakes left. Rattlesnakes were extirpated from the state way before the turn of the 20th century.
Where Are Rattlesnakes Found: Final Thoughts
Rattlesnakes inhabit almost every single US state. All but four, in fact. They live in most types of terrain, which means you can encounter on in the majority of the country.
That said, rattlers do not want us to encounter them. They do their best to stay away from us. But if you yard is inviting to them, a rattler could set up shop there. That increases the risk that you might startle it and it might strike at you as a result. This is exactly how the majority of bites happen.
To avoid this, you first need to know what types of rattlers live in your area. If there are species where you live, keep your yard neat and tidy. Snakes are attracted by places t hid and by rodent populations. If your yard offers neither, they will find elsewhere to hang out.