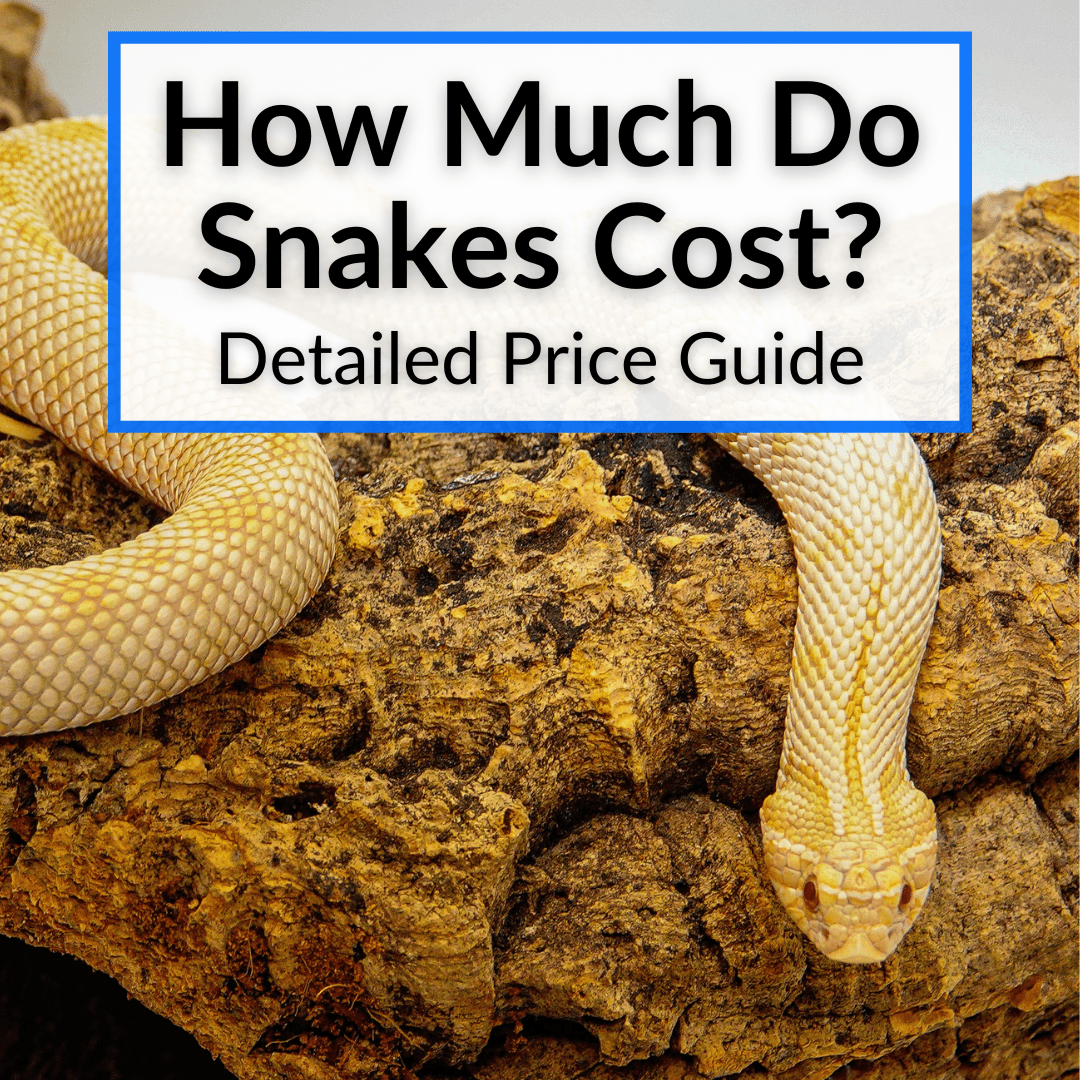 Are you considering a snake as a pet?
If so, congratulations! They can make wonderful pets.
But there is a lot to think about before you get one.
How much snakes cost is near the top of the list.
That does not just mean the initial cost of the animal.
You also need to consider the cost of the enclosure and other equipment you need, plus the ongoing cost of food, bedding, health care and more.
Keep reading to learn how much snakes cost on average. We will cover the cost of the animal, and the additional one-time and monthly costs of owning a pet snake.
How Much Do Snakes Cost?
Snakes cost between $50 and $1000. That is a huge range, because the price of snakes can vary greatly from species to species. It also varies depending on your location and the seller.
The national average cost of most varieties of pet snakes in the USA is $75. But again, there is a huge variance.
The purchase price of a snake depends upon where you buy it from, its species, and the morph. Small gopher snakes and ribbon snakes cost about $15 to $50, while larger, rarer varieties of snakes bred in captivity can cost between $100 and $1000.
Ball pythons (America's most popular pet snake variety) could cost between $50 and $5000. If a breeder has used special morphing techniques to get rare colors, then the price can go up even more.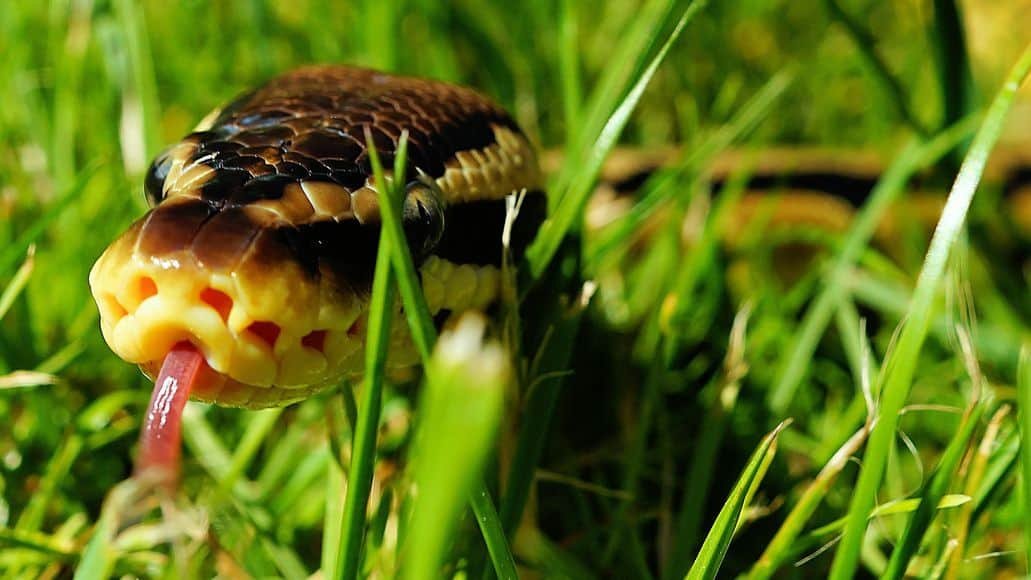 We will look at the prices you can expect when buying from various types of sellers, the average prices for common species and additional costs you will incur when you own a snake.
Cost Of Snakes From Different Types Of Vendors
First, we will look at the most common places people buy snakes and the types of prices they can expect when buying a ball python (to keep it consistent) from each. And we'll begin with the best price of all: free.
Free Snakes That Need Rehoming
You can always get lucky and find a snake for free from a friend or fellow snake enthusiasts. Sometimes, snake owners need to rehome snakes they can no longer care for. These people may even give you the enclosure and other equipment needed to care for the snake.
Your local animal shelter might also have some rescued snakes that need a responsible owner, although this is usually rare. You could approach the ASPCA or other animal rescues like Reptile Rescue Adopt Centers to see if they have snakes available for adoption.
A word of caution here: it is usually a lot easier to handle snakes bred in captivity than those that are caught in the wild. So make sure you find out the snake's history before you adopt one.
Breeders
There are several breeders of ball pythons in the USA. You can contact them or visit their websites to determine the price of their snakes for sale.
The best part about buying snakes from these top breeders is that they provide health guarantees for their animals. They are also genuinely interested in the snake's welfare and breed for passion and not for profit.
Most breeders charge between $79 and $2,399 for their ball pythons. The price could go higher if they have to ship the snake over to you. For this price, you also get input from on-site biologists who can provide you with the details regarding feeding and care of the snake.
Pet Shops
Pet shop retailers like PetCo and PetSmart also have snakes for sale. We found the average cost of ball pythons to be around $79 in these reliable pet shops.
Their snakes come with a vet assurance, meaning they are screened for common zoonotic diseases and illnesses. Other snake varieties like gophers, garters, etc. cost between $20 and $50.
How Much Do Pet Snakes Cost By Species?
Snake prices in the USA vary from species to species. The following table shows the national average price range for some of the most popular snake varieties in the country.
| Snake Species | Price |
| --- | --- |
| Ball Python | $50 - $5000 |
| Boa Constrictor | $50 - $500 |
| Corn Snake | $40 - $1000 |
| Garter Snake | $25 - $500 |
| Desert Rosy Boa | $75 - $100 |
| Western Hognose Snake | $200 - $700 |
| California Kingsnake | $50 - $200 |
| Milk Snake | $100 - $500 |
| Gopher Snake | $100 - $300 |
| Black Rat Snake | $50 - $200 |
| Burmese Python | $400 - $1600 |
| Ribbon Snake | $15 - $75 |
What Is The Cheapest Snake to Buy?
Ribbon and garter snakes are some of the cheapest snakes available in American pet shops and at breeders. Some of these snakes start from $15.
Ribbon snakes are small in size. They measure around 16 to 28 inches (41 to 71 cm) in length. They don't cost much to buy and feed. Garter snakes average $24.99 across many pet shops.
How Much Does A Snake Cost To Keep?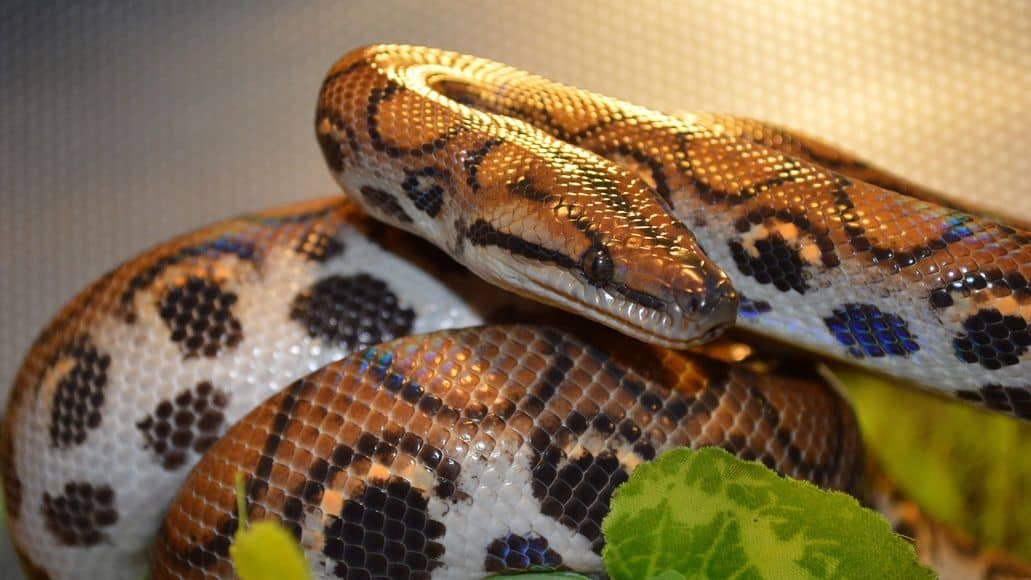 People often buy a pet snake after only considering the reptile's purchase price. Usually, they fail to estimate the cost of animal husbandry, which includes feeding the snake, veterinary care, as well as the cost of the enclosure and setup.
Many do not realize that the cost of keeping a snake could run into hundreds, even thousands, of dollars per year, depending on the snake species.
While keeping a pet snake is a lot cheaper than keeping a dog or cat, it still takes quite a bit of money to own a snake. Here are some cost estimates per month along with some one-time costs.
One-Time Costs Of Keeping Snakes
There are certain items your pet snake will need. The equipment for snakes will vary based on the species of snake you own. Here are some cost estimates:
Escape-proof enclosure: $30 to $100
Heat pads: $15
Under tank heaters with thermostat: $30
Basking bulbs with thermostats: $25
Temperature gun: $20 to $70
Coconut reptile bedding: $15 to $20
Terrarium accessories: $15 to $50.
Water and food bowls: $5 to $15
While most of these are one-time costs, you may need to replace certain items from time to time. Expect to pay between $150 and $400 in one-time expense for the basic setup and a monthly cost between $15 and $45 for maintaining your snake's enclosure.
Cost Of Feeding A Pet Snake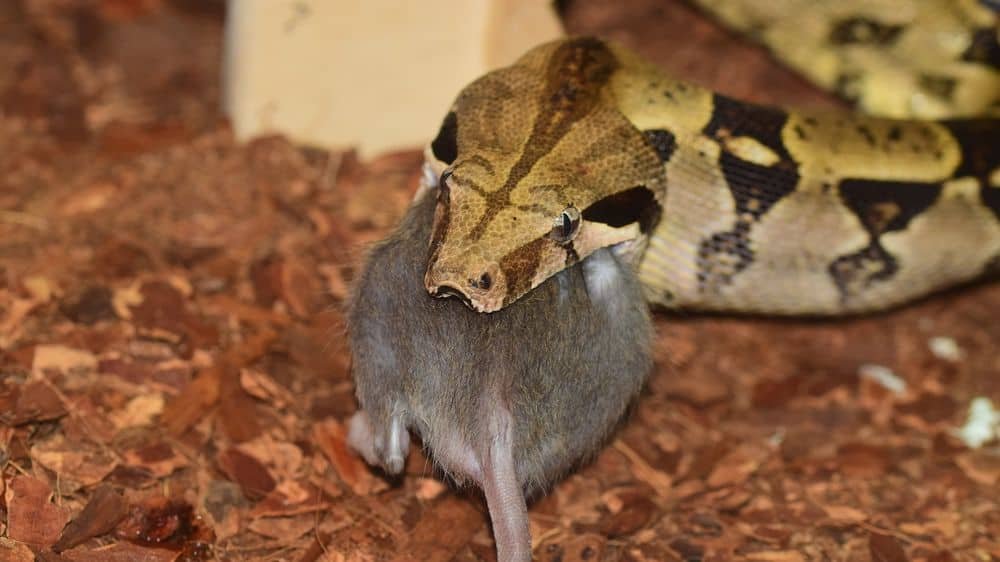 Depending on the type and size of food you feed, you could spend between $1 and $3 per feeding. The annual cost of feeding an average-sized python is about $100.
Veterinary Costs
On average, exotic vets or vets specializing in reptile care charge between $50 and $100 per visit. Deworming your snake and a routine fecal checkup can cost between $50 and $100. If your snake needs surgery, then the cost can run into thousands of dollars.
Total Cost Of Keeping A Snake
Adding all the costs above means that you could expect to spend between $20 and $50 per month on feeding your snake and maintaining its enclosure.
The annual price range of keeping snake species like ball pythons is between $435 and $1000. If your snake needs unexpected or emergency veterinary care, then its cost can be over $2000.
Are Pet Snakes Worth The Expense?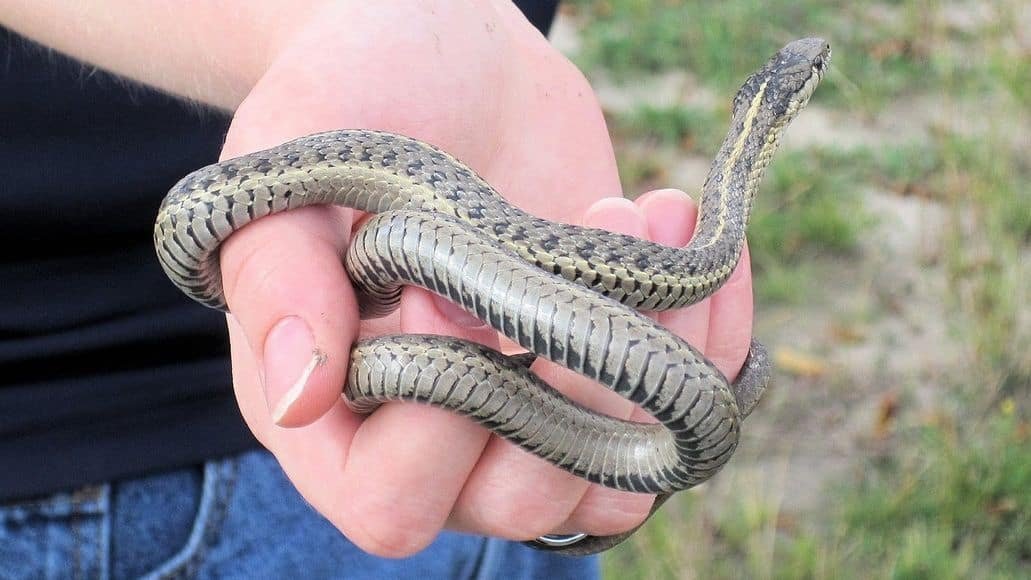 Most species of snakes make excellent pets. They even provide stress relief to their owners.
Pet snakes don't need walks or daily grooming like most dogs and cats. They are also a lot cheaper to feed than many dog and cat breeds. Snakes live a lot longer than most pet animals. The average lifespan of a ball python is 25 years, while that of a kingsnake is 12 years.
However, snakes do need specialized veterinary care, which can be expensive. They also do not perform tricks or respond to your commands as dogs and cats do. Snakes do not form bonds of love and affection with their humans. Many snake varieties do not like being handled.
If you don't mind these things, then keeping a pet snake is well worth the expense involved.
What Is The Most Expensive Animal To Buy?
Thoroughbred racehorses are one of the most expensive animals to buy. Recently, a thoroughbred was purchased for $11 million! A variety of thoroughbred called Fusaichi Pegasus has even been bought for $70 million!
Apart from thoroughbreds, certain dog breeds are also expensive to purchase. A Tibetan Mastiff was sold for $1.5 million. Other animals like white-colored lion cubs, cockatoos, and macaws have sold for more than $10,000 to $50,000.
Price Of A Snake: Final Thoughts
As you can see, the average price of a snake varies a great deal. You can get common species of snakes for under $100. But if you want a snake that is more exotic, or an exotic morph of a common snake, you can pay well upwards of $1000.
Then you need to factor in the cost of the enclosure and all of the other initial equipment your snake needs. Finally, there are the ongoing costs you can expect.
Add it all up, and you are looking at a considerable amount of money. Sure, most snakes cost less to buy and care for than many other common pets like dogs or cats, but they still cost a good amount of money. You need to be aware of this, before you decide to get a pet snake.