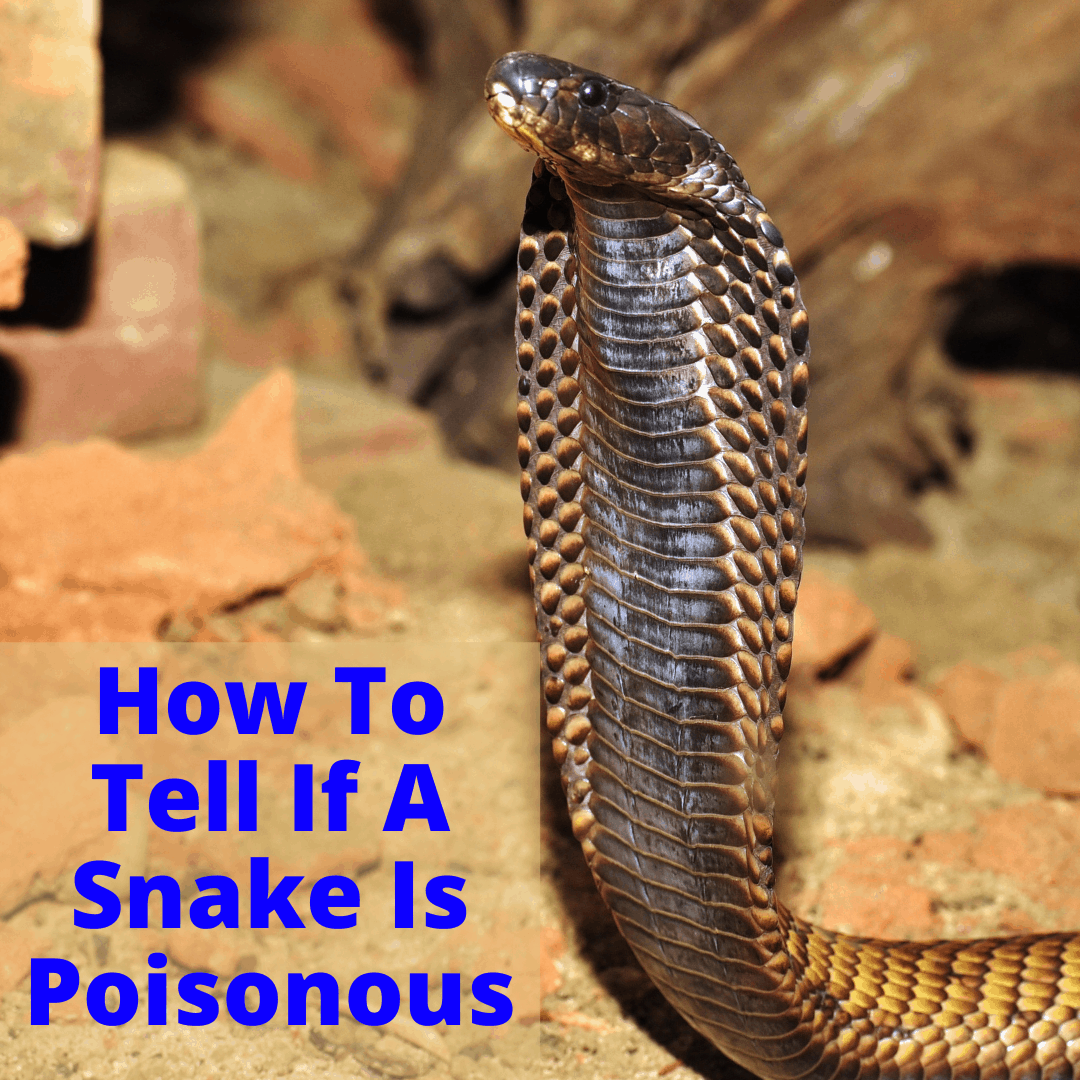 It's your worst nightmare.
You're walking along a trail and suddenly you see a snake directly in front of you.
Or worse, you feel a snake bite, before you ever even see the snake.
Knowing how to tell if a snake is poisonous could save your life in this scenario.
But I've got some bad news for you.
There is no single characteristic that every venomous snake has in common. There are a few that many of them share. But there are plenty of exceptions.
It is always best if you can identify each species that is native to the area where you are.
But if you can't, we'll give you a few things to look for that will help you make a more accurate guess. We'll also cover some other important information you need to know regarding venomous snake bites.
How To Tell If A Snake Is Venomous
When you encounter a snake, there are some telltale signs in its appearance that it's venomous.
A common one is tail rattling. Rattlesnakes do this and they are venomous. But there are non-venomous snakes that move their tail in a similar way, to imitate a rattler and scare off predators.
Here are some more physical characteristics that indicate a snake is venomous.
Elliptical Pupils
Poisonous snakes often have slit-like eyes that are similar to those of a cat, instead of round pupils that are more common in non-venomous snakes. However, there are exceptions. And you probably shouldn't get close to the snake and stare into its eyes to see see its pupils!
Triangular-Shaped Heads
Many poisonous snake species have a wide, triangular head. You might not see any difference between their head and the head of a non-venomous snake at first glance, but take a look at the snake's jaw.
They have a wide, bulbous head with a really thin neck. This is due to the sacks of venom that are located beneath its jaw.
But this identification method isn't foolproof either. Not only do many venomous snakes have heads that are not triangular, but some non-venomous snakes will actually flatten their heads to appear venomous to predators.
Bold And Bright Colors
If you see a snake with a bright color and patterns on it, this is often a sign that it's venomous. Generally, snakes that have solid colors are not poisonous.
But not always. There are many exceptions, like the colorful but non-venomous corn snakes or non-venomous milk snakes. On the other side, you have the highly venomous black mamba that has no bright colors or patterns, but is one of the world's most deadly snakes.
Another thing to remember is that darker-colored snakes might not have any bright colors, but they can still have patterns, which also indicate venom. The cottonmouth snake is a good example.
As you can see, there are characteristics that suggest a snake might be venomous, but you can't always be completely sure. Stay away from any snakes that you're not 100% sure of!
Four Types Of Venomous Snakes In The U.S.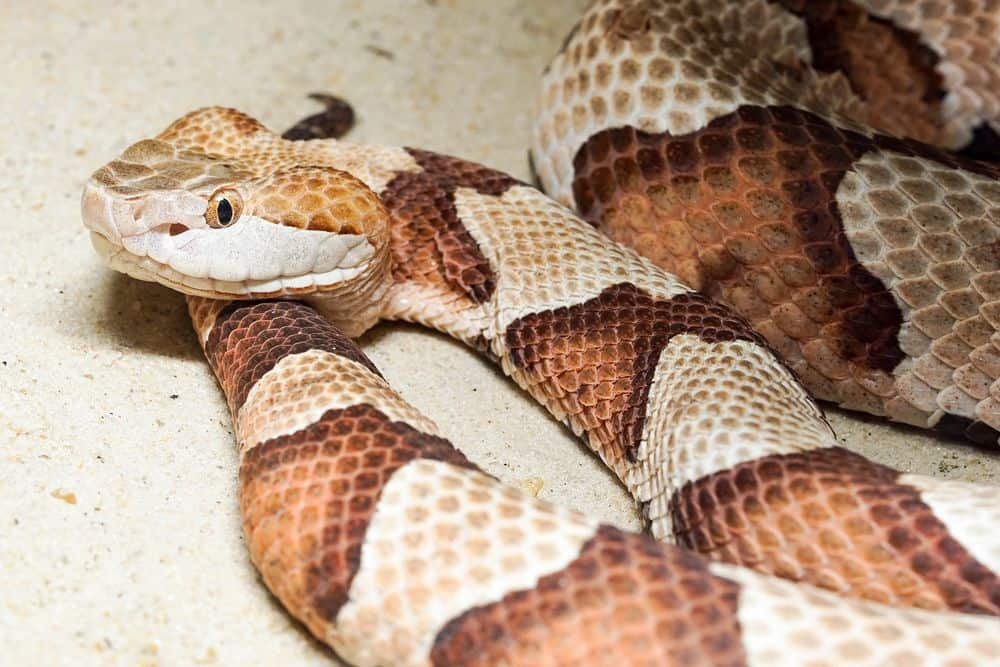 There are four main types of poisonous snakes you can encounter in the U.S and they inhabit every state except for Maine, Alaska and Hawaii. Let's take a look at each one of them.
Rattlesnakes
Rattlesnakes are found all over the country, and there are many species of this snake. They sometimes use their rattles to warn that they are about to strike, but they don't always do this.
You can find these snakes in a variety of environments, like prairies, deserts, beaches, and mountains. For example, Wisconsin has 2 species of poisonous snake and both are rattlers.
Rattlesnakes have triangular heads and scaly bodies. They can have a variety of patterns on their skin.
Some of the most common patterns are spotted, banded, and diamond patterns. Some of the most common colors you'll find on rattlesnakes include brown, olive, yellow, gray, and black.
Rattlesnakes are ovoviviparous, meaning the babies hatch from their eggs while still inside the mother and then emerge alive. Do rattlesnakes nurse their young after they are born? No, only mammals do this, and snakes are reptiles.
Copperheads
These snakes have a red or golden tan color, with colorful bands on their bodies that are usually in the shape of hourglasses.
The best way to identify them is by the facial pit that's located between their eyes and nostril. You can identify baby copperheads by their unique tail.
Do copperheads have rattles on their tails? No, but they do shake their tails to warn predators like a rattlesnake. They imitate rattlesnakes to take advantage of their ferocious reputation, hoping it will scare away any potential threat.
While they are not known for being aggressive snakes and the copperhead bite is rarely fatal, they will strike if they feel threatened and may inject venom. Accidentally stepping on one of these snakes by accident can cause it to bite, so wear boots if in their territory.
You can find copperhead snakes in rivers, forests, rocky areas, and swamps, and they're common in the eastern states of the country, as far west as Louisiana and Texas.
Cottonmouths/Water Moccasins
These snakes live in or near bodies of water, like rivers and lakes. They usually have dark brown, tan, or black skin with black or dark brown crossbands.
Younger water moccasins have brown or orange crossbands with a yellow tail. You're likely to find cottonmouths in the southeastern states of the U.S. They are a common snake in Mississippi, Louisiana, Alabama, and other surrounding states.
Coral Snakes
These snakes are sometimes confused with the non-venomous scarlet king snakes because of their very similar patterns.
But there's an easy way to tell them apart. On a coral snake the red and yellow bands make contact whereas on the king snake the red and black bands do.
In addition to the kingsnake, there are several other species that look like the coral snake. All are non-venomous. you can see a full list of coral snake look-alikes here.
You'll find poisonous coral snakes in marshy, sandy, or wooded areas of the Southern U.S.
What To Do If You're Bitten By A Snake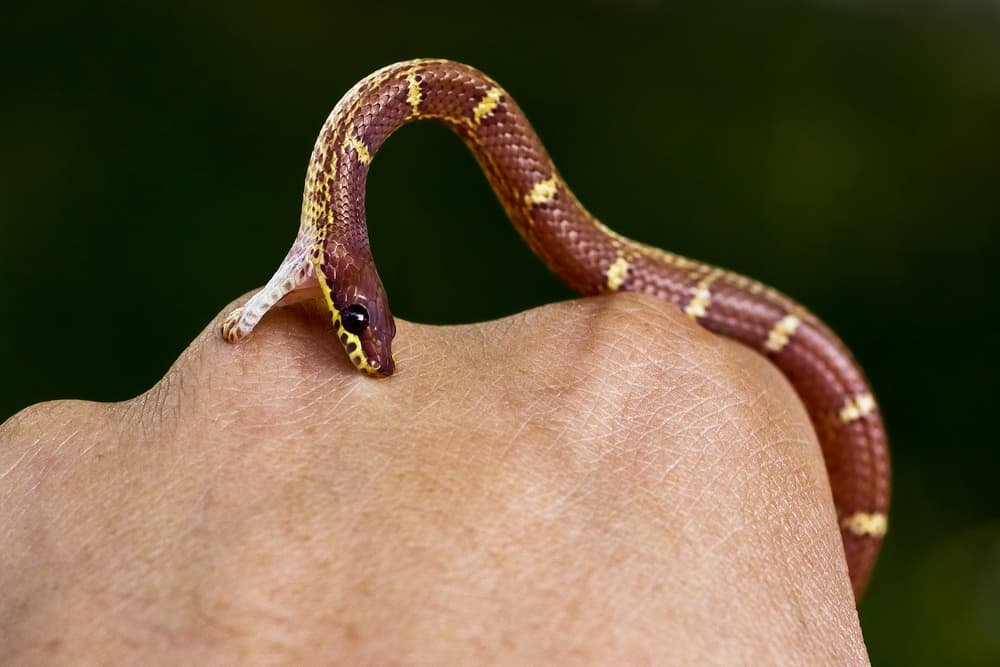 Getting bitten by a snake is obviously a very stressful experience, especially if you know the snake is poisonous. Even if you don't know, you have to assume it is, unless you know with absolute certainty it is not.
Here's what you should do to save yourself and prevent the venom from traveling further into your body.
Try To Remain Calm
It's difficult to do so in such a stressful situation, but you must try to stay calm. Panicking will only circulate the venom faster through your body. It helps if you have someone with you who can help you to remain as calm as possible.
Get Away From The Snake
You don't want it to bite you again. Calmly get away from the snake. When you're in a safe place, call an ambulance.
Never Try To Catch The Snake
It really should go without saying, but in the heat of the moment you might think that you should catch the snake or kill it. Both can be dangerous and result in you being bitten again, increasing the amount of venom in your blood.
Stay Still
When a snake's venom enters your body, it doesn't get into the bloodstream right away. First it has to move through the lymphatic system. Your lymph fluid moves through your body when you move your limbs. Staying as still as possible can prevent the venom from getting further into your body.
Remove Any Tight Clothing Or Jewelry
Many types of venom cause the bitten limb to swell up considerably. Tight jewelry or clothing on a severely swollen appendage is obviously a big problem.
Never Try To Remove The Venom
Let's dispel this myth once and for all: you can't suck out the snake's poison. You simply can't suck deeply enough to reach it. You should also avoid cutting deeply into the skin to remove the venom because this just results in a worse injury.
Don't Wash Out The Wound
The first thing you might want to do when you've been bitten by a snake is wash out the wound. This is a bad idea for a surprising reason.
The area around the snake bit will contain some venom. Doctors can use this to identify the type of venom that is affecting you, so that they can treat you with the correct antivenom.
No Alcohol Or Caffeine
If there were ever a time you deserve a drink it's after being bitten by a snake. But resist the urge to drink any alcohol or caffeinated beverages. Both alcohol and caffeine can increase your heart rate, which causes the venom to get absorbed in your body faster.
Apply Pressure
If you've been bitten on your arms, hands, legs, or feet (which are common snake bite sites), you should apply a pressure immobilization bandage to prevent the venom from traveling further into your body.
Make sure you use an elasticized roller bandage that's about 10 cm in width and roll it over the bite site. Then, put a second elasticized bandage over it, making sure it's as tight as possible.
If you don't have a bandage in your backpack, use a stretchy material, like a t-shirt.
Related Questions
Do snake bites hurt?
You can expect snake bites to hurt and even swell around the bite site. When you're bitten by a venomous snake, the bite can also cause other symptoms.
These include headaches, numbness, or even convulsions. Some people can also experience symptoms of shock and anxiety from having been bitten by a snake.
Others can experience allergic reactions to snake venom. These can end up being as serious as anaphylaxis, which is a life-threatening medical emergency.
Whether you think the snake bite is venomous or not, you should always get medical help immediately.
How many people get bitten by venomous snakes every year?
Between 7,000 and 8,000 people are bitten by venomous snakes in the U.S. every year. Worldwide, the WHO estimates 81,000 to 138,000 venomous snake bites per year, but this number is likely much higher, considering the answer to the next question below.
How many people die from poisonous snake bites every year?
Approximately five people out of the 7,000 to 8,000 who are bitten in the US don't survive. This number is so low, because most people manage to get timely medical attention. Worldwide, the number of death attributed to snakebites annually is thought to be at least 80,000.
How To Tell If A Snake Is Poisonous: Conclusion
Being able to identify a venomous snake just from looking at it is a valuable skill, but unfortunately, there is no one characteristic that defines venomous snakes in general.
Unless you can identify specific species, you can't just say that poisonous snakes are all colorful or that they all have triangular heads. Many are and do, but just as many are not and do not.
If you encounter a snake, your best bet is always to give it a wide berth. If one bites you, assume it is venomous and act accordingly. Get medical attention as quickly as possible.