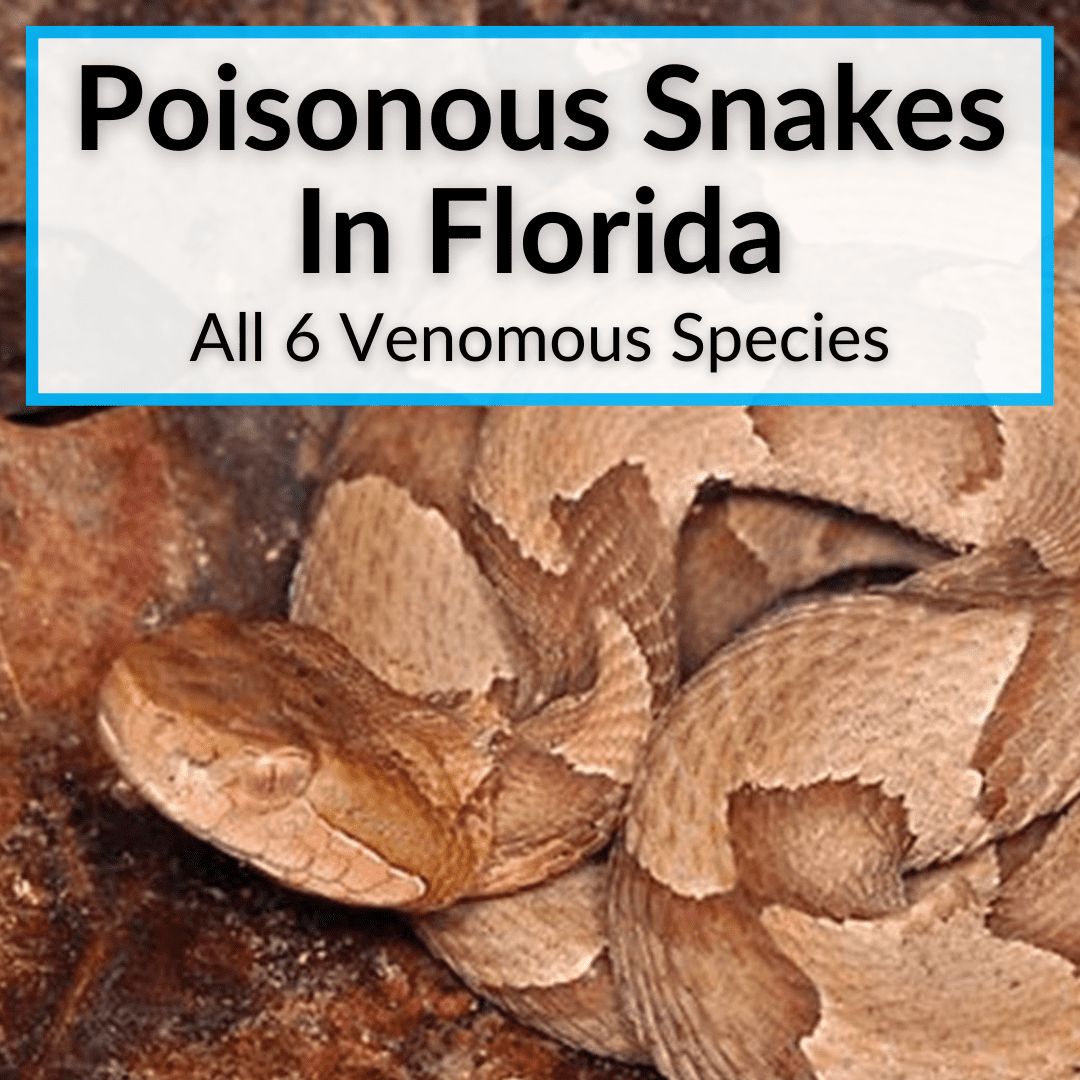 Florida has 44 species of snakes.
But there are only 6 venomous snakes in Florida.
Yes, venomous. Not poisonous.
So why do we use the word "poisonous" in the title (and occasionally in the article)?
Because far more people search for that. Then once they are here, we like to take the opportunity explain that venomous is the correct word.
If you already knew that, sorry to make you read that. It's the last you will hear of it.
Keep reading for detailed information on all 6 poisonous snakes in Florida. If you encounter any of them, keep your distance. The good news is that they all prefer to do the same.
Poisonous Snakes In Florida
The following 6 snake species are the only venomous snakes in Florida. As mentioned, the state has 44 snake species in total, but not all that many venomous ones.
Harlequin Coral Snake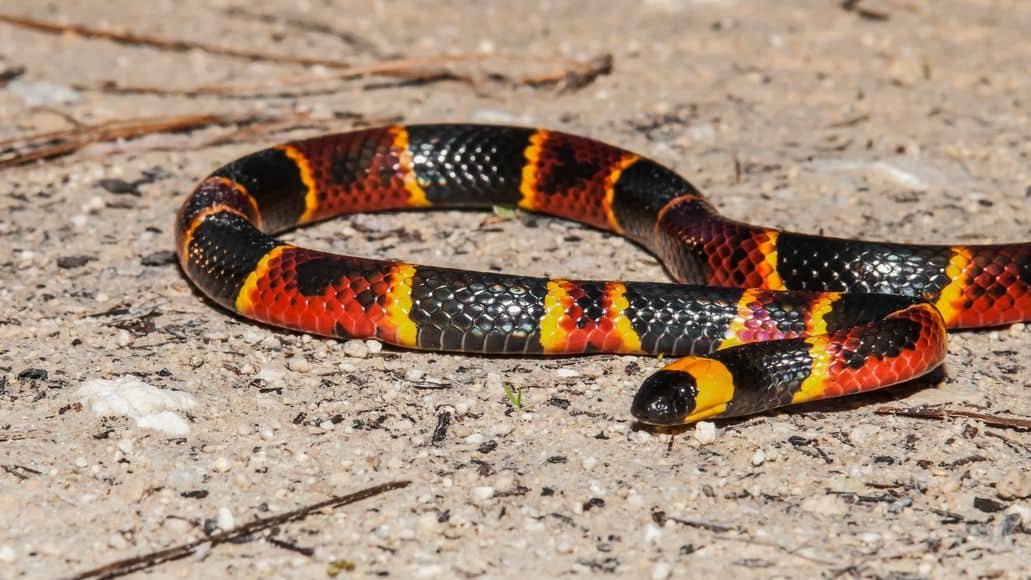 Also known as the Eastern Coral Snake, the harlequin coral snake is a venomous species of snake found in various parts of the Southeastern USA, including Florida.
Description
Harlequins measure about 1 meter or 3.3 feet. Females are usually larger than males. These beautiful snakes have red, yellow, and black bands encircling their bodies. The red bands are wider than the yellow bands. The narrow black bands separate the red and yellow bands.
They are similar in appearance, to non-venomous species like the scarlet kingsnake and the Florida kingsnake.
Habitat And Habits
The harlequin coral snake prefers habitats near bodies of water, such as swamps, marshy areas, and wetlands. In Florida, they are found in almost every county, but are mainly concentrated in the Everglades, Big Cypress National Preserve, and the Lake Okeechobee areas.
They are generally secretive and docile snakes that spend most of their time underground. They are usually more active in spring and fall.
Diet
The Eastern coral snake eats other smaller snakes like pygmy rattlesnakes, copperheads, garter snakes, and more. They also eat birds, frogs, and lizards.
Venom
The harlequin coral snake's venom is highly toxic to humans and can cause respiratory failure, paralysis, and death. However, bites from Harlequins are rare, since they are typically shy and docile snakes and choose to avoid confrontation.
Eastern Copperhead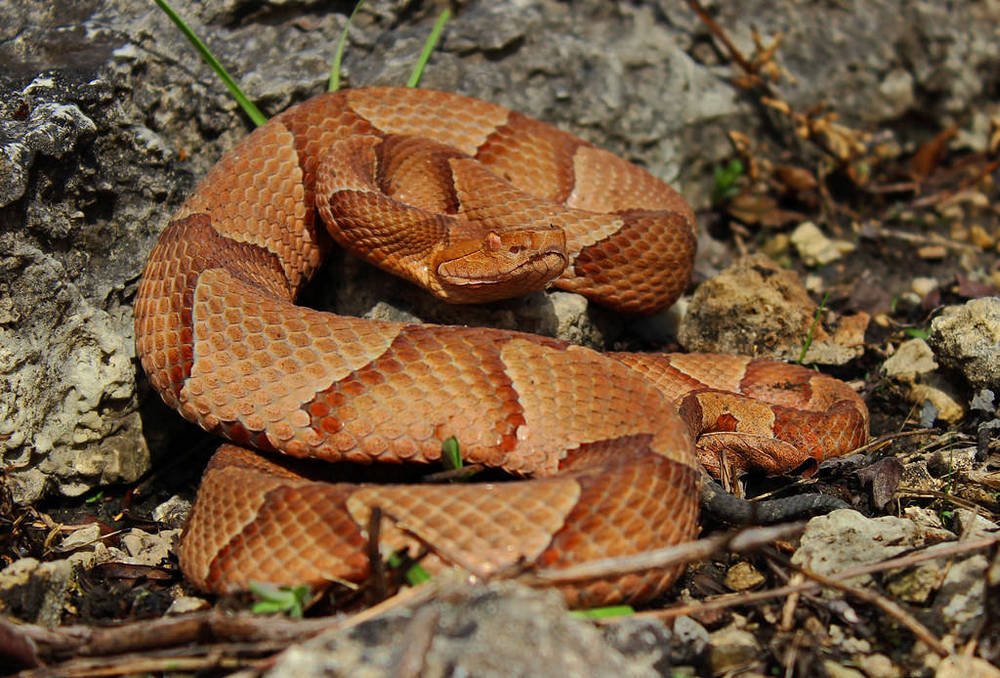 The Eastern Copperhead is another highly venomous snake found in many states in the Southeastern United States, including Florida. They are known by different local names like the highland moccasin, pilot, and chunk head. Its scientific name is Agkistrodon Contortrix.
Description
The Agkistrodon contortrix grows to over 3 feet 3″, 1 meter, in length. They have distinctive dark or chestnut-brown crossband patterns surrounded by lighter-colored scales. Since the head is wider than the neck, people also call it the "chunk-head".
Habitat And Habits
Eastern copperheads are typically found in wetlands, forests, rocky areas, near streams, etc. They are active during the night and day.
In Florida, Eastern copperheads are found in the northwestern parts of the state, including the western panhandle. They are nocturnal during the hot summer and active throughout the day in spring and fall.
Diet
Eastern copperheads use their venom to immobilize their prey before eating it. They mainly eat small rodents, lizards, birds, and other snakes.
Venom
The Eastern copperhead is moderately toxic to humans and pets. Symptoms of eastern copperhead bites include pain, swelling, and discoloration in the bitten area, as well as dizziness and nausea. In rare cases, victims could suffer from tissue damage or organ failure.
Florida Cottonmouth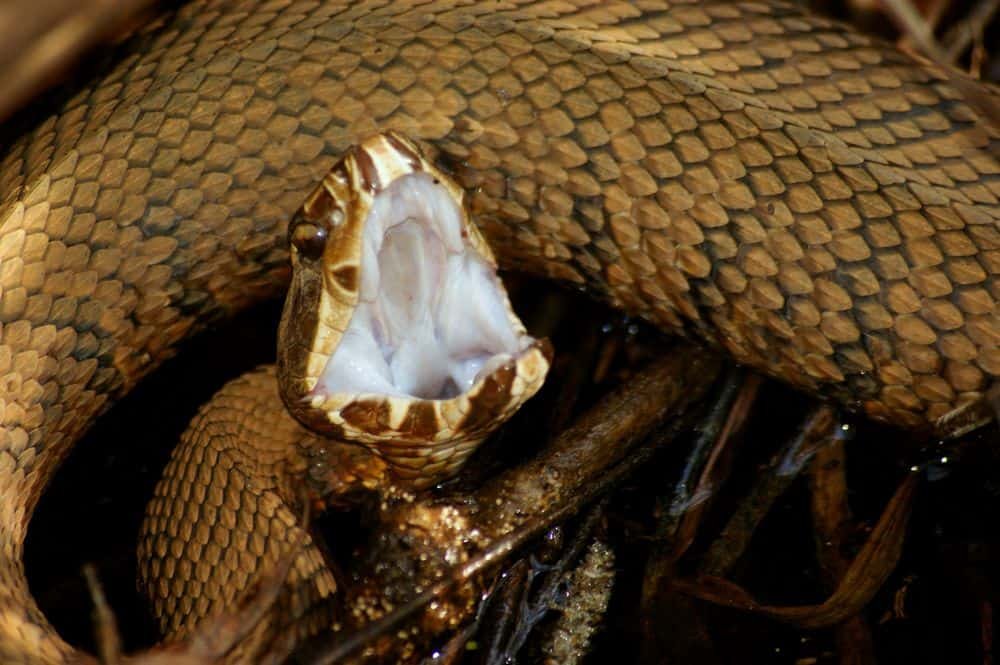 The Florida Cottonmouth is also known as the Water Moccasin. It gets its name from the inside of its mouth, which is completely white and resembles cotton.
Description
Florida cottonmouths measure between 3 and 4 feet (or about 0.9 to 1.2 meters). They are usually dark brown or black, with lighter bellies Younger cottonmouths have a light-colored band around their necks.
Habitat
Florida cottonmouths are semi-aquatic snakes. They are mainly found near bodies of water, swamps, marshes, and wetlands. They prefer to come out in warm weather. Florida cottonmouths are found in every county in the state, including the Upper Florida Keys.
Diet
These snakes eat fish, frogs, lizards, small birds, and other smaller snakes.
Venom
If you encounter a Florida cottonmouth, it is important not to disturb it and allow it to pass. Their bites are extremely venomous and result in pain, swelling, respiratory difficulties, and even tissue damage.
Thankfully, Florida cottonmouth bites are quite rare as they only bite if provoked. And death from a cottonmouth bite is even rarer.
Pygmy Rattlesnake
Pygmy rattlesnakes are known by various names like the dusky pygmy rattlesnake, ground rattlesnakes, leaf rattlers, and death rattlers.
Description
Pygmy rattlers are small snakes measuring between 2 and 3 feet (or 0.6 to 0.9 meters). You can identify pygmy rattlesnakes thanks to the dark line running from the snake's eyes to its mouth and also a dark stripe running through its eyes.
Their overall coloring is tan, gray, or brown with light-colored blotches. These blotches are square or diamond shaped and have a black border.
Habitat And Habits
Pygmy rattlers are found in wetlands, grasslands, and pine forests. In Florida, they are mainly found in the southern parts of the state. They are also seen in Georgia, Texas, Alabama, etc. Pygmy rattlesnakes are active during the day, especially in the cooler months.
Diet
They mainly eat small rodents, frogs, and lizards.
Venom
Pygmy snakes are not aggressive and usually avoid confrontation with humans. Although they are venomous, their venom is not life-threatening. However, a Pygmy rattler's bite can cause pain and swelling.
Timber Rattlesnake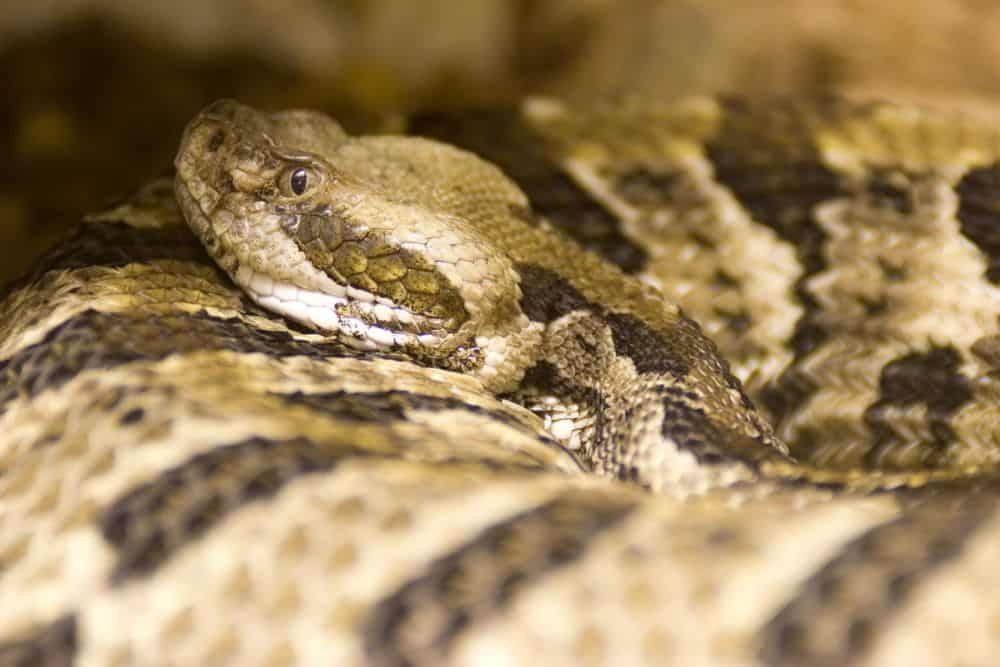 Timber Rattlesnakes are also known as American vipers, Eastern rattlesnakes, and canebrake.
Description
The timber rattler is one of the largest snakes in the United States. Adults reach a size of 4 to 5 feet (or over 1.4 meters). They weigh around 10 pounds. Timber rattlesnakes are light-colored with dark, chevron-shaped bands. They have triangular heads with flat bodies.
Habitat And Habits
In Florida, Timber rattlers are found in the Apalachicola National Forest, as well as the panhandle region. They prefer living in rocky outcrops, deciduous forests, and swamps. Like all snakes, timber rattlers need to bask in the sun to regulate their body temperature. They are also capable of climbing trees.
Diet
Timber rattlesnakes eat squirrels, small birds, rodents, lizards, and frogs.
Venom
Timber rattlesnake bites rarely result in fatalities. However, victims must still seek prompt medical attention,because the bites are extremely painful. They could also cause breathing difficulties, tissue damage, and nausea.
Eastern Diamondback Rattlesnake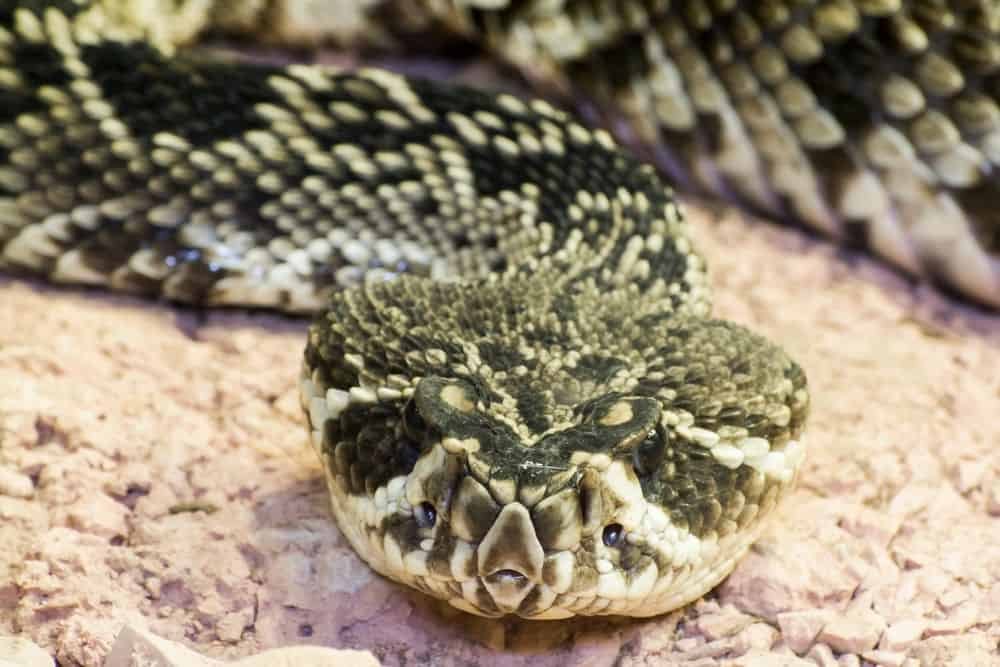 Eastern diamond-backed rattlers are also known as patch rattlers or diamond rattlers, Florida diamondback rattlers, and lozenge-spotted rattlesnakes.
Description
Florida diamondback rattlers measure up to 3.5 to 5.5 feet (or 0.8 to 1.8 meters). They are the largest and heaviest venomous snakes in the USA. They have brownish bodies, with diamond patterns having brown centers and cream borders down their backs.
Habitat And Habits
In Florida, eastern diamondback rattlesnakes are found in every county including the Florida Keys, the Gulf of Mexico, and Franklin Counties. They prefer sandy scrubs and coastal plains.
Eastern Diamondbacks are mostly active before 10 in the morning. They are proficient swimmers. They are also temperature sensitive and usually move when it is between 67 and 78 degrees Fahrenheit.
Diet
Eastern Diamondbacks mainly feed on rats, mice, rabbits, squirrels, and birds. As one of the largest snakes, these rattlers are capable of eating a young turkey!
Venom
Symptoms of diamondback envenomation include sweating, pain, nausea, numbness, paralysis, kidney failure, and death. Death can occur within a few hours. In people allergic to snake venom, anaphylaxis shock can kill within minutes.
Bite victims need prompt medical care which could include surgery, dozens of vials of antivenom, and, in some cases, weeks of hospitalization.
Venomous Snakes In Florida: Final Thoughts
The most dangerous poisonous snake in Florida is the Eastern Diamondback. It is one of the most venomous snakes in the entire United States. It is also the largest venomous snake species in the US.
But even that snake does its best to avoid us. It will warn us with its rattle, letting us know to stay away. You should do just that. In fact, that is what you should do with all 6 species listed here. And they are only too happy to stay out of our way, too.