One of these snakes is a great pet for beginners.
The other is not.
When comparing the blood python vs ball python, we see many similarities.
But also some key differences.
And a big one is the temperament. It is what makes one of these pythons much better for first-time snake owners than the other.
Keep reading for a detailed comparison of the ball python and the blood python that will make clear which one is the easier pet, plus everything else you need to know about these two popular snake species.
Blood Python Vs Ball Python
We will begin our comparison of the ball python vs blood python by looking at each species individually, before comparing them directly and helping you figure out which one would make the better pet for you.
The Blood Python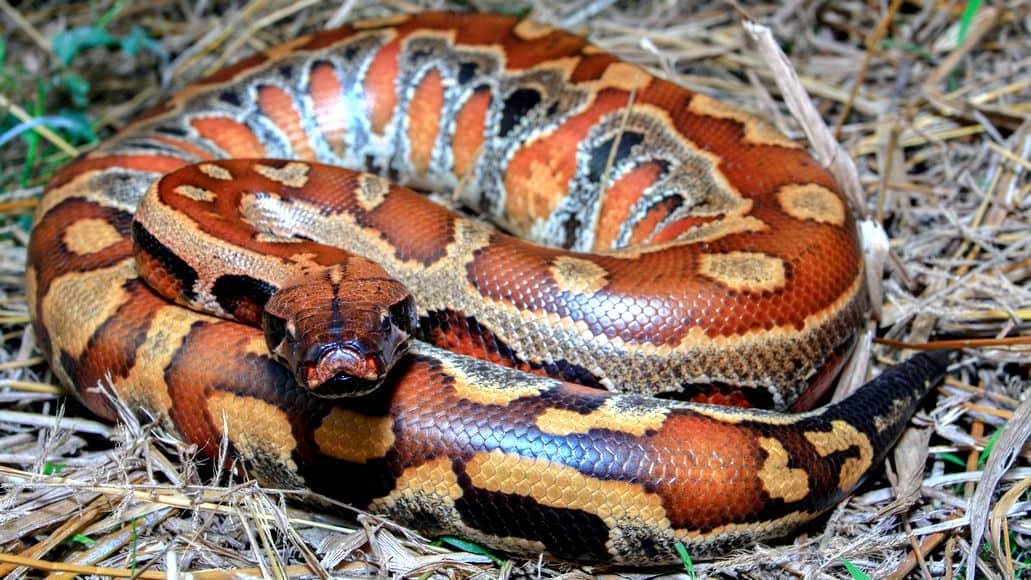 Blood pythons, also known as red short-tailed pythons, are non-venomous snakes found in Southeast Asia. They belong to the same family of pythons as ball pythons: Pythonidae.
Description
Blood pythons are stocky snakes that reach a height of about 6 feet, or 1.8 meters. They are reddish brown. They have unusually thick bodies.
Habitat
Blood pythons live in swamps, paddy fields, and rainforests in Southeast Asia. They are found in countries like Thailand, Malaysia, and Indonesia.
Habits
Blood pythons are nocturnal snakes. They are also ambush predators. Like anacondas, they lay submerged in the swampy water awaiting unsuspecting mammals and reptiles to come by.
Diet
They mainly feed on rats, rodents, mice, small birds, and other reptiles found in their habitats.
Good As Pets?
Blood pythons make good pets for experienced snake owners. However, they need specialized handling and care. They are also quite aggressive.
The Ball Python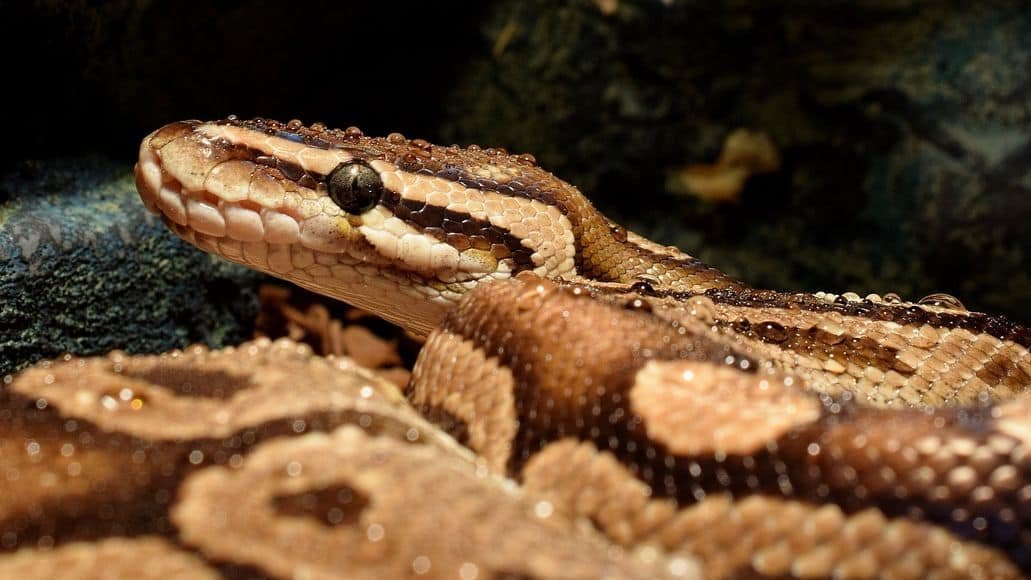 Ball pythons also belong to the Pythonidae family. They are also non-venomous constrictor snakes.
Description
Ball pythons are thick snakes with small, narrow triangular heads. They grow up to 6 feet, or 1.8 meters, long. Ball pythons come in black, dark brown, or albino coloring and have white or light-colored bellies. They may have patterns on their bodies. These stocky snakes have smooth scales.
Habitat
Ball pythons live in the savannas and tropical forests of Africa.
Habits
Ball pythons are largely nocturnal. They usually stay on the ground and slither through the grass. They use their belly scales called scutes to slither forward. Unlike some snake species which slither back and forth, ball pythons slither straight ahead like caterpillars.
Diet
Ball pythons mainly eat rodents, small birds, amphibians, fish, and shrews in the wild.
Good As Pets?
Ball pythons are one of the most popular pet snakes. They are docile and easy to care for, and do not have any complex housing needs. That said, most ball pythons do not like being handled.
Differences Between Ball Pythons And Blood Pythons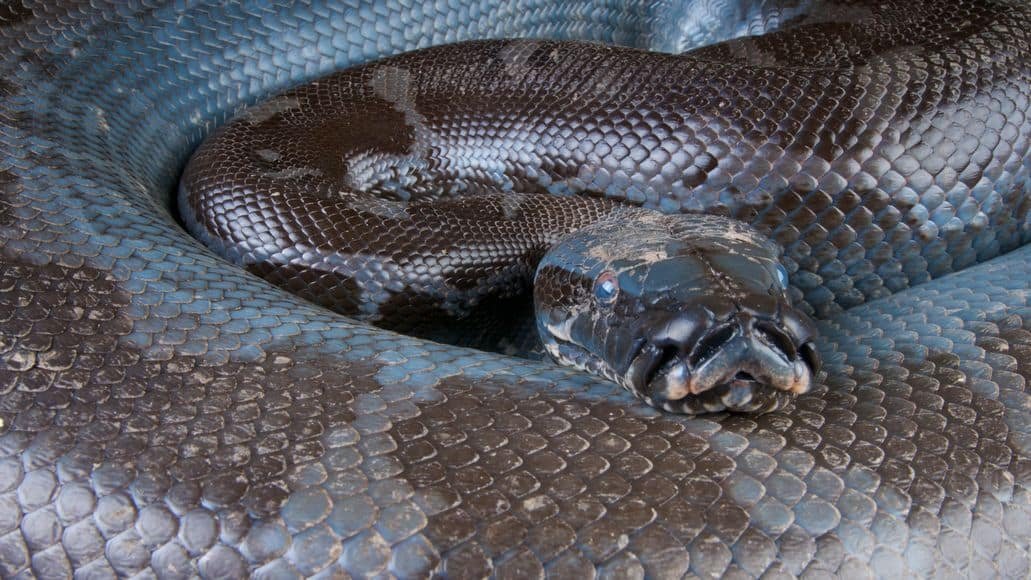 Here are the major differences between ball pythons and blood pythons. We'll start with a table summarizing the key differences, before getting into a little more detail on each.
| | Blood Python | Ball Python |
| --- | --- | --- |
| Size | Larger and heavier than ball pythons. Weigh up to 30 lbs. | Smaller and less stocky. Weigh up to 5 lbs. |
| Colors | Reds, browns, tan, cherry, etc. | Black, gray, brown, albino |
| Habitat | Swamps, rainforests of Indonesia, Malaysia, and Thailand | Savannahs, grasslands, forests of Africa |
| Temperament | Unpredictable, prone to biting, aggressive | Docile and calm |
| Care | Not as easy as ball python care | Easy to care for |
| Best Owners | Experienced snake handlers | Anyone, including beginners to snake keeping |
Habitat
Ball pythons are native to Central and Western Africa. They live in grasslands and forests. Blood pythons are mainly found in Southeast Asian countries like Thailand, Indonesia, and Malaysia. They live in rainforests, swamps, palm oil plantations, etc.
Weight
Ball pythons are lighter than Blood pythons. They weigh about 3 to 5 pounds and measure up to 4 to 5 ft in length on average.
Blood pythons measure between 4 and 6 feet but have even grown up to 8 feet. They can weigh up to 30 pounds. Blood pythons are thicker and heavier than ball pythons.
Colors And Patterns
Ball pythons are beautiful snakes seen in colors like dark brown and black with different markings. They are also available in albino or yellow-white colors. The patterns seen on ball pythons are bulbous brown with black circles or no circles.
Blood pythons are usually reddish brown in color although you may also see them in tan, cherry red, or bright red. They often have yellow or tan blotches or stripes along the length of their bodies.
Temperament
Ball pythons are docile, non-aggressive snakes. They are so calm that even in the wild, people who come across them can simply pick them up and lay them aside! This makes ball pythons excellent pets.
They go so far as to rest on their owners and are capable of bonding with them. Ball pythons are friendly and generally seem to like being around humans, though they prefer us not to pick them up and handle them. These traits make ball pythons excellent pets for newbie snake keepers.
Blood pythons, on the other hand, are known to be aggressive snakes. They are even known to bite, although they are nonvenomous.
Blood pythons are also known to be unpredictable which makes them suitable as pets only for experienced snake handlers. They are shy creatures that do not like being handled too much. Blood pythons may even violently jerk their heads away if you try to pet or touch them.
Conservation Status
Since ball pythons get along well with humans, they are not as impacted in the wild by human populations. They are also sold as pets and seem to thrive in captivity. Many breeders even breed ball pythons, so they are not endangered.
Blood pythons, on the other hand, have been impacted by human activities. We have destroyed many rainforests that were home to blood pythons.
We also hunt these snakes for their skin to make shoes and bags. While the blood python species is not threatened or endangered, it is still in high demand in the exotic leather market. Some nations are trying to ban such activities to protect these snakes.
Similarities Between Ball Pythons And Blood Pythons
Ball pythons and blood pythons are both non-venomous. They also belong to the same family called pyhtonidae. Many breeders breed ball pythons with blood pythons to create 'Superball' pythons.
Advantages Of Ball Pythons
Ball pythons are easy to care for and docile. They eat once a week and have very few cage-related needs. They are one of the easiest snakes to care for, which is a big reason they are the most popular snake pet in the United States.
Advantages Of Blood Pythons
Blood pythons are beautiful creatures that come in various shades of red. They are more exotic than ball pythons and a bit more of a challenge.
They eat once every 2 weeks and can make good pets if handled from a young age. They are more difficult and best for experienced snake owners, but they can make excellent pets, if you know what you are doing.
Who Should Get A Ball Python?
Ball Pythons are great pets for first-time snake owners. They are ideal for beginners to snake-keeping. They are docile and may even bond with their owners.
They show affection by resting on their owner's hands or curling on them. Ball pythons also do not get too big. Finally, ball pythons are inexpensive, unless you get a rare morph. Those can cost hundreds, even thousands, of dollars.
Who Should Get A Blood Python?
Blood pythons grow up to almost 30 lb. These heavy snakes may seem unwieldy and difficult to handle for some owners. They are also unpredictable and could bite. They aren't too friendly and prefer to not be handled much. They need an experienced handler who isn't a beginner to snake husbandry.
Ball Python Vs Blood Python: Final Thoughts
In comparing the blood python vs ball python, we notice many similarities, not the least of which is that both of these snakes are members of the pyhtonidae family. But it is the differences that are most important here.
The ball python is smaller, much more docile, much friendlier and not quite as picky when it comes to the habitat. That makes te one of the easiest snakes to care for and the ideal pet for first-time snake owners.
The blood python can also make for a great pet, but it is not the best snake for beginners. It can be aggressive and does not like human contact. It can also grow much larger and has more specific environmental needs. If you have experience keeping snakes, the blood python can be wonderful, but if you are looking for your first snake pet, go with the ball python.