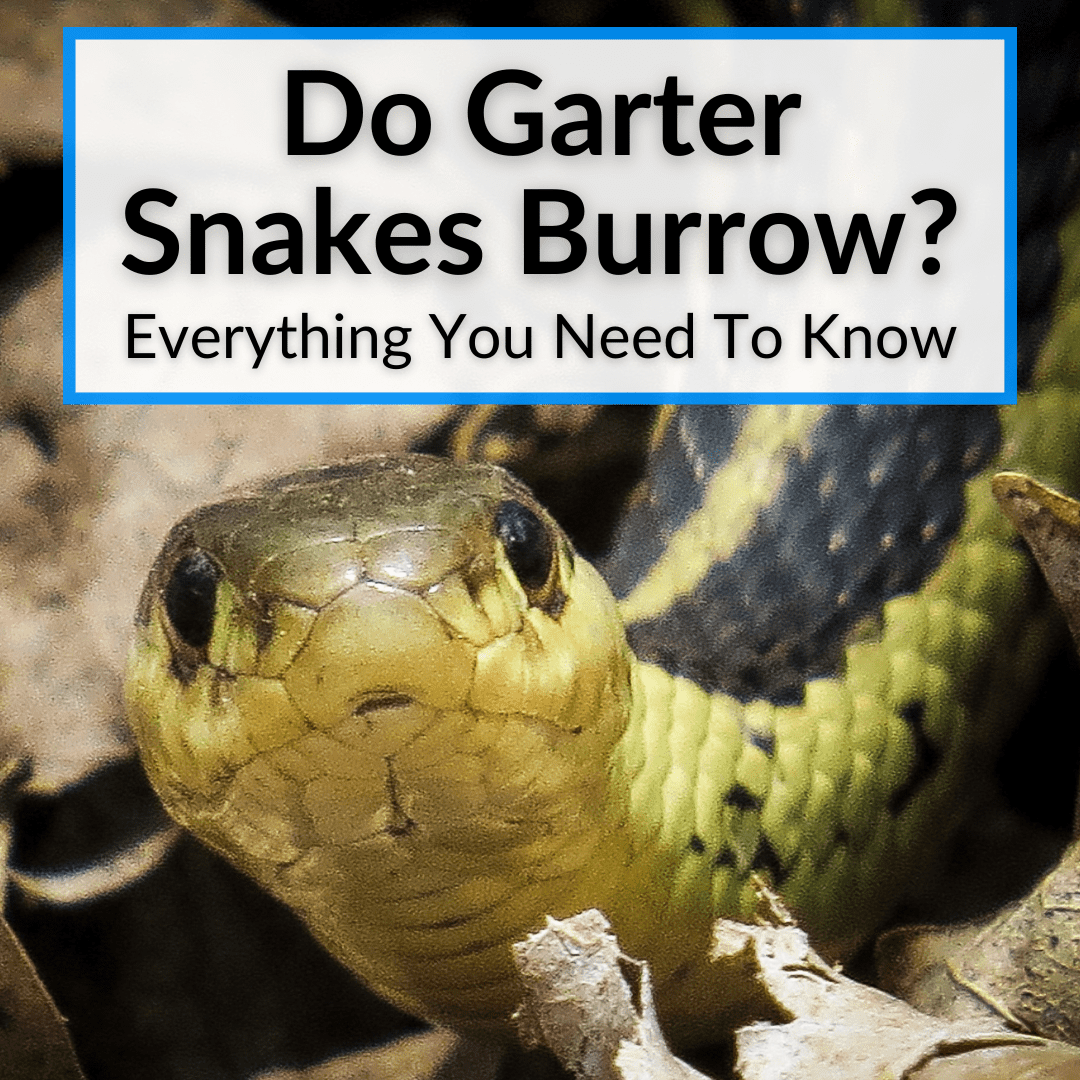 Some snakes like to burrow and some do not.
If you want to keep a snake as a pet, it is important to know if the species you plan to get burrows.
That way you can set up the enclosure correctly, with the correct type of substrate and the correct substrate depth.
Garter snakes are the most common snakes in the United States.
It makes sense that they are also a common pet sake.
If you are planning on keeping one as a pet, you need to know: do garter snakes burrow?
Keep reading to learn everything you need to know about the burrowing behavior of garter snakes.
Do Garter Snakes Burrow?
Garter snakes are known for burrowing. They are solitary creatures, they prefer to be alone, except when it comes to hibernation. For that reason, it is not uncommon to find a snake den with several garter snakes in it, because they often brumate together to keep warm.
If you plan to keep a garter snake as a pet, you will want to provide enough substrate so that it can indulge its burrowing habit. This also means getting a type of substrate that is good for burrowing snakes.
Our article on the best snake bedding will steer you in the right direction.
A Common Garden Snake
Garter snakes reside in North America and are also called garden snakes. They aren't venomous and some homeowners will even welcome them into their garden, since they are not dangerous and keep small rodents at bay.
While they aren't venomous in the way true venomous snakes are, they do have venom in their saliva. But they do not inject it when they bite. Do garter snakes have fangs at all? They do not. They have regular teeth and the venom enters the wound with the saliva, not through the teeth.
Because they are harmless to us, but the help get rid of rodents, if you find a garter snake in your garden you may even want it to stick around. Garter snakes like bodies of water. If you have a pond, they will love this. It's also something they can drink from.
If you do not have a pond, you can always leave a bowl of water out for them and provide plenty of vegetation such as leafy plants like ferns. Also investing in a rocky area will entice garter snakes to stay in your garden, because it will give them somewhere to create a burrow.
Where Garter Snakes Burrow
Apart from rocky areas in your garden, there are other places in the wild where garter snakes love to burrow. They like to burrow underground, because they can stay warmer there, which is especially important in the colder winter months.
You can often find a garter snake burrowed in another animal's ex-home, such as a rodent burrow (usually after eating the previous inhabitants).
Garter snakes are also quite homely creatures. They like to stick to the same place. It's uncommon for garter snakes to move from burrow to burrow, so if you have a snake close to your home, expect to see it there for many years!
Identifying A Garter Snake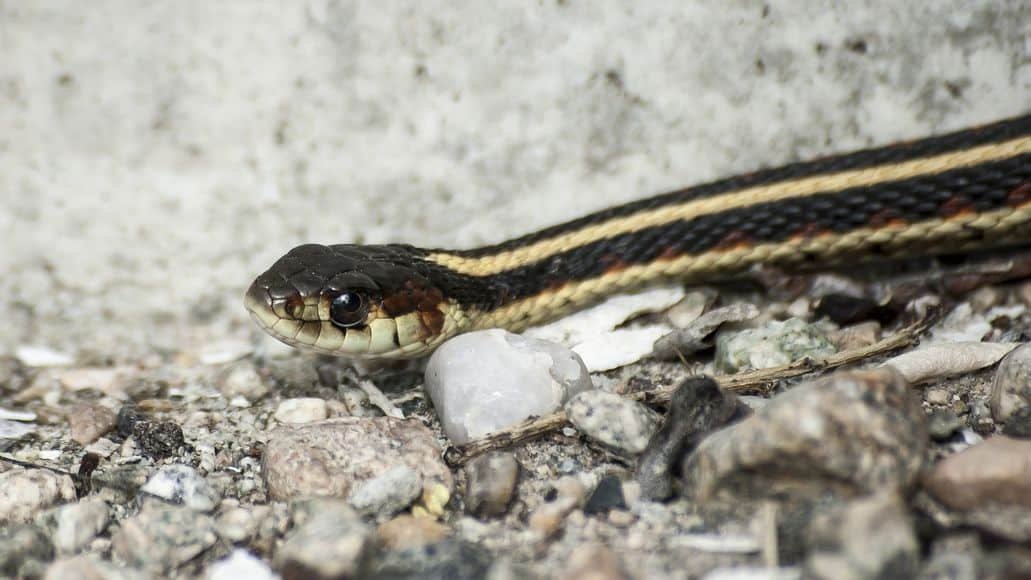 You may wonder how you tell a garter snake apart from any other snake. After all, you don't want to be encouraging a venomous snake to stick around in your garden!
There are different species of garter snakes, but the main way to tell them apart is that they have distinguishing stripes running down the side of their bodies. These stripes run from head to tail and there are usually three of them.
Color and scale patterns can vary. The average length of a garter snake is 35 inches, but they can grow up to 54 inches. The females are usually larger than the males.
What Deters Garter Snakes?
If you aren't a huge lover of snakes then you may not want a garter snake roaming around your garden. If this is the case, there are deterrents that you can put in place.
Ways to get rid of a garter snake without killing it include regularly mowing your lawn to keep the grass short, removing leaves and any food sources, using a special garter snake repellent spray, building a fence, or laying out a garter snake trap.
If you don't currently have a garter snake but also aren't too keen on having one turn up. then you can create a number of different natural repellents against snakes.
Vinegar is a common repellent. You can spray it around the boundaries of your home. This should keep any snakes away. The same also goes for sulfur. If you sprinkle it around the borders of your property, it should keep any snakes out of your garden.
If you have any cinnamon oil around the house, you can create your own deterrent by using cinnamon oil, clove oil and water. Just add all the ingredients into a spray bottle, give it a shake and then spray around your garden.
Garter Snakes Burrow: Final Thoughts
Garter snakes like to burrow in the wild. They often burrow into the dens of other animals and take them over. Despite being solitary creatures, they will sometimes share a den with other snakes, to help each other stay warm.
If you have a garter snake as a pet, you want to provide it the opportunity to burrow in its enclosure. This means buying the right type of substrate and putting enough of it in the bottom of the enclosure to allow for some digging.