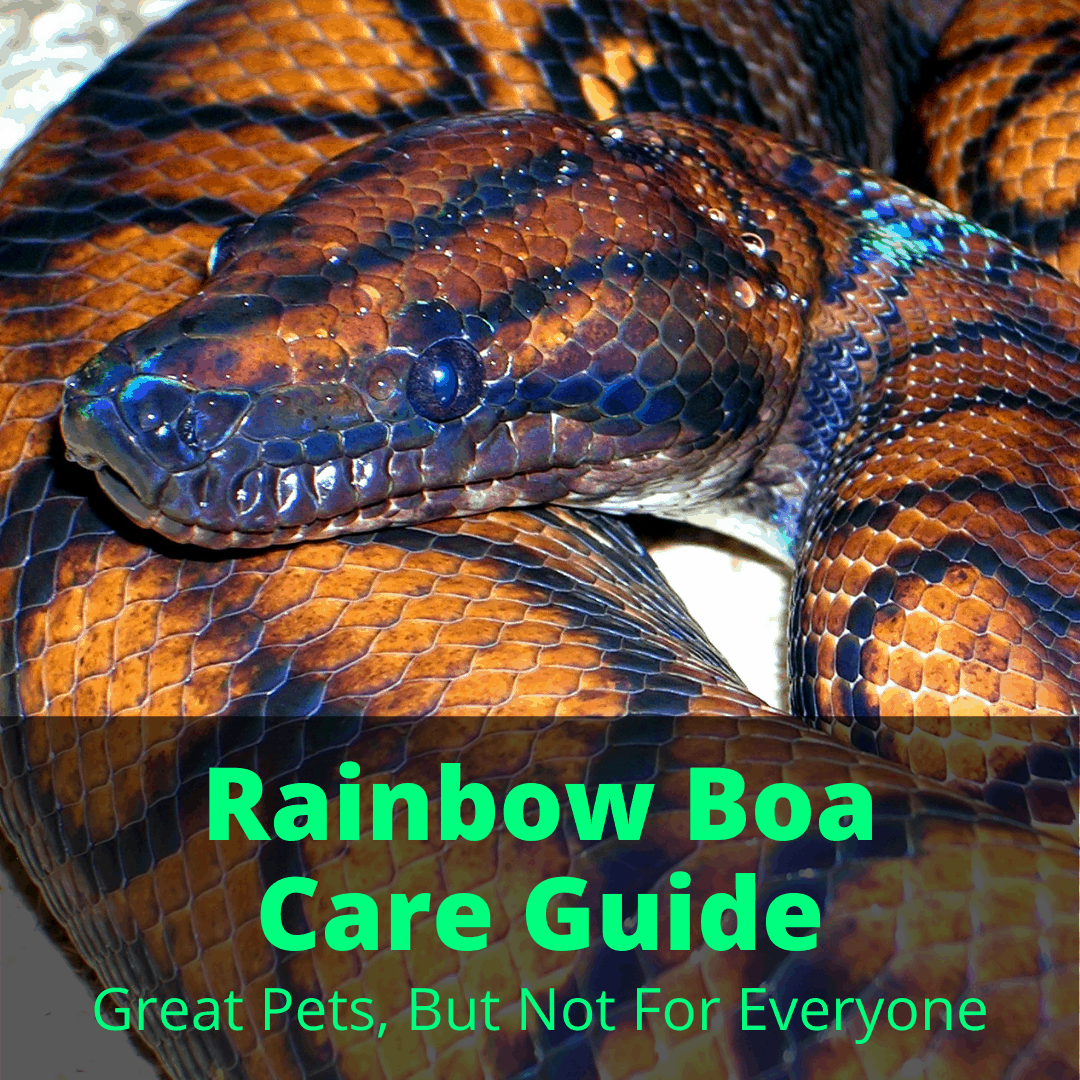 Imagine owning one of the most beautiful snakes on earth.
I'm sure you're expecting a catch. Like it's highly aggressive and venomous.
Well, you're right. There is a catch.
But it's not venomous. Or even dangerous.
The rainbow boa does have a reputation for being aggressive. But that reputation is overblown.
Nevertheless, we don't recommend this species for new snake owners. It is best for those with some experience caring for snakes.
Keep reading to find out why, along with everything else you need to know about rainbow boa care.
Rainbow Boa Care
We already mentioned the beauty of this snake. As the name suggests, the rainbow boa can take on all the colors of the rainbow – in the sun, at least.
Ordinarily, it has an orange and deep red skin color with dark patterns, to give it a unique and beautiful appearance.
But when the sun hits it, the scales turn iridescent and shimmer in the colors of the rainbow. It is stunning.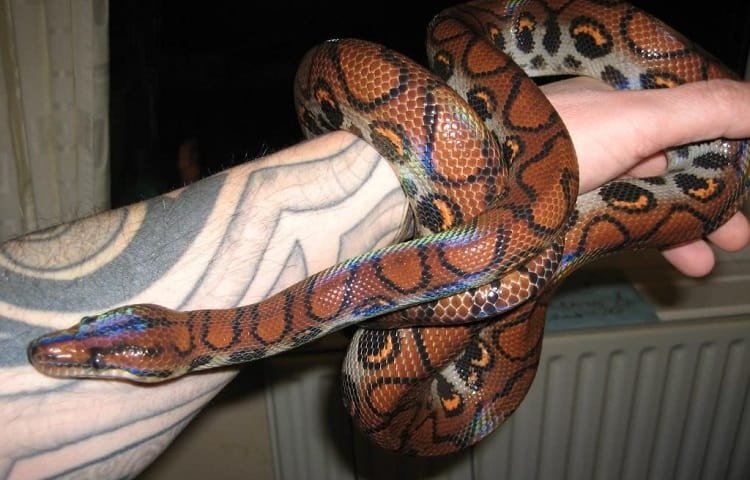 Do Rainbow Boas make great pets?
They do make great pets and are very deserving of creative or funny snake names. But they have a few specific environmental requirements that we'll get into below and they can be a bit aggressive.
For that reason, they don't make the best pets for beginners. But if you have some experience with snakes, rainbow boas can be amazing pets.
They are not too hard to care for (as long as you can provide the right environment) and they don't grow overly large. They can live for up to 20 years in captivity.
In the wild, Rainbow Boas choose forests, rocky areas, and plantations as their natural habitats.
One of the most common types of Rainbow Boas is the Brazilian Rainbow Boa. It hails from Central and South America where the weather is humid and hot.
Since the Brazilian Rainbow Boa is such a popular pet, we're going to provide a guide on how to care for it specifically.
In the wild, these snakes love to hang from tree branches but they're just as regularly seen on the ground. They are active both during the night and day, but they tend to experience a burst of energy at dusk and during the night.
There are various elements you need to consider when it comes to creating a beautiful home for your Brazilian Rainbow Boa. Not all snakes are the same or have the same requirements, which is why you need to take proper care of your Rainbow Boa in specific ways.
For starters, there are a variety of enclosure-related requirements that you need to ensure you have met before you bring your rainbow boa home.
Rainbow Boa Enclosure
Here's a rundown of the requirements for setting up the ideal rainbow boa habitat, starting with the size of the terrarium.
Size
The enclosure should be a minimum of six feet in length and two feet in height.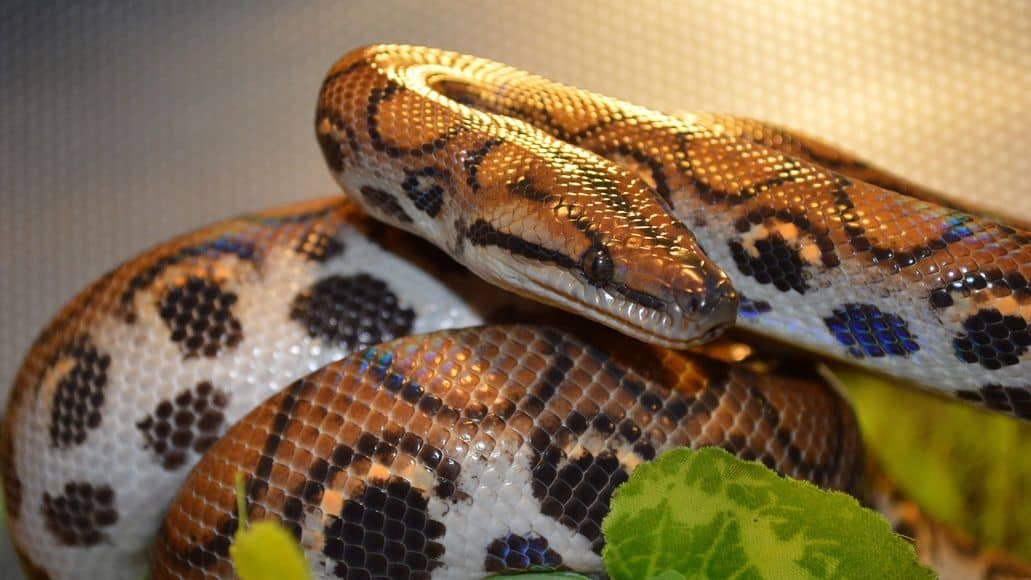 If you're not sure if the enclosure's measurements are right for the size of your boa, follow this general guideline: take the length of your snake and add an extra 10 percent to it. This should equal both the length and depth of the snake enclosure.
It's always a good idea to choose an enclosure that's slightly bigger than what you need. Some will tell you to avoid making the enclosure a lot bigger than your snake, because it can cause the snake to feel exposed and stress it out.
Don't worry about this. Snakes do get stressed when they are out in the open, but you should provide a few hiding places anyway.
As long as your snake has places to hide away and feel secure, it will be happy in even a humongous enclosure. After all, that's what nature is.
If you have a Brazilian Rainbow Boa, remember that it is the largest out of all the Rainbow Boa species. It can grow up to six feet in length.
If you have a young Brazilian Rainbow Boa, you might want to settle on a smaller enclosure, but you are better off buying larger, with the snake's eventual size in mind.
While it usually takes them 3 to 5 years to reach their full size, it's still easier to just get the larger cage right away. There's no point in having to buy a second cage in a few years. But you can certainly do that, if you prefer.
Type
You might be wondering if you should go with a glass or a wood enclosure. Glass is better for many reasons. It's easier to clean and doesn't rot from the humidity and dampness. And this snake needs humidity, with daily misting that is not good for wood.
If you choose to house your snake in a glass terrarium, it's a good idea to partially cover the screen top. You can use a piece of Plexiglass to do this. This prevents the loss of humidity and heat from the enclosure.
Temperature
The enclosure for your Rainbow Boa should have a temperature gradient. This is important for snakes, because it gives them different temperatures in the enclosure to warm or cool their body as needed.
To achieve this, one side of the enclosure should be warm and the other side should be cool. The warm side should not be hotter than 86° Fahrenheit, while the cooler side needs to be around 72° Fahrenheit.
You can provide enough by using a heat mat, a ceramic heater with a pulse thermostat and bulb guard, or you can use a normal light bulb that has a dimming function. If you go with a heating mat, make sure that it's regulated using a thermostat, so that you don't end up overheating it.
Hiding Places
Give your snake enough hides so that it can enjoy peaceful solitude. These boas are very shy and solitary.
A damp hiding place, like cork bark filled with damp moss, is a fantastic idea, because it mimics the snake's natural environment.
Make sure that you put hides in both parts of your boa's enclosure – at least one on the warm side and another on the cool side.
Snakes want to have hiding places where they can rest and relax, whether they are cooling down or warming up. If they don't have this, it can result in health problems
Bedding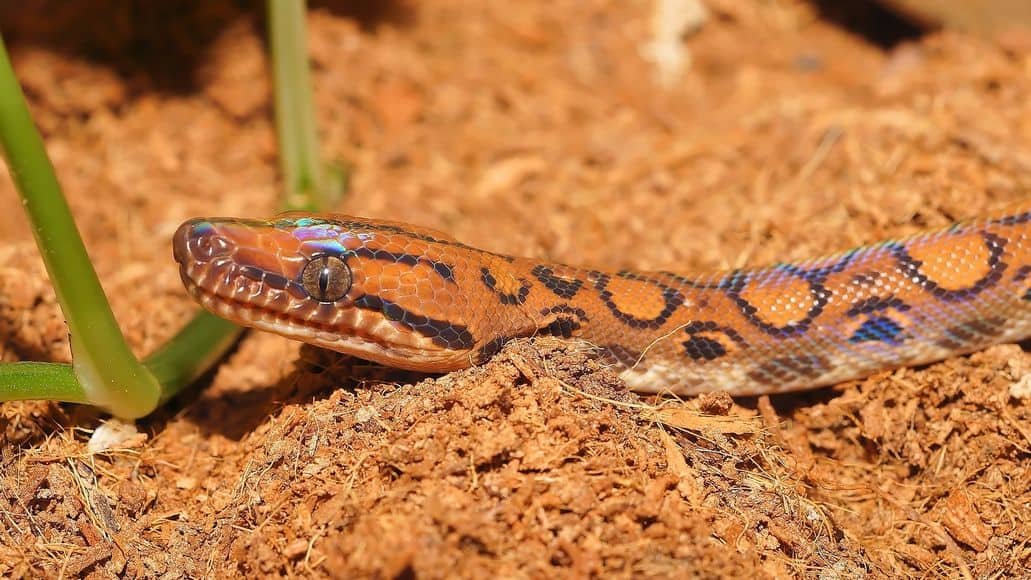 The best substrate for a Rainbow Boa is one you don't gave to change often. This type of snake really doesn't like to be disturbed.
Some owners use wood shavings, because they mimics the rainforest, but they are not easy to clean. Simple substrates that are easier to maintain, like newspaper, are perhaps a better idea.
Water And Humidity
Water is vital for this type of snake. Even more so during the shedding process, because it helps them shed properly.
You need to keep a water bowl in your Rainbow Boa's enclosure at all times, because this type of snake likes to sit in the water and soak.
Make sure that you change the bowl of water at least daily, because your snake might defecate in it and bacteria from the waste can make it sick.
Your rainbow boa also needs a high level of humidity in its enclosure. These snakes can easily suffer from dehydration.
Most rainbow boas want to have humidity levels that are 70 percent or higher. Colombian Rainbow Boas need a bit less humidity. preferring levels that are as low as 50 percent.
Invest in a hygrometer so that you can monitor the humidity levels in your snake's enclosure and keep them within the ideal ranges.
If you need to increase the humidity, you can use a spray bottle to mist the enclosure occasionally. It might be worth investing in a mister or a fogger, so you don't constantly have to worry about doing it manually.
Climbing Branches
Don't forget to give your snake some branches! The Rainbow Boa has a prehensile tail that helps it to climb trees in a much smoother and efficient way.
Since these snakes love to climb trees and hang around on branches in the wild, you should put some branches in their enclosure so that they can do what comes natural.
Make sure you arrange the branches in such a way that they can easily climb them and not injure themselves.
Change Things Up (Very) Occasionally
In general, Rainbow Boas do not want to be disturbed in their enclosures. They also need a steady routine when it comes to feeding so that they can feel comfortable.
But sometimes it's a good idea to change the layout of their enclosures. Don't do this too often or dramatically, because it can stress out your snake.
But a few changes small changes can go a long way to keep your Rainbow Boa intrigued and interested in its habitat. These snakes are very curious and love to explore new surroundings, so changing up a few things occasionally can help keep them from feeling bored or frustrated.
Feeding Your Rainbow Boa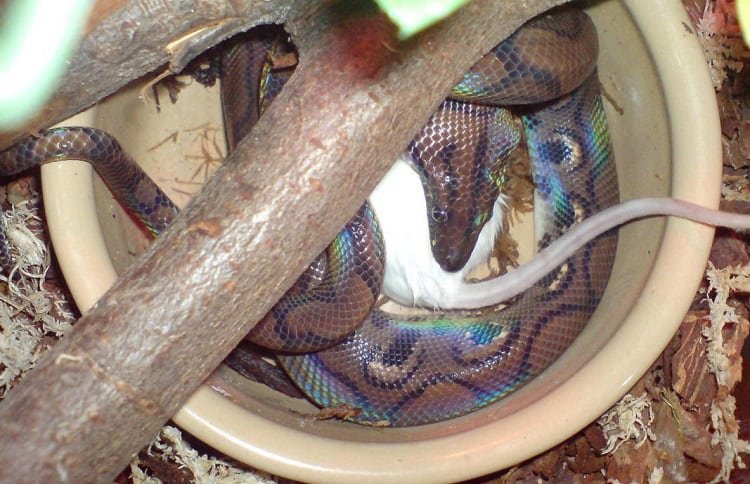 In the wild, Brazilian Rainbow Boas enjoy a diet full of variety. They eat animals like birds, bats, and rodents.
When hunting, this boa makes use of its heat-sensing pits to locate and track its prey. Like other snakes, it doesn't have very good vision. It will ambush its prey and pierce it with its hooked teeth so that it can't get away.
Then it will wrap itself around the prey to constricts. Once it has successfully killed its prey, the Rainbow Boa will swallow it whole.
These snakes are pretty low-maintenance when it comes to their diet. They need to be fed about once every 10 days when they are adults.
You should feed baby Rainbow Boas pinky mice and then increase the size of their prey as they grow. Feed adult Rainbow Boas rats and mice.
Interestingly, while female Rainbow Boas like to eat rats, these can produce digestion problems for the males, who prefer mice.
Be careful when feeding these snakes as they can strike at your hand. Although the Rainbow Boa isn't venomous, it's still not pleasant to be bitten by one, because it can be very painful. To avoid getting bitten, you should use feeding tongs when handing your boa its food.
A good tip is to feed your snake in a different enclosure so that it gets used to being fed in certain conditions.
If you get it into the habit of being fed in its main enclosure, it can come to expect that you'll give it food whenever you are close to its cage.
This can make it difficult when you need to handle your boa, for example if you have to move it into a different enclosure to clean its primary one.
Handling Rainbow Boas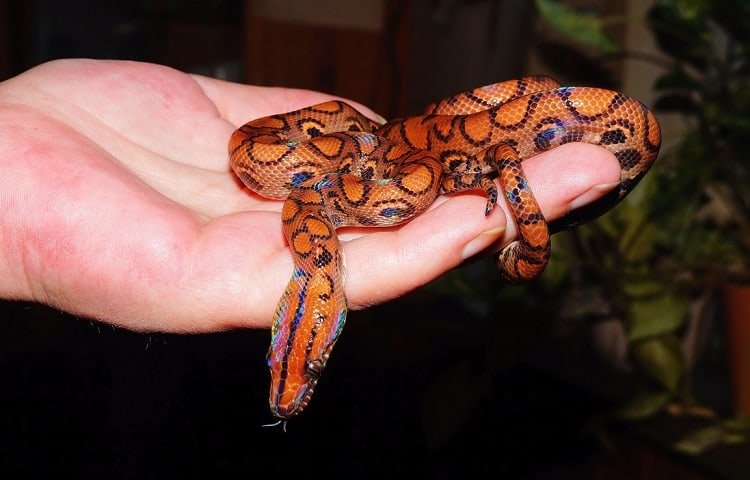 Snakes in general are not affectionate creatures, but some snakes can tolerate being handled a lot better than others.
The Rainbow Boa is docile and doesn't mind being handled regularly, but babies can be more defensive than adults so you'll have to be careful around them.
Even though these snakes are docile, it doesn't mean you can handle them in any way you want. It's important to ensure that you pick them up correctly.
The best way is to support their body weight with your arms and hands, and you should hold them behind their head so that they can't strike at you.
Bear in mind that wearing protective gloves might not give you enough protection against their sharp teeth! A long snake hook is probably better for handling this snake, because it will keep you out of harm's way.
An important tip to follow when handling your Rainbow Boa is to not pick it up for a few days after it has eaten. This can cause it to regurgitate its food.
Rainbow Boa Temperament
Rainbow boas have a bit of a reputation for being an aggressive boa species. But it is not a deserved reputation. At least not completely.
It is true that these snakes can seem somewhat intimidating, because of the way they hunt and catch their prey. Also because they like to be left alone.
Even in the wild, these snakes avoid interaction with other snakes as much as possible. They interact during breeding season, but outside of that time, they remain reclusive.
They are the same in captivity. This is why it's crucial to avoid housing more than one Rainbow Boa in the same enclosure. These snakes need their space!
Rainbow boas have been known to strike out, but it's important to remember that any snake will do so, if it feels cornered or threatened.
Overall, this species is not as aggressive as some say it is. But we would not recommend it for beginners.
This has nothing to do with aggression, however. We don't think it's a good snake for beginners because of its lifestyle requirements.
For example, as a first time snake owner, you might find it difficult to have to ensure that it always has the right humidity and temperature. A snake with less stringent requirements would be much easier to care for.
Different Types Of Rainbow Boas
Ever wondered what the differences are between Brazilian Rainbow Boas and Colombian Rainbow Boas? And what about Peruvian Rainbow Boas?
To clear up the confusion, let's look at the different types of rainbow boas.
Colombian Rainbow Boa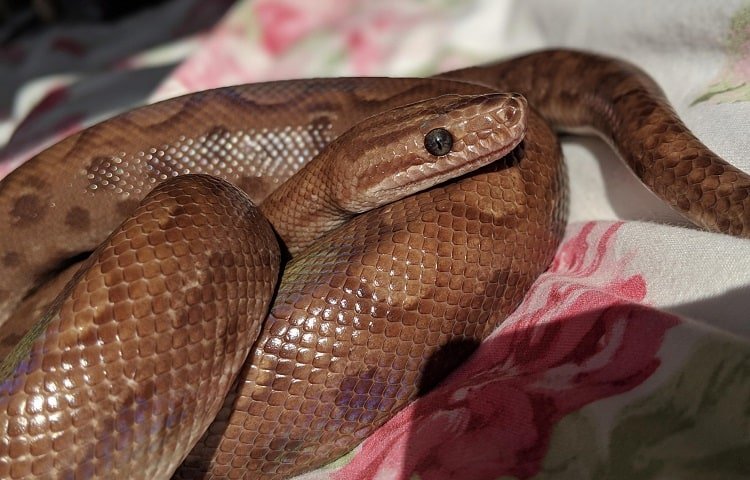 This snake hails from the southern parts of Central America but can also be found in jungles throughout Trinidad and Tobago, as well as the northern part of South America.
It is a semi-arboreal creature with a striking appearance. It has a light brown color all over its body that's marked with rings which display the classic saddle pattern. When light shines on this snake, its scales become iridescent and shimmer in a multitude of colors.
Peruvian Rainbow Boa
The Peruvian Rainbow Boa closely resembles the Brazilian Rainbow Boa because of its colorful skin tones and black markings. It also has that rainbow shimmer in the light.
It can be found in the rainforests of Eastern Peru. Although it likes to climb when it's a juvenile, adult Peruvians prefer to stay on the ground.
Argentine Rainbow Boa
This type of boa is found in forests with high levels of humidity. It is semi-arboreal. It is usually tan, grey, or light brown in color, with orange hues along its body. It also has circular patterns and blotches that are quite striking.
It's a slender boa, thinner than other types of Rainbow Boas, which is why it's sometimes referred to as the Argentinean Slender Boa.
Brazilian Rainbow Boa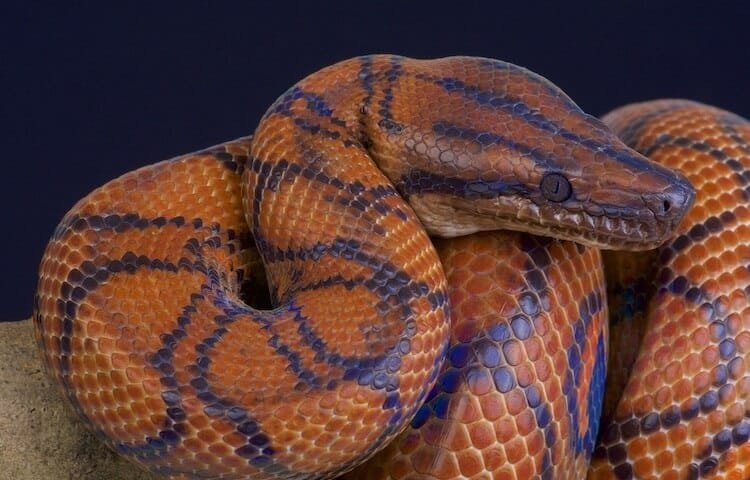 This is a thin snake that can be between five to seven feet long. It's considered one of the most beautiful snakes in the world. You can find it in colors that range from bright orange all the way to a rich red.
As mentioned earlier, when you put this snake under direct light you'll see that it has a beautiful iridescence that creates a rainbow of colors.
Rainbow Boa Morphs
Even though Rainbow Boas are beautiful animals, this hasn't stopped people from breeding them to make them even more unique in appearance.
There are many different morphs available for Rainbow Boa snakes, although these do come at a much higher price than regular Rainbow Boas. Some of the most popular morphs include the following.
Hypo Rainbow Boa
This snake gets its name from its hypomelanistic gene that decreases the amount of melanin the snake has and lightens its black patterns so that they become a brown color. These snakes are lightly colored and have what looks like sunset colors and shades on them.
Anery Seib Rainbow Boa
This type of boa has had a gene altered so that the snake's red pigment is reduced. This makes it paler in color all over, with what looks like pastel green or emerald markings within the black borders. Really pretty!
Pastel Rainbow Boa
This snake morph is similar to the hypo morph. It has bold and dark markings on its body and a light base color, which is pink or peach. This gives the snake a very dramatic and striking appearance.
Ghost Rainbow Boa
With such an intriguing name, you're probably interested to know what the ghost rainbow boa morph is all about. Basically, it's a blend of hypo and anery genes. These snakes are white in color with pale grey markings that appear at birth. As the snakes grow older, their color becomes a beautiful shade of yellow.
Pied Rainbow Boa
This morph gives the snake leopard-like spots on its body, which are a result of its variable expression recessive gene that was found in 2013.
What happens is that the gene produces white scales on some parts of the snake, which makes it look like it has leopard spots on it. The snake's eyes are also quite unique – they can be blue or black, or have one eye in each color.
Calico
Not to be confused with pied rainbow boas, the calico boa has spots and blotches of white on the top of its body. Interestingly, you won't be able to see these markings until the snake reaches maturity, which is usually around the age of 2.5 to 4 years.
Anery Arctic Rainbow Boa
This boa has a grey and white appearance that is quite striking, and it's caused as a result of the arctic anery recessive gene that decreases or wipes out the snake's red pigment. These snakes are pale within the first two years of their lives, after which their skin will start to display a yellowish tinge.
Striped Rainbow Boa
This type of boa morph has a variety of stripes with different patterns and connected circles, depending on the individual snake.
Related Questions
What illnesses are Rainbow Boas prone to?
These snakes are prone to becoming dehydrated or overheated, both of which are the most common causes of their death. If you see that your snake has wrinkled scales or is regurgitating its food, these are signs that it's dehydrated.
How much does a Rainbow Boa cost?
To purchase a Rainbow Boa, you'll need between $200 and $350, but morphs can set you back about $1,000.
Rainbow Boas: Conclusion
The Brazilian Rainbow boa is one of the most beautiful snakes in the world, thanks to its striking and unique appearance.
However, it's not just pretty to look at – it makes a wonderful pet snake pet. But probably not for first-time snake owners.