Grass snake care is not overly involved.
Creating the right environment in the enclosure is easier than with many other snakes.
They may be a bit pickier with their food, but most will happily eat thawed mice.
If your snake was caught in the wild, you may have to train it first.
That could mean you have to feed it live prey for a while.
Apart from that, grass snakes need the same care as any other species: keep it fed, make sure it always has water, maintain the right temperature and humidity, keep the enclosure clean and don't harass it too much.
Do that and your pet grass snake will be perfectly happy in its new home. Not sure how to do all that? Read on. We cover everything you need to know about caring for a grass snake.
Grass Snake Care
Grass snakes are relatively easy to care for but that doesn't mean there is no work involved. It starts before you ever even get your pet.
The first steps involve setting up a place where the snake will be staying and researching everything you can about this species. You need to learn how to hold and feed it and how to keep it happy and healthy, by cleaning the cage regularly, paying attention to when it sheds its skin and much more.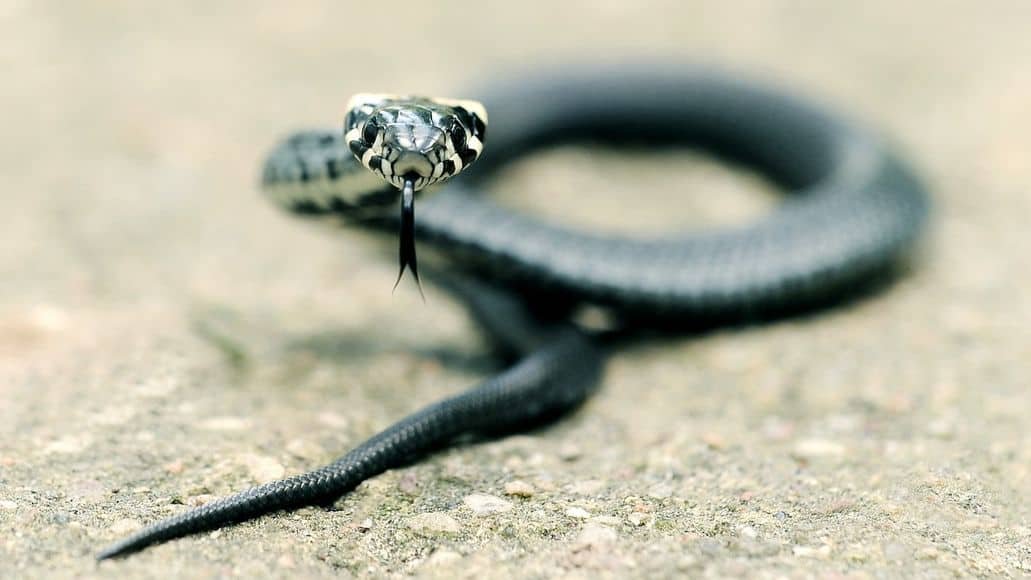 Let's begin with the first step: setting up the enclosure.
Best Enclosure For Grass Snakes
You need an enclosure where your snake can feel comfortable. And then you need enclosures within that enclosure—in other words some hideouts. These are places where your snake can retreat and feel safe.
Some people will tell you that snakes need a wooden enclosure, because wood is a good insulator of heat, while glass loses heat. That is true, but the difference is not big enough to have a major impact. You will likely have to heat the enclosure no matter what.
Glass is much easier to clean and glass terrariums are more readily available. If you go with wood, you'll have to build it yourself. If you are fine with that, great. But if you prefer to just buy one, go with glass.
Read this article to see our recommendations for the best enclosures.
Since grass snakes can grow to lengths of 4 to 6 feet, you want an enclosure that is about the same length and at least a foot wide, but ideally 1.5 to 2 feet wide. In terms of volume, it should hold at least 40 gallons.
What To Put Inside The Enclosure
First, you need some kind of substrate. These snakes do not require high humidity, so a dry substrate that does not absorb much moisture is best. Aspen bedding works great.

Read this article on the best substrates to help you pick out the best type for a grass snake.
You also need to add at least two hiding spots for your snake. Without these it will feel exposed and never feel comfortable. Put one hide on the cool side of the tank and one on the warm side.
The more natural the habitat looks, the better your snake feels and the healthier it is. Add natural terrain features like rocks, branches and vines to make your grass snake feel more at home.
Ideal Temperature For A Grass Snake
Grass snakes live in temperate areas in the wild, so you won't have to alter the temperature much to make them happy. The humidity should be between 50% and 70%, which means you can probably leave it as it is naturally, depending on the climate in your area.
If you need to add humidity, use a spray bottle to mist the tank a but. This article will help if you need to lower humidity.
During the daytime, grass snakes need an ambient temperature of 70° to 75° F. You also want to provide a hot spot on one side of the enclosure, where they can bask to warm their body temperature. This basking spot should be around 80° F.
You can warm the tank using either heat mats, heat lamps, or both. We recommend both.
Use a heat pad below the tank to keep the enclosure at 70° to 75° F, and a heat lamp to heat the basking spot. Use a thermostat on the heat mat to ensure the temperature stays where it should. The best reptile thermostats will automatically shut off the mat when the temperature gets too high.
At night, grass snakes like total darkness, so shut off the heat lamp. Even if it is purely a heat-emitting bulb that does not emit any light, shut it off anyway.
Use the heat mat to maintain a nighttime temperature of 75° F. Set the thermostat, so that it regulates the temperature automatically for you.
Set all of this up at least a week before your snake comes home, so that you can test the system and make sure all the temperatures and the humidity are correct.
When measuring the temperatures, don't rely only on regular thermometers that only measure the air temperature. You also need to know the floor temperatures in different areas of the cage. A laser thermometer like this one works great for this.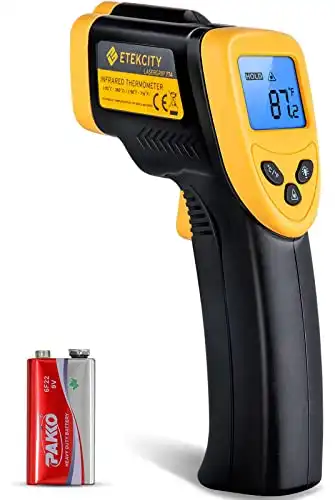 Handling A Grass Snake
Most pet snakes get used to being handled. However, never try hand-taming a grass snake until it has eaten more than four meals in its new home. And always wait until it has finished digesting the food before touching it.
Place your hands under the belly as it helps in supporting the weight. Ensure that you only handle the middle part of the body. Sometimes it's necessary to hold the tail or head as well, but always make sure you are also supporting the body with one hand.
Feeding A Grass Snake
All snakes love meat and they like it in the form of whole animals. Most pet snakes eat rodents of different sizes. The easiest way to provide these is to get frozen mice or rats and thaw them before feeding.

Feed young grass snakes a defrosted pinky mouse. As the snake grows, its food size grows as well until it can feed on larger mice and jumbos.
An adult grass snake should eat once every two weeks. They can become overweight when fed on a weekly basis. And they can go a long time without food.
Keep snake food separate from other food for health reasons. A grass snake sometimes eats a huge amount of food, but other times it will eat less. It's good to have enough at hand just in case.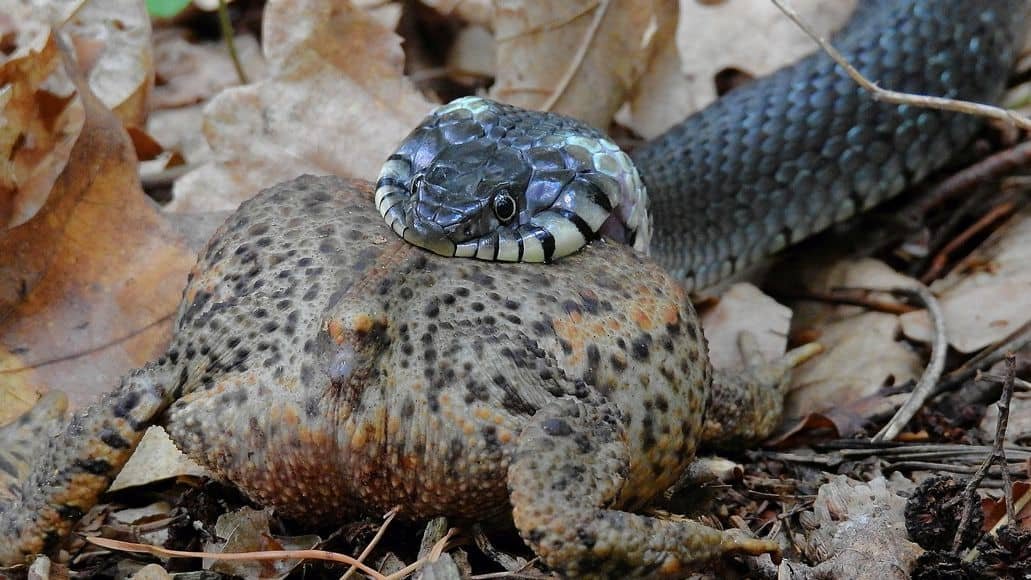 Some snakes don't like to eat dead prey items. If you find that your snake does not want to eat it, wriggle the mouse a little to make it appear like it is moving.
If that doesn't work, you may have to feed your pet live prey, but this should be an absolute last resort and you want to keep a very close eye on the situation until the prey is dead.
It's dangerous to leave a full-grown rodent alone with a grass snake. A panicked rodent can injure the snake with its teeth and claws. Besides, grass snakes do not generally eat rodents in the wild. They eat safer prey, like fish and amphibians.
That is one reason they do not have fangs. Do grass snakes have teeth? They do, but the teeth are small They are not meant to catch and hold onto prey like rodents. So when you feed them rodents in captivity, feed them dead ones.
Remember to always provide clean water for your snake. Clean and refill the water bowl at least two times a week, but ideally every day.
Use a large water bowl that is big enough for the snake to get in, because they like to have a soak.
Breeding Grass Snakes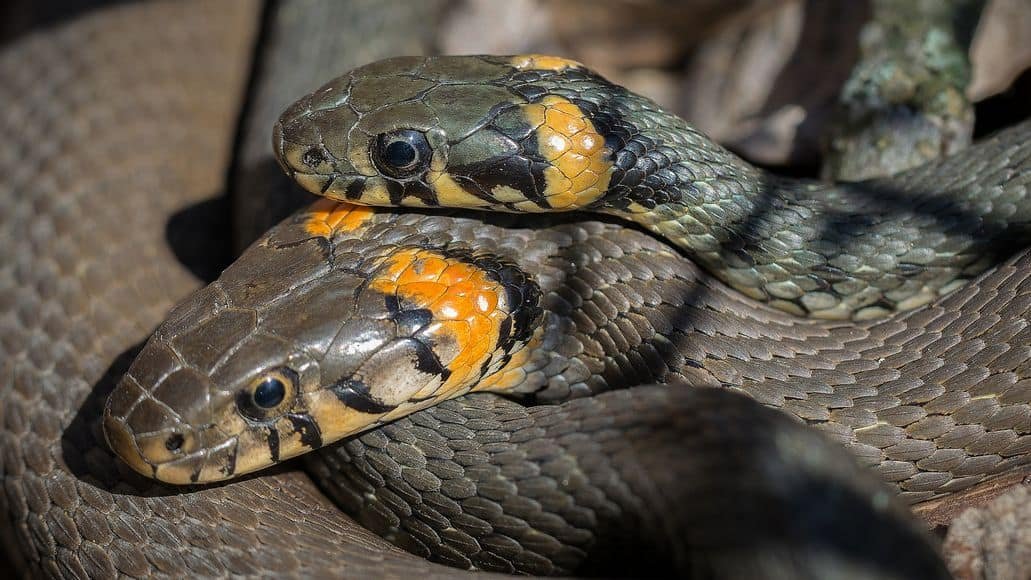 If you keep both female and male grass snakes, you can let them breed. You won't need to do anything to encourage them. As long as the conditions are good and they are healthy, it will happen naturally.
But don't let them breed, unless you have a plan for the babies. Will you care for them all, or do you have someone who will take them off you? If not, make sure you know exactly what will happen to the babies, before you let your snakes mate.
The female needs to have access to a place to lay her eggs. The nesting box should be large enough for her to turn around freely. Consider using moss to keep it humid and moist.
Incubate the eggs in sealed boxes on a substrate with enough moisture. You can use the HatchRite substrate to trap humidity around the eggs.

Keep the incubator temperature at 84° F. It takes about 60 days for the eggs to hatch. As soon as the first babies emerge, they will encourage the rest to hatch.
Shedding
Grooming is crucial when grass snakes shed their skin. If the humidity and temperature are kept at ideal levels, your snake won't need any assistance, but if it has an incomplete shed, you'll need to remove the remaining dead skin yourself.
Shedding happens once or twice a month. The whole process is slow and might take an entire week to complete. If the snake doesn't shed for a longer time than you expected, or problems occur during shedding, then it might need help.
Shedding problems are not uncommon and are usually caused by dry air. If your snake is not shedding properly, raise the humidity in the tank.
You could also try adding a box that is partially filled with soft substrate materials such as dampened paper towels or moss. To help start the shed add some items to the box that the snake can rub against, like branches and rocks. A gentle rubbing under the chin might help, too.
If you have added the towels, rubbing places and increased the humidity in the tank, but there are still shedding issues, take your pet to a veterinarian.
Are Grass Snakes Dangerous?
Grass snakes are not likely to pose any threat since they are not venomous. They also rarely bite and are very docile pets. In fact, they are more likely to play dead when threatened than they are to attack.
If you come across a grass snake that appears dead, you'll want to make sure. To do that, you need to know how to tell if a snake is dead.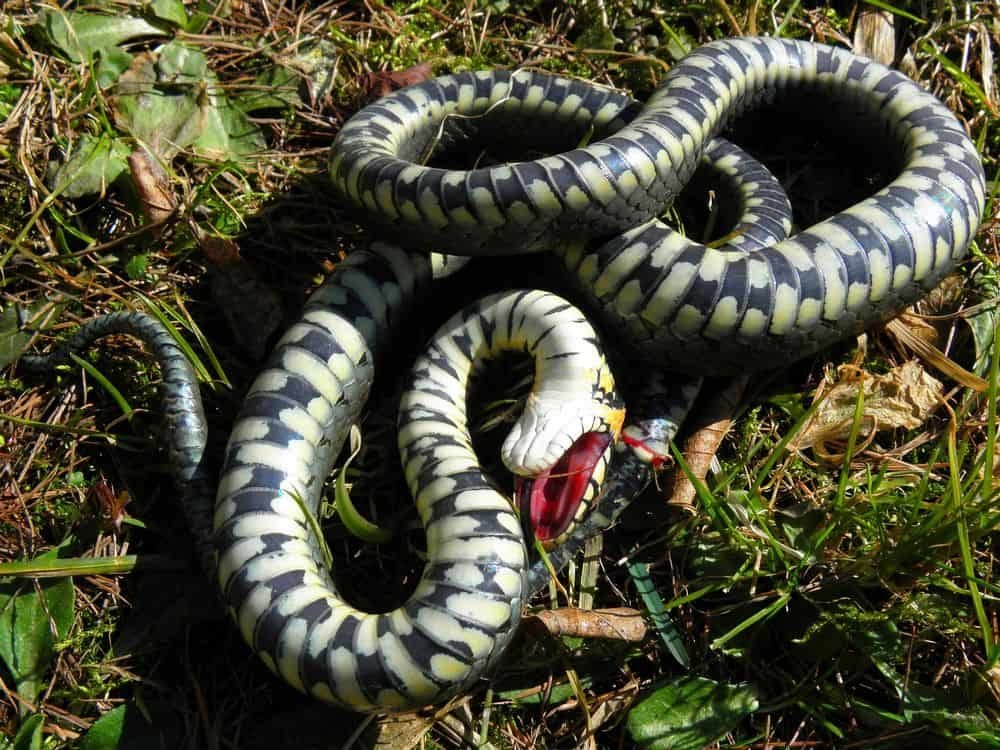 If they do bite, the only serious risk is the possibility of infection. Wash the wound with water and soap. Keep an eye on it and seek medical attention if an infection occurs.
Grass Snakes: Final Thoughts
Grass snake care does not involve nearly as much work as other types of pets like dogs or cats. Generally with snakes, the hardest part is getting the environment right, but since grass snakes come from a temperate climate, this is much easier for anyone living in North America or Europe.
Once you have the enclosure set up and ready for your snake, you just need to make sure you keep it in good health. This involves feeding it regularly and keeping the cage clean. You also need to make sure it always has water and keep and eye out for any indications that your snake is sick.
If you do that, you and your pet grass snake will spend many happy years together!