The ball python is one of the easiest snakes to own.
It is also one of the most rewarding.
But only if you know how to care for a ball python properly.
Otherwise, your pet snake will be uncomfortable and miserable. It will likely end up getting sick and eventually dying.
But there is no reason that should happen. Caring for these wonderful snakes is easy.
Follow the guidelines below and your ball python will live a long and happy life.
How To Care For A Ball Python
The ball python, also known as the royal python, is the ideal snake for a beginning snake keeper. It is small, non-venomous and caring for a ball python is relatively straightforward.
Caring for a ball python is relatively straightforward. Before we get into the details, let's begin with some basic facts about this wonderful snake.
Ball Python—Basic Facts
Popular Name: Royal Python
Scientific Name: Python Regius
Native Habitat: Central and Western Africa
Lifespan: Can live between 20 to 40 years if properly taken care of
Size: Males grow to 2-3 feet, females to 3-5 feet
Temperament: usually very shy, but they get more curious with age
Expert Level: great pet snake for beginners
The ball python comes from the same family as the boa and is also a constrictor. These snakes wrap their body around their prey and squeeze down until the prey suffocates and dies. Then they swallow it whole.
The name ball pythons comes from a unique behavior they exhibit. Whenever they feel threatened, they roll themselves into a ball like-shape and tuck their heads into the middle for protection.
Caring For A Ball Python
It is very easy to take care of a ball python. The only potential difficult part is how long you will be doing it. Well cared for, these animals can live 20 to 30 years, and in some cases even up to 40 years.
If you follow these guidelines, your pet snake will not only live a long life, but a happy one too. And it starts with the home.
Setting Up A Home For Your Ball Python
We'll cover the highlights here, but we have a full article on ball python terrarium setup that covers absolutely everything you need to know in great detail. You will need the following components, at a minimum.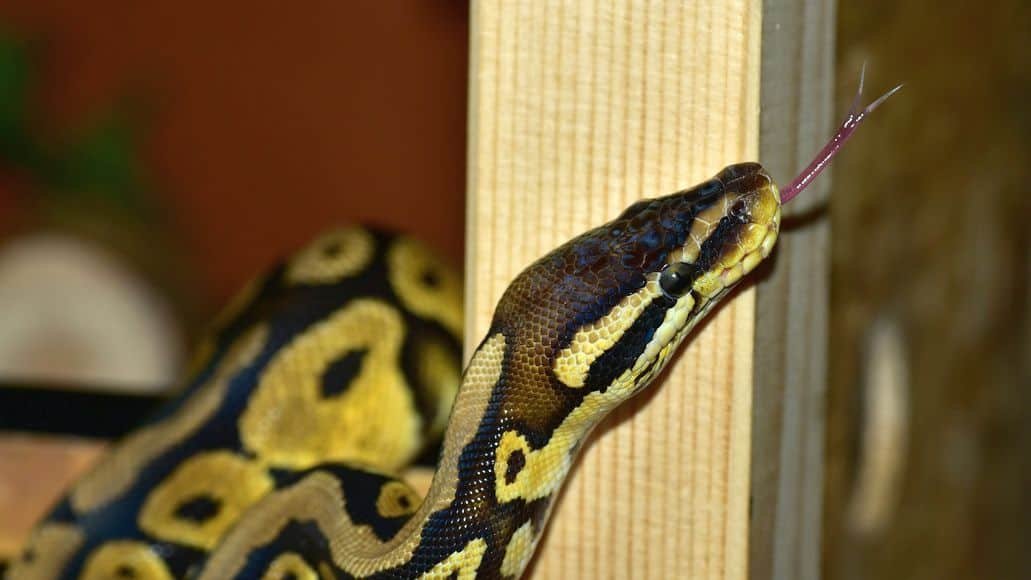 A Terrarium
A ball python needs a 40 gallon enclosure, at a minimum. Ideally, you want to provide more space, it you have it. We'd recommend at least 75 gallons for a male and 100 for a female. The bigger the better, so give your snake more space, if you have it. This article covers the best ball python enclosures.
A Hot Spot
You want the ambient temperature in the enclosure to be 78° to 80° F. You also want to have one part of the terrarium at a higher temperature. You snake uses this hot spot to help regulate its temperature and it can't go long without heat.
Use either a heating pad or a heating lamp to heat one part of the cage to 88° to 96° F. You'll want two thermometers to monitor the temperatures in both the hot and the cool part of the cage.
Two Hiding Spots
It's very important to set up hiding spots for your ball python because they love hiding. In fact, they get very uncomfortable if they do not have somewhere to hide away. Set up one hiding spot in the warmer area of the enclosure and one in the cooler area. You can buy great snake hides or make your own from flower pots, etc.
Substrate
Line the bottom of the cage with about 3 inches of substrate. You can use anything from newspaper to aspen shaving to moss. This post covers the best ball python substrates.
A Soaking Tub
At times, your snake will want to take a dip, so you should make the water dish a large one so it can double as a pool. A shallow dish is best, to prevent drowning. It should contain about an inch of water. Change the water often to keep it clean. And that brings us to the next point.
Cleaning Your Ball Python's Habitat
Once you've got your snake's habitat set up, the work is far from over. You need to make sure its home stays nice and clean, to prevent disease.
Do A Quick Daily Cleaning
You should check your snake's habitat at least once a day for feces and we bedding (from urine). Remove any feces and soiled substrate. Ball Pythons generally only defecate once in a week, but they urinate regularly. You should also remove any dead skin in the tank, when your snake starts shedding.
Wash Out The Water Dish Daily
It is of utmost importance that you wash the water dish with soapy water daily, because your snake might have soaked in it. After washing, you should refill it with fresh lukewarm water.
Use Disinfectant Once A Month
Once a month, take everything out of the tank and do a thorough washing with a diluted bleach and water solution. Soak the everything for 15 minutes and then rinse properly. Before filling the tank with clean bedding and replacing the cage accessories, make sure that it is completely dry.
Cleaning Your Ball Python
This is not something you generally have to worry about. Most of the time, the snake will bathe on its own. As long as the water dish you provide is large enough and the water is not too deep, you snake will often take a dip.
Sometimes, your snake might not be in the mood to take a bath on its own. If you feel it needs to be cleaned, put about an inch of warm water (100° to 104° F) in a large container and soak your snake for about 10 minutes.
Snakes often defecate immediately after taking a bath, so if you have a spare enclosure that is easy to clean, it might be a good idea to put it there for a while. That way, you save yourself having to clean the mess from the regular cage,
Helping Your Snake Shed
You really don't have to do anything to help your ball python shed, but it would be nice if you provided some branches, pine cones, or even stones, that your snake can use to rub its dead skin off. If you notice it rubbing the sides of the tank, that's a sign that it needs something coarser.
Feeding Your Ball Python
A ball python typically eats every 7 to 14 days. During winter, they eat less often. Younger ball pythons eat every week.
What To Feed
Feed your snake rodents that are almost the same size as your snake is wide at its widest point. Feed your snake with either a pre-killed live rodent or a thawed frozen rodent. Live rodents are not a good idea, because they will fight back and could injure your snake.
How many mice should I feed my ball python? Ideally, feed one rodent (rat or mouse) that is almost as thick as your snake at its widest point. If you only have smaller rodents, you can feed two (or even more).
How To Feed
Don't be in a hurry when feeding your snake. If it isn't interested in eating at the moment, leave the rodent in the tank for at least an hour before removing it. During summer and for younger snakes, try again the next day. During winter and with older snakes, wait several days before trying again.
Hands Off After Feeding
Let your snake rest after eating. Do not touch it for at least a day. If you try to handle it too soon after it has eaten, it will regurgitate the food.
Winter Feeding
As mentioned, pythons eat less often during winter. This is nothing to worry about. Just keep offering a rodent once per week and when your snake is ready, it will start eating again.
How To Handle Your Ball Python
The ball python is typically shy, so holding your new pet and allowing it to get used to your new home will take some time. A good sign to know if your new pet is relaxed is if you see it eating. When you are ready to try handling your new snake, follow these guidelines.
Be Patient
As mentioned, ball pythons are fearful and shy at first. You should give you new pet some time to get to know you. If in the course of picking him up, you get bitten, just wash the bite with soap and water and try again after a few days.
Use Both Hands
Handling your ball python this way will help it stay comfortable and help you stay still. If you use a snake hook, you also want to make sure to support the snake with your free hand.
Don't Handle Around Feeding Time
We already mentioned that handling your snake immediately after eating will cause it snake to regurgitate. Give your snake at least one day before you handle him. You should not handle your snake before feeding either. It will stress it out and it might refuse to eat.
Make sure you feed your new snake at least once before you think of handling it for the first time. This way you know it is already feeling a bit more relaxed around you.
Avoid picking up your snake around shedding time
Don't startle your snake as this may make it defensive. Make sure your snake sees you before picking it up.
Don't restrict the movement of your snake by griping it tightly, especially his head. Lift it around the middle area of its body and support it with the other hand.
Wash your hands before and after handling your snake.
If you are having trouble handling your snake, read our article on taming an aggressive ball python. Even if yours is not aggressive, the post has a great step-by-step guide for helping your snake feel comfortable around you.
Benefits Of A Ball Python As A Pet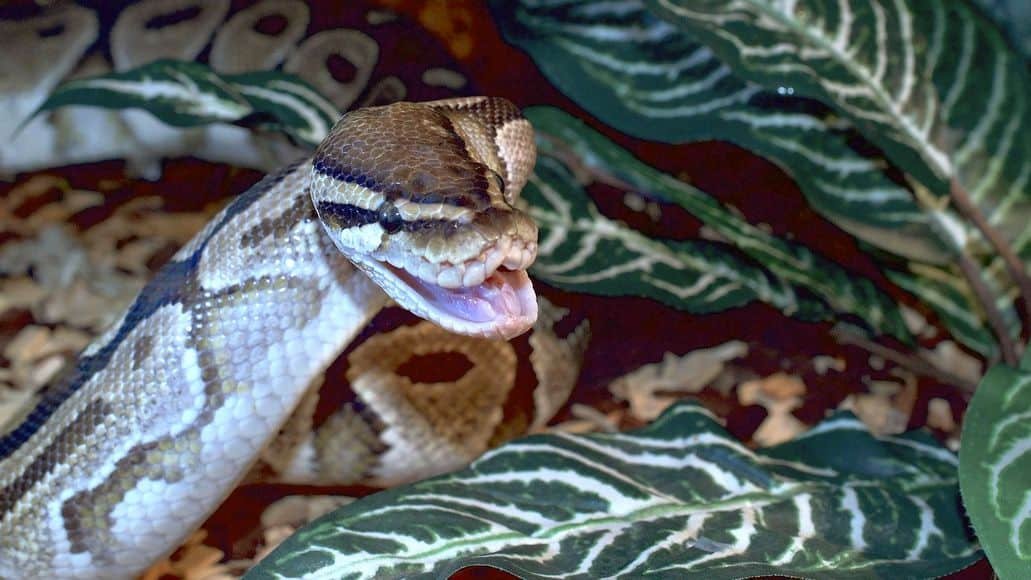 The ball python makes a great pet. Because it is easy to care for, most people love and enjoy owning one. The ball python gets used to your touch the more you handle and hold it. You should also try to have chat time with your snake at least once a day.
Here are some of the great benefits of owning a ball python:
Compared to dogs or cats, ball pythons require very little maintenance
Feeding a ball python is easy as they eat only once every one to two weeks
Ball pythons defecate only once a weekly
Cleaning up the habitat is easy
An average ball python can live for as long as 20 to 30 years or longer
The ball python stays smaller than most snakes, growing to between 3 to 5 feet in length
Having a pet snake is cool, because it's not a common pet; and ball pythons come in tons of different colors and designs, like the banana ball python
Ball Python Care: Final Thoughts
With proper care and good health, you will have many years of excitement and companionship with your ball python. Learning how to care for your ball python will you and your snake enjoy a long life together.