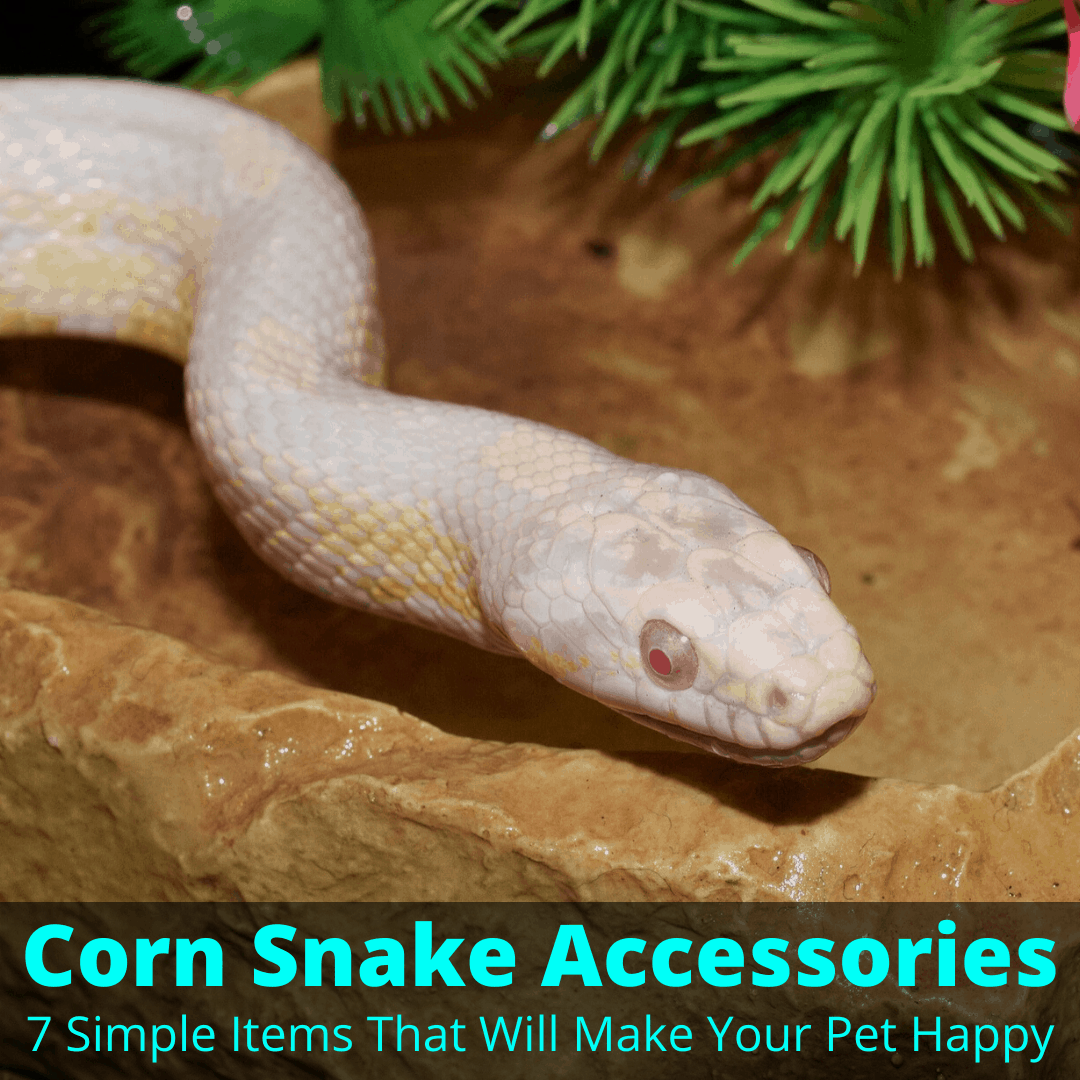 Corn snakes are extremely popular, because they are such low maintenance pets.
They are not picky about their environment and they don't need much to make them happy.
But there are a few corn snake accessories you should absolutely provide your pet. These are things that will make it feel much more at home and comfortable.
Without these accessories, your snake might not feel happy in its new home. It could get stressed and fall ill.
All of the following accessories are low-cost and easy to find. Adding them to your corn snake enclosure will make you pet feel much more comfortable and that goes a long way toward keeping it happy and healthy.
Corn Snake Accessories
The following accessories are all things your corn snake needs to feel comfortable. The first and last item are a bit different, in that they are habitat kits that include multiple accessories in one bundle (the first one even includes the terrarium).
Complete Reptile Starter Kit For Corn Snakes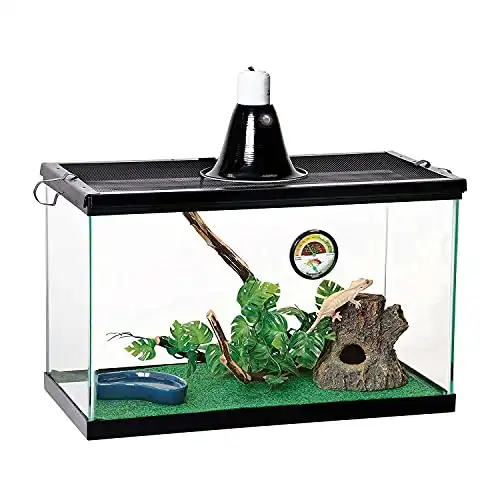 With two available options, the Zilla reptile starter kit makes an ideal home for both desert-dwelling animals or for tropical and forest dwelling ones. For a corn snake, you'll want the forest habitat.
A special dome light is included in each kit to provide heat and light for your corn snake. The screen cover keeps your critter safe and secure (they are very good at escaping, so this is important). The included temperature gauge keep you aware of the environment inside the enclosure.
You also get a night black incandescent bulb that provides heat, but no light, making it perfect for the nighttime. Consult the Zilla habitat guide to ensure you know the right temperature for your snake.
The total weight of the kit is 18.2 pounds and the dimensions of the enclosure are 20.2 x 10.5 x 12.6 inches. The habitat is easy to set up. The kit includes a 10 gallon terrarium with a mesh cover, two 5.5″ reflective domes, a black and a white bulb, a temperature gauge and a terrarium liner.
FAQ
What are the dimensions of the product?
The dimensions of the terrarium are 20.2 x 10.5 x 12.6 inches.
How do I can claim the warranty?
Zilla's customer service center deals with warranty issues.
How much does this weigh?
The total weight of the product is approximately 18.2 pounds.
How many lights are included?
There are two 5.5″ reflective dome lights included.
How do I adjust the temperature switch?
Please read the user manual carefully, before using the temperature switch.
Mossy Cave Hiding Spot For Corn Snakes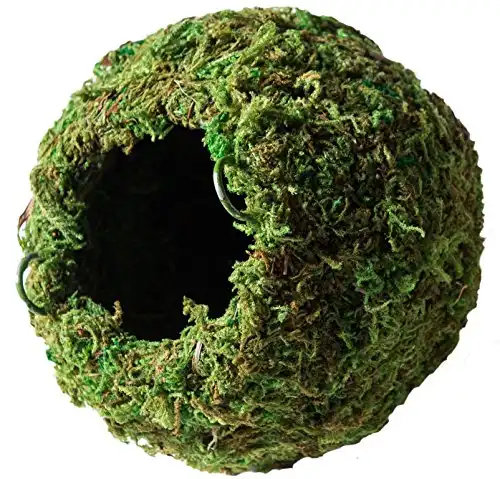 Corn snakes need spots in their enclosure where they can hide out. Without them, your snake will never feel comfortable. It feels exposed, which causes stress. And stress can lead to illness and even death.
There are a lot of different options for hiding places (including another one below on this list), so you can outfit the terrarium however you like.
The main requirements are that the hide not be toxic and that it looks like it belongs in a corn snake's natural habitat.
This hide made from green or sphagnum moss looks and feels perfectly natural to your snake. You can mist the moss to give it some moisture, just like moss in the wild. Add additional moss or other terrain features to it to make it look even better.
This hide fits perfectly in the corner of a cage, so it takes up less space than many other options. It holds up well to humidity and UV, so it will last a long time. It is available in two different sizes: 4 inches or 6 inches.
FAQ
Can you use this in an aquarium?
No, the moss would dirty the water and would not last long underwater.
How long does it last?
It will last at least a year or two.
Is it safe for corn snakes?
Yes, the moss and wire used to construct this hide are both perfectly safe for any type of snake, other reptile, or amphibian.
Half Log Hide For Corn Snakes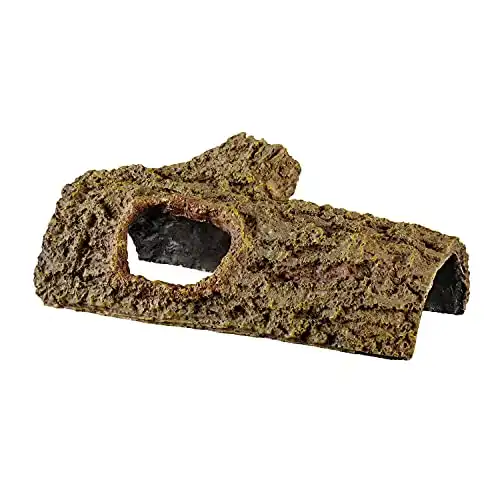 As mentioned, hiding spots are very important for snakes. Ideally, you want at least two of them, with one in the hot spot and one in the cooler area of the enclosure. This way, your corn snake can feel hidden away and secure whether it is warming up or cooling down.
The previous hide above had a natural mossy look. This one looks like a hollowed out log. It is a feature that fits into any type of habitat, including an underwater aquarium.
Half logs like this are definitely the kind of place a snake might hide in the wild, so they will love having this in their enclosure. The open ends on both side make it even easier to get in and out, but also make it possible to see inside easier and watch your snake.
The exterior surface is not porous, which is important to prevent bacterial growth. It also makes the hideout easy to clean with warm, soapy water.
This log is available in 3 different sizes. The largest measures 5 inches wide by 10.75 inches long by 5.5 inches tall and is a great size for a corn snake.
FAQ
Could a medium fit an adult corn snake?
Only if the snake is small. I'd get the large size for a corn snake.
Can this mold in a humid environment?
No, it does not grow mold due to the non-porous surface. But you should clean it regular anyway (whenever you clean the enclosure, clean the accessories as well).
Does it have any sharp edges that could harm my snake?
No, it does not. You may have read some reviews that brought this up as a problem, but it has since been rectified by the manufacturer to make this hide safer.
Water Dish For Corn Snakes

All snakes need water and the corn snake is no different. Obviously, they need water for drinking, but they also need it for soaking.
Snakes like to wash themselves to stay clean and it also helps with shedding. Having water in the enclosure is useful for increasing humidity levels, too.
It is important to always provide fresh, clean water, so you need a water dish that is easy to dump out and refill and also easy to clean.
It should be wide, to ensure your snake doesn't tip it over and to ensure it has enough space to get its entire body in the dish for a bath.
This water dish by Exo Terra meets all of those requirements.
It is made from a food-grade resin that is safe and easy to clean. The surface is smooth, so there are no pores that could absorb dangerous bacteria. It is wide, so it can't be tipped over.
It also has a natural and realistic finish, so it will not look out of place to your snake. It integrates perfectly in a forest habitat, but works great for a tropical or desert terrarium as well.
It is available in four different sizes. The large size is good for smaller corn snakes and extra large is best for larger ones. It is about 10 inches in diameter and 2 inches deep.
FAQ
Would this also work underwater in an aquarium?
It is made from food-grade resin, which is the same material most aquarium decorations are made from. It would be perfectly fine underwater as a shrimp feeding bowl, for example.
Do this bowl have any sharp edges??
No, it does not have any sharp edges. It is perfectly safe for your corn snake.
Is it dishwasher safe?
You could put it in the dishwasher, but we strongly recommend against it. You don't want any soap residue to be left behind. Is it very easy to clean with just some warm water.
Hanging Vines For Corn Snakes

Reptiles, especially corn snakes, love a woodland environment where they can hide and rest. Hanging vines allow you to give your pet's terrarium a natural jungle look to make them feel right at home.
These hanging vines are made from polyethylene non-toxic material and have suction cups that attach to the tank wall. There are different styles available, like pothos, purple coleus, English ivy and red coleus.
They are generally 6 feet in length and can be used in a tank with heat lamps of 95 to 160 watts. The dimensions of the hanging vines are approximately 10 x 3 x 12 inches.
FAQ
What are the risks associated with hanging vines?
Hanging vines have a metal wire inside them. If it is exposed, it will begin to rust. Excessive humidity damages the suction cups and may cause shedding of leaves.
How can I use these vines in a mesh cage?
Suction cups don't work in mesh cages, but you can use clips and command strips. Paper clips are another alternative to suction cups in mesh cages.
Do these vines need regular washing?
There's no need to wash hanging vines regularly, since they are made from polyethylene material. But if you want to wash them, you can use mild soap or a vinegar solution to clean them.
How many vines do I need to fill my reptile's cage?
The dimensions are 10 x 3 x 12 inches and usually, one vine is enough to fill an average sized cage.
Can small corn snakes climb these vines?
Yes, small reptiles can climb on these vines.
Heating Pads For Corn Snakes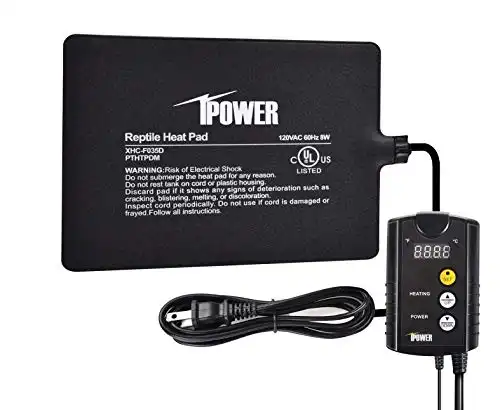 A heating pad provides heat where your corn snake needs it. These pads go underneath a terrarium, vivarium, or other type of habitat.
This reptile under-tank heating pad is specially designed to provide a safe and secure environment to your corn snakes. They are perfect for providing steady heat for your corn snakes. The heating pad is also suitable for other snakes, lizards, spiders, and crawlers.
You can control the temperature of the heating pad with three different levels to select from. You can adjust the temperature from 20° C to 35° C.
You should always place the heating mat outside the tank, never inside. The material it is made from is easy to clean, because the surface has hydrophobic properties. This pad is available in three sizes: small at 3.9 x 7.8 inches (10 x 20 cm), medium at 5.9 x 11 inches (15 x 28 cm), and large at 7.8 x 9.8 inches (20 x 25 cm).
FAQ
Can I roll/fold the heating pad?
The heating pad is not made of flexible material. Do not fold or roll it up. This could irreparably damage it.
Can I use the heating pad as a pillow?
The reptile heating pad should not be placed under the body. Do not use the heating pad as a pillow or put heavy objects on it. Only use them for reptile terrariums like a corn snake habitat. Pressure on the heating pad can damage it internally.
Can I wash the heating pad?
It is possible to wash the separate cover but don't use the heating pad until it has dried completely. Avoid placing the heating pad in humid places without the cover.
Can I cut or bend the product?
No, bending or cutting the product may affect the usability or damage it permanently. Keep the heating pad in a straight position and avoid placing any sharp objects near it.
Is there any replacement option available for damaged heating pads?
Unfortunately, there are no replacements for products damaged by rolling, folding, cutting, bending, or those damaged by water or humidity.
XYZ Reptiles Corn Snake Habitat Starter Kit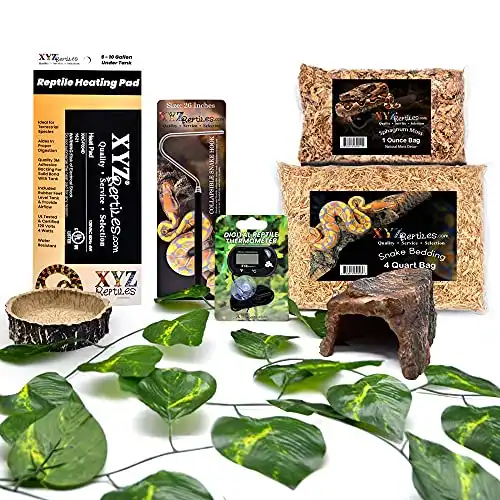 This corn snake kit from XYZ Reptiles ensures that your corn snake feels comfortable in its new home. The kit includes a 4-quart bag of premium aspen snake bedding, a Zoo Med under tank heater, a digital thermometer, a water dish, a snake hide and a snake vine.
This gives you everything you need inside your enclosure to set up the perfect vivarium for a your corn snake. Just so there is no confusion, this kit does not include an actual enclosure. This article will help you choose the perfect enclosure to go with it. The kit is meant for a 10-gallon terrarium.
FAQ
How much does the kit weigh?
The total weight is 2.6 pounds.
Can I set the temperature manually?
Yes, you can set the temperature manually. See the manual for further information.
What is included in the kit?
The kit includes bedding, a thermometer, a vine, a hide, a water dish and a heat mat.
Does the corn snake kit ensure the health of my snake?
Yes, this kit is designed specifically for corn snakes, so all the included components are things they will love and that will not harm them.
Note: the corn snake kit is not always available, in which case you could also check out xyz's more generic snake habitat kit, which is very similar.

Corn Snake Accessories: Final Thoughts
Corn snakes are hugely popular, because they are easy to care for and easy to please. But you should still give your snake plenty of toys to keep it happy.
It is also fun to watch them enjoy their accessories, though some might find corn snakes a bit dull. They're not as active as some others.
If you prefer a more active beginner snake, read ball python vs corn snake for a comparison with arguably the most popular pet snake of all.