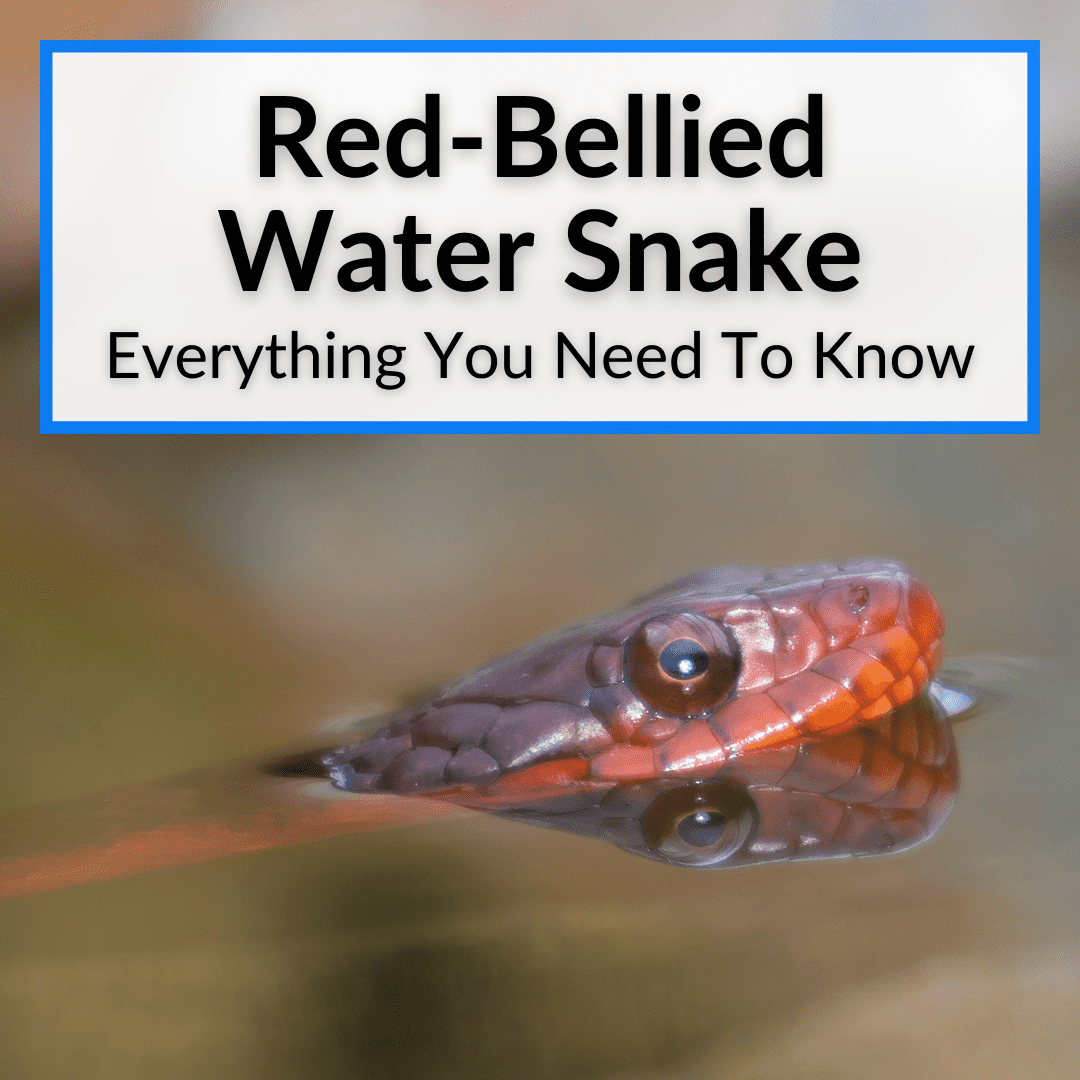 The red-bellied water snake looks beautiful.
If you see one, you can't be blamed for wanting to get a closer look, or perhaps even a nice photo.
But is that a good idea?
Is the red-bellied water snake poisonous? Is it aggressive?
Could it make for a good pet?
Keep reading to learn everything you need to know about the red bellied water snake, including it's suitability as a pet. Here's a hint: for most people, we recommend getting a different species.
Red-Bellied Water Snake
The Red-Bellied Water Snake, also known as Nerodia erythrogaster is a beautiful and unique non-venomous water snake. The explanation behind the Red-Bellied's scientific name is simple.
Neros is Greek for 'flowing or liquid' and dia means 'through'. Erythro means 'red' and gaster means 'belly'. Thus it is literally a 'snake with beautiful red flowing liquid on its belly'. It is also known by other names like Copper-Bellied Moccasin and Orange-Bellied Moccasin.
The Red-Bellied Water Snake is characterized by a distinct unmarked, orange, yellow, or reddish belly. The unmarked belly, which is a unique feature compared to other water snakes, has also earned it different monikers such as Plain-Bellied Water Snake or simply Plainbelly Water-Snake.
Note that there exists another snake with a rather similar name: the Red Bellied Black Snake (Pseudechis porphyriacus). It is not to be confused with the Red-Bellied Water Snake.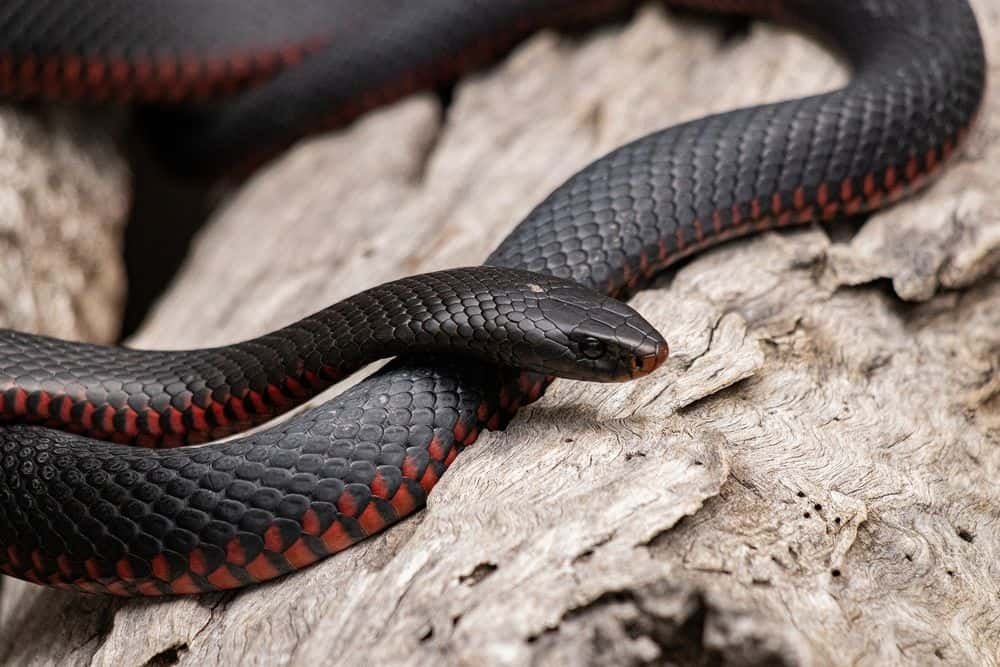 The important difference is that the Black one is venomous while our Red-Bellied Water Snake isn't. It also has shiny, black scales with creamy pink to rich red belly and a brown snout. And it is thicker and larger than the water snake. However, both species reside near bodies of water.
Let us take a mc closer look at the Red-Bellied Water Snake
Description
The Red-Bellied Water Snake features beautiful colors including olive green, chocolate brown, gray, or ebony black on its back. The belly may be red, orange, or yellow, which sharply contrasts with the dark coloring. The striking coloring is also present on the throat and jaw
There are variations in the subspecies, based on the geographic locations it is found in. However, most adult Red-Bellies grow between 20 and 45 inches (between 2 to 3.5 feet) with a record length of 62 inches. Juveniles tend to have bands on their upper sides with plain, unmarked reddish bellies.
Another distinguishing characteristic of this water snake is their 'keeled' scales, which appear bumpy and pronounced, unlike the smooth scales we see on most snake species. The 'keeling' gives them a dull appearance. Younger Red Bellies often have stripes and blotches that help camouflage them from their predators.
Habitat
Red-Bellied Water Snakes live close to bodies of water, like swaps, tidal freshwaters, lakes, coastal plain rivers, and ponds. They are found in the southeastern parts of the United States, mainly in Oklahoma, Florida, Tennessee, Texas, and North Carolina.
Depending on their location, the species have different vernacular names. For example, in Western Missouri through Kansas, it is known as Nerodia erythrogaster transversa, while in Alabama, Louisiana, Florida, eastern Texas, and Arkansas, it is known as the Nerodia erythrogaster flavigaster.
As pets, these snakes have very stringent habitat requirements. You have to find the exact humidity, humid enough to avoid desiccation, but not so humid that is leads to fungal infections and skin diseases.
And if you do get the light, temperature, and humidity right, you may also have to artificially hibernate your snake over the winter. This requires a lot of skill and know-how, so this is definitely not a pet for beginners.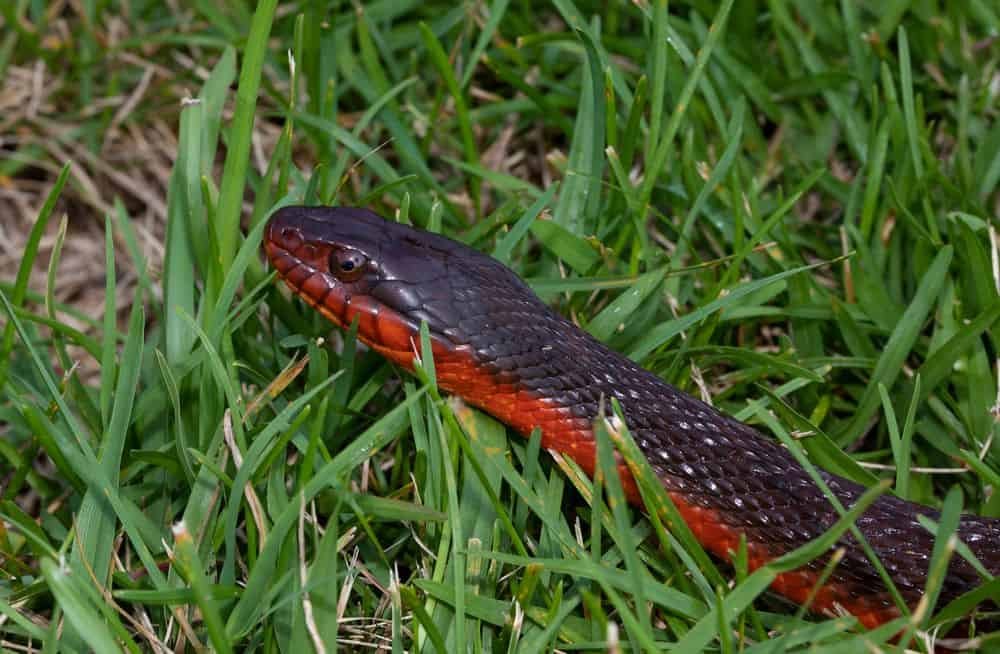 Behavior
Like most water snakes, the Red Bellied snake is more active during the warmer months. You might see them up and about in summers, both at night and during the day. Don't be surprised to find them around or under rocks and logs, near swamps and water bodies.
In fact, during hot and humid months, they even travel far and wide, sometimes far away from their watery abodes. They are usually solitary creatures, except when they mate. Mating occurs in groups, known as cords.
As the weather turns cooler, they regulate their body temperature and remain inactive during the day, only venturing out at night in search of food. In winter, they hibernate. Hibernation is done under rocks, in abandoned crayfish burrows, and along stream banks.
When threatened by predators, these snakes display unusual behavior. Unlike other water snakes that choose to avoid conflict and hide or flee from predators, the Nerodia erythogaster may become aggressive.
It may even try to mimic venomous snakes in that it sits coiled and ready to strike. In the place of venom, it shoots out a foul-smelling musk that could disorient its predator. If this snake feels threatened, it will not hesitate to sink its fangs into its attacker.
Many people want to know whether this species can make good pets. There are various aspects you need to consider here.
First, unlike most water snake species, they aren't very docile. In fact, this snake can be downright aggressive. Secondly and as mentioned before, they have very specific and stringent habitat needs.
Third is its diet. This too can pose enormous problems as you will see in the upcoming section.
Diet
Like most water snake species, the Nerodia Erythogaster gets its food from rivers, ponds, and other water bodies. They feast upon fish, toads, frogs, salamanders, newts, and other amphibians.
They can eat any critter that ranges in size from 30 to 50 inches. In the wild, they sit submerged in the water and wait for their prey to come to them.
This snake can swim, but not as well as other water snakes. Can all snakes swim? Yes, but some are definitely much better at it that others. The best swimmers are typically water snakes and sea snakes.
In captivity, you will need to feed your Red-Bellied plenty of small fish, slugs, earthworms, and frozen/thawed rodents. Ideally, you want to feed your juvenile snake every other day and your adult snake once or twice a week.
Slugs are the juvenile Red-Bellied Water snake's favorite food. That can be problematic during winters when the supply of slugs dries up.
Another unfortunate problem in keeping this species as pets is that most captive water snakes regurgitate or vomit out a majority of their food. Add to this the fact that they hate bright light and tend to spend most of their time hiding. Therefore, feeding can be a hassle which is why many water snakes end up starving to death in captivity.
Reproduction
The Red-Bellied Water Snake's reproduction is rather unique. Unlike most other snakes that are oviparous – meaning they reproduce by laying eggs – this species gives birth to live young snakes. It is not the only species to give birth like mammals, but these types of snakes are definitely in the minority.
This means that the species skips an entire stage of its life cycle. That is a good thing, because snake eggs are vulnerable to predators and environmental hazards.
Male and female Red-bellied water snakes reach sexual maturity at 3 to 4 years of age. Mating takes place in spring through the early summer months and it usually occurs in groups.
Each group – known as a cord – consists of one female and up to 5 to 7 male snakes. The females prefer to mate just once per year, but they can retain viable sperm inside their bodies for almost 2 years.
Mating involves a lot of courtship such as tongue flicking, following each other, coiling around, etc. It takes place in shallow waters along shorelines of ponds and near wet, woody debris. When it is time to do the deed, the male and the female align themselves from head to tail and coil around each other with their tails entwined.
Births occur from August to October with a gestation period of around 3.5 months. Each litter consists of an average of 17.5 snakes. The largest litter sizes on record reach up to 55 baby snakes.
Red-bellied Water Snake: Poisonous Or Not?
Red-Bellied Water Snakes are not poisonous. However, they can be aggressive and are certainly not docile or meek like other water snake species. They also tend to attack with foul-smelling musk when they feel threatened. Their sharp fangs can pierce through skin. A bit is not fatal, but it can be painful.
Status
Nerodia erythrogaster neglecta, the species found in the Northern parts of America is on the decline. This is why they are listed as threatened by the U.S Fish and Wildlife Service and endangered in states like Ohio, Indiana, and Michigan.
These snakes play a crucial role in the ecosystem as they are the food of predators like birds and mammals. Also, they prey on toads, insects, and fish, keeping their populations in check.
How To Find A Red-Bellied Water Snake
In the mid-summer months, especially when the humidity is high, this snake is known to travel long distances along the swamps of the eastern shores.
If you hike or drive a bike slowly on roads near these swamps you may come across one. It is important that you report the sighting to that state's Wildlife and Heritage services since the species is on the rare species watchlist.
Red-Bellied Water Snake: Common Questions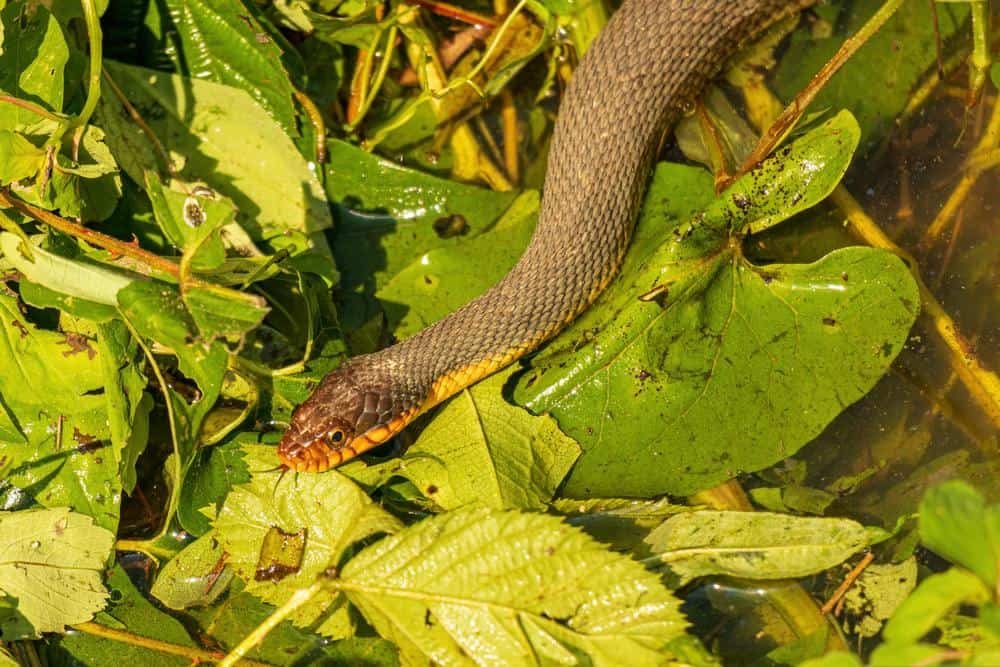 Do all water snakes have red bellies?
No, not all water snakes have red bellies. For example, the Florida green water snake has no distinctive appearance other than dark speckling all over. Similarly, the southern water snake has no red or yellow color on its belly area.
What eats the Red-Bellied Water Snake?
The Red-Bellied Water Snake has many predators like birds, large fish, wild and domestic cats, raccoons, and squirrels.
Do Red-Bellied Water Snakes make good pets?
There are several factors that do not make this species of snake good house pets. First, they are not available in pet stores, so you'd need to catch one yourself and there may be laws against that, given their endangered status.
Second, they can be aggressive and produce foul musk. Third, they need a very specific environment and diet, and failure to provide these could prevent your snake from thriving. It could even lead to its death.
Red-Bellied Water Snakes: Final Thoughts
The red-bellied water snake looks beautiful and it is not venomous. But it is aggressive and can easily spray you with musk when threatened, or perhaps even bit. Their bite is generally harmless, but it is painful. And there is always the risk of infection.
If you see one of these snakes, it is best to keep your distance. As mentioned above, you should also let the local Wildlife and Heritage services know, since this species is endangered.
If you are considering this species as a pet, we recommend against it. It is certainly possible to keep it as a pet, but it is not easy. Unless you have a lot of experience keeping snakes, get another species instead. There are plenty of snakes that make great pets.