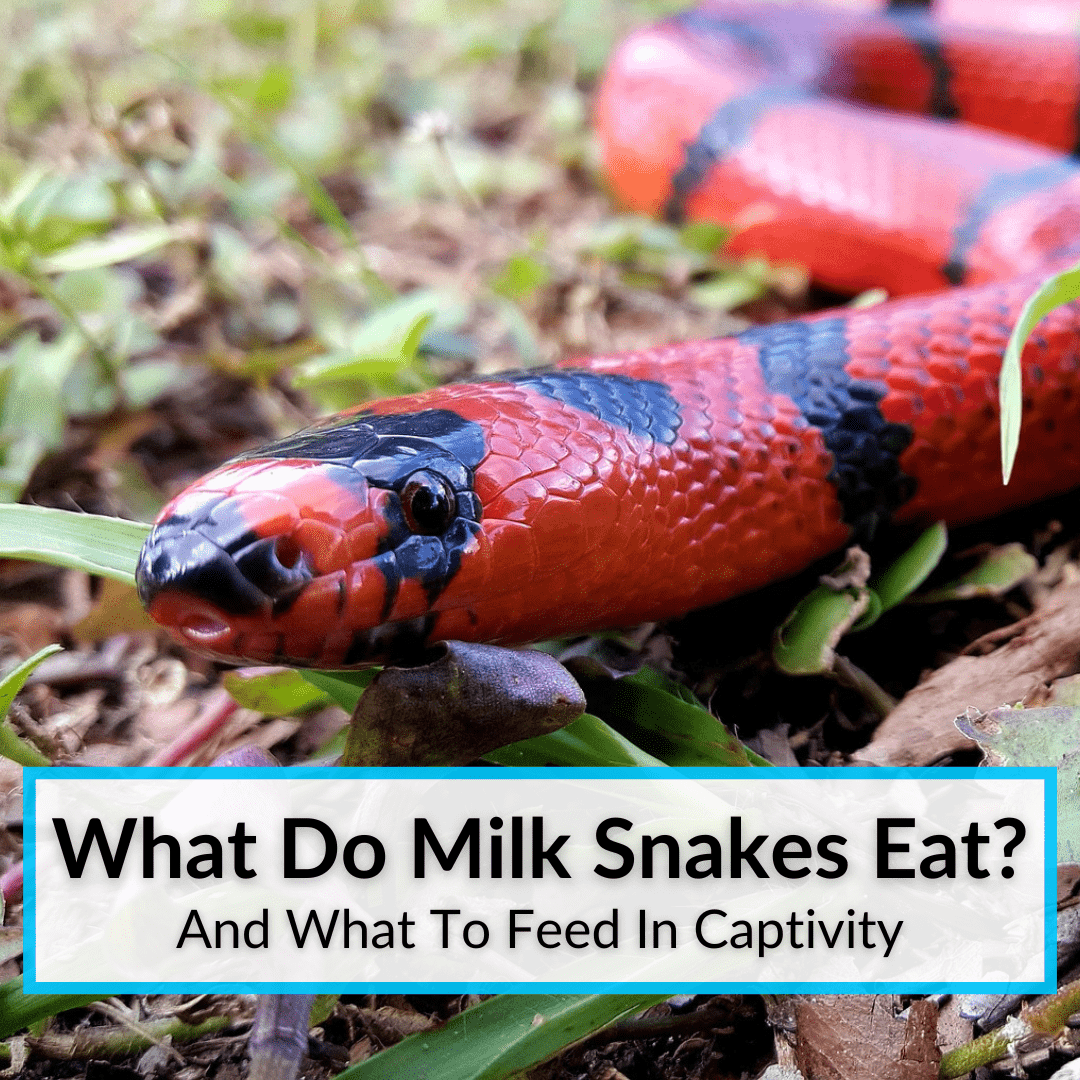 Do you have a pet milk snake, or are considering getting one?
Or are you simply curious about what milk snakes eat?
I ask, because the answer to the question at hand will differ, depending on whether you are asking about milksnakes in the wild or in captivity.
The milk snake diet varies greatly in the wild. What they eat depends primarily on the habitat.
But in captivity, you should stick to one or two specific foods.
What are those foods?
Keep reading to learn exactly what milk snakes eat in the wild and what you should feed them in captivity. We will also go over the best way to feed your milk snake.
What Do Milk Snakes Eat In The Wild?
In the wild, milk snakes eat a variety of small mammals like mice, chipmunks, rats, bats, possums, shrews, jerboas, rabbits, squirrels and more. They also eat birds and their eggs.
Sometimes, they may eat other smaller snakes. Insects and slugs are some other foods that wild milk snakes feast upon from time to time.
Milk snakes are opportunistic hunters. They wait for their prey to come to them instead of actively searching for it. They are also constrictors, which means they kill their small prey by constricting its body until it is subdued. They then swallow it whole.
The Milk Snake Diet Depends On The Habitat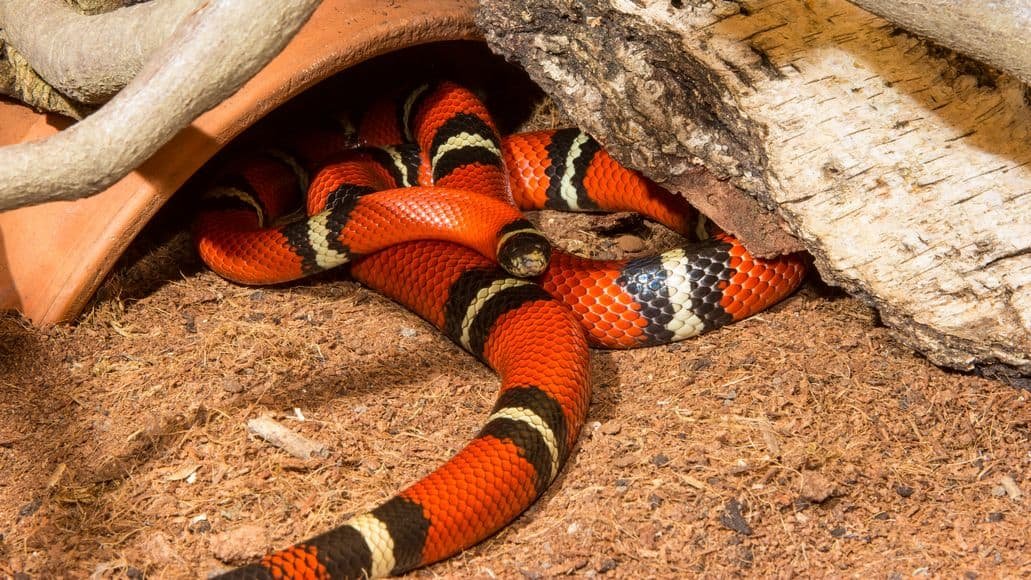 Milk snakes live in a variety of habitats. You can find them near open woodlands, in forests, grasslands, around streams, rocky hills, and on farms. Some species of milk snakes, like the Sinaloan milk snake, are found in the dry, arid deserts of Mexico.
A milk snake's diet will vary according to its habitat. For example, the Sinaloa Milk snake has easy access to lizards and other reptiles and their eggs, as well as to amphibians, and small mammals like desert rats.
For the Eastern milk snake, which is found extensively in states like Maine, Minnesota, Connecticut, and Tennessee, the diet consists of insects, amphibians like frogs and toads, and small mammals like rats, rodents, possums, squirrels, rabbits, etc. They also feed on other smaller non-venomous snakes, like garter snakes and on birds and their eggs.
The Diet Also Depends On Age
Baby milksnakes (hatchlings) and young milksnakes (juveniles) eat smaller prey that can easily fit in their mouths. Typically, this includes slugs, snails, insects, small mice or rats, lizards, and bird eggs.
These small animals are easy to catch and swallow for the young snakes. Adult milksnakes may prefer larger prey, like adult rats and moles.
What Do Milk Snakes Eat In Captivity?
Your pet milk snake needs a carnivorous diet consisting of rats or mice. You can also occasionally feed your milk snake insects. A word of caution: never feed live insects like crickets to your snake. Crickets can claw snakes' scales and could harm your pet.
The major portion of your pet milksnake's diet should be frozen and thawed rats or mice. From time to time, you can feed your adult milksnake live mice and rats, though this can put your pet at danger of injury. In general, it is best to stick to dead prey.
Factors To Consider When Feeding Your Pet Milksnake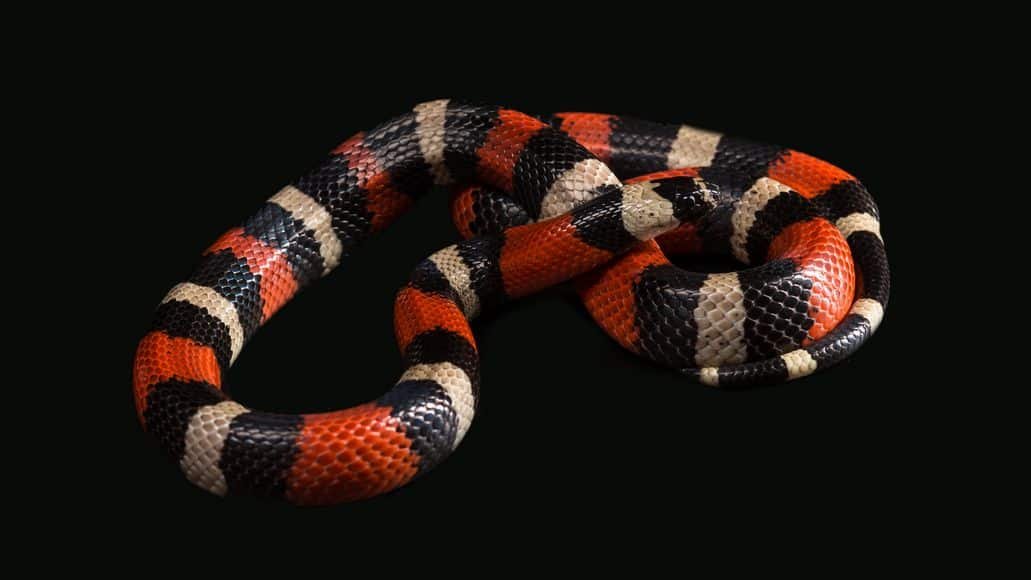 When feeding your milk snake, you need to take the snake's age and size into account. It is also important to know what to feed your snake and how often to feed it. We will cover those things next.
Your Snake's Age And Size
Baby milk snakes need small-sized or baby rats to eat. You can also feed your baby milk snake insects.
For an adult milksnake, you can feed an adult rat. When feeding your pet, follow the rule of thumb that the food should not be bigger than your snake's widest spot.
Frequency And Quantity Of Feeding
Snake food is sold according to the size of the rat or mouse. You have pinkies (baby mice without fur), fuzzies (slightly older mice that have a bit of fur), hoppers (juvenile or young adult rats), and rat pups or adult rats, which are the biggest and most suitable for feeding larger adult milksnakes.
As mentioned earlier, choose the food according to the size of your snake. It should not be bigger than the widest part of your milksnake's body.
Feed your hatchling or juvenile snake one pinkie mouse every 3 to 4 days.

Adult milksnakes need one rat, or two to three fuzzies, or one to two hoppers once every 5 to 7 days.
How To Feed A Pet Milk Snake
Feeding a milk snake is not difficult, if you know exactly what to do. That is what we will cover now.
Sourcing the Food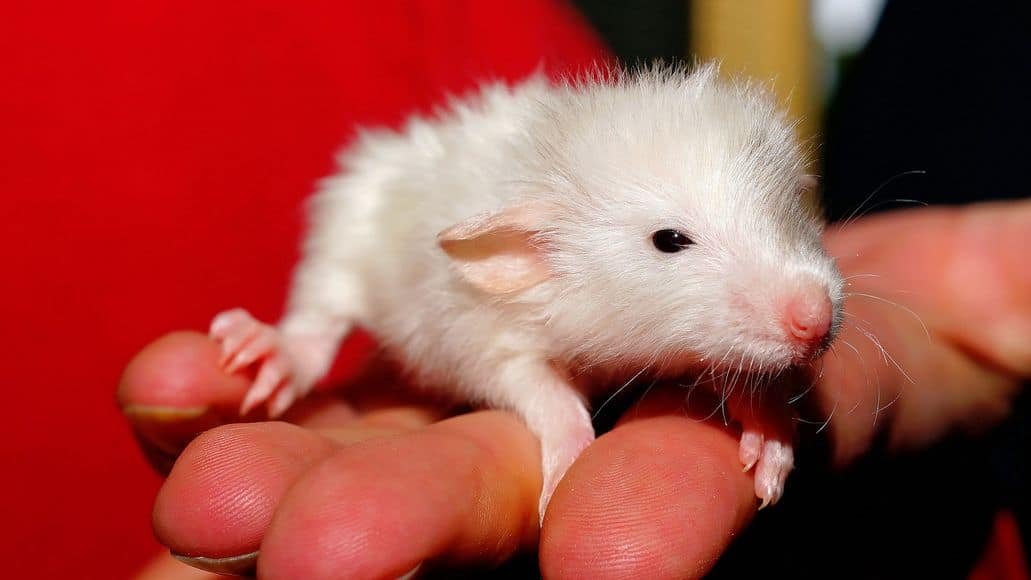 You can raise or breed the rats or mice to feed your snake. If you want to buy live mice for your snake, you'll have to find a pet store or snake breeder near you that has them. Or you can simply buy frozen snake food from a pet store or Amazon.
Frozen mice and rats are convenient for weekly feedings, since they are easy to thaw and feed right away. You can easily get frozen mice or rats at a local pet store or online. Always buy your snake's food from a source you trust.
Once you buy frozen food, follow the instructions regarding thawing. Place the food on a tissue and set it under a fan. Mostly, it will thaw in 10 to 15 minutes, depending on its size.
Many pet snakes prefer warm food. In such a case, you can place the food in a bowl filled with hot water or run a hair dryer over it. Do not microwave the frozen food, since it could explode.
Use a pair of feeding tongs or tweezers to dangle the food in front of your snake's mouth. This will entice your pet to snatch it. Discard uneaten food right away.
Feeding Live Food
From time to time, you might want to feed live rats and mice to your milksnake. You can also start your hatchlings and juveniles on live baby rats and then switch to frozen mice or rats as your snake grows.
Feeding live food encourages your milksnake to think and behave just as it would in the wild. This is useful for its mental well-being. Live food also does not need any preparation like frozen food does.
The downside to feeding live food is that you might have to breed the mice at home or run to the store each week to buy it fresh. Another downside to feeding live rats or mice is that they could hurt your snake if they fight back. Which they usually do.
In the end, it is up to you whether you want to feed your snake live food or not. We generally recommend against it, since we feel the negatives outweigh the positives.
Don't Forget Water
Your milksnake needs fresh drinking water in its cage. Your snake might not drink often, but it does like to submerge itself in the water bowl from time to time. This is important for its hygiene.
To allow for this, make sure the water bowl is deep enough for your snake to submerge itself. Clean and disinfect the bowl every few days and refill it with fresh water.
What Is A Milksnake's Favorite Food?
Milksnakes, like most snakes, love rats, mice, rodents, lizards, frogs, toads, birds and bird eggs. Mice and other rodents are the usual favorites. You can also feed your snake a few insects, but in moderation.
The main food for captive milksnake is rats and mice. If you have them, you can also feed it hamsters and gerbils. But we generally consider these cute pets, so most snake owners prefer not to feed them to their snakes.
What Milksnakes Eat: Final Thoughts
Milk snakes eat a huge variety of prey in the wild. What they eat specifically depends on their habitat and the animals that live there. It also depends on the size of the snake. They only eat prey they can catch and that fits into their mouths.
In captivity, you are best off sticking to a single food source, or perhaps two. This usually means frozen rats or mice since they are the easiest to find and to feed. Some people prefer to feed their pet snakes live rodents, but we feel the negatives of doing that outweigh the benefits.