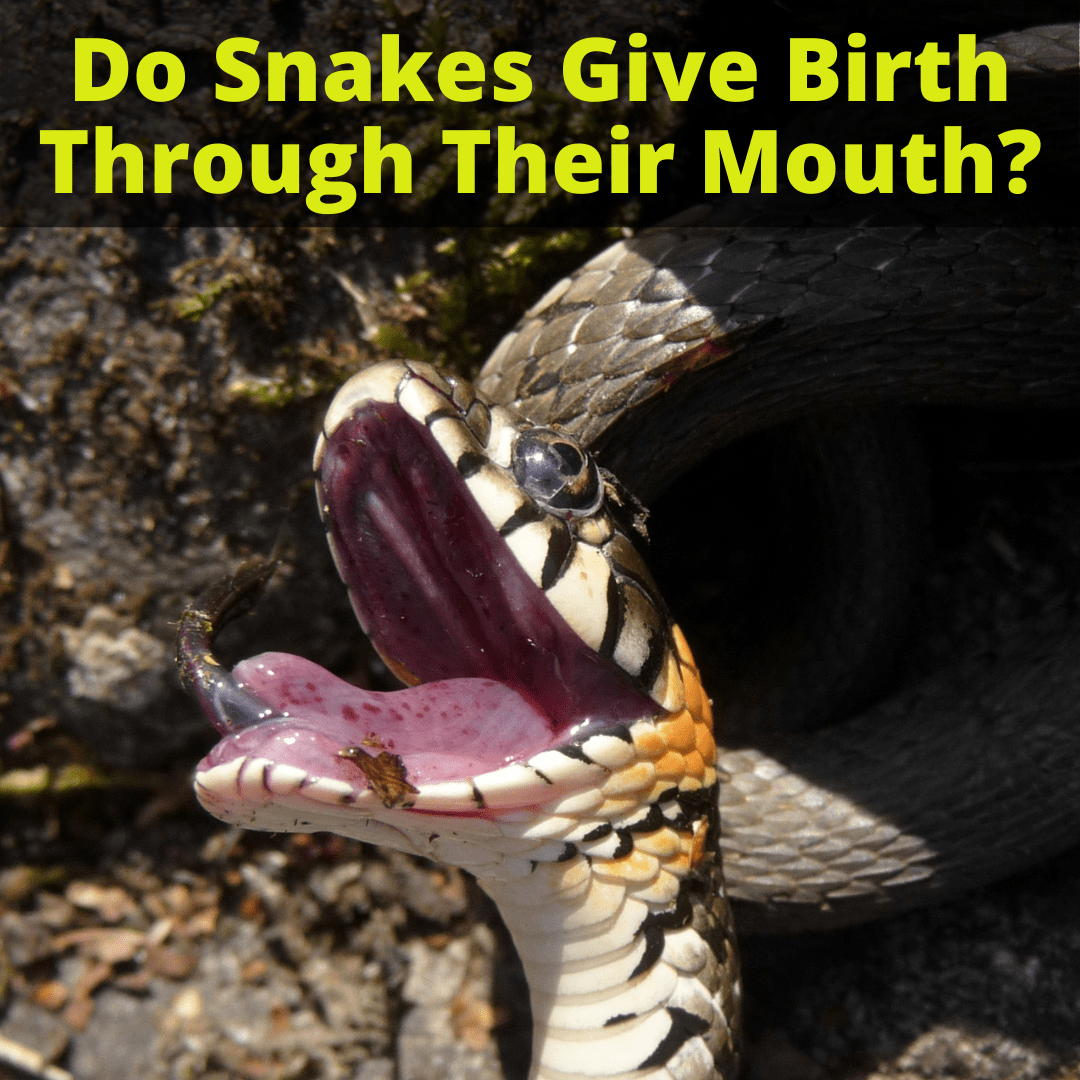 Why are you asking this question?
Did you hear somewhere that snakes give birth through their mouths?
Or did you perhaps see baby snakes emerge from their mother's mouth (this does happen and is a pretty amazing sight)?
Or perhaps you are simply wondering, since snakes do not appear to have any other openings beside their mouth?
Well, they do in fact have another opening that serves numerous purposes.
But for now, let's tackle the main question. Then we'll get into the details of snake birth.
Do Snakes Give Birth Through Their Mouth?
No, snakes do not give birth through their mouths. However, some species carry their babies in their mouths if they need to protect them. This can make it seem like they've given birth through their mouths, but they haven't.
When it comes to actually giving birth, different snakes do so in different ways. Some give live birth, while others lay eggs. And a few do something in between.
Snake Reproduction Is Complicated
I can promise you that no snake gives birth through its mouth, but that leaves us with the question of how they actually give birth.
The answer is that it's complicated. As mentioned, some snakes do, in fact, give live birth (but not through their mouths). Some snakes lay eggs as other reptiles do. Some do something in between. Let's dig a little deeper!
How Do Snakes Produce Young?
There are two basic kinds of snakes: oviparous snakes and viviparous snakes. These names may seem intimidating, but it's pretty simple.
Oviparous snakes lay eggs, while viviparous snakes give birth to live young, as most mammals do.
Then there is a type of snake that takes on traits of both oviparous and viviparous mothers: the ovoviviparous snake!
These snakes let their eggs mature internally, but an egg will still fully form, shell and all. The eggs then gestate and hatch inside the mother and the newly hatched babies emerge from their mom.
Typically, snakes leave hibernation in the early spring and go on to reproduce via internal fertilization. Snakes need warm weather for this, since they can not regulate their own body temperature.
Because of this, as the eggs mature inside the snake, sometimes the mother will lay on a rock, belly facing up towards the sun, allowing the rays to warm her reproductive tract, ensuring all works as it is meant to.
Some egg-laying snakes stay to guard and warm their clutch of eggs until they hatch, while others simply lay their eggs in a safe location and move on.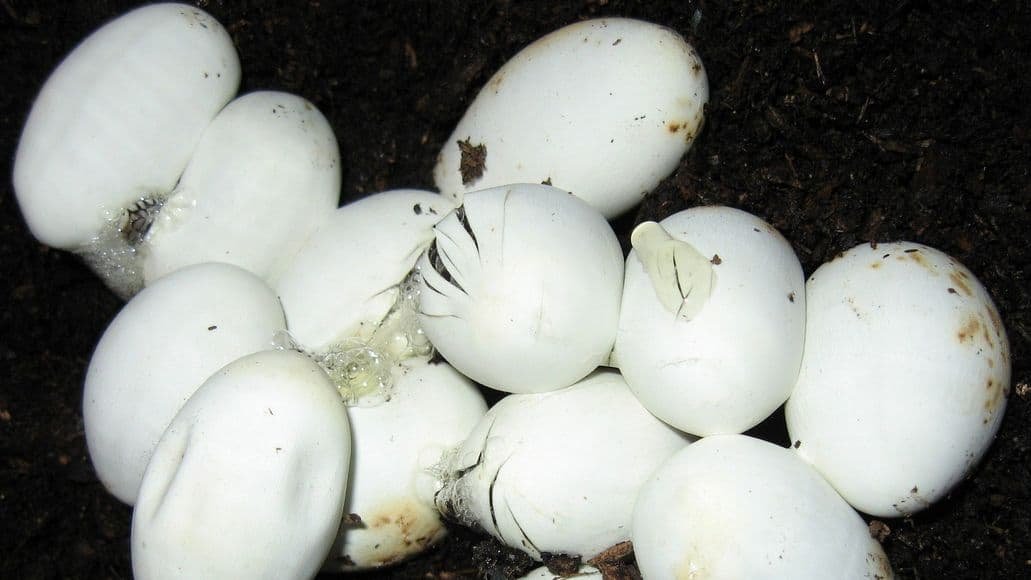 Viviparous snakes developed roughly 175 million years ago. Over time, some snakes went back and forth between being viviparous and oviparous, but most today are the egg-laying type.
In many cases, the snakes that give birth to live young come from colder climates. Even if they live in warm environments today, they frequently originated in higher altitudes or areas with lower temperatures.
By keeping their young inside their bodies, these mother snakes are able to keep them warmer for longer.
Climate has a huge impact on when snakes reproduce. Read our article "When Is Mating Season For Snakes?" for more on this.
Snakes That Give Live Birth
Most snakes in the Americas, including the United States, are egg-laying. However, the boa, Colubridae, and pit vipers all give birth to live young. Worldwide, most notably, boas, sea snakes, and vipers give birth to live babies.
Boas
Boas include all constricting snakes, such as the anaconda and boa constrictor. These snakes are viviparous. However, the single exception to boas being viviparous is the python! Pythons actually lay eggs.
Found in Central and South America, boas and their cousins, anacondas, are not venomous. Instead, they rely on strangling their prey when they hunt.
On average, boas can hit 13 feet in length. Anacondas are significantly larger. They give birth to babies that are roughly two feet long! They also give birth to up to 60 young at a time.
Read our Amazon Tree Boa care guide for more on boas, at least this particular species of boa.
Sea Snakes
There are more sea snakes than I could possibly try to name. Most are viviparous in the cobra family. These include stokes, yellow-bellied sea snakes, olive-headed sea snakes, yellow-lipped sea kraits, and more.
Sea snakes are the most venomous snakes on earth, but they tend to be docile. They avoid humans when possible and they have small fangs, so they only deliver small amounts of venom.
Sea snakes predominantly live in the Indian and western Pacific oceans. The exception is the yellow-bellied sea snake, which stretches from Africa to the American west coast.
Most breeds of sea snakes eat fish, including eels. They typically have flat bodies with a tail that acts more like an oar than anything else. Surprisingly, they can stay underwater and hold their breath for up to eight hours (and some more).
Likely due to the cold nature of their environment, they give birth to live young. While it's most common for a mother to give birth to 2 to 9 young, some mothers can birth up to 30 babies at once!
Vipers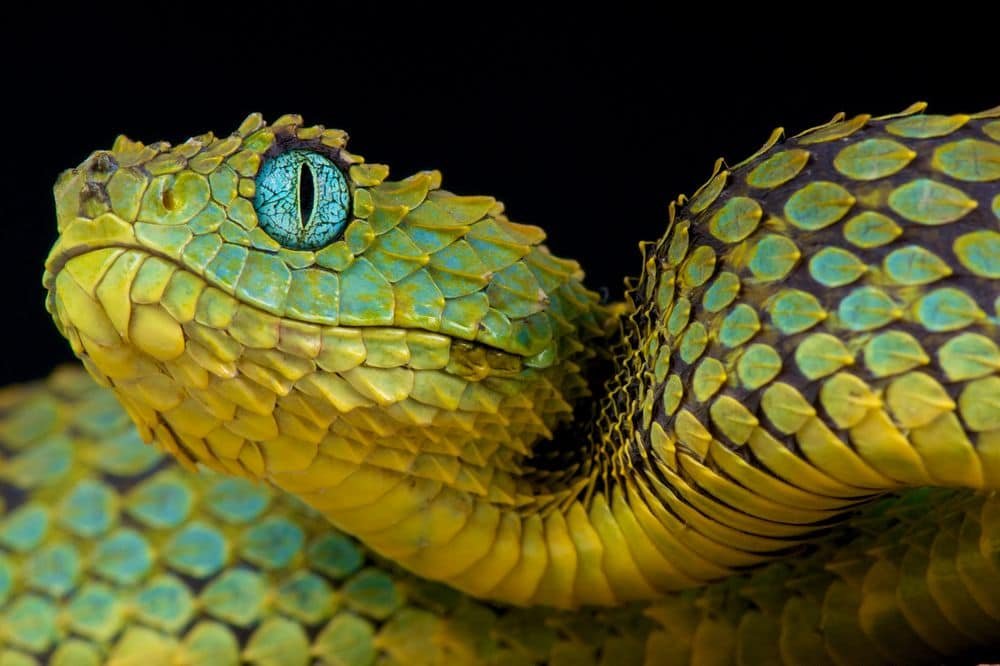 There are many varieties of vipers, including adders, cerastes, cottonmouths, rattlesnakes, and more. It's easy to identify this breed by their long fangs, slitted eyes, triangular or diamond-shaped heads, and venom glands. Most vipers give birth to live young as well.
They're all venomous, but the most dangerous viper varieties live in South America and Africa. Vipers in colder areas, such as North America, tend to be less venomous than their tropical relatives.
Vipers tend to have shorter and thicker bodies than other snakes. They are nocturnal and many have heat sensing pits that they use to see prey at night.
While they give birth to live prey, they tend to be ovoviviparous: hatching the eggs internally and then giving birth to their live young. There are some exceptions that lay eggs.
Snakes That Lay Eggs
The majority of the world's snake population lays eggs. That's roughly 70 percent of all snake species, which is way too many to list at once!
Oviparous snakes include the Elapidae genus that comprises prominent types like the mamba, cobra, and the Colubridae.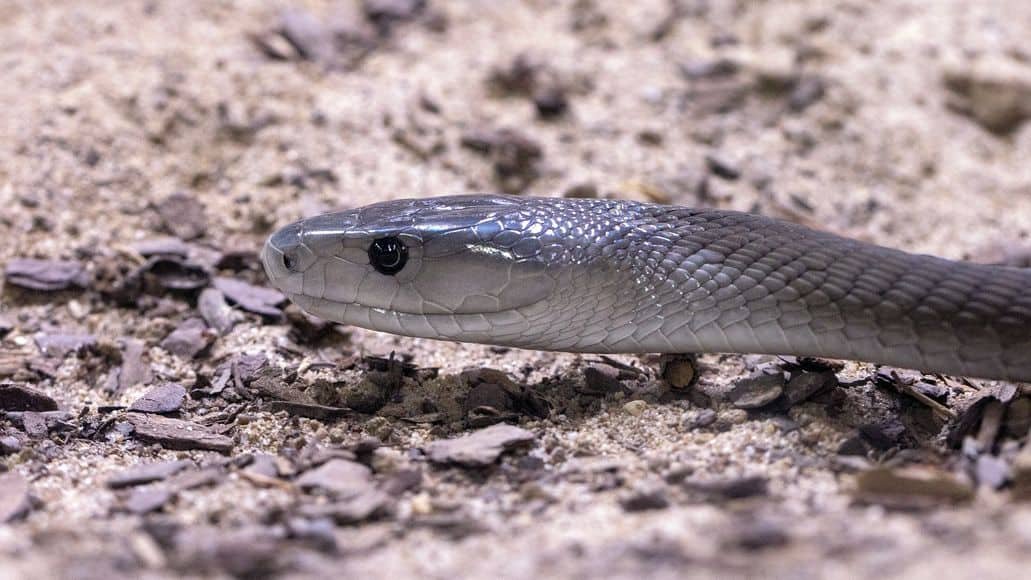 The latter consists of some 249 genera, such as the rat snake and boomslang. They inhabit every continent but Antarctica.
The approximately 2000 Colubridae species equal around two-thirds of the planet's snake population. That makes it the largest snake family in existence.
Usually, oviparous female snakes leave the eggs not long after they have laid them. Some snakes remain with their clutches by coiling around them to aid in their incubation. The warmth that this creates is often essential for successful hatching.
One notable species, the king cobra, goes one step further. Not only do they remain with the laid eggs, but a female will build a nest and remain with its young even after they have hatched.
When it comes to the hybrid ovoviviparous snakes, rattlesnakes are the most notable species.
Snakes Birth Through Mouth: Final Thoughts
Even though you may have seen baby snakes come out of their mother's mouth, or you may have heard snakes birth through their mouths, there is no truth to this.
A few species sometimes carry their babies in their mouths, but nothing more. They give birth through their cloaca (which they also use to poop, urinate, fart and mate). Some species birth live young, while other birth eggs.
If you are wondering why snakes sometimes open their moths wide like they are yawning, read our article "Why do snakes yawn?"