I doubt you're trying to distinguish fox snakes from bull snakes by their appearance.
You don't need help with that.
These two snake species look very different. They 're also different in behavior and temperament.
In other words: they're easy to tell apart in every way.
But if you're trying to decide which of these two would make a better pet, the answer is not so easy. Because they're so different, each will appeal to a different type of owner.
The important thing is that both make good pets. But we don't generally recommend either for beginners.
Read on to find out why and learn everything you need to know about the similarities and differences between bull snakes and fox snakes.
Bull Snake Vs Fox Snake
Here is a quick comparison of bullsnakes and fox snakes. We'll go into much more detail below the comparison table.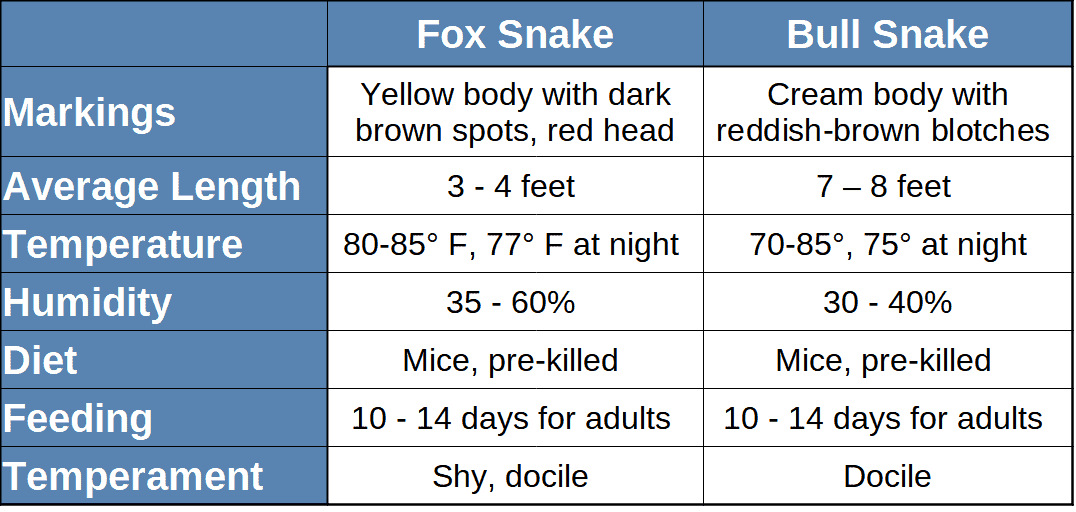 What Is A Fox Snake?
The fox snake is a species of rat snake. Two types of fox snakes live in North America; the western fox snake lives to the west of the Mississippi River, and the eastern fox snake to the east of the Mississippi.
As you can tell, the people in charge of naming snake species spent a lot of time pondering this one! More people keep the western version as a pet, so I'll concentrate on that one here.
The western fox snake has a yellowish-brown body with dark brown splotches. Underneath, its belly sports a distinctive checkerboard pattern.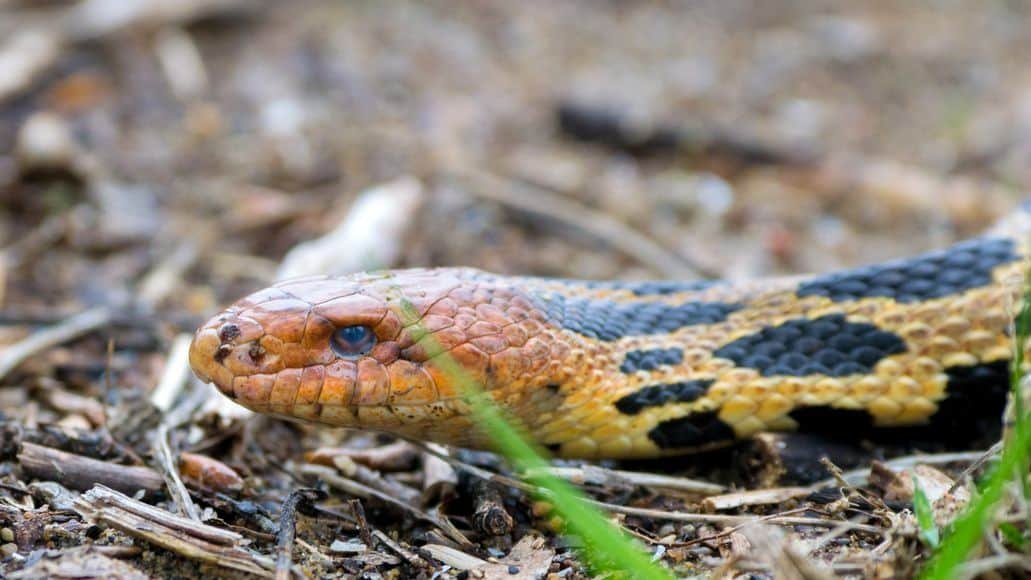 This snake's head is sometimes a rusty red color. You can tell them apart from gopher snakes because they don't have vertical bars on the upper lip.
Fox snakes aren't venomous. They're constrictors who choose a nice strong hug as their weapon of choice when it comes to killing their dinner.
These snakes eat birds, eggs, rodents, lizards, and even other snakes. They like to hang out on farms, where they have plenty of food and cover.
In the winter, the fox snake brumates underground. This means they lay in a sort of stupor, which is not exactly hibernation since they are still awake.
What Is A Bull Snake?
Bull snakes live all over North America, from Canada down to Mexico. They're closely related to gopher snakes. In fact, they are a type of gopher snake. Read bull snake vs gopher snake for more.
Bull snakes beat most other snakes in North America when it comes to size. Only the long indigo snake and some thick rattlesnakes might compare.
You can recognize a bull snake by its yellow body covered in dark splotches. Toward the tail, these splotches turn into bands.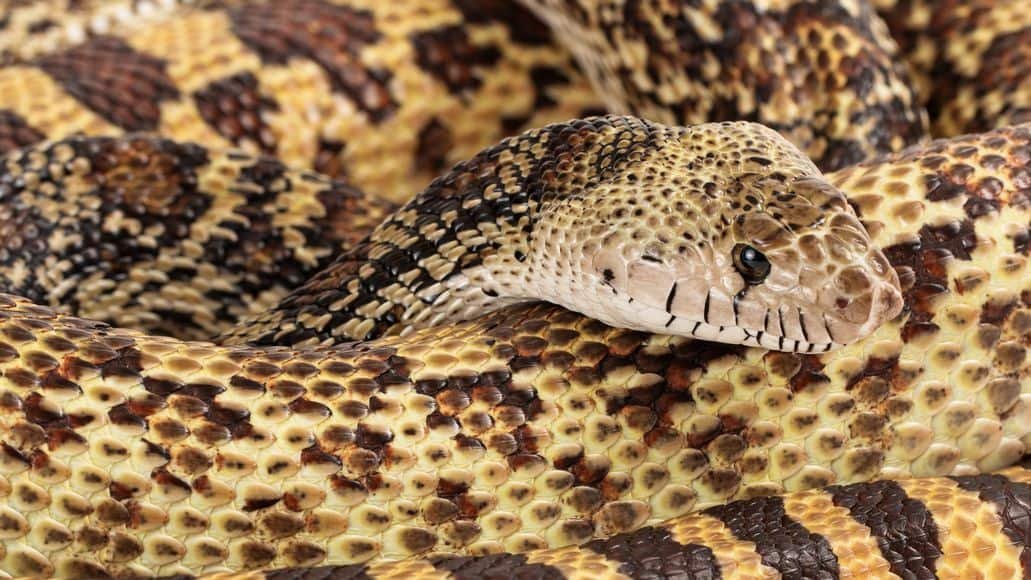 There are three sets of spots on each side of its body. The belly is pale with sparse spots. A bull snake's head comes to a point at the nose.
Bull snakes aren't venomous either. They also like to squeeze their prey.
They will crush animals like moles, squirrels, birds, rats, and lizards before swallowing them. By comparison, a quick shot of venom might almost seem like a pleasant way to go.
Differences Between Fox Snakes And Bull Snakes
The most obvious difference between the western fox snake and the bull snake is size. Adult male bull snakes can reach eight feet in length, while an adult male western fox snake only gets about half that long.
Bull snakes are usually very docile, which makes them easy to handle. Fox snakes like to hide out, but they're also curious.
They will go exploring and sometimes climb trees. If you're keeping a fox snake at home, make sure its tank has a secure, tight-fitting lid.
Fox snakes like more heat and humidity than bull snakes. However, bull snakes can tolerate a wider temperature range. To mimic the snake's natural environment, you can lower the temperature at night to the mid-seventies.
Similarities Between Bull And Fox Snakes
Both snakes are constrictors and eat the same type of prey. In captivity, it's best to feed them dead mice.
While it can be fascinating to watch them stalk and capture a live mouse, the mouse can defend itself with teeth and claws. Believe it or not, the tiny mouse could badly injure your snake.
Biologically, these snakes are both in the Colubrinae family. It's a large, biodiverse family they share with 93 other snakes, such as their close cousins: parrot snakes, rat snakes, and shovel-nosed snakes.
Most of the snakes in this family are non-venomous, and none of them like to swim.
When threatened, both snakes will rear up and shake their tails. In dry grass or leaves, that can sound like a rattle.
Sadly, many of these snakes are killed by people who don't take the time to identify them correctly.
Advantages Of The Fox Snake
As a domestic pet, I prefer fox snakes because they are smaller. They don't need as much space as bull snakes; an adult will fit nicely into a 20 or 30-gallon tank. You'll still need to provide a temperature gradient and a hide or two.
A single bull snake needs at least a 75-gallon tank. They reach their adult size, six feet or longer, by two years of age. If you have multiple snakes or limited space, the fox snake will be easier to keep.
Advantages Of The Bull Snake
I like bull snakes for their temperament. They are more docile and easier to handle than fox snakes.
They're also more tolerant of temperature changes. If you need to make adjustments to your snake's tank, it won't get stressed out and sick.
Fox snakes have a musky odor, especially when they get scared, but bull snakes don't tend to stink. If you live in an apartment or keep the snake in a smaller room, the bull snake will make a better roommate.
Who Should Get A Fox Snake (And Why)?
Fox snakes are a good choice for someone who has at least some experience caring for snakes. They don't require hyper-specialized care, but they are more delicate when it comes to their environment.
Fox Snakes make good reptile "ambassadors" for classrooms and nature centers. They're active in the right temperatures and not prone to striking when handled often. Kids can hold them under adult supervision.
Who Should Get A Bull Snake (And Why)?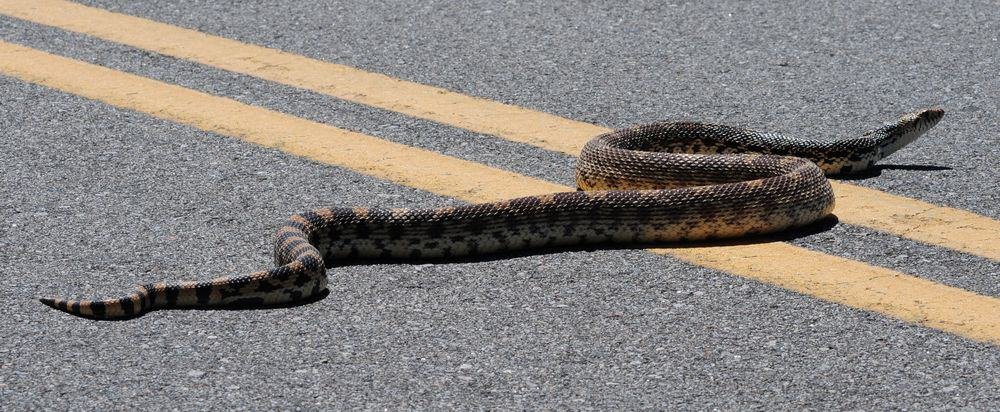 Adult bull snakes are good for younger and less experienced snake enthusiasts, mainly for their docile nature. Juvenile bull snakes are a bit hyperactive, which could turn new snake owners off.
However, these snakes can live a long time, so starting with an adult will still give you many years of enjoyment.
Try checking online for snake breeders, as you're unlikely to find bull snakes in most pet stores. They're not as flashy as ball pythons or king snakes. They can be underrated, but they're very easy to care for and they make good pets.
Fox Snakes Vs Bull Snakes: Final Thoughts
Fox snakes and bullsnakes both make good pets, but for different reasons. Fox snakes are smaller and thus easier to keep, but bull snakes are more docile.
Neither snake is the best choice for first-time owners, but neither is overly difficult to keep either. If you've had a snake before, you won't have any problems with either one, assuming you have enough space for the larger bull snake.