If it looks like a worm, isn't it just a worm?
No. Snakes and worms are very different.
The animal we're talking about here has scales and all the other anatomy of a snake, plus it behaves like a snake in that it sheds and eats meat.
But you'd never know from looking at it.
Not only does it look like a worm, but it also loves loose soil, like a worm.
Let's take a closer look at these snakes that look like worms and find out everything you need to know about them.
For example, they can be great pets, because they're very easy to care for. But they're also boring.
Snakes That Look Like Worms: Brahminy Blind Snakes
If you've seen a snake that looks more like a worm than a snake, chances are you're looking at a Brahminy blind snake.
These tiny snakes are dark gray, silvery gray, or even purple. They have a glossy appearance, which makes them seem perpetually wet, kind of like a worm.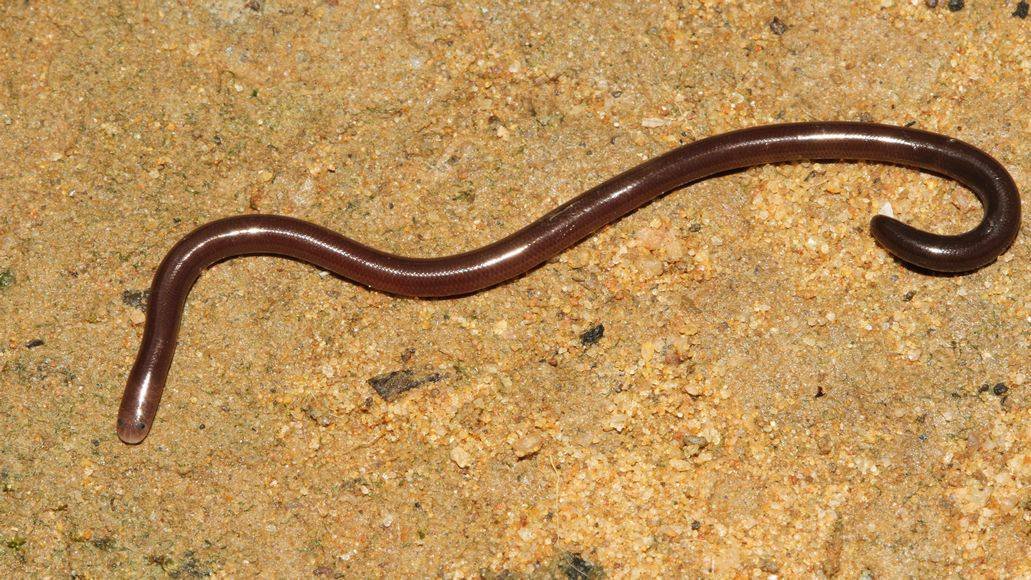 Also known as flowerpot snakes, these tiny guys are just 4 1/2 to six inches long. The longest Brahminy blind snake ever recorded was just under seven inches long.
They're also extremely slim. They're so slender they look like spaghetti noodles. Plus, their scales are very smooth and difficult to see.
So what you see is a dark-colored, smooth-looking, slithering little noodle.
Who's not going to think it's a worm?
Brahminy blind snakes do have eyes, but they're just dark patches underneath a layer of translucent scales .Hence the term "blind snakes."
They can see light, but they can't make out shapes very well, if at all. They're not technically blind, but they're pretty close. They still sleep with their eyes open, just like all other snakes.
Where Do You Find Brahminy Blind Snakes?
These snakes are common in warm, tropical climates around the world. They've also made more recent appearances in hot, dry climates like Arizona.
You can also find them at elevations over 4,000 feet in places like Sri Lanka and Guatemala.
Another reason these snakes get mistaken for worms is that they like living in loose soil, as well as piles of sawdust, rotting logs, leaf litter, and other piles of debris where you might find earthworms.
You might sometimes find them in trees, too, although trees are a less common habitat.
Their penchant for hiding in the loose soil in flower pots is how they earned the nickname "flowerpot snake." It is also how they've managed to spread across the globe.
Another way they travel is in the soil that ships use for ballast. Some believe that they're native to a southern Asian region, like India, but the way they travel makes identifying their native habitat difficult.
Oddly enough, they've even been spotted in Boston. Generally speaking, Boston is too far north and too cold for them. One theory is that they could be surviving in flower pots people bring inside during the winter.
Females Only
Brahminy blind snakes are what's known as a parthenogenetic species. They're all female, managing to reproduce without males.
When they reach maturity, they start laying eggs. That's it. There's no evidence male Brahminy blind snakes exist anywhere.
Besides their preferred habitats, this characteristic is why they're easy to find all over the world. It only takes one Brahmini snake to establish a population.
Despite being a transplanted species, it appears they don't harm their new homes the way many species do.
Transplanted species often become invasive, crowding out native plant and animal species. Have you ever heard of kudzu? It's doing severe damage to the southern U.S.'s indigenous ecosystem because it's that invasive.
That doesn't seem to be true of Brahminy blind snakes. They've appeared in many non-native habitats, but they don't appear to crowd out other species. They have limited interaction with other species as well, and the cold winters in many places keep them from spreading out too far.
Also, unlike many snake species, these tiny snakes don't bite. They like to escape, preferably into a burrow like the little introverts they are.
However, they might try to stab you with their tiny tail spurs (harmless) and they release a smelly musk.
While I don't particularly enjoy the thought of a smelly substance all around me, the fact that its tiny tail can't harm me brings me comfort.
Diet
Brahminy blind snakes eat tiny things for food. Insect eggs, cocoons, and larvae are the most common, especially those of ants and termites. You might even find them living in or very close to ant and termite nests.
I don't know about you, but I like the idea of tiny snakes living near all the anthills in my yard and quietly hunting them.
They occasionally eat insect excrement, earthworms, beetle eggs and larvae, small crickets, and even caterpillars. Sometimes they'll eat fungus and certain moss species, but not nearly as much as ants and termites.
Can You Keep Brahminy Blind Snakes As Pets?
You can, but they're not particularly interactive and they like being left alone. However, as long as you're careful and gentle, they will let you hold them. They might even decide to slither all over your hands.
I always try to feed my pets food that's as close to their natural diet as possible because that's the best way to help them stay healthy. Brahminy blind snakes do indeed eat moss and fungus and creatures like earthworms, but that's not their primary diet.
You can look for live insect suppliers to get termites, ants, and their larvae with which to feed your snake. A quick Google search will reveal many places that sell insects for reptile pets.
If you have a garden with an insect problem, particularly tiny insects, you can capture those and feed them to your little snake alongside their regular diet.
Many prospective snake owners like the idea of feeding their pet insects, instead of mice or rats. That makes this a popular snake with more squeamish owners.
Creating their habitat is also easy. Their small size means you only need a large glass jar in which to keep them. Even a ten-gallon tank might be more space than they need, though they would certainly appreciate the more roomy enclosure.
Since they prefer loose, moist soil to burrow, organic potting soil works very well because it meets those criteria. Plus it doesn't have any harmful chemicals.
They do like coming above ground sometimes, so you should make a small tent out of a damp piece of paper towel to act as an above-ground hiding place.
Just remember that they're not cuddly like cats, dogs, bunny rabbits, and other furry animals, so you'll want to leave them to their own devices as much as possible.
And because they're nocturnal little creatures, trying to handle them during the day might cause some problems. But in most cases, it won't. They're generally pretty easygoing).
Worm-Like Snakes: Final Thoughts
The Brahminy blind snake might resemble a work, but it is 100% a snake. Due to its small size and a diet that does not include rodents, it is one of the easiest snakes to care for.
On paper, it is an excellent pet. But you might find it a bit boring. Since it looks like a worm, most people won't even realize you have a snake until you tell them.
And that's if they even see it. These snakes spend much of the day hiding away. Easy pet to care for, but maybe not exciting enough. What do you think? Would you keep one as a pet?