You have a lot of terrariums to choose from, but only a few brands make quality glass enclosures at reasonable prices. Zoo Med is one of them and their Snake Starter Kits are perhaps the best way to get started as a snake keeper.
These kits include not only the terrarium, but also all of the accessories you need to put inside it. Instead of buying 20 different things, you get it all in one package.
Read the rest of this review to find out exactly what is included.
Zoo Med Terrarium Review
The Zoo Med terrarium is great for reptiles. But do you really want to keep a reptile as a pet?
Reptiles might not be as affectionate and playful as other animals, but they still make great pets. They are not the kind of pet to give you affection and be all warm and friendly, though.
They are the type of pet you simply observe and enjoy learning new things about, just from watching their behavior. And one of the most popular reptiles is the snake.
Pet snakes are among the easiest animals to care for. The are very low maintenance (they don't even need food more than once a week!), most of them are harmless and the do not need much attention.
Choosing The Best Enclosure
The most important aspect of snake care is getting the enclosure right. You need to learn everything you can about your species of snake, like where it lives and what it eats, then replicate its natural environment inside its terrarium.
And that all starts with the right size of enclosure. Our article on choosing an enclosure will help with that. All of the tanks featured in that article are also specifically made for reptiles like snakes. This means they are secure against escape. And you'll need it: snakes are notorious escape artists.
Let's get back to size. If you don't feel like reading the entire article we wrote about buying an enclosure, we'll briefly cover how to choose the right size here.
Find The Correct Terrarium Size
Obviously, the size of the terrarium you need depends entirely on the species of snake you want to get. And the size of the snake is not the only factor you need to consider, but it is the most important.
When considering the size of the snake, make sure to take the size of a fully grown adult of that species into account, not the size your snake currently has. Otherwise, you will end up having to buy a larger enclosure in a year or two.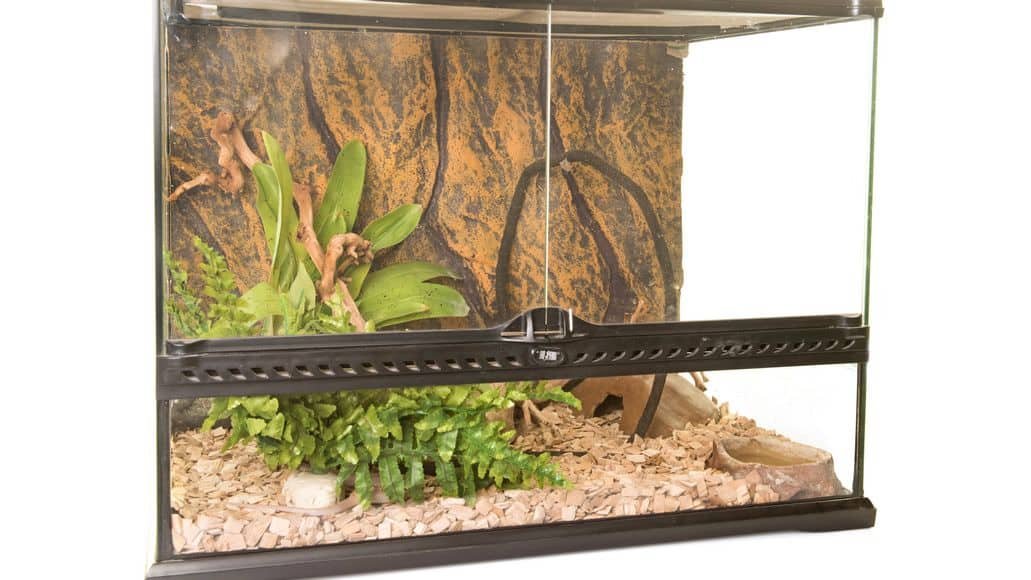 It is the length of the snake that is most important. Ideally, you want a cage that is about the same length as your snake will become once it is fully grown. The width should be about half of the snake's length. People do go with smaller cages, but it is better to give your snake more room.
In addition to size, you should also take the activity level of your species into account. Some snakes are very active, so you want to provide them a bit more space to move around in. Others spend most of their time laying around, so they could make do with less room.
For example, a black racer snake is much more active than a ball python. This means that you would want to give the black racer more space, so that it is free to be itself and do what it loves: move around.
Another factor is how much stuff you plan on putting inside the cage. If you plan on filling it with tons of accessories, then you should make it a little bigger, so that it is not too cluttered for your snake to be able to move around freely.
You have a lot of options for cages, but glass terrariums, like the ones from Zoo Med are generally best. Let's find out why.
Types Of Snake Cages
There are different types of snake cages. The primary ones owners use are: wire/mesh cages, glass terrariums, wood enclosures, and plastic cages.
Wire mesh cages are strong, but if the mesh is not small enough, the snake can escape. The other big problem is that these types of cages mage it impossible to control the environment. Unless your snake is happy with the external temperature and humidity, it will likely get sick and maybe even die.
Wood enclosures are great, but usually need to be custom built. This costs a lot. Wood can also rot, if you have a snake that needs high humidity.
Plastic is the cheapest and works well, but it does not make it possible to observe your snake. If this is important to you, plastic is out.
That leaves glass. It is easy to clean, not overly expensive, and it allows you to watch your snake.
And when it comes to glass enclosures, there are only a few good options on the market. One of the best are the enclosures from Zoo Med, like the Snake Starter Kit we are taking a look at here. Another great option is the Exo Terra line of enclosures, which we have also reviewed.
Zoo Med Terrarium Snake Starter Kit Overview
The Zoo Med terrarium is a kind of open screen cage, which makes it a great habitat for pet snakes. The snake starter kit comes in two versions: one with a 20 gallon tank and one with a 40 gallon tank.
The Zoo Med terrarium has a front door that gives easy access. It also has a bottom door, that makes it easier to remove the substrate. Assembly is easy and requires nothing more than a screwdriver.
The mesh top ensures your snake gets plenty of ventilation. It is also removable for easy access.
The kit includes a ton of extras. Basically, you get everything you need to get started keeping a snake as a pet.
Reptihabitat 20 Long Snake Starter Kit Includes
Beginners Guide to Reptile Care Booklet
20 Gallon Terrarium (30″ x 12″ x 12″) with sliding screen top.
Analog Reptile Thermometer
Aspen Snake Bedding (4 qt)
Extra-large Hut
Reptile Thermometer Under Tank Heater
Daylight Blue Reptile Heat Bulb (100 w)
10 – 20 g Under Tank Heater
Mini Deep Dome Lamp Fixture
Reptile Safe Water Conditioner (2 oz)
Trial Size Reptile Safe
Reptile Rock Dish (large)
Reptile Rock Water dish (med)
Trial Size Wipeout 3
Plastic Bush Plant (Mexican Phyllo, med)