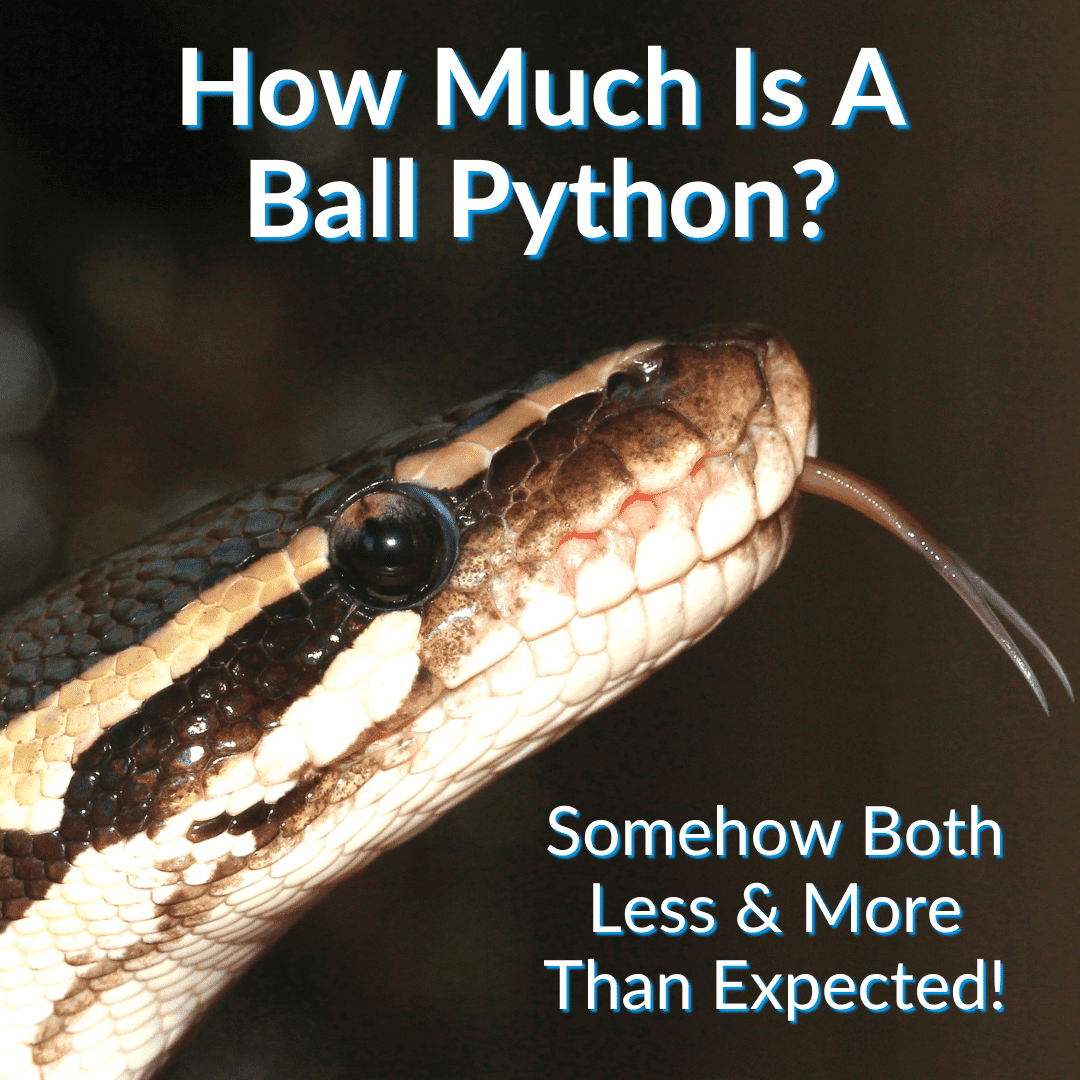 The ball python is the most popular pet snake in the United States.
There are a number of reasons for this.
For one, they are relatively docile and easy to care for.
They are also readily available and inexpensive.
At least regular ball pythons are. Rare morphs can cost thousands.
How much is a ball python, if you just want a standard one? And how about some of the more popular morphs?
Keep reading to learn what you can expect to pay for your ball python. We will also cover the additional set up costs and the ongoing cost of care.
How Much Is A Ball Python?
The average cost of a ball python is between $50 and $100. The price varies depending on the age, size and morph of the python. You can pay up to a huge $5000 for rare ball python morphs.
Of course, the initial cost of the snake is only the beginning. You will also need to pay for the equipment needed to house your snake, plus the ongoing cost of food and bedding.
Vet visits also add to the cost. You will also need to replace accessories from time to time. Remember, these snakes live a very long time (20 to 30 years in captivity), so you will need to be prepared to pay for yours for much of your life.
The Cost Of Keeping A Ball Python
The actual cost of a ball python may be quite cheap, when compared to many other pets. But some of the additional costs can be higher than you might expect, most notably the enclosure. A good, quality ball python tank will likely cost more than the snake itself.
Apart from getting the tank set up, the costs of keeping a ball python are fairly low. They are definitely lower than common pets like cats or dogs.
When setting up your ball python's habitat, you will need a number of things, in addition to the tank itself. This article covers everything you need to get your ball python's terrarium set up properly.
You will need to include things like heat lamps or a heat mat to keep the tank warm, substrate to keep your snake comfortable (see this article), a nice hiding spot or two, a water bowl, maybe some vegetation, and food, of course.
These bills do mount up a bit, so make sure you're prepared for the extra expenses each month and you've done your research on the cost of the food you plan to give your python, the substrate you will use and how often you need to replace it, and even how much electricity the heat lamps or mats may use.
Of course, this is the same with any pet. You should always know how much it will cost you upfront, and how much the ongoing cost of care will be. Then only get the pet, if you can easily afford it.
And again, keeping a ball python is relatively cheap, compared to some other popular pets. But some ball pythons do cost quite a bit more than others.
Different Types of Ball Python
There are many different morphs, or types, of ball pythons. What morph you get affects the price you pay more than any other factor. We'll begin with the regular ball python, which may cost anything from $30 to $50 dollars.
These are the least expensive kind of ball python, because they are the most common one. They are the most popular pet snake in the US and you can usually find these ball pythons in any regular pet store that carries snakes.
One type of morph that will usually cost more is the albino ball python. They lack darker pigmentation and are pale in color, usually having a very light shade of pink. These types of pythons will usually set you back around $300 to $400.
Another more expensive morph is the axanthic ball python. These types of pythons lack any red or yellow pigmentations and are usually more silver or black than the common morph. An axanthic python will set you back around $370.
Other morphs include the pastel morph, which has more yellow pigmentation. This type will cost anything from $75 to $100. There's also the butter ball python, costing around $100. It has a brown and yellow body.
The bumblebee morph is yellow and black and usually costs around $175. The banana ball python is one of the more popular morphs. As the name suggests, this morph is usually yellow. A hatchling will run you $100 to $150. You can read all about the banana ball python here.
One of the most expensive and rarest kinds of a ball python is the blue eyed leucistic. You'd be looking at $400 to $800 for this morph, because it is generally difficult to find. Its blue eyes and white body makes it one of the most unusual ball pythons morphs out there.
Purchasing The Tank
Along with the python, you need to take other initial costs into account, such as the set-up of its tank. We already touched on this above, but there is some additional info you might find useful.
Obviously, this is an upfront cost that usually predates the cost of the actual snake. It will need somewhere to live as soon as it gets to your home, so you should have the terrarium set up and ready to go in advance.
As mentioned, make sure you have plenty of money for both the enclosure and the snake, along with all other supplies, before you even consider purchasing the snake.
Your ball python will need a good-sized cage. Our article on choosing a ball python cage will help. Remember that your snake might be small when you get it, assuming you get a young ball python, but it is going to keep growing until it becomes an adult.
An adult ball python needs a cage with a volume of at least 40 gallons. You'll notice most of the tanks we recommend in that article I just linked to are a bit larger than that. It is better to get a larger cage than the minimum, if you have the space and the money.
You can expect to pay between $300 and $450 for a quality glass tank. You could simply house your snake in a plastic container, but then you can't see it and it can't see out. A glass tank is much better.
You also want to create a nice livable environment inside the tank. As mentioned previously, this means you need substrate, a heat mat or lamp, a water bowl and a hiding spot at a minimum. Some branches, vegetation and rocks might be nice, too.
These types of accessories don't cost much individually, but they do add up. All told, you're probably looking at another $100 to $150.
How Much Does A Ball Python Cost: Final Thoughts
The ball python is an inexpensive snake. You can get a regular one for under $50. However, if you want one of the cool-looking morphs, you will pay more. Many cost several hundred dollars and the rarer ones can cost several thousand.
In addition to the cost of the snake, you also need to consider the cost of he tank and the accessories. The tank will be the biggest expense (unless you are getting a rare morph). The accessories are all fairly inexpensive, but they do add up.
Then you will also have to pay for food and substrate for the entirety of your snake's life. Vet visits also enter the equation, as do costs to occasionally replace tank accessories. And maybe even (but hopefully not) the tank. Ball pythons do live for a very long time.