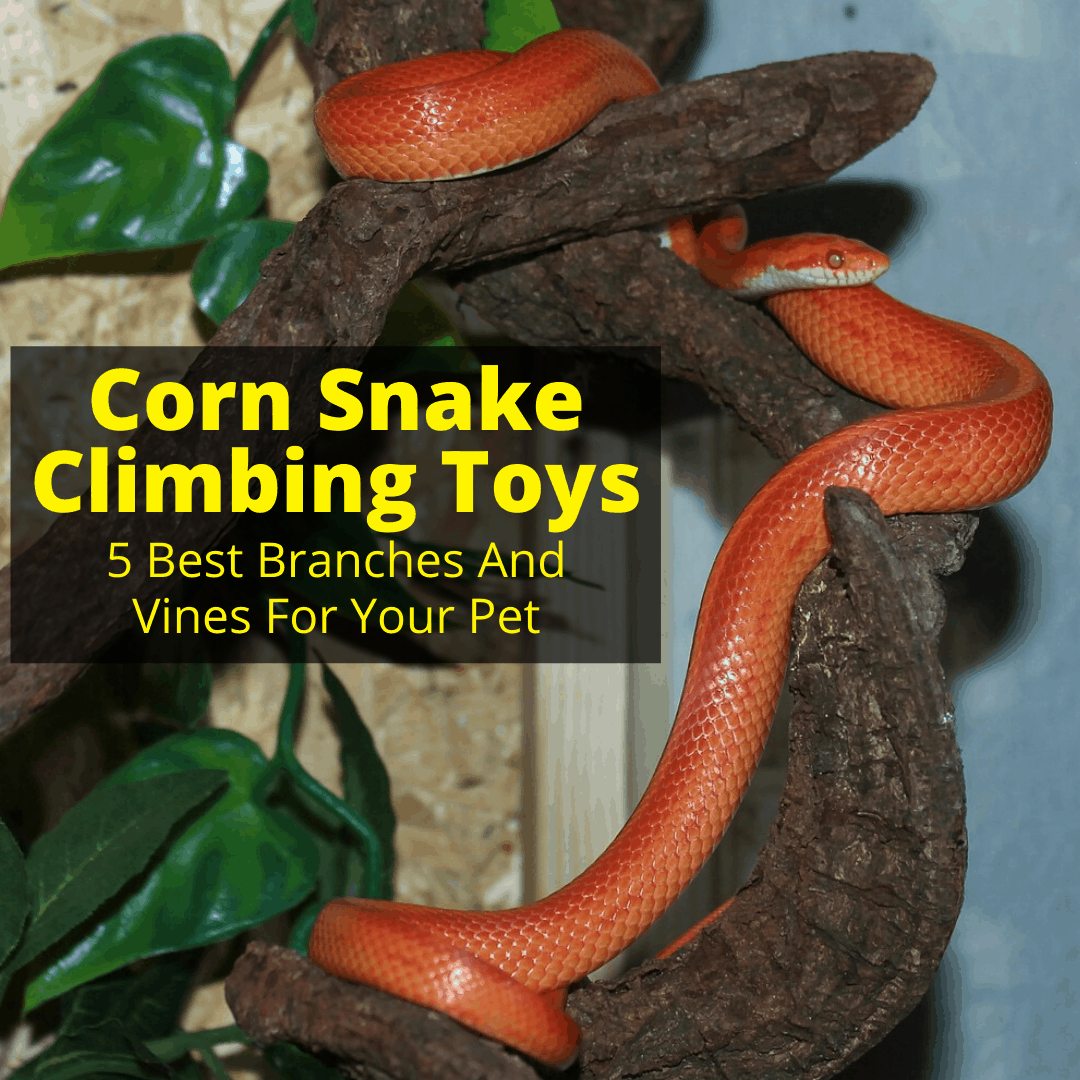 Corn snakes don't hang out in trees, but they do enjoy climbing.
And if they're stuck in an artificial habitat, there's really not much for them to do.
Some corn snake climbing toys will help keep them entertained and also get them some exercise.
But what type of climbing toy is best?
There are a lot of options.
The most important criteria are that it not be harmful to your pet and that it look and feel like something it may encounter in its natural environment.
We've compiled a list of our 5 favorite climbing toys for corn snakes below. Simply choose the one that would look best in your particular corn snake enclosure.
Corn Snake Climbing Toys
The following are the best climbing toys for corn snakes on the market. All will provide your pet plenty of fun and exercise.
Artificial Jungle Vine Climbing Branch

The bright color of the leaves gives a realistic appearance and does not fade easily. The Artificial Jungle Vine Climbing Branch is made from a bendable metal surrounded by PU material. This lends a realistic look and makes them easily bendable.
8 included suction cups make installation and removal easy. Simply moisten the cups and attach to the glass surface of the terrarium. For a cage enclosure, use clips or wires instead.
The total length of the branch is approximately 78 inches. This is plenty to create some foliage hiding spots and vine climbing opportunities in any corn snake habitat.
FAQs
What are the dimensions?
The length of the branch is 78 inches.
What is the total weight of the hanging?
It is very lightweight at just 6.4 ounces.
What is the size of the ivy leaves on the hanging?
the size of leaves is about 2 inch, which gives the strand a pretty look
Does it smell when placed for a longer period of time?
Because it is made from plastic material, it may give off a slight smell at first, but putting it in ventilated location removes the smell in 1 to 2 days.
Is it bendable?
Yes, the branch is bendable and the leaves simply wrap around the branch.
Can it hurt my corn snake?
No, it won't hurt your pet as it is made up of soft PU material, designed especially for snakes and other reptiles.
Eonmir Flexible Jungle Climber Vines

Flexible climber jungle vines for reptiles give a natural look and feel to your corn snakes. These are flexible, twistable and bendable to create a perfect 3D jungle environment. Made from iron or special PU, these vines look real and are easy to clean and maintain.
The size is approximately 8 feet (2.5 meters) long and the diameter is about 2/5 of an inch (1 cm) so they are pretty thin, but sturdy enough for a corn snake. The surface texture varies slightly due to the production process, but it provides your pet the feel of a real natural environment in an artificial setup.
FAQs
Can i replace it, if it is damaged?
Yes, Eonmir will replace it or they will give you your money back. They have a 100% money-back guarantee and you can contact them anytime, if there is an issue with the product.
How does it attach to the corn snake's tank?
The reptile décor vine comes with 6 suction cups for attachment, so you can easily affix the vine to the wall of any glass tank with the help of suction cups. Putting some warm water on the suction cups makes them stay on longer.
Are these waterproof?
Yes, the vines are waterproof and easy to clean. They can be used in very humid environments, too. The moisture-resistant ability of these vines makes them perfect for use in any type of setup.
Does bending damage the vines?
Low temperature in winters might cause cracks during bending. It is advisable to warm the vines up to 30° C to soften them and avoid any damage. Avoid direct light on the vines to protect them from any possible damage.
How do the vines attach to the suction cups?
The package contains clips to attach the vines to the suction cups.
Fluker Labs Bend-A-Branch

This 0.32 ounce, 6 foot long branch is the perfect climbing toy for your corn snake. It offers better support than traditional vines. It looks and feels natural, even to arboreal snakes. The branch is made from a hard foamy material surrounding a metal rod. It can be cut or trimmed to the desired size.
The metal rod inside is bendable, so you can mold it to the desired shape to give a natural look. The corn snake can lay on it or move across it to play or climb. The color does not bleed and gives a real jungle feel to the habitat.
FAQs
Does it mold with high humidity?
No these are moisture resistant and do not change shape in humid environments. The Styrofoam material can even be submerged in water tanks without causing any damage to the branch or even its paint.
Can it break while bending?
These are not very stiff and bend easily but the coating might crack when bending too tightly.
What is the thickness of the branch?
It is about 0.5 inches thick and strong enough for a corn snake to climb easily.
How does it attached to the enclosure? Are there any suction cups included?
No, it doesn't have any suction cups. You can attach it with the help of a steel wire or clips.
Is the material porous or does it soak up liquid?
No, the material is not porous and does not soak up liquid. The outer coating is also hard enough to prevent soaking.
Is the material chewable?
The vines consist of soft rubber or plastic material which is only chewable with a strong jaw. A corn snake won't chew on it.
Fluker Labs Small Animal Large Bend-A-Branch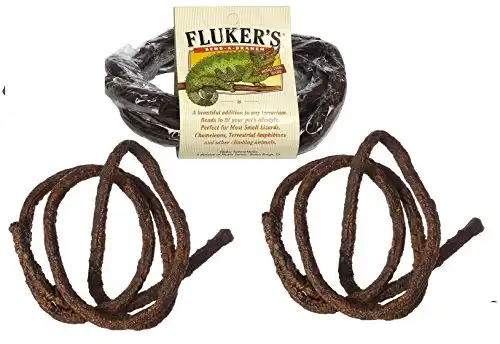 This Fluker labs bend a branch gives a perfectly natural look to any terrarium. It differs in appearance from the previous one and is larger, but is otherwise the same.
This pack of 3 branches fits perfectly in your corn snake's habitat to give it a real jungle look and provide more support than traditional décor vines. The length of the branch is 6 feet, it weighs 5 ounces and the total dimensions are 6 x 1 x 3 inches.
The cleaning of these branches is also very simple. Just soak them in a vinegar solution for a few minutes and they will come out neat and clean without any damage to the coating or the material. The branches are bendable and thick enough for corn snakes to climb easily.
FAQs
How many sizes are available?
These branches come in 3 different sizes: small, medium and large.
Can they harm my snake?
No, these branches will not harm your pet corn snake. They are made from soft plastic or rubber material.
How can I attach it to the pet's cage/tank?
Steel wires or clips are good for attaching these branches to the enclosure.
How strong are these branches?
Fluker's small animal bend a branch is stiff enough to bear the weight of your corn snake climbing over it.
How can I claim the warranty on the product?
For warranty and replacement issues, please contact the manufacturer directly.
Does bending cause any damage to the branch?
It is flexible enough to be molded into any desired shape. Bending does not cause any damage to the product, but the coating may fuffer slight damage in a highly humid environment or under direct light exposure.
Emours Natural Wood Climbing Décor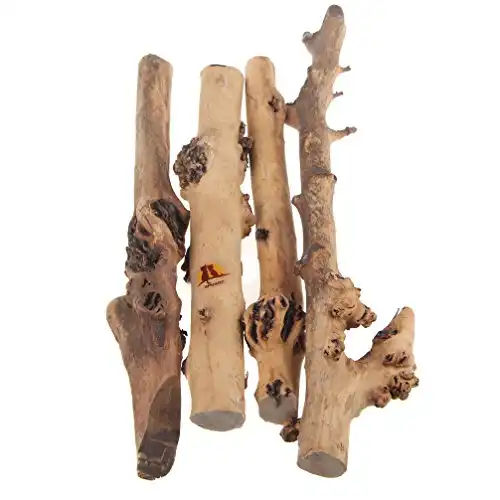 Natural wood branches give a natural feel to both desert and rainforest terrariums. They provide a proper climbing exercise for your corn snake.
Each hand selected piece gives an appealing look to the corn snake's habitat, but note that the size, texture, and shape will vary, since these are made from natural wood. The diameter is generally 0.6 to 1.6 inches and the length varies from 9.8 to 15.7 inches.
Basking on these natural woods will become the favorite hobby of your pet. Attractive stout and straight light brown natural wood adds a realistic touch to the appearance of any aquatic or terrestrial environment for your corn snake.
Branches like this are also great for a shedding corn snake. It can rub up against the branch to tear open the old skin and start the shedding process.
The branches look like old hardwood branches which are easy to install in any setup. One pack includes 4 pieces, which will be enough to outfit your corn snake's home.
FAQs
What are the dimensions?
The product dimensions are approximately 3.6 x 3.5 x 17.3 inches. Because this product is made from natural wood, the dimensions will vary
What material are these branches made from?
They are all natural wood. All the pieces are hand selected from natural trees. That is why the shape, size, and texture of each piece vary.
What is the total weight of the product?
The total shipping weight will be around 1.6 pounds, but again, it does vary.
Can these be placed in an aquatic environment?
The branches can take 80 to 90% humidity. You can use them in both underwater and arid environments.
Are these good for baby corn snakes to climb on?
Yes, the ½ inch diameter makes them good to for baby corn snakes too. As the snakes grow, the branches may need to be upgraded for larger snakes.
What is the average size of the wood?
As the wood is natural, the size and texture vary, but the average length is 9.8 to 15.7 inches and average diameter is 0.6 to 1.6 inches.
Do they mold in humid environments?
There is a slight chance of mold if they are submerged directly in water.
Corn Snake Climbing Branches: Final Thoughts
Any of these vines and branches will make your corn snake happy and give it the opportunity to play and to get exercise. A climbing toy is always a great addition to a snake terrarium. Read our article on corn snake accessories for more items your pet snake will love.
Since corn snakes love climbing, you might be wondering: can snakes climb walls and escape from the terrarium? Generally enclosure walls a smooth, so snakes can't climb them, but they can climb other things inside and still get out. They are amazing little escape artists!