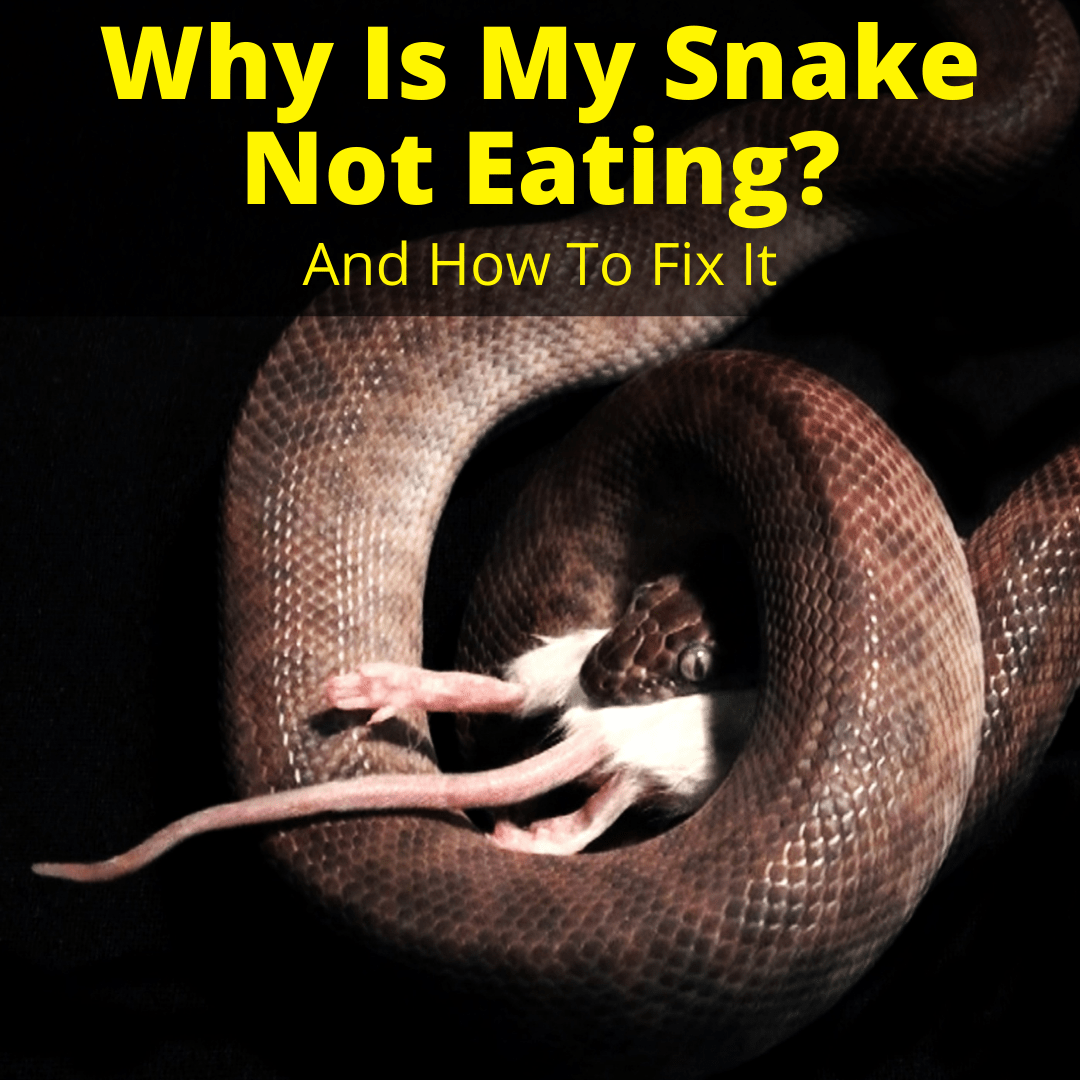 It's worrying to see your snake without an appetite.
You know that snakes can go a long time without food, but that doesn't mean they should.
Especially not YOUR snake.
You want it to be happy in your home. Plus, not eating can put its health at risk.
So let's find out what can cause a snake to lose its appetite and how you can fix it and get it eating again.
Why Won't My Snake Eat?
Stress is the most common reason a snake might refuse to eat, so we'll begin there. Not eating is a huge sign your snake is not happy. But there are many other reasons why your pet snake might not have an appetite and we'll cover them all.
Stress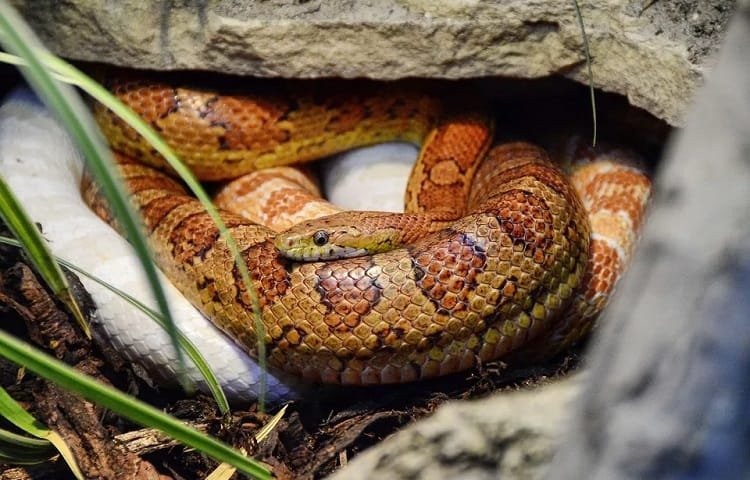 If your snake doesn't want to eat, it could be feeling stressed. There are various things that could cause a snake to feel stressed.
These include any changes to your snake's routine. Perhaps you changed something in its enclosure or you've moved to a new home.
Similarly, many snakes like to be left alone. If you are always making noise or handling them, they can feel stress. This can kill their appetite.
Another thing that could be making your snake feel stressed is if it doesn't have enough privacy in its enclosure. Snakes are solitary creatures that love to hide.
You should never position your snake's enclosure in a high-traffic area of the house where it will feel exposed and anxious.
For that same reason, you need to make sure you provide comfortable hiding and basking areas in the enclosure, so that your snake can retreat to them and be on its own without feeling watched all the time.
A new snake that is still getting used to its environment might also not eat for a while. This is perfectly normal.
Here is a list of different things that could be causing a snake to feel stress:
The enclosure is too small.
There is too much or not enough light or UVA rays.
The basking temperature isn't right.
Humidity might be off. Most snakes need more humidity in the winter.
A lack of hiding places can be stressful.
You changed your snake's feeding schedule.
There is an issue with the food itself. It might not have the right smell or temperature, and some snakes will not recognize new food as prey.
Other animals are present near your snake's enclosure.
There is too much noise.
Your snake's enclosure is in a high-traffic area.
Incorrect Environment
Another reason your pet snake could be avoiding food is having the wrong temperature and humidity in the enclosure. Thins was already touched on in the previous section.
It is vital to get the environment in the terrarium correct, to ensure that your pet feels comfortable and is healthy.
If the temperature is too cold, it could make proper digestion a struggle. On the other hand, if your snake's enclosure is too warm, it could cause psychological stress.
As we've already covered, stress leads to a loss of appetite.
Similarly, if your snake enclosure doesn't have the right amount of humidity for your specific snake species, it can cause your snake problems that include skin or respiratory illness.
A sick snake does not feel like eating. Plus, a respiratory illness could cause a snake to choke. It is rare, but possible.
Shedding
Snakes do not like to eat when they're getting ready to shed. It is very common for a snake to refuse food for a few days before it sheds its skin. They can even stop eating for weeks leading up to a shedding.
You can tell if your snake is about to shed by looking for other symptoms of an impending shed. If its eyes look cloudy or if its scales seem paler than usual, those are good signs that it is preparing to shed.
It's good to allow your snake to undergo this process without interference, so give it some space when your snake is going to shed.
Brumation
Brumation is another possible reason for a snake not eating. Cold-blooded animals are not active during the winter because of the cold weather.
They become lethargic to preserve energy and might stop eating for a while. This period of inactivity is called brumation, which is similar to hibernation in mammals.
Snakes will typically prepare for the winter by increasing their food intake, before becoming less active and eating less frequently, if at all.
Incorrect Feeding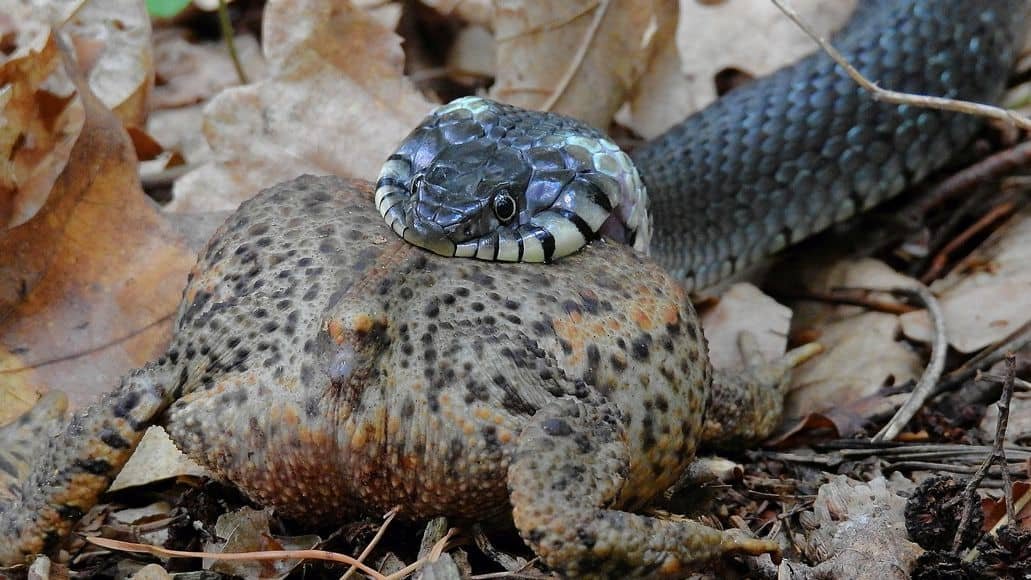 You know what kind of food you should feed your snake and how regularly it needs to eat.
But what about the feeding conditions?
Are you sure that you're doing things right? If not, your snake could be put off by its food, without the food itself actually being the problem.
For example, if the lighting in your snake's cage is too bright when you feed it, this could cause stress. You should dim the lights so that the environment is similar to the snake's natural environment.
Some snakes want to feel like they're hunting their prey. It is best not to feed them live animals, but you can mimic live prey.
Hold the thawed mouse (or other prey) you want your snake to eat in front of it, and jerk it around to mimic the movements of live prey. Doing this will activate the snake's natural instincts to snatch the prey.
Natural Reasons Your Snake Isn't Eating
We already mentioned shedding above. But there are other perfectly normal reasons your snake might not eat.
These reasons include seasonal changes. Snakes naturally eat less in the winter. Age can also play a role in their appetite.
Younger snakes need more food than older snakes because they are growing faster. Once your snake has reached maturity, it no longer grows as rapidly, so it's only natural that it would eat less.
Illnesses That Can Lead To A Loss Of Appetite

While there are some reasons for a snake's decrease in appetite that shouldn't alarm you, there are others that can indicate a serious problem.
A loss of appetite can be a sign of illness. Make sure to check for other symptoms and if you suspect that your snake is suffering from one of the diseases below, take it to a vet as soon as possible.
Mouth Rot
Mouth rot is when your snake's mouth has become infected. It is painful and will make your snake avoid its food.
Other signs of mouth rot in snakes include drooling, red or inflamed mouth tissue, or pus coming from the mouth. Mouth rot can be caused by stress weakening the snake's immune system.
Respiratory Disease
Respiratory infections can show up in your snake in the form of eye or nose discharge, sneezing, breathing through the mouth, wheezing, lethargy, and a loss of appetite.
Many of these types of infections are caused by bacteria, and you might find that the symptoms above occur in combination with mouth rot.
Intestinal Parasites (Worms)
These are quite common in reptiles, and are often the reason for snakes not wanting to eat. Signs that your snake could have worms include weight loss, stools that don't look normal, vomiting, and diarrhea.
If your snake is showing any of these symptoms, consult with your vet. They'll want to examine a stool sample, so that they can recommend a proper course of action.
Obstructions Or Impactions
An obvious reason why your snake might not be eating is if something's stuck in its mouth or esophagus, such as pieces of substrate. Other signs that could indicate a gastrointestinal obstruction are lethargy and dehydration.
Another possible issue is fecal obstipation, otherwise known as an impaction. This could be the result of dietary issues, dehydration or low enclosure temperatures.
What Can You Do If Your Snake Won't Eat?
Snakes have an incredible metabolism that can slow down when there is no food available. Their metabolic rate can drop by as much as 70%, and they can go for months without eating.
Don't worry if your snake skipped a meal, but look for possible causes in its environment and check for symptoms of illness if a snake's feeding habits change for no apparent reason.
Pay attention to your reptile's behavior when you present food. A snake that shows interest, strikes, and releases the prey might not want to eat because of the food itself.
Try a different type of food, present frozen food, and see if your snake will eat thawed food. You can use warm water or a hairdryer to defrost food. Something as simple as switching the method of defrosting can cause your snake to refuse the food.
If the snake shows no interest in food, try feeding them again later, and make sure to look for signs of stress or illness.
Should You Take Your Snake To The Vet?
An exotic vet can perform an exam and do some lab work to determine why your snake isn't eating. Before you take your reptile to the vet, rule out possible causes like an environmental change, shedding, brumation, and issues with the food itself.
You should take your snake to the vet if you notice other symptoms of illness or if your snake goes for several weeks without eating and you can't figure out why. You should also see a vet if your snake tries to eat itself.
Related Questions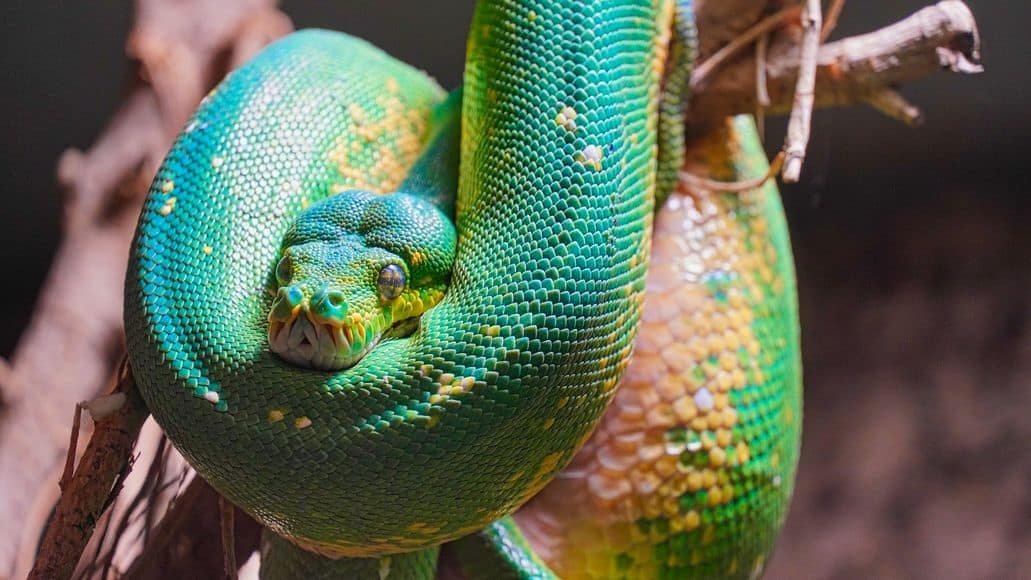 What are some signs your snake is stressed?
If your snake is hissing a lot, very alert, mock striking, or hiding its head, these are all red flags that something is stressing it out.
How long does snake shedding last?
Snake shedding can last for one to two weeks. Don't try to help your snake – just leave it alone. Don't handle it as that can cause your snake to feel stressed.
How often should snakes eat?
Appetite can vary depending on a snake's size, age, and activity level. It's common for young snakes to eat twice a week while they're still growing, but an older snake might only need to eat once a week.
A female snake can eat more frequently during breeding season, but some species will stop eating before breeding season or once they are gravid.
Snake Not Eating: Final Thoughts
If your snake is not eating, it's worth looking at how you're feeding it, checking the humidity and temperature of the enclosure, and examining everything else in the habitat, to see if anything could be causing your snake undue stress.
Once those factors have been ruled out, look for any signs that your snake could have a health condition. If you suspect that is the case, consult with your vet immediately so that treatment can begin.